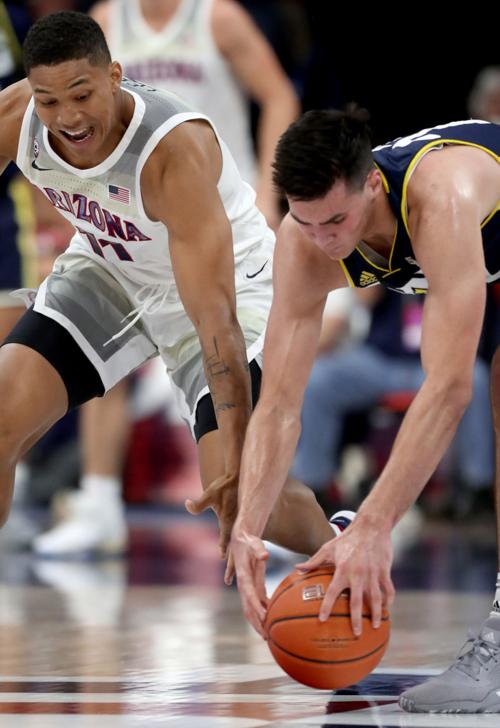 Arizona announced Monday it has rescheduled its NAU game for Dec. 7 at McKale Center, with tip at 7 p.m. on Pac-12 Networks.
UA and NAU signed a three-year contract to have the Lumberjacks become the Wildcats' opening day opponent for the next three seasons, but the scheduled opener this season on Nov. 25 was postponed when the Lumberjacks had a positive COVID test within their program.
Barring further COVID issues, the rescheduled game will now have the Wildcats playing four games over an eight-day period: Their Pac-12 opener on Wednesday against Colorado, a nonconference game against Northern Colorado on Saturday, the NAU game on Dec. 7 and a game with Bakersfield on Dec. 9.
Here's Arizona's schedule as of now:
Nov. 25: NAU -- Postponed to Dec. 7
Nov. 27: GRAMBLING, 3 p.m. (Pac-12 Networks). Arizona 74, Grambling 55.
Dec. 2: COLORADO, 6 p.m. (Pac-12 Networks)
Dec. 5: NORTHERN COLORADO, 7 p.m. (Pac-12 Networks)
Dec. 7: NAU, 7 p.m. (Pac-12 Networks)
Dec. 9: CAL STATE BAKERSFIELD, 5 p.m. (Pac-12 Networks)
Dec. 16: CAL BAPTIST, 5 p.m. (Pac-12 Networks)
Dec. 19: at Stanford, time TBA (Pac-12 Networks)
Dec. 22: MONTANA, 5 p.m. (Pac-12 Networks)
Dec. 31: at Washington, time and TV TBA
Jan. 2: at Washington State, time and TV TBA
Jan. 7: USC, time and TV TBA
Jan. 9: UCLA, time and TV TBA
Jan. 14: at Oregon State, time and TV TBA
Jan. 16: at Oregon, time and TV TBA
Jan. 21: at Arizona State, time and TV TBA
Jan. 28: STANFORD, time and TV TBA
Jan. 30: CALIFORNIA, time and TV TBA
Feb. 4: at Utah, time and TV TBA
Feb. 6: at Colorado, time and TV TBA
Feb. 11: OREGON STATE, time and TV TBA
Feb. 13: OREGON, time and TV TBA
Feb. 18: at UCLA, time and TV TBA
Feb. 20: at USC, time and TV TBA
Feb. 25: WASHINGTON STATE, time and TV TBA
Feb. 27: WASHINGTON, time and TV TBA
March 6: ARIZONA STATE, time and TV TBA
* Southwest Classic multi-team event