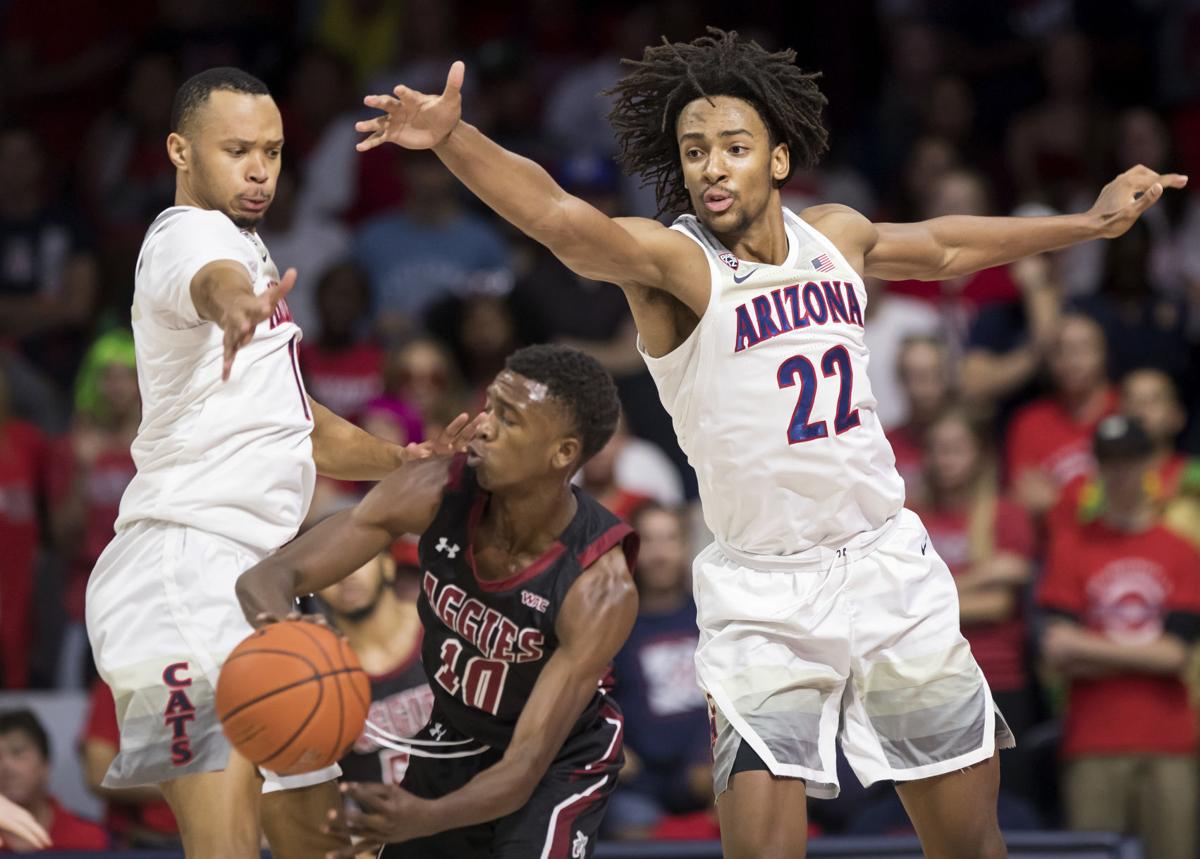 NMSU was not on Arizona's original schedule this season but the matchup increasingly appeared destined to happen at some point, considering that the Wildcats had two of their first three nonconference games canceled -- and the fact that New Mexico State has housed itself at the Arizona Grand Resort & Spa in Phoenix because of COVID-related restrictions in New Mexico and has been looking for opponents.
Arizona is now back to its original load of seven nonconference games but its Saturday game with Northern Colorado appears doubtful since the Bears have been paused since Nov. 25 for COVID issues. A Northern Colorado spokesman said Tuesday the UA game was still scheduled to be played as of then.
Arizona and UTEP had been talking about rescheduling their canceled Nov. 29 game, while the Wildcats and NAU have already rescheduled their canceled Nov. 25 game to Dec. 7. The Wildcats wouldn't need to play UTEP unless Saturday's game or another nonconference game is canceled.
The Arizona-Colorado game is expected to be rescheduled but the Wildcats might have trouble fitting it in before Christmas if all their other games are played as scheduled. They are expected to meet for a second time on Feb. 6 at Boulder, Colo.
Arizona's schedule as of now:
ARIZONA'S 2020-21 MEN'S BASKETBALL SCHEDULE
Nov. 27: ARIZONA 75, GRAMBLING STATE 55
Nov. 29:: UTEP — POSTPONED
Wednesday: COLORADO — POSTPONED
Saturday: NORTHERN COLORADO, noon (Pac-12 Networks)
Monday: NAU (rescheduled from Nov. 25), 7 p.m. (Pac-12 Networks)
Dec. 9: CAL STATE BAKERSFIELD, 5 p.m. (Pac-12 Networks)
Dec. 12: NEW MEXICO STATE, time and TV TBA
Dec. 16: CAL BAPTIST, 5 p.m. (Pac-12 Networks)
Dec. 19: at Stanford, time TBA (Pac-12 Networks)
Dec. 22: MONTANA, 5 p.m. (Pac-12 Networks)
Dec. 31: at Washington, time and TV TBA
Jan. 2: at Washington State, time and TV TBA
Jan. 7: USC, time and TV TBA
Jan. 9: UCLA, time and TV TBA
Jan. 14: at Oregon State, time and TV TBA
Jan. 16: at Oregon, time and TV TBA
Jan. 21: at Arizona State, time and TV TBA
Jan. 28: STANFORD, time and TV TBA
Jan. 30: CAL, time and TV TBA
Feb. 4: at Utah, time and TV TBA
Feb. 6: at Colorado, time and TV TBA
Feb. 11: OREGON STATE, time and TV TBA
Feb. 13: OREGON, time and TV TBA
Feb. 18: at UCLA, time and TV TBA
Feb. 20: at USC, time and TV TBA
Feb. 25: WASHINGTON STATE, time and TV TBA
Feb. 27: WASHINGTON, time and TV TBA
March 6: ARIZONA STATE, time and TV TBA
* Southwest Classic multi-team event