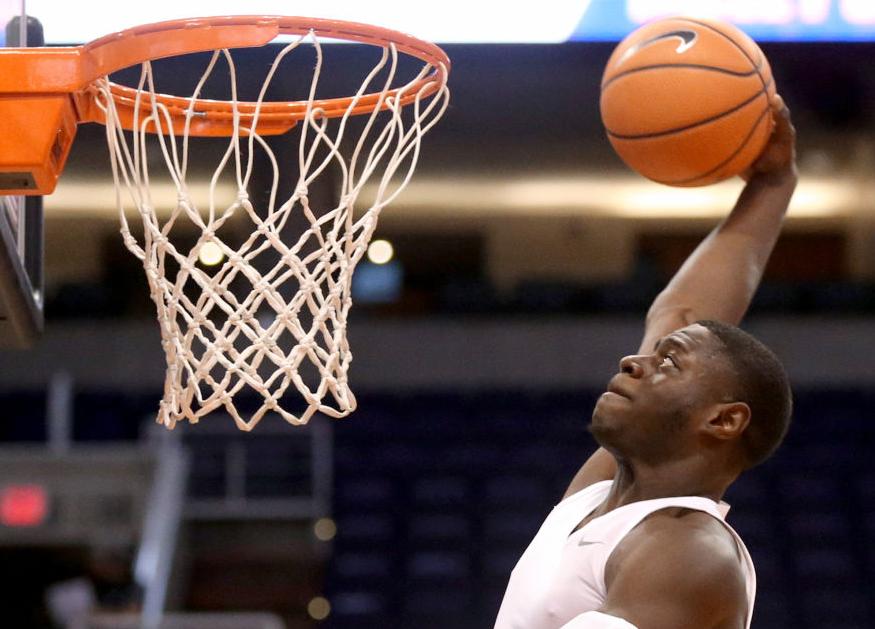 PHOENIX — Rawle Alkins has been cleared for full-contact practices for nearly a week now and went through normal early pregame warmups Saturday and Tuesday, but Sean Miller remains vague about his return.
Asked after Arizona's 67-64 win over Texas A&M on Tuesday if Alkins could play Saturday against Alabama, the UA coach said:
"I don't know," he said. "I can't really comment on that. We'll figure that out as we go. He's certainly progressing. Today is the 10th week for him, so his rehab is going well. He's focusing on school. He's able to practice for the first time so we kind of take it day-by-day moving forward."
Alkins exactly hits the 10-week mark on Wednesday from Sept. 27 surgery to repair a broken foot, and the school initially estimated he would need 8-12 weeks of recovery time.
Miller said after UA beat UNLV on Saturday that Alkins needed to get through more full-contact practices without experiencing soreness before he could play in games.
Arizona says Alkins broke his foot in a workout on Sept. 26. That was also the same day that the federal investigation into college basketball resulted in the arrest of UA assistant coach Book Richardson.
---
Miller was asked how he viewed his players' effort level now after he ripped into their effort following UA's 35-point win over Long Beach State last week at McKale Center.
"Let me clarify this," Miller responded, sitting on the interview podium with Deandre Ayton and Dylan Smith. "I'm not necessarily accusing Deandre Ayton of not trying hard or that Dylan Smith doesn't care. Sometimes guys have to learn how hard you have to play.
"I mean, when you're in the Bahamas and you're playing three games in three nights it's not easy. And if you're new to this, even if you're really talented, it takes a little time to figure out `What does coach really mean?' I think the last two games these guys have a much better understanding of what it takes to win, what it takes to win on the road against good teams so our effort is good, our practices have been good. These guys' attitudes are great and the fact we were able to come here and win is a real shot."
---
Texas A&M coach Billy Kennedy wasn't happy about the free-throw shooting differential, with Arizona taking 24 and Texas A&M just 10.
Several of them were a result of late fouls the Aggies were forced to make with Arizona leading down the stretch, while Deandre Ayton was 5 for 6 earlier in the game. Miller said that was because of how the Aggies defended him.
"There's a lot of other things a team has to do to take him away," Miller said. "He may have gotten nine shots (from the field) but you have to realize they're working their entire possession to prevent him from getting the ball and when he gets it, they're crowding him and it opens things up. Dylan took advantage of it tonight and it was good to see."
---
Even as Allonzo Trier and Parker Jackson-Cartwright had poor statistical nights, Miller spoke positively.
Trier was 2 of 7 from the field and 1 of 6 from 3-point range. Jackson-Cartwright was 1 for 6, but the only shot he made was a big one: A 3-pointer from the corner with 1:55 left that gave UA the lead for good.
"Allonzo let the game come to him," Miller said. "It wasn't his night. He was 2 for 7 from the floor, 1 for 6 from three and we were still able to win, which is great. On different nights over the long course of as season it's not always going to be Deandre (Ayton) with 25, Allonzo with 24. Balance is gonna seep in.
"Parker didn't shoot the ball well, and statistically Texas A&M defends the three as well as any team in the country, but the one that Parker needed to make, one of the biggest shots of the game, right corner in front of the bench, he delivered. That's experience -- not letting five or six misses get in the way of a good shot. He took it with confidence and he made it."
---
Both teams had 11 turnovers, but Miller said the fact that Arizona had only three in the second half was critical.
"That's maybe the biggest reason we won," he said. "They were all disaster turnovers. But we had eight in the first half and playing this game with 11 turnovers was a good."
Miller also said in particular that the Wildcats did well against the Texas A&M press, which was a factor late in the game.
"When you have to inbound the ball against their type of press, and they have a really good one, you have to be poised," Miller said. "We got the ball in. We didn't turn it over; we went to the foul line. Any type of turnover in that late-game situation can tip the game in favor of them. So our execution down the stretch, the fact that we played with three turnovers (in the second half) is big and the other stat is rebounding.
"Really back-to-back games were even (on the glass) but the two teams we were rebounding against are great. When you look at the front lines of UNLV and Texas A&M, they're as good as it gets in college basketball of being able to get second shots and our guys did a good job. Deandre had 10 rebounds, eight on defense, so that really helped us."
---
Some of the loudest fans in Talking Stick Resort Arena on Tuesday were wearing purple. They were there to support Grand Canyon in the nightcap against St. John's but most of them who showed up early were rooting for the Wildcats – and even tried to distract Texas A&M free throw shooters in the second half as they sat behind that basket.
Maybe they were more accepting of the Wildcats, who hosted GCU last season while ASU won't ever play them. But whatever the case, Miller indicated he wasn't surprised.
"I learned a lot about GCU when we played them last year," Miller said. "I have a lot of respect for them. They're the only group of (opposing) people in my nine years at Arizona that I've ever heard in McKale. I've never heard a crowd, even one person, yell something while they actually had a patch of fans. They love college basketball and it's great for our state. Dan Majerle has done an amazing job there."
---
GCU lost to St. John's 68-60 in the late game, however, which capped a pretty good trip back to Arizona for Justin Simon.
The former Wildcat guard, who transferred to St. John's after playing sparingly as a freshman in 2015-16, had 17 points and 11 rebounds to lead the Red Storm after seeing his old team edge Texas A&M.
"He's really, really gifted," St. John's coach Chris Mullin said of Simon after the game. "Gifted athlete and has a good feel for the game."
Simon said he remains on good terms with the teammates he had at Arizona – even hanging out with several of them at the hotel both teams stayed at on Monday night -- and was happy to see the way Tuesday all worked out.
"That brotherhood meant a lot to me," Simon said. "I was happy we got the win and they got the win."