Arizona sophomore forward Ira Lee was cited and released for driving under the influence early Sunday morning.
Lee, 20, is facing misdemeanor charges of failing to yield at an intersection, DUI as a minor and super extreme DUI involving a blood alcohol content of 0.20 or higher, according to Pima County justice court records. He was pulled over at 1:22 a.m. Sunday morning and tested for a blood-alcohol level of .215, police said.
Lee's arraignment is scheduled for Sept. 10, court records show. He is also in default for a May traffic stop in which he was cited for speeding more than 29 miles above the posted speed limit, court records show.
UA said in a statement that the incident has been referred to the dean of students for review under the university's student code of conduct, and that its athletic department is reviewing the incident for team consequences.
Under ninth-year coach Sean Miller, the Wildcats have not had an active player become charged with DUI, though guard Josiah Turner was arrested by UA police on suspicion of extreme DUI in April 2012 just weeks after the school announced he was leaving the team.
Lee, who will turn 21 on March 19, has been expected to be a major contributor for the Wildcats in the upcoming season after averaging just 10.2 minutes as a freshman last season. With 7-footers Deandre Ayton and Dusan Ristic having departed, the Wildcats have just four players for their two post positions.
Lee averaged 2.4 points and 2.3 rebounds last season but missed the final four games of the regular season and the Wildcats' three-game Pac-12 Tournament appearance because of a concussion suffered in practice on Feb. 20. He played only a minute in UA's season-ending loss to Buffalo in the first round of the NCAA Tournament.
Lee's arrest follows a string of off-court issues that have plagued the Wildcats since the 2015-16 season.
UA found wing Elliott Pitts guilty of sexual misconduct in 2015-16, prompting him to leave the team and the school, while standout guard Allonzo Trier tested positive for a PED and missed 19 games in 2016-17.
Last season, the federal investigation into college basketball led to the arrest and eventual firing of assistant coach Book Richardson while Trier re-tested positive for the same PED before testing clean and winning an appeal.
The Wildcats have gone nearly six years without a player being involved in a DUI or other high-profile court case. In 2012, Turner was arrested on suspicion of extreme DUI (more than a .08 blood alcohol level) while forward Jesse Perry faced felony domestic violence charges shortly after he finished his UA career in March 2012.
Turner was arrested by campus police in April 2012 just over two weeks after UA announced he was leaving the team following a troubled freshman season in which he was suspended twice for a total of five games. UA police said he tested for blood-alcohol level readings of 0.15 and 0.16.
A year later, Turner was sentenced to two days in jail and fined $1,529 in Pima County Justice Court after reaching a plea agreement. He pleaded guilty to a general charge of driving under the influence but six other charges, including DUI with a blood-alcohol level between .15 and .19, were dismissed.
After facing three felony charges that could have significantly impacted his professional career, Perry reached a plea agreement in September 2012 in which he pled guilty to a reduced, misdemeanor charge of strangulation at Pima County Superior Court.
Perry pleaded guilty to one count of unlawful imprisonment by strangulation and was sentenced to three years of unsupervised probation and a total of $2,370 in fees.
---
First look: Arizona's 2018-19 roster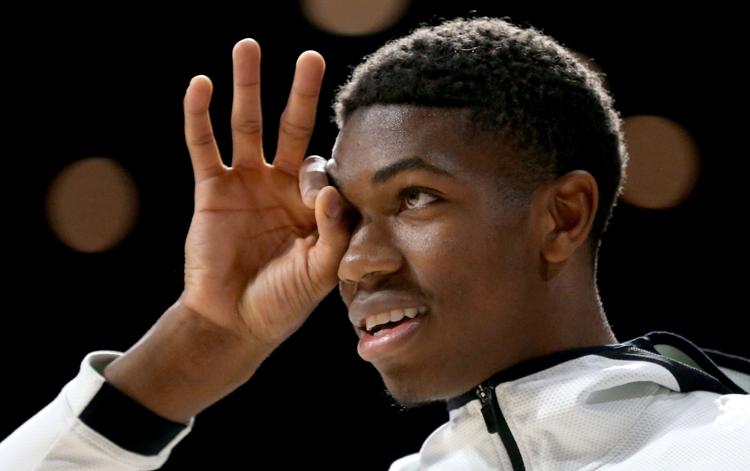 UA is bringing in three players from the 2018 recruiting class, two graduate transfers that will be eligible to play immediately and another transfer from Cornell.
Here's what the Wildcats' rotation might look like when they take the court in October.
Head coach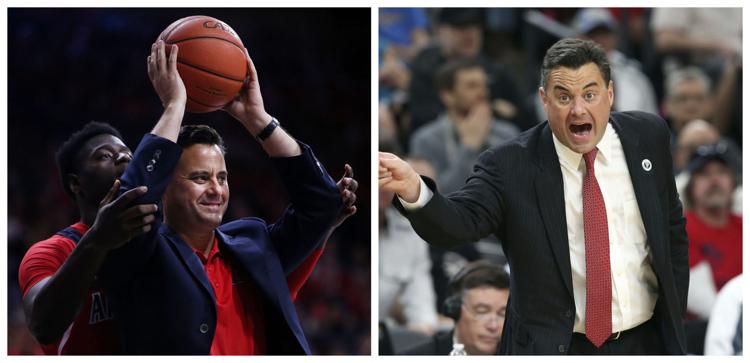 Was: Sean Miller
Is now ... Sean Miller. 
Lead assistant coach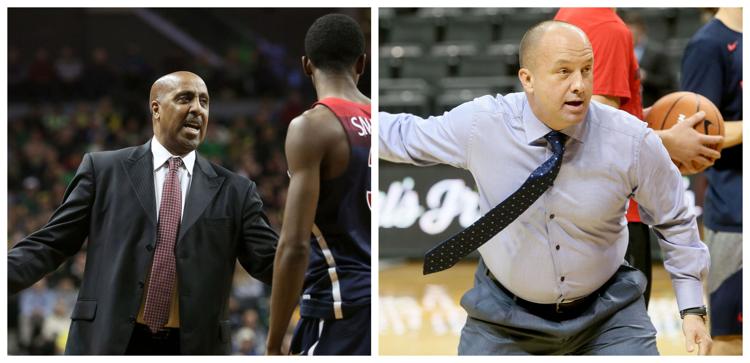 Was: Lorenzo Romar. The former Washington boss spent a year at Arizona before taking the head coaching job at Pepperdine.
Is now … Mark Phelps. Phelps moves over one chair and gets a raise, to $275,000 annually. 
Assistant coach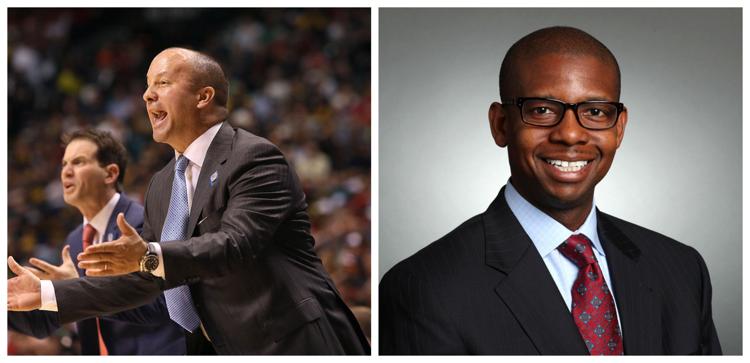 Was: Mark Phelps
Is now ... Justin Gainey. Gainey played under Miller at N.C. State from 1996-1999 and the two are familiar with each other. Gainey signed a two-year contract worth $290,000 annually. 
Assistant coach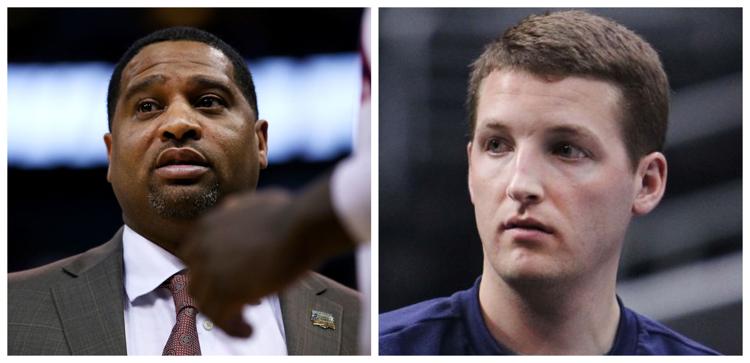 Was: Book Richardson
Is now ... Danny Peters. Richardson was fired prior to the start of the season in September after he was involved in the pay-for-play scandal in college basketball, as investigated by the FBI. Assistant director of basketball operations Austin Carroll temporarily filled Richardson's role. Peters signed a two-year contract worth $275,000 annually. 
Peters formerly was on UA's staff as the assistant director of basketball operations, but departed in 2014 to join James Whitford at Ball State. 
Point guard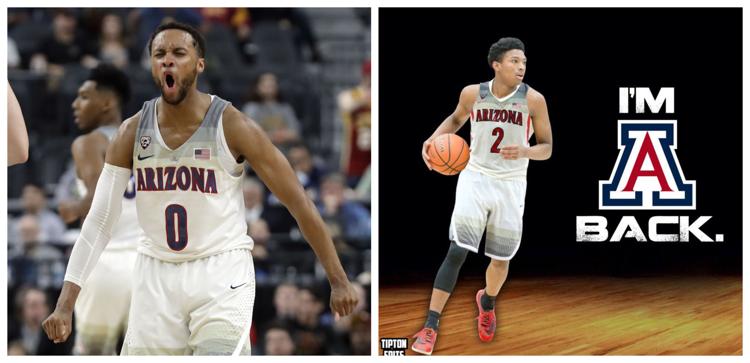 Was: Parker Jackson-Cartwright
Is now …  Brandon Williams. The four-star point guard recommitted to the Wildcats and provides some depth and size to the position. 
2018-19 reserves: Justin Coleman, Alex Barcello
Shooting guard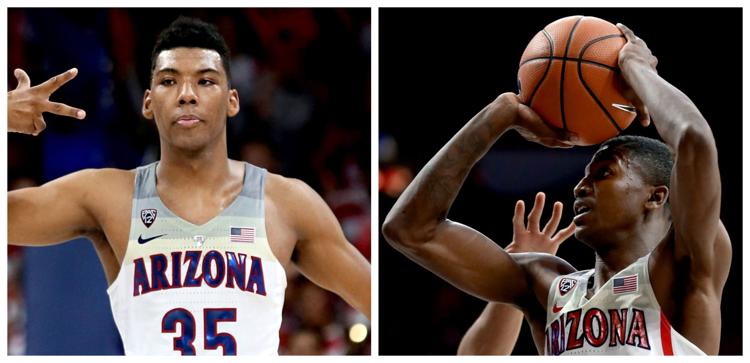 Was: Allonzo Trier
Is now ... Dylan Smith. Entering his junior season, Smith flashed potential as a future starter especially when Rawle Alkins missed three games during Pac-12 play. Don't be surprised if Brandon Randolph drastically improves between his freshman and sophomore year and leaps Smith for the starting spot.
2018-19 reserves: Brandon Randolph, Devonaire Doutrive
Small forward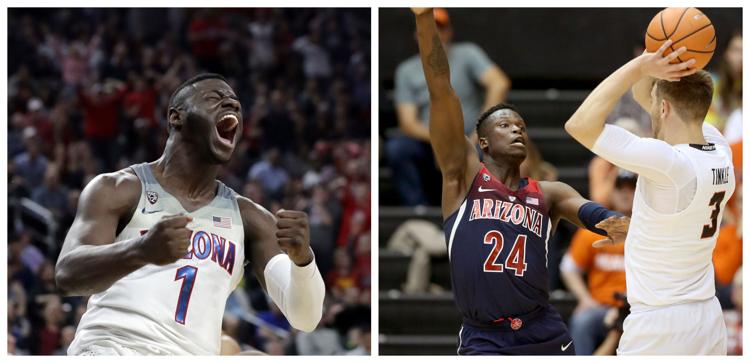 Was: Rawle Alkins
Is now …  Emmanuel Akot. Technically, Akot was supposed to be a part of the 2018 recruiting class, but reclassified. In hind sight, that could've been a genius move on Akot's part because now he's a seasoned wing player with a year of college ball under his belt. 
2018-19 reserves: Omar Thielemans
Power forward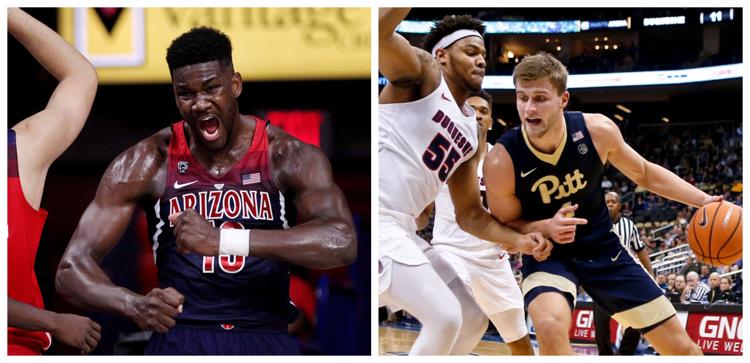 Was: Deandre Ayton
Is now …  Ryan Luther. The Pittsburgh graduate transfer adds experience to Arizona's youth. However, Luther suffered a foot injury in January that cut his season short, and Ira Lee could very well see a lion's share of minutes.
2018-19 reserves: Ira Lee, Stone Gettings
Center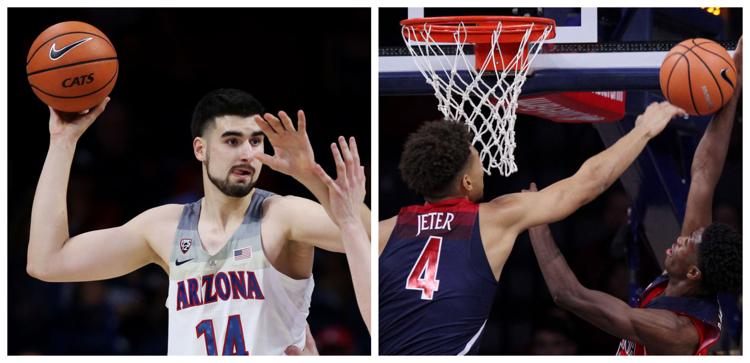 Was: Dusan Ristic
Is now …  Chase Jeter. The Duke transfer would play power forward for any other team in college basketball, but the Wildcats don't have a single center on board so expect Jeter to play heavy minutes as the anchor in the middle.
2018-19 reserves: Ira Lee, Ryan Luther