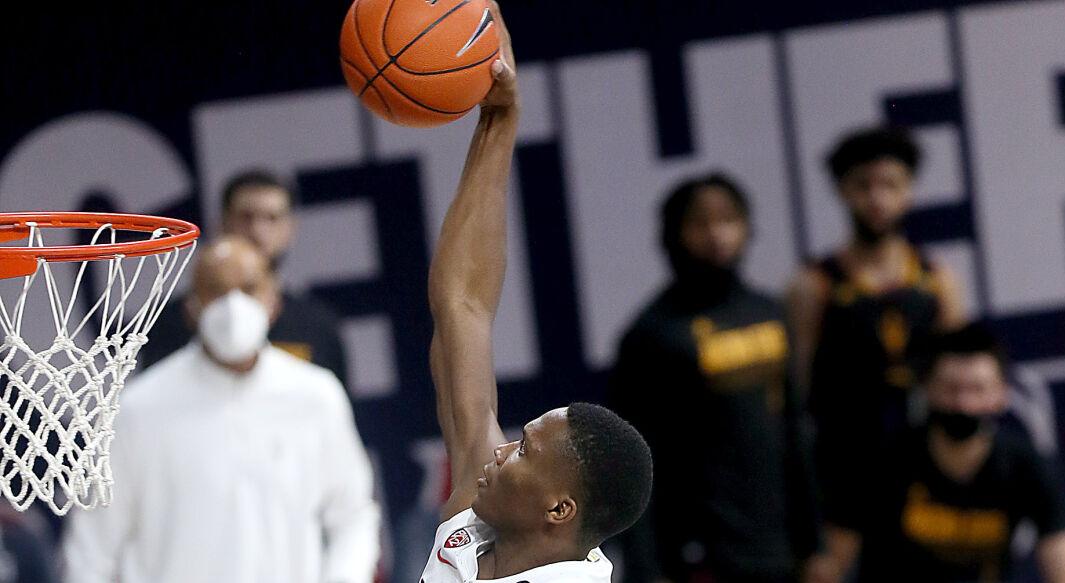 While grousing more than once about his shorthanded roster after Bennedict Mathurin went down Monday, UA coach Sean Miller threw out a bright spot for the Wildcats.
Miller said freshman guard Kerr Kriisa will eligible to play on UA's trip to Utah and Colorado next week -- and he may also be healthy enough to take advantage, having progressed quickly from a broken nose and concussion suffered in practice on Jan. 13.
"I believe that he'll be cleared," Miller said. "He's able to do non-contact right now with his concussion but he's very, very close with his concussion. Even tomorrow where (he might) be cleared to establish himself and practice. We need to get him to practice a few times so he can be the most ready he can be, but he comes to us at a very, very good time."
The Dec. 21 decision that Kriisa would not be able to play until Feb. 6 came about because the NCAA ruled he would have to sit out the first 70% of Arizona's games (as they were scheduled then). But the move of Arizona's second game with ASU from March 6 to Jan. 25 suggests Kriisa could be eligible to play the Utah game also as Miller indicated.
---
The biggest obstacle Bennedict Mathurin might have ahead is psychological, the way Miller described it, saying X-rays indicated his right ankle was not broken. It didn't appear to be a long-lasting high ankle sprain, either.
"There's different severities of a sprain as we all know," Miller said. "I don't think his is significant but it might be the first ankle injury he's ever had. The first one one kind of scares you more than anything. My hope is over the next couple of days that we are able to build up some confidence in him and he's going to be able to see that he's going to be all right.
"He's going to be OK. It's just I don't know what the next few days or this week will look like. We'll know more probably by Wednesday."
---
Miller said Jordan Brown also suffered a similar (previously undisclosed) ankle sprain in the first game against ASU but was able to recover and play 18 minutes on Monday.
"Jordan didn't really practice but he really worked around the clock the last couple days to get ready for (Monday's) game and I really credit Jordan," Miller said. "He helped us tonight. And by the fact that he was able to play, I think that will really help him recover even more the next couple of days. Hopefully he'll be closer to 100% against Stanford."
---
Arizona has now won three straight games since losing to USC and UCLA at home: At Oregon State (which has since beaten USC and Oregon), and twice against ASU.
"I thought we played a complete game against Oregon State and I think since then we're improving," Miller said. "It makes sense that we're improving because some of the players that were playing are really young and I think the more they practice, the more game experience they get, I think the more consistent they are.
"Azuolas (Tubelis) is a great example. If you judge him by the way he played at Arizona State and you judge him, same player, five days later, playing at home, he was so much more sure of himself. He knew what to expect, the (ASU) frenetic pace. I think he just needed to play a game like that so that he could be a little more comfortable and in the first half, he was terrific."