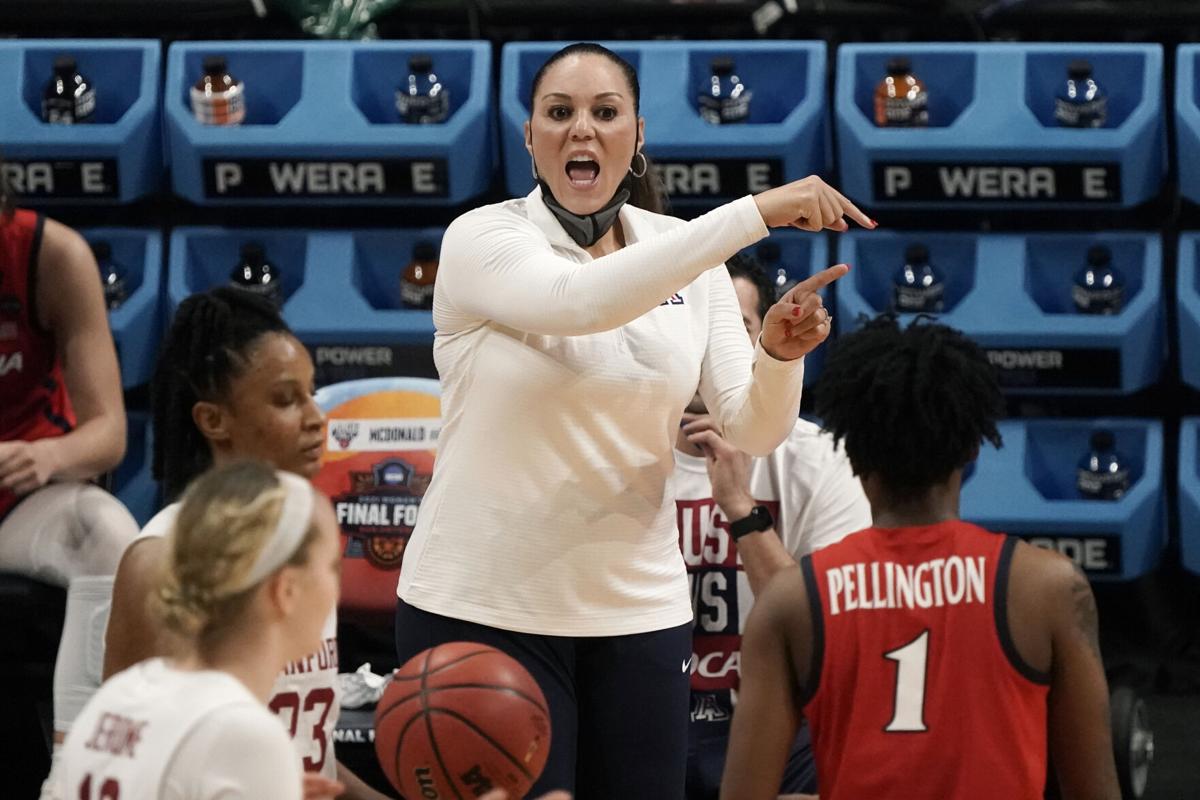 Arizona women's basketball coach Adia Barnes will be paid $1 million next season as part of her new five-year, $5.85 million contract, pending Arizona Board of Regents approval at their June 10 meeting.
The new five-year contract proposal for men's basketball coach Tommy Lloyd, which will pay Lloyd $2.5 million from the school plus $400,000 from sponsors next season, is also scheduled to be voted on at the meeting.
In terms agreed to before UA's run to the 2021 NCAA championship game, the Regents in April approved a five-year deal worth $3.35 million for Barnes. With Barnes' market value suddenly much higher after the tournament, the school announced on May 5 another 75% raise, but the deal will also more firmly tether Barnes to the school.
Barnes will now have to pay $3 million if she leaves UA before the end of the 2022-23 contract year, and $700,000 if she leaves in 2023-24. She will owe UA $300,000 if she leaves in 2024-25 but nothing if she leaves in 2025-26.
Those new terms were what UA called a "correlated modification" of her buyout, which had been $1 million if she left in 2021-22, $700,000 if she left in 2022-23 and $300,000 if she left in 2023-24.
"The post-season achievements of the team served to further solidify Barnes' and the Program's meteoric rise into the elite level of women's college basketball," UA's proposal said. "This modification of financial terms demonstrates Barnes' and UArizona's commitment to each other and commitment to the success of the Women's Basketball Program."
Barnes' new deal appears to put her among the Pac-12's three highest-paid women's basketball coaches, with Stanford's Tara Vanderveer making $2.29 million in total compensation as of 2015-16 (the last year that she was listed on Stanford's 990 tax filings) and Oregon's Kelly Graves scheduled to make $1.025 million next season.
Pending Regents approval, Barnes' salary schedule is as follows:
Lloyd's proposed contract is exactly as announced after his April 14 hiring, except for a clause discussing how his contract could be extended in the event of NCAA sanctions.
In the offer letter released at Lloyd's introductory news conference on April 15, UA said his contract would be extended by a year if any of three scenarios were reached as a result of the NCAA and/or IARP's decision: A postseason ban, the loss or two or more scholarships or "any other material restriction on recruiting visits or recruiting days." It also said Lloyd would receive two years extra if any of the three scenarios were handed down for two or more years.
However, in the proposal sent to the Regents, UA said Lloyd would receive a one-year extension only if all the restrictions were handed down. Then the school said he would receive a second year if any restriction was imposed for two or more years. It's not clear whether a postseason ban refers to an extra ban on top of the one UA self-imposed in 2020-21. While that self-imposed ban was not ordered by the NCAA, it is possible the NCAA might later "accept" it and make it part of their formal sanctions.
The proposal for Lloyd's salary schedule, which includes $700,000 from the school and at least $200,000 each from Nike and IMG, is as follows:
If Lloyd's contract is extended because of NCAA sanctions, he would receive:
UA's proposal to the Regents highlighted Lloyd's accomplishments at Gonzaga, where he served as an assistant coach for 20 years and developed a reputation for recruiting and player development.
"Lloyd's proficiency at Gonzaga, along with his strong reputation, align well with UArizona's goals and vision for the future of its men's basketball program," UA said. "Lloyd's passion, experience, knowledge, coaching and recruiting acumen, and drive will help re-establish the Program as one of the elite programs in the country.
"Lloyd is well-respected throughout college basketball, both for the performance of his teams on the court and the connection to and development of the players under his tutelage."