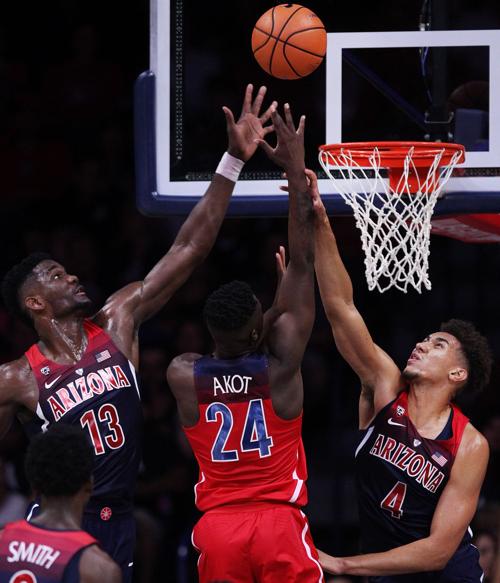 Arizona center Chase Jeter won't play in Friday's Red-Blue Game because of a strained groin, the team announced.
Jeter has missed several recent workouts with the injury but the Wildcats are still nearly six weeks out from their Nov. 1 season opener against NAU.
Jeter's absence means the Wildcats will have seven players available on each team for the Red-Blue scrimmage.
On the red team: Nico Mannion, Max Hazzard, Josh Green, Zeke Nnaji, Ira Lee, Jake DesJardins and Kory Jones. On the blue team: Jemarl Baker, Dylan Smith, Devonaire Doutrive, Stone Gettings, Jordan Brown and Matt Weyand.
Jones, DesJardins and Weyand are walk-ons, while Brown and Baker are scheduled to sit out this season after transferring (however, Brown has filed a waiver to play immediately).
---
The Red-Blue Game events are scheduled to begin with a national anthem, then videos, followed by player introductions and an address from UA coach Sean Miller.
A dunk contest will follow, and then the scrimmage of two 12-minute halves. 
The scheduled dunk contest contestants are: Green, Nnaji, Lee, Doutrive and Koloko.
---
UA is also expected to pay tribute to superfan George Kalil, who died in July. UA placed a tribute board and a drum he used to hit at games on his seat behind the Wildcats' bench.