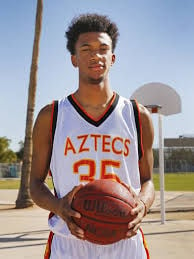 But the national championship race could be another story.
The former Tempe Corona Del Sol star is considered so versatile and talented that, along with five-star point guard Trevon Duval and other incoming pieces, the young Blue Devils may have enough become the No. 1 preseason pick.
"He changes the race for the national title," Biancardi said on ESPN after Bagley made his announcement. "Now Duke is relevant for the national championship. When you think about it, there's not many guys who can do that."
In any case, at least until the NCAA Tournament, the Wildcats won't have to play against Bagley, who had also considered USC and UCLA after playing last season at Sierra Canyon in Chatsworth, Calif.
Making his announcement on ESPN's SportsCenter on Monday evening, Bagley said he was interested in Duke since coach Mike Krzyzewski offered him a scholarship as a ninth grader at Corona Del Sol.
Arizona offered Bagley a scholarship just before his freshman season began, though the Wildcats appeared to leave the race this summer after Bagley moved toward reclassification.
Bagley was in the class of 2018 but has filed paperwork to move up to 2017 (assuming he clears the academic hurdles involved) and UA couldn't take Bagley this season anyway unless it moved a player off scholarship, or one opted to give his up.