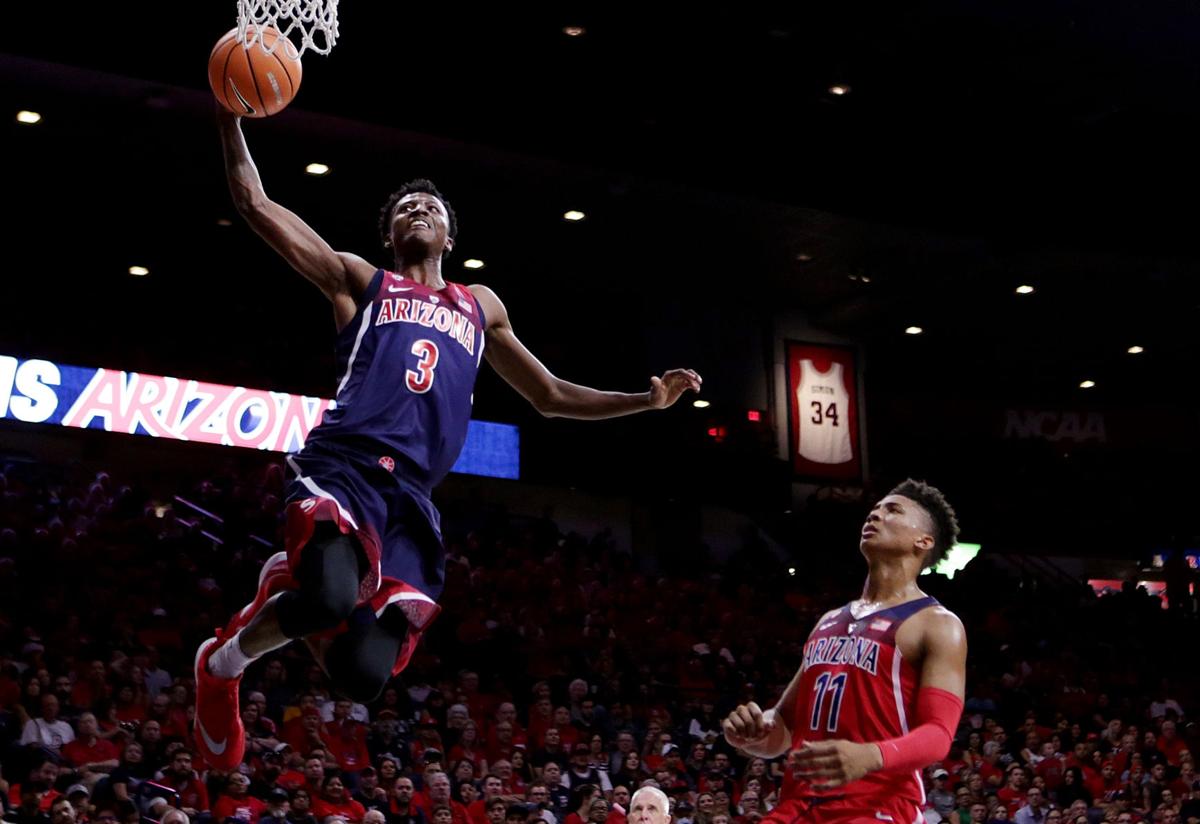 Five-star guard Devin Askew will reportedly be on hand for Friday's Red-Blue Game, further underscoring the importance of the Wildcats' annual preseason showcase to their recruiting efforts once again.
UA commit Dalen Terry is also scheduled to attend with Hillcrest Prep teammates Puff Johnson (a 2020 wing) and Michael Foster (a 2021 center), while 247 reported last week that five-star 2021 center Nathan Bittle of Oregon will be among the other top targets to visit this weekend.
While answering a question about how the atmosphere created by Arizona fans helped retain potential grad transfers Chase Jeter and Dylan Smith, UA coach Sean Miller went on to mention the Red-Blue's importance to recruiting during his annual media day address on Tuesday.
"It's a big recruiting weekend," Miller said. "Our fans know that and I think we have a few tickets left. And hopefully, we'll be able to sell those here in the next couple days."
---
The Red-Blue Game will be played two weeks before its traditional mid-October date, and Miller said the move had a lot to do with recruiting, to get guys on campus as quickly as possible before any fall commitments are made.
"A lot of people don't want to make a decision until they visit, and if that date is late October... you're not going to make a decision or be prepared to make a decision, an informed decision, until you can touch and feel Tucson and University of Arizona and compare it to other choices," Miller said. "So moving that up makes sense. And also, the Red-Blue Game is such a big event for our current team. Family and friends are here. It's the first time they play in front of 14,500."
Miller said the biggest challenge for players in the Red-Blue Game is dealing with "everything that's going on" and getting the goose bumps out of the way. Now, the Wildcats will have five full weeks after the Red-Blue Game to head mostly back behind closed doors to work things out before their Nov. 6 opener.
"I think having it earlier will also allow us to get that done with and then move on to real practices, the development part," Miller said.
---
Smith and forward Jake DesJardins, meanwhile, are the current kings of Red-Blue Game, having first played in 2016 game, when Smith was a redshirting freshman from UNC Asheville before the 2016-17 season and DesJardins was a preferred walk-on from Henderson, Nev.
Smith said Tuesday he's excited for his last one.
"It's gonna be fun, man," Smith said. "I mean, it's my fourth one, the final one and you want to make sure you go out with a bang. Make sure the young guys have fun with it. Them seeing that 14,000 is going to be different for them for sure. Hopefully they embrace it and they'll love it. Once they get the jitters out, they'll be fine."
---
---
After his media day address, Miller made a quick trip to the Bay area to visit Prolific Prep and see 2021 center Frank Anselem at Prolific Prep before the Wildcats held their first practice Wednesday.
---
Arizona is scheduled to bring Nico Mannion and Josh Green to Pac-12 Media Day on Oct. 8 in San Francisco.