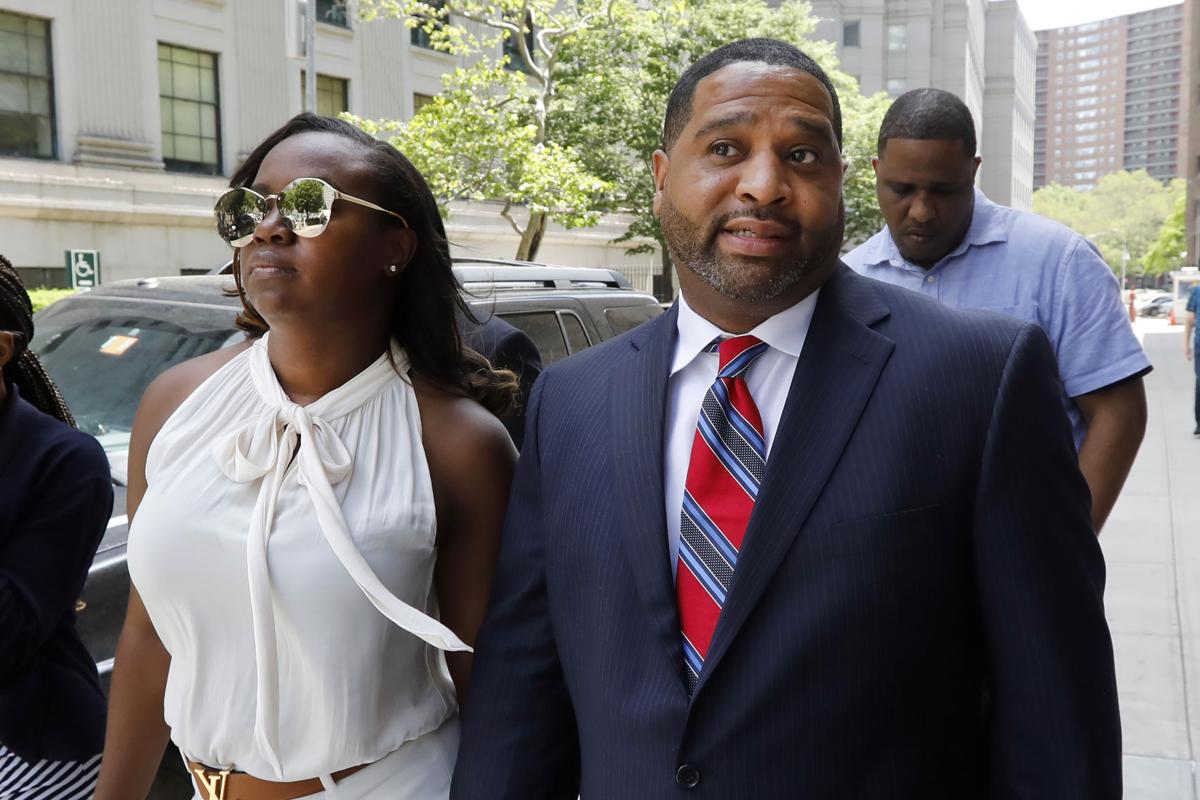 In a story that also detailed his personal challenges since his October 2019 release from a federal prison, former Arizona coach Book Richardson told the New York Daily News he was made a scapegoat in the federal investigation into college basketball and has declined a second interview with NCAA investigators.
The Daily News reported that Richardson met with NCAA investigators in January but "had no interest" in meeting with them again in June for a "Notice of Allegations" interview even though there was a show-cause order involved. (UA has still not acknowledged receiving an NOA from the NCAA).
The Daily News' Stefan Bondy wrote that "Richardson took his punishment and served his time, but the NCAA is still trying to extract information. Richardson already met with NCAA enforcement in December, leaving him with the impression 'they didn't just want to get Arizona, they wanted me to give up all of college basketball.'
Bondy also wrote that "Richardson already served his prison time and believes any further conversations or punishments are akin to 'beating a dead horse.' He isn't interested in cooperating. There's no job offer or incentive from the NCAA, and Richardson's against snitching, regardless."
As was the premise of HBO's The Scheme documentary, Richardson indicated he believed that the federal investigation did not turn out to be what it was originally presented as.
At the Sept. 27, 2017 news conference to make public its investigation, and announce it was still continuing, FBI assistant director William Sweeney referred to those operating in college basketball's shadow marketplace when he said "we have your playbook."
Yet three years later, only Richardson, who admitted to taking $20,000 in bribes, and former Oklahoma State assistant coach Lamont Evans have been sentenced to prison though allegations in the case led to the firing of Louisville coach Rick Pitino.
"I do" feel as if I was scapegoated, Richardson told the Daily News. "I do in the grand scheme of things. When they tell the world that you have our playbook, and you only get four Black assistant coaches and two of them go to jail. What playbook did you have? Was that the audible playbook? Was that the freshman playbook? The JV playbook? Which playbook did you have?'"
Richardson has declined interview requests from the Star about the investigation and his subsequent three-month prison stints but told the Daily News he was "helping kids when they got on my campus, yes," and detailed a difficult personal life since his October 2018 release.
The Daily News reported Richardson makes only a $2,000 a month from the New York Gauchos club team and has no health insurance while facing stage 3 kidney disease.
Richardson was also divorced from his wife Erin in January for what the Daily News said was infidelity.
"The one thing I never want to lose in the world was my wife," Richardson said. "But it's like, 'Book, you didn't act like that.' But I always thought that. This is my rock. And as she was trying to heal me, I was breaking her.
"I took her for granted."
Photos: Emanuel "Book" Richardson, Arizona Wildcats basketball assistant coach
Arizona vs. Oregon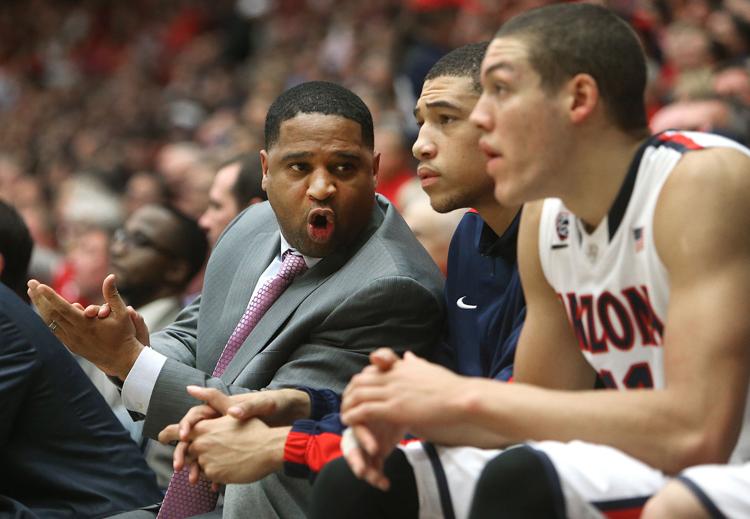 Arizona vs. San Diego State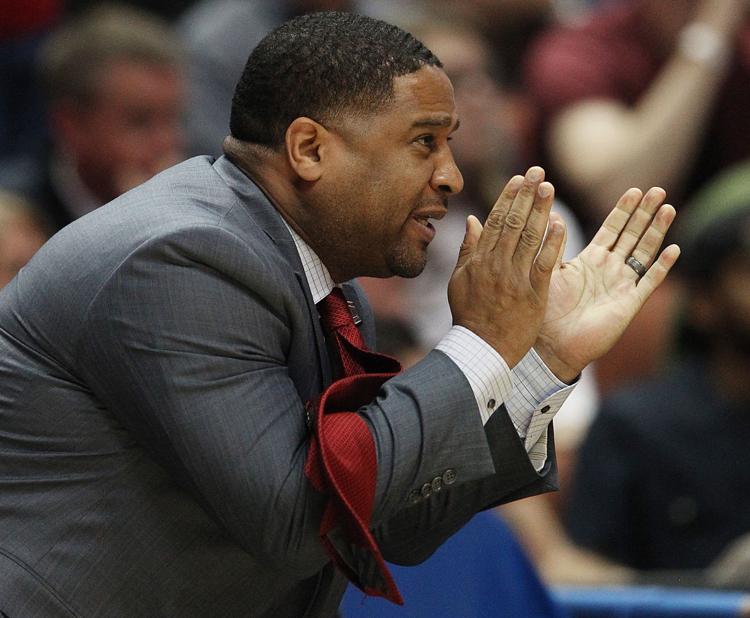 Arizona Wildcats in the 2017 NCAA Tournament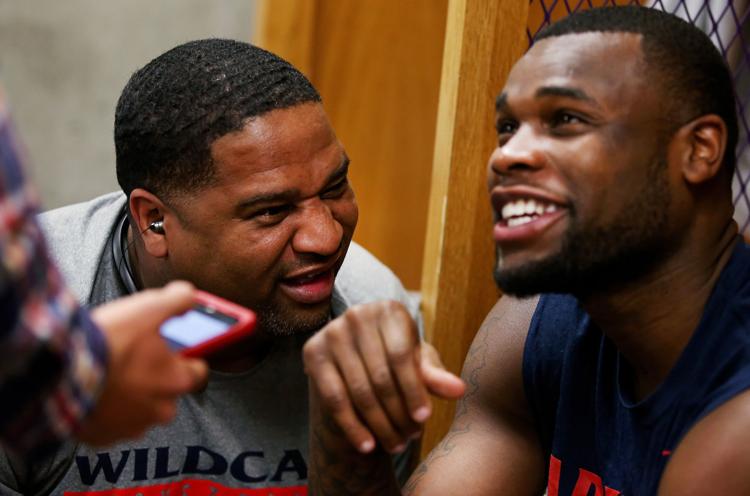 Arizona Wildcats in the 2017 NCAA Tournament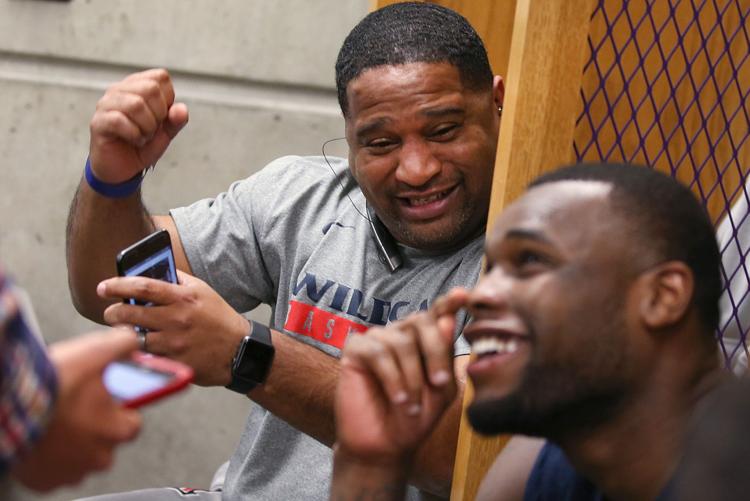 Arizona Wildcats in the 2017 NCAA Tournament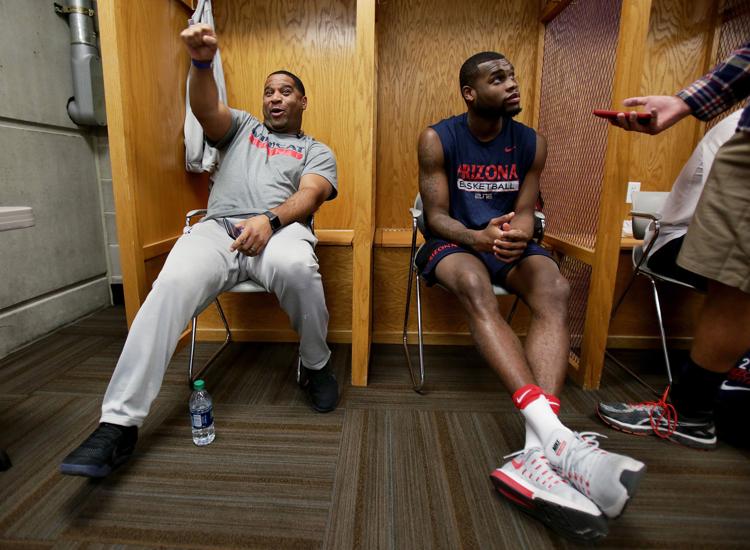 Arizona vs Washington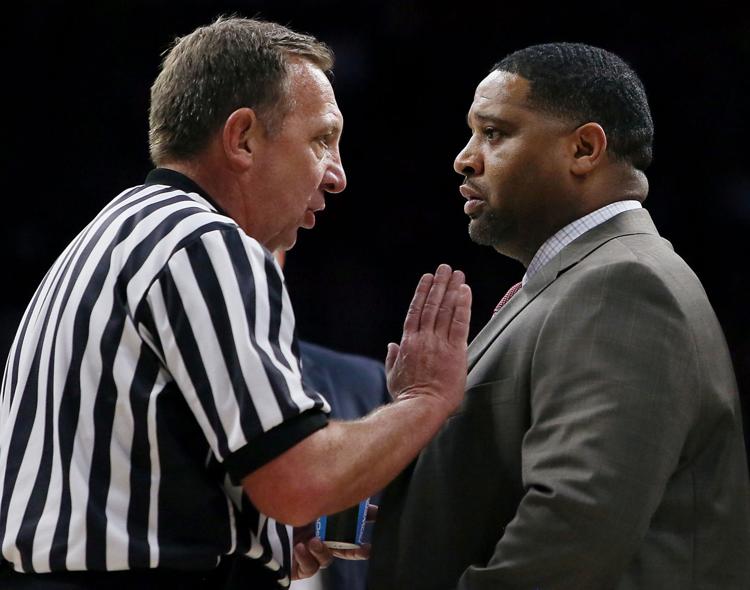 Arizona vs Northern Colorado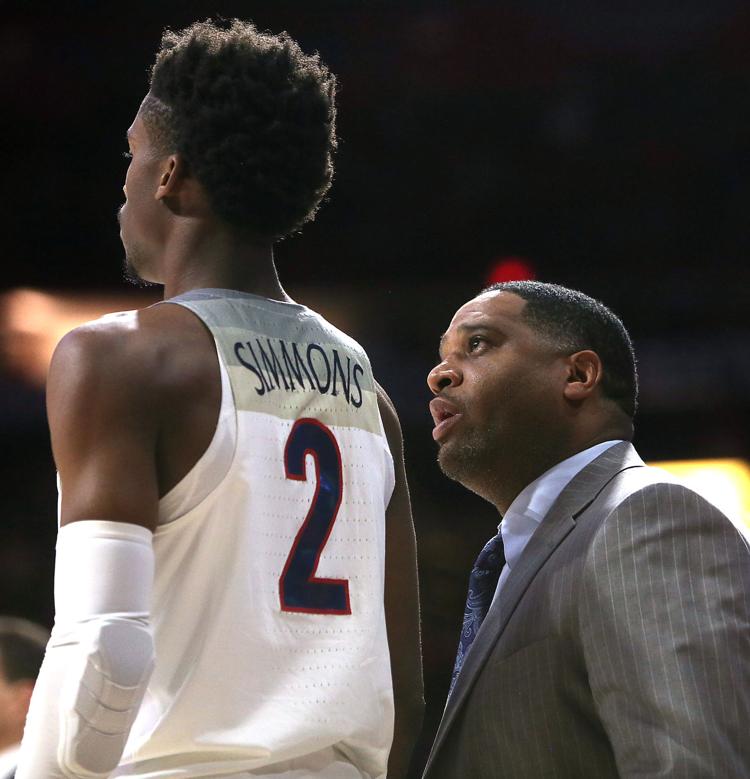 Book Richardson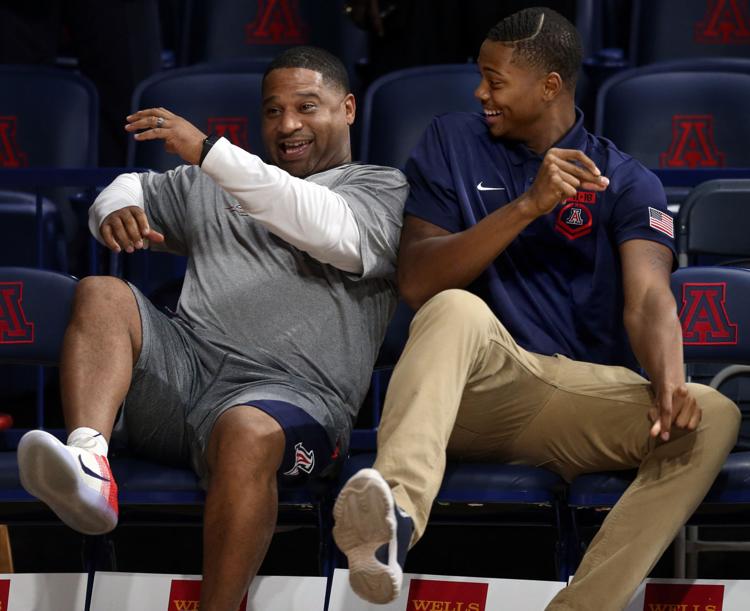 Arizona vs. Stanford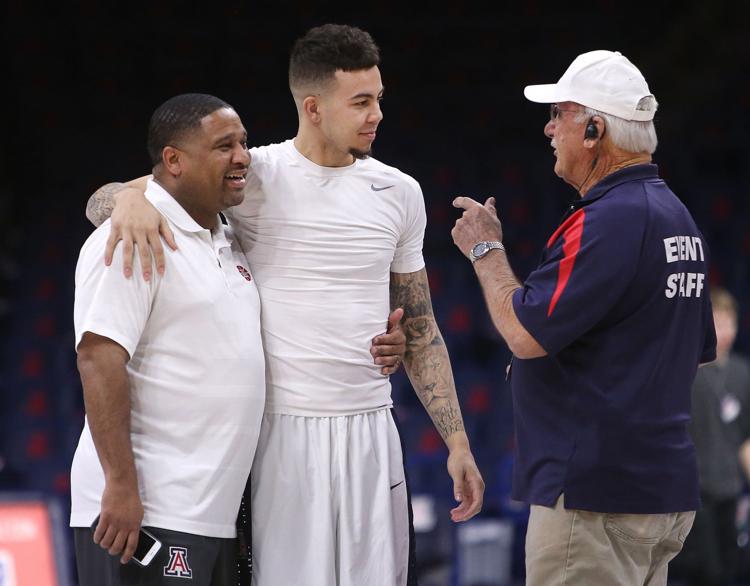 Arizona vs USC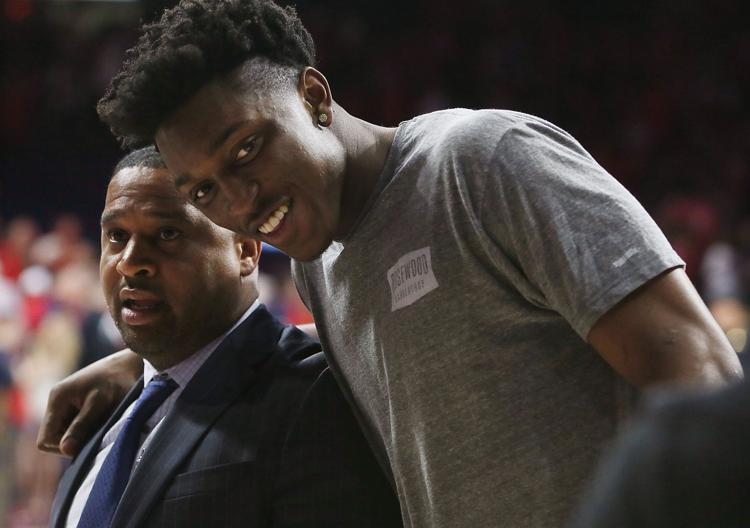 Arizona vs UCLA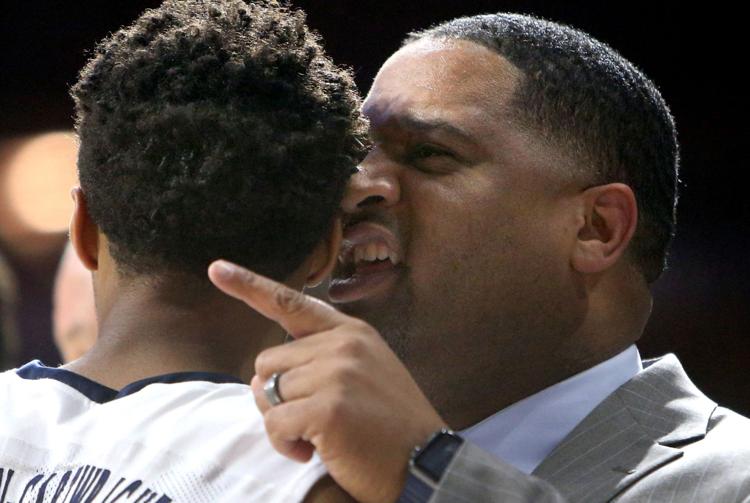 Arizona vs. University of Washington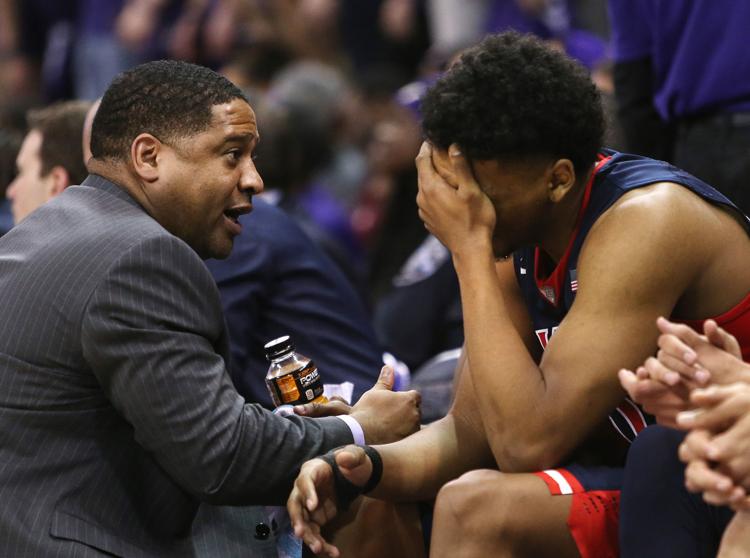 Arizona vs Washington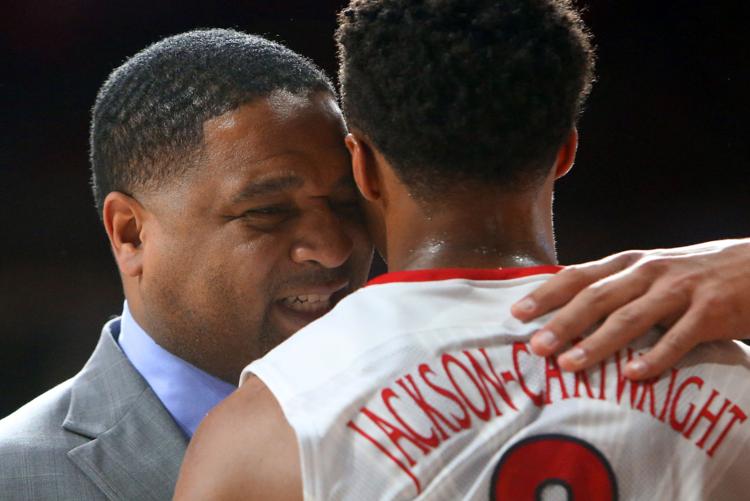 Book Richardson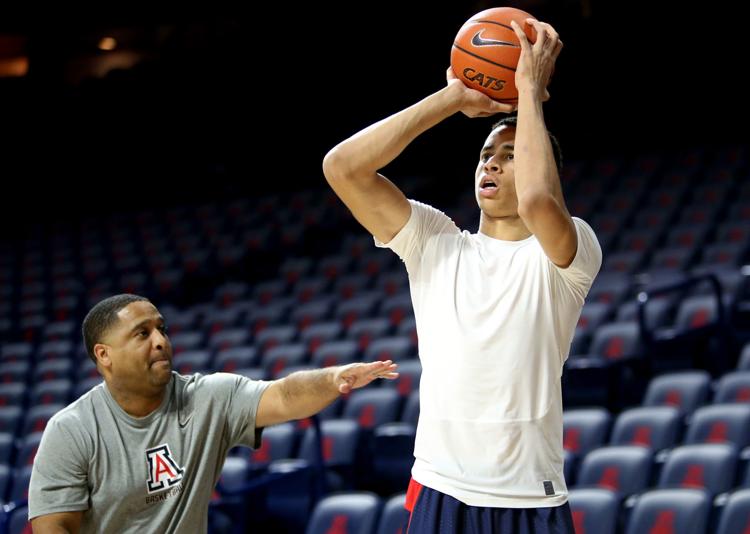 Book Richardson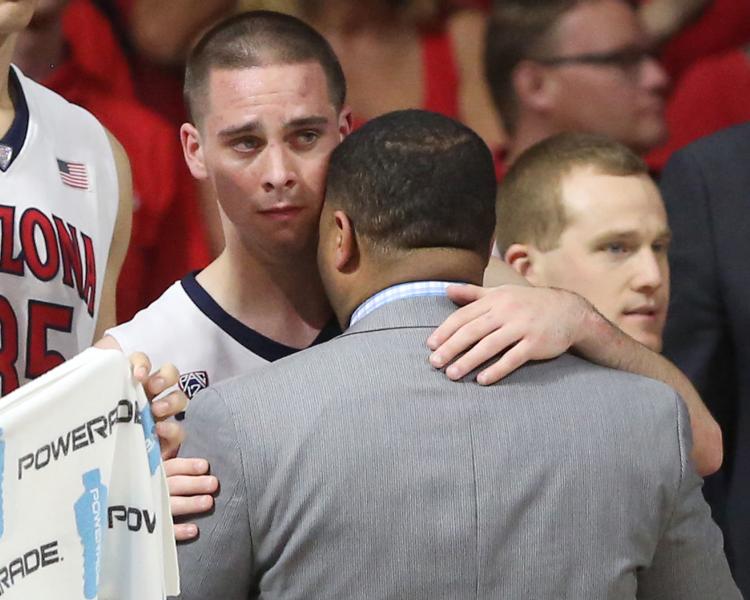 Arizona vs USC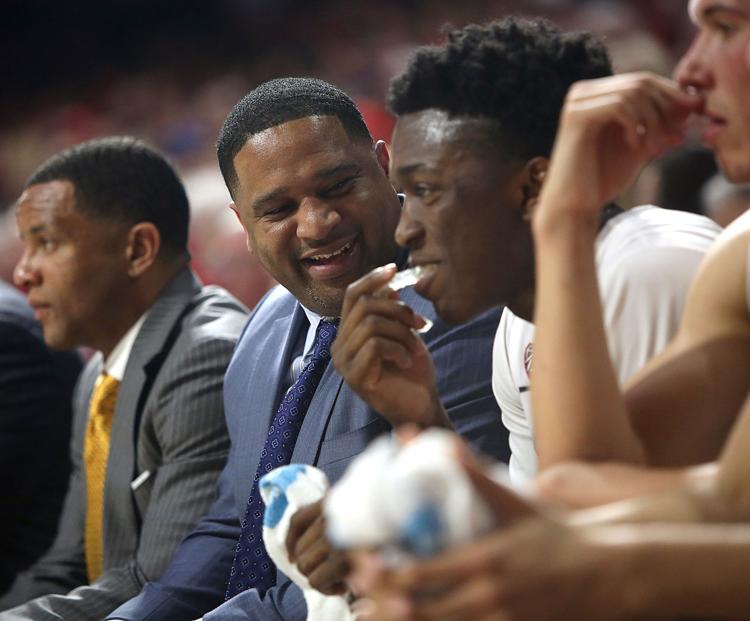 Arizona vs ASU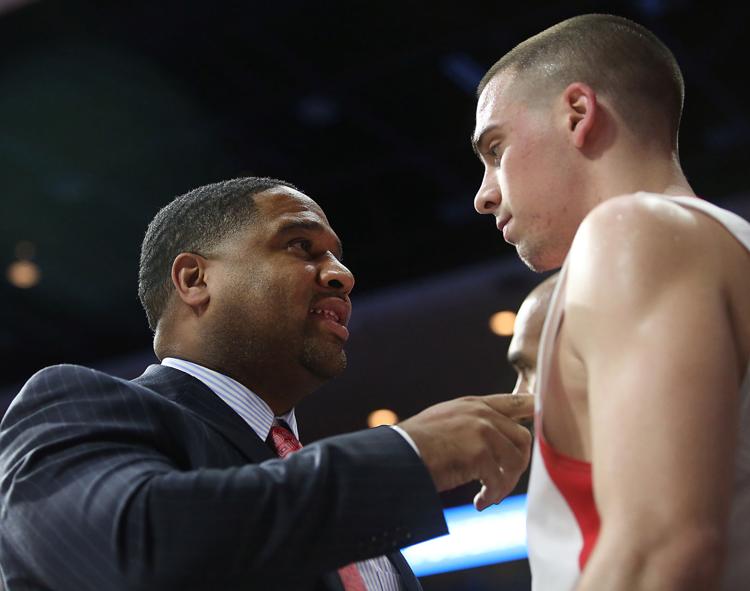 Book Richardson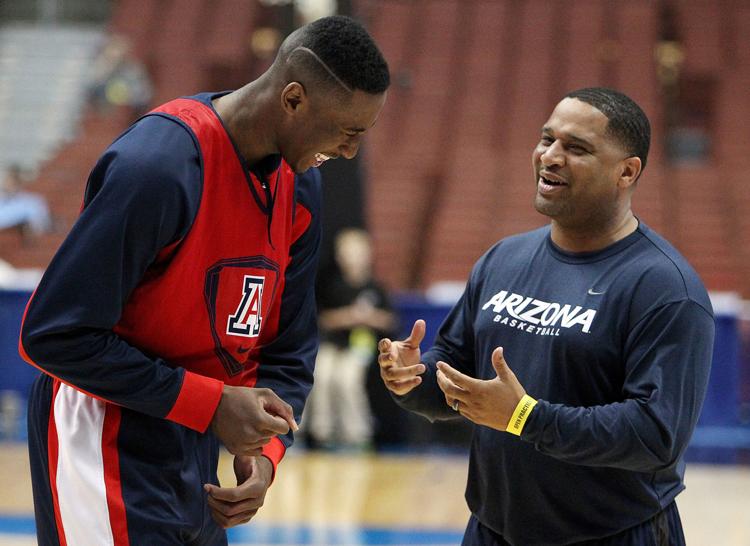 Book Richardson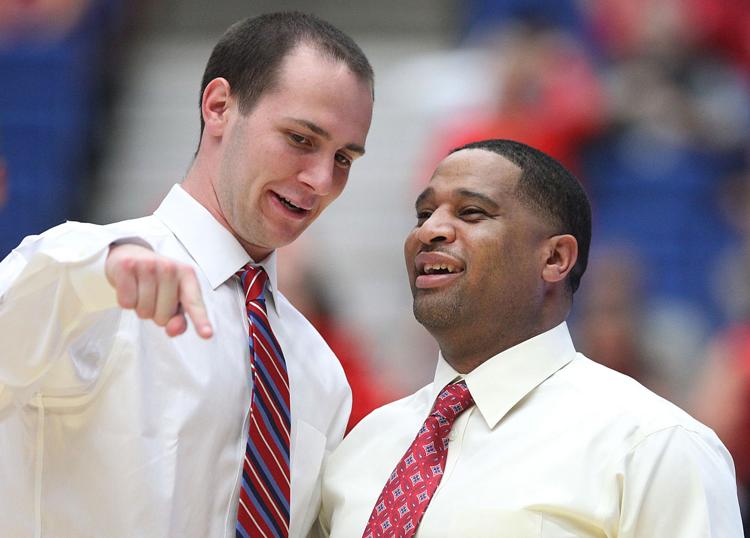 Arizona vs Washington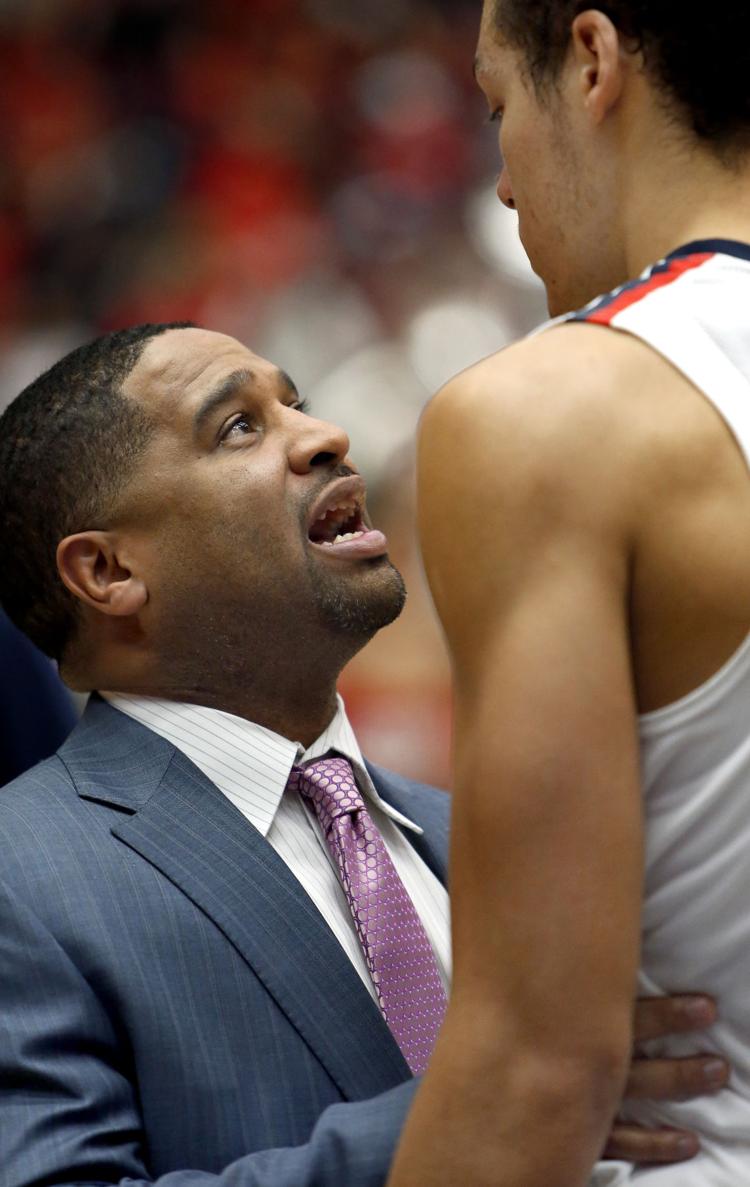 Book Richardson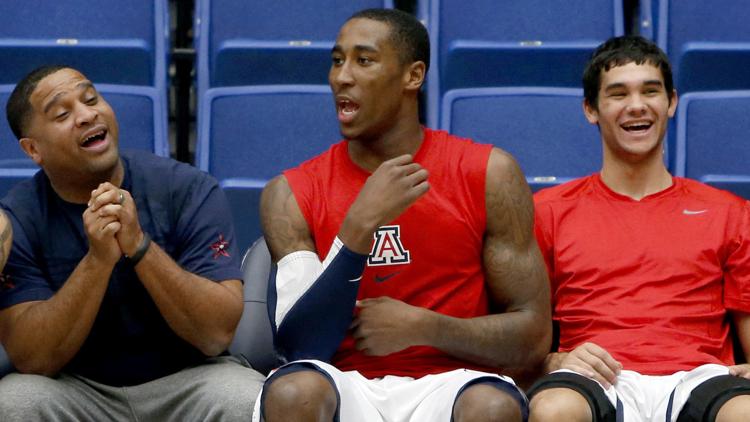 Book Richardson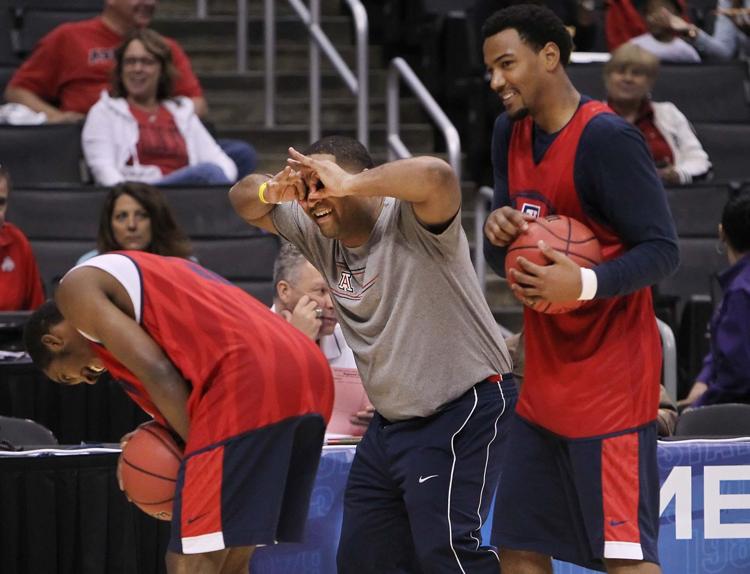 Book Richardson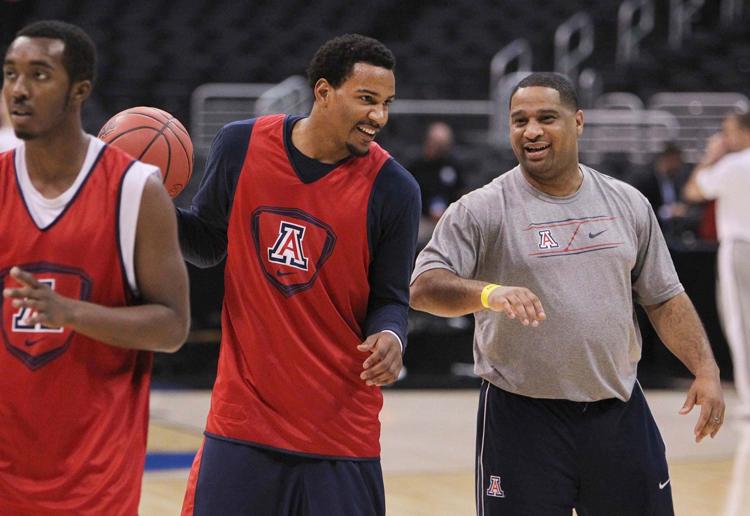 Book Richardson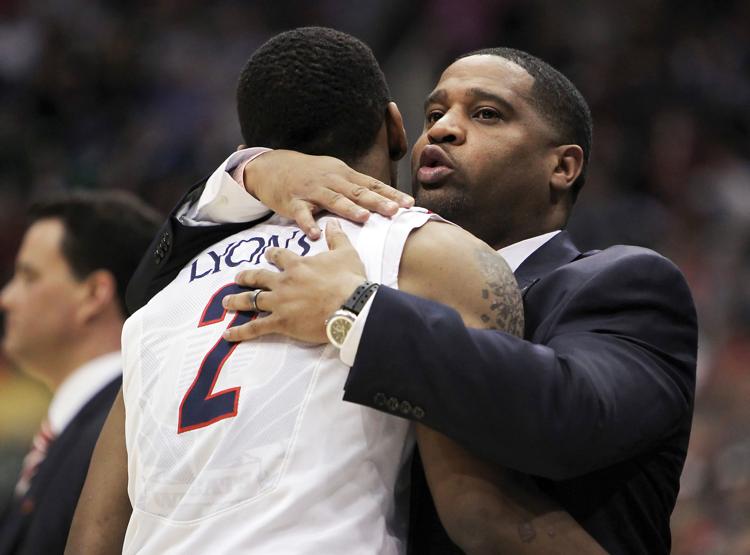 Book Richardson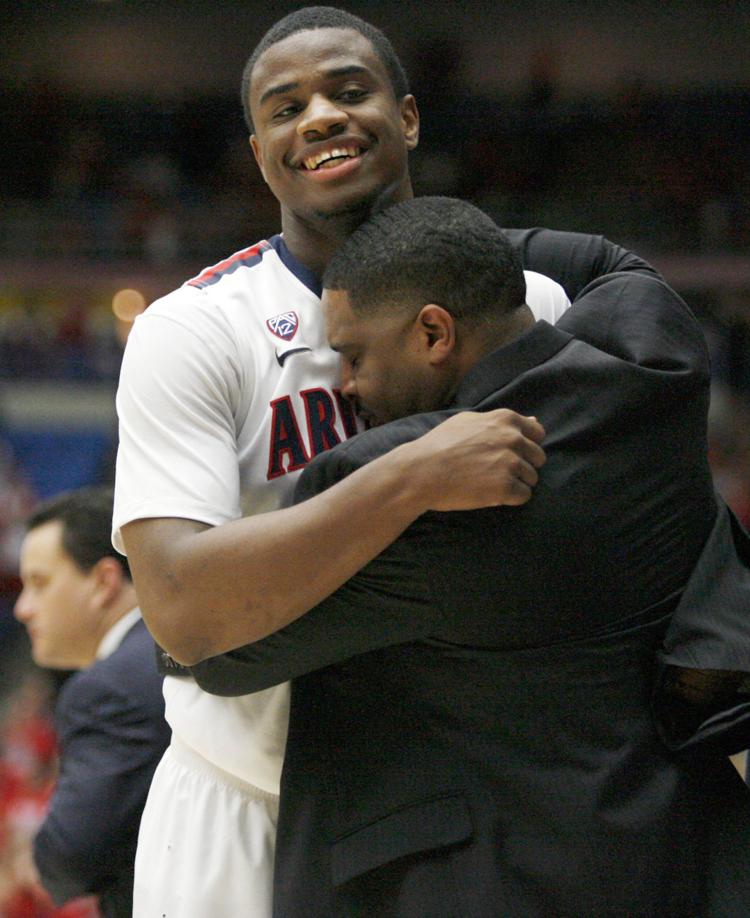 Arizona vs California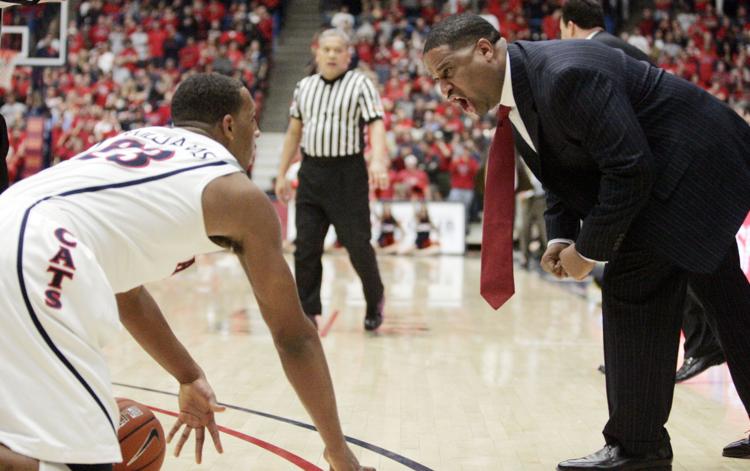 Greg Hansen: What happens next? For Arizona Wildcats, it's an open-ended question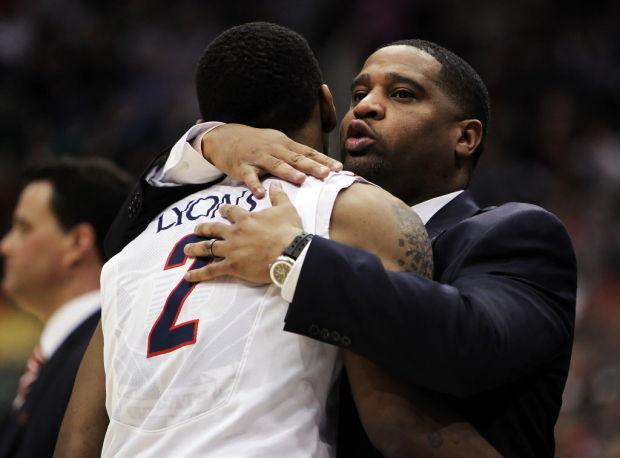 After Arizona fired basketball coach Ben Lindsey in the spring of 1983, he told the school's administration of five incidents in which players were paid or illegally reimbursed for plane travel.
Assistant coach Ricky Byrdsong acknowledged at least one of those payments. He said Lindsey gave him $200 for junior forward Morgan Taylor in a "white envelope."
The UA sanctioned Byrdsong by reducing his salary from $25,002 to $12,501.
That was a high crime in college basketball, 1983, and it would almost seem comical if not for the fear that Arizona's basketball program could be nuked for a sum less than Byrdsong's 1983 salary.
The attorneys and damage control specialists at the UA are now at work on a strategy explaining how Arizona assistant basketball coach Book Richardson was reportedly caught in a pay-for-play scandal in which almost no one in college basketball ever gets caught.
What's next? There are many possibilities:
UA head coach Sean Miller denies any involvement and university president Bobby Robbins stands with him.
More incriminating accusations are leveled by the FBI.
One or more current UA players are ruled ineligible as a result of Richardson allegedly paying them; Class of 2018 recruits scatter to other schools.
Richardson sings, telling FBI agents that Miller — or someone else at Arizona — knew of illegal payments, at which time Miller would likely be fired.
The NCAA begins an investigation that could cripple Arizona's basketball program into the 2020s.
Of immediate concern to those who have paid thousands of dollars in advance for McKale Center season tickets is whether the Wildcats will be eligible for the 2018 NCAA Tournament.
Who knows? The book on Pac-12 basketball teams punished by exclusion from March Madness has but three chapters.
I. In 1981, UCLA was found to have helped purchase automobiles for Bruins stars Rod Foster, Darren Daye and Michael Holton. Coach Larry Brown was long gone before the NCAA investigation was complete. The Bruins were not allowed to participate in the 1982 NCAA Tournament even though they finished the season ranked No. 19 in the AP poll and had been ranked as high as No. 2.
II. In 1996, Cal coach Todd Bozeman was caught after giving guard Jelani Gardner $30,000. Bozeman was fired, but the NCAA was not swift in its punishment. New coach Ben Braun led the Bears to the 1997 NCAA Tournament. A year later, 1998, Cal was banished from postseason play.
III. In 2008, USC guard O.J. Mayo was ruled to have accepted illegal payments while a Trojan. After a long investigation, USC was made ineligible for the 2010 NCAA Tournament.
Given the pace of the historically understaffed NCAA enforcement division, it's more likely that Arizona wouldn't begin a post-season ban until the spring of 2019.
For some long-suffering UA fans, this is familiar turf.
On May 20, 1983, the NCAA placed Arizona's football program on a two-year probation for malfeasance committed in the 1970s. The Wildcats were not permitted to play in bowl games for two years, nor participate in any televised games.
Believe it or not, Arizona opened the 1983 season favored to win the Pac-10 and ranked No. 3 nationally — but painfully aware it could not play in the Rose Bowl.
Arizona's football transgressions of the 1970s make Richardson's alleged fraud and bribery crimes come off as kid's stuff. The difference is that coach Tony Mason's football program did not violate Section 666 of the United States legal code, which involves "theft or bribery concerning programs receiving federal funding."
All Arizona coaches are agents of an institution that accepts federal funds, hence the FBI's rare involvement in college sports.
Richardson probably didn't know what hit him when the FBI knocked on his door.
You can almost picture him in astonishment, saying "I did what? Section 6-what? The FBI? Really?"
Mason's team was punished for operating a $35,000 slush fund, falsifying dozens of travel expenses, helping players get paid for phony jobs, paying for players' car repairs and for long-distance telephone expenses. Six UA assistant coaches were accused of a scheme in which they would collect payment for fake airline trips.
One UA player, running back Larry Heater, was fined $9,000 in court after pleading guilty to charges of defrauding the Tucson Parks and Recreation department, receiving pay for a job at which he did not work.
Mason, 53, was forced to resign just as Arizona began its 1980 spring football camp. He never coached again.
At issue now is whether Miller has coached his last game at Arizona.
Sean Miller silent as questions mount about past, future of Arizona Wildcats basketball program
Sean Miller went a third day without addressing the arrest of his longest tenured assistant on federal bribery and fraud charges.
Questions kept building anyway.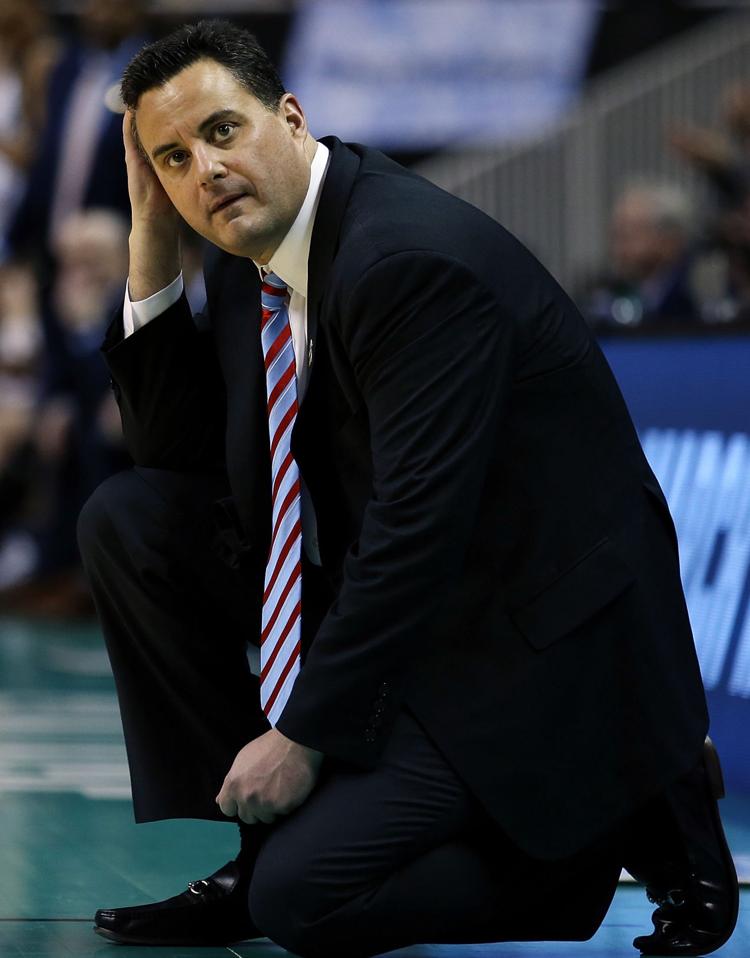 What did the Arizona head coach know, if anything, about the $20,000 in bribes assistant coach Book Richardson was accused of taking? Was Miller aware that, according to the federal complaint, another UA coach met with the sports agent also charged in the investigation? That former associate head coach Joe Pasternack may have talked with a sports agent twice on the telephone?
And also, from the complaint, these questions:
Had a current UA player already taken payments from a sports agent, as that agent alleged?
Was it true that a sports agent involved with the bribery scheme was "friends" with the UA coaching staff, and that he could attend practices "like I'm on the team," as the complaint quoted him as saying?
And did the UA really offer a five-star recruit $150,000, as an Adidas rep alleged in a separate federal complaint involving the shoe company's ties to college basketball?
UA president Robert Robbins has opened an independent investigation into Richardson, but the university has not addressed the other issues raised involving the program.
Miller hasn't said anything, either, and the UA's scheduled preseason media day Wednesday was postponed. Miller spent Thursday with his team in McKale Center.
Under a contract that is scheduled to pay him $2.6 million plus performance and academic bonuses in 2017-18, Miller can be terminated for, among other reasons, "repetitive violations" of NCAA or Pac-12 rules, "demonstrated dishonesty" and "conviction of a criminal act that constitutes a felony, a misdemeanor involving moral turpitude or that otherwise reflects adversely on coach's fitness to serve as head coach."
But Miller was not linked to any potential NCAA rules violations in the federal complaints. In fact, the coach wasn't mentioned at all except for when a sports agent said Miller wanted recruit Jahvon Quinerly "bad as (expletive)," suggesting the agents could gain considerable leverage over the Arizona program if they helped deliver Quinerly.
Miller hasn't been implicated in any public NCAA rules violations cases since arriving at Arizona in 2009, and picked up a strong endorsement Thursday from ESPN college basketball analyst Jay Bilas.
"I know Sean Miller to be a man of great honesty and integrity," Bilas tweeted, in response to a fan's tweet that it was "laughable" that Miller knew nothing. "I don't believe for a second he knew of any improper behavior."
Even if he's found responsible for any possible violations, Miller might be treated as something of a first-time offender in the NCAA's eyes.
"That helps, but there's some stuff that looks pretty shady involving the program," said Jerry Meyer, a recruiting analyst for 24/7 Sports. "I think all these schools are now under a microscope and we have no idea how much intel and evidence the FBI has."
Indeed, U.S. attorney Joon Kim said Tuesday that the investigation remains open now that the initial covert operation is completed. The FBI encouraged calls to its tipline, and suggested that coaches who committed similar acts would be better off calling the FBI instead of later being called by the FBI.
All this hit just days before UA was scheduled to open full-length preseason practices with a team that has already become the consensus No. 1-rated team among major preseason annuals.
The only thing that is certain now is that Richardson won't be on the coaching staff, and that wing Rawle Alkins is out for 8-12 weeks because of a broken foot.
If a player took payments from a sports agent already, as a sports agent alleged, that player could be deemed ineligible, and any past games he played in after taking them might be vacated.
The complaint also said Richardson aimed to put pressure on another current UA player to sign with the agent, though there was no mention of any payments made.
All this led CBS Sports' Matt Norlander to write Thursday of Arizona:
"How many players on that roster are subject to investigation? How many players could be held out or ruled ineligible? In a flash, Sean Miller's program has gone from preseason title favorite to an alleged cheating machine."
The NCAA won't say if it plans to launch its own investigation or issue sanctions based on the FBI's allegations.
When asked by the Star, the NCAA only referred to a statement from NCAA president Mark Emmert, who said the charges were "deeply disturbing" and pledged to "support the ongoing federal investigation."
Pac-12 commissioner Larry Scott also said he was "deeply troubled" by the charges against not only Richardson but USC assistant coach Tony Bland.
"I have been in contact with the leadership of both universities and it is clear they also take this matter very seriously," Scott said in the statement Tuesday. "We are still learning the facts of this matter, but these allegations, if true, are profoundly upsetting to me. They strike at the heart of the integrity of our programs, and of the game that so many people love and play the right way."