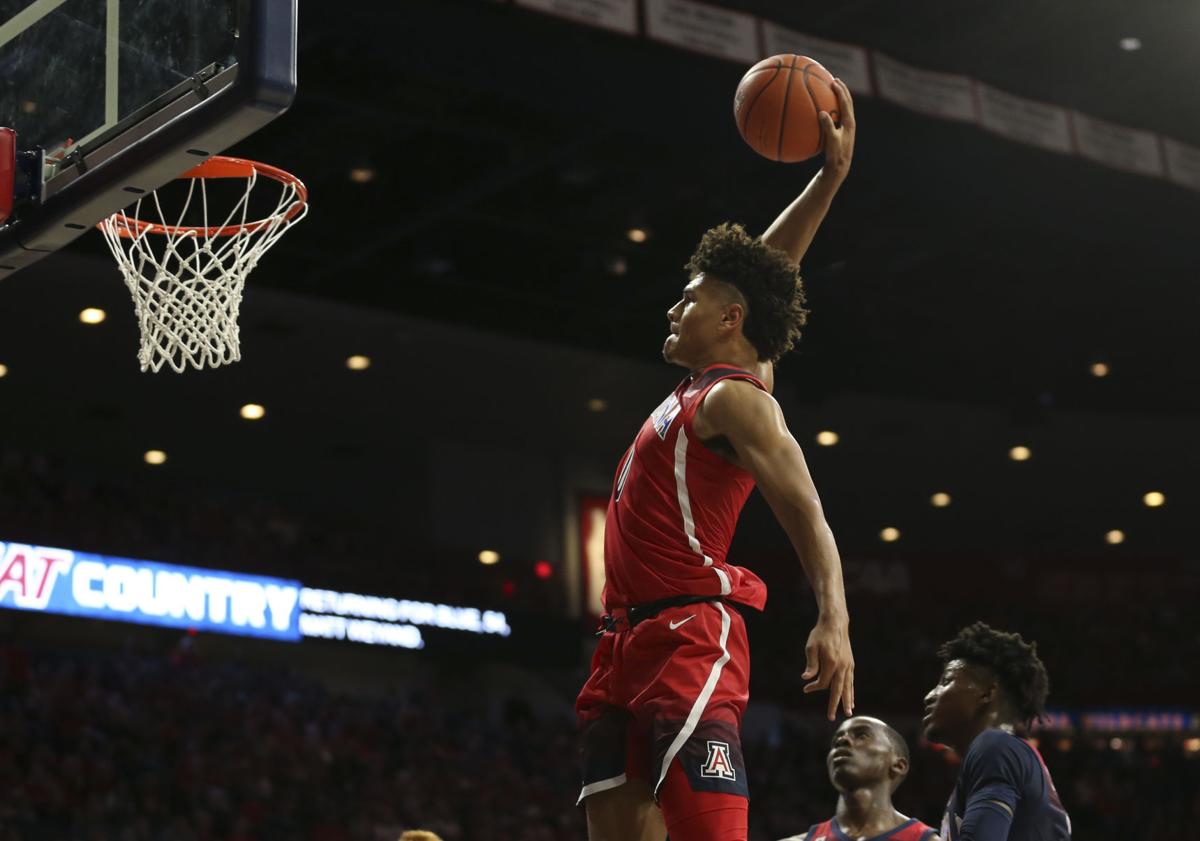 Finishing a week of practice with a standout performance during a scrimmage Sunday, freshman wing Josh Green earned Arizona's gold jersey on Monday.
Reached after the scrimmage Sunday, Miller said Green had improved in all areas, especially in simply "knowing what to do" because he has better absorbed UA's system.
"It happens all the time with freshmen who are talented -- they have the biggest ceiling because it's everything so new, but if they work hard, which he is" they can improve rapidly, Miller said. "I think he may be, if not the most improved player, certainly one of them and it's good to see because he's worked hard, he's learned.
"If I would have judged him two weeks ago versus today, he's made a big jump in a positive direction, and that's really to his credit."
The gold jersey is given out once a week to the player who collects the most points overall in a variety of practice statistics, not just those normally reflected in a box score. The honor can be of more interest during the preseason, when the Wildcats are not yet playing in front of fans.
Since full-length practices began on Sept. 25, sophomore Devonaire Doutrive earned the first two gold jersey weeks, while freshman Zeke Nnaji won the second two before Green took over after Sunday -- even though Nnaji also played well in the scrimmage.
"The thing that's striking about Zeke for a freshman is just his physicality," Miller said. "He's explosive, he's strong, he plays the game really hard, with a lot of energy."
---
The Wildcats will make their second public appearance of the season on Friday in an exhibition against Chico State at 6:30 p.m. The game will be streamed for free on UA's website.
Miller said he's hoping the Wildcats can cut down on turnovers significantly in the exhibition, after committing 18 against St. Mary's on Oct. 19, in a private scrimmage in which stats were mostly privately held.
"You can't simulate that if you're playing against each other," Miller said. "Obviously we always want to take care of the ball but when it means something on the stat sheet or playing against another team, I think that's when you can really get your guys' undivided attention.
"So we're looking to build on that ... more towards 10 than 20. Knowing that we committed 18 turnovers, my hope is that we can make that number more towards single digit."
Be the first to know
Get local news delivered to your inbox!