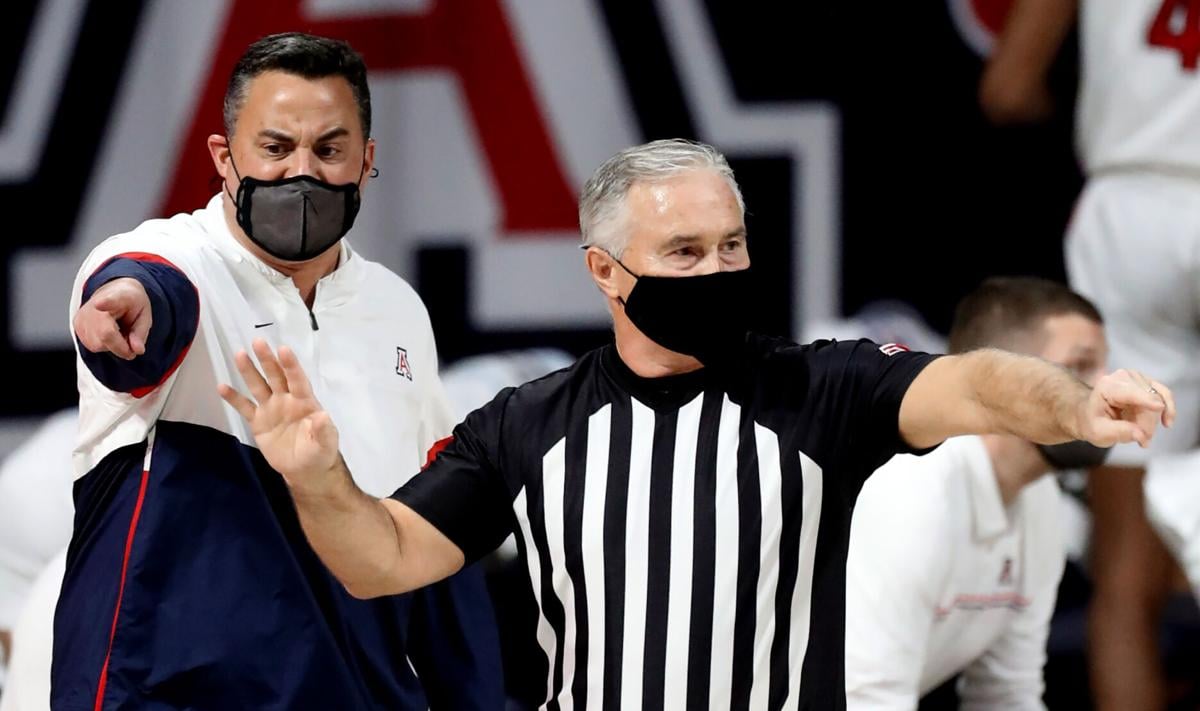 Believe it or not, Sean Miller did actually spend a minute or two talking about offense after Arizona lost to UCLA on Saturday.
He said James Akinjo was "great," said he had to give freshman Bennedict Mathurin a bigger role, praised Azuolas Tubelis' increasing offensive output and loved the fact that Arizona went for the sixth straight game with 11 or fewer turnovers.
"We can't get the value out of that because we just have no answer on defense -- straight line drives, in and around the basket, and the fouling is just off the charts right now," Miller said, during one of several very long answers on his postgame Zoom interview.
"We have a saying, undisciplined teams or players are coached by an undisciplined coach and fouling is discipline. Sometimes it might be you're outmatched or outmanned. But for the most part if you have a problem as a team fouling, that's something that we or I have to correct. UCLA tonight got to the line 32 times, they converted 27, and when we played USC, they had 11 points in the first half from the line, they were in the bonus, maybe the double bonus about eight minutes in, and we've got a couple guys just absolutely hammering the other team."
"It's not basketball. And we have to adjust, our players have to adjust, I and our staff have to do an even better job coaching and teaching them, because fouling is a big part of the game of basketball, and we're on the wrong end of that right now."
---
The good news for Arizona was that the Wildcats probably learned more this week than any other week since October, the way Miller put it.
"I think our defense has slid but our competition is higher right now," Miller said. "You learn a lot about your team when you play players like the Mobley brothers (against USC). Tonight, UCLA has a guy at every position who's a threat. And obviously both teams are well coached. I have a lot of respect for Mick (Cronin), he does a great job with his guys and tonight we just didn't have an answer for them offensively.
"They're one of America's best offensive teams, so you really learn a lot about your deficiencies when you play against the team like that. And we just have no answer. We went to a zone. It's like, `Hey coach, why don't you play zone?' We did. And we gave up four second shots on three possessions. It's hard to rebound out of a zone defense, and especially against a physical player like Cody Riley.
"So our rebounding left us, the drives we had a hard time with. And I credit Tyger Campbell too, because part of our game plan, especially in the first half, was to not let him distribute and make him score. A really terrific player like him, that's what he did, he said 'if you're going to give me this, I'm going to take it.' I thought he was great. As good as James was on our end, he really negated James."
---
Miller said some of the problem defensively is that players have to "get smarter," show their hands and move their feet when the ball is in and around the basket. While Miller said it's a problem to have players who pick up four fouls in nine minutes, as Ira Lee did, Miller also indicated not all the Wildcats' fouling was what he might have, well, expected.
"We fouled, giving up second shots, especially when we went zone, had a hard time guarding dribble penetration, one on one. Some of our fouls are undisciplined and then some of them are on offensive rebounds and, you know, I'm confused. It all depends on what night we're playing. What's an offensive rebound foul, and what isn't? I don't know what that is out here. I don't. But that's a story for another day.
"The things that we can correct, we have to correct because our defense is our problem and, heck, in some ways, there's a silver lining to this week because going into the week I wasn't sure how we were going to be able to score, how efficient we were going to be.
"But I don't have any doubt right now that we're moving in the right direction on offense. And I really believe that our best is yet to come. As we give Benn Mathurin a little bit more opportunity, and Azuolas, you see game in game out now that he's scoring. So I think offensively I like what we're doing. Defensively, we're not even close and we have to fix that. You know that's kind of why you have a coaching staff so we'll see how we do at Oregon State and Oregon. If we can be a better offensive or defensive team -- foul less -- I think it will go a long way towards us winning.
---
While Miller said the ankle Jemarl Baker sprained at Washington State is better, he indicated he was was unsure about Baker's hand. Miller said Baker hurt it in the first half, then tried to play seven minutes in the second half.
"We'll know more about the hand over the next day or two, probably get an X ray here tonight and then figure it out," Miller said.