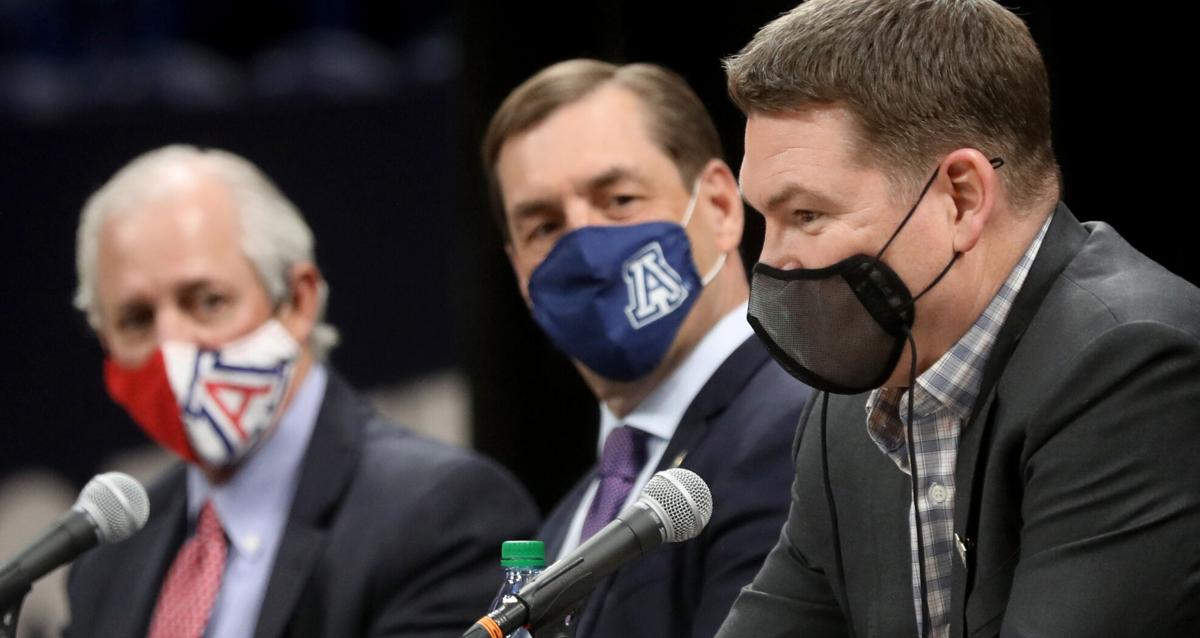 Arizona plans to pay new men's basketball coach Tommy Lloyd $2.9 million next season, the same it was set to pay former coach Sean Miller.
The five-year contract, which is still subject to approval by the Arizona Board of Regents, offers him more time if UA is hit with NCAA sanctions.
Next season, Lloyd will start with a $1.8 million base salary plus $700,000 for peripheral duties for a total of $2.5 million from the school, in addition to $200,000 each from Nike and IMG. He will also have similar performance and academic bonuses as Miller had, including $800,000 for winning an NCAA title. Lloyd will also earn annual $100,000 salary escalators that will bring him to a total package of $3.3 million in 2025-26.
If the NCAA imposes a one-year postseason ban, the loss of two or more scholarships or other "material restriction," UA said it will give Lloyd another year with a base salary of $2.3 million (for a total package of $3.4 million), subject to Regents approval. If the NCAA hits UA with more than one year of penalties, Lloyd will be offered one year at a $2.3 million base salary and a second year at $2.4 million.
The offer sheet is not clear over whether the postseason ban has to be an additional ban beyond the one Arizona self-imposed last season. Technically, UA has not served an NCAA-ordered ban yet.
Lloyd will receive a $1.05 million salary pool to pay his assistant coaches, which is a similar amount to what Miller's assistants were paid last season, and he'll have another $285,000 to work with for other staffers in areas such as operations and on-campus recruiting.
Lloyd would have to pay a $5 million buyout if he leaves UA within the first two years, with the buyout dropping to $2.5 million in 2023-24. In 2024-25, it is $1.5 million and the buyout is just $1 million in the final year of the contract.
If UA terminates Lloyd, the school will have to pay Lloyd 65% of the remaining value of his school-provided pay. But there is a mitigation clause saying that amount would be offset by whatever Lloyd earns from subsequent employment in basketball or even in media after he leaves during the length of his contract. If Lloyd is fired for cause, he would have to pay UA $200,000.
Guaranteed pay
(Includes base salary plus $700,000 annually from Arizona for peripheral duties, including speaking engagements and promotional activities. Also includes separate agreements with Nike and IMG for $200,000 each.)
Multi-year APR (retention and eligibility metric):
Cumulative GPA
Conference play
Pac-12 regular season title: $50,000
Pac-12 Tournament title: $50,000
NCAA Tournament (highest amount only)
• $25,000 for second round appearance
• $125,000 for Elite Eight
• $300,000 for Final Four
• $800,000 for NCAA title
Final AP or coaches poll ranking (highest amount only)
Regular-season wins
Extras
• Eight football season tickets and use of stadium suite
• 10 basketball season tickets
• Five women's basketball season tickets
• Five Wildcat sports passes
• Use of country club that is a UA partner
• 15 air charter seats and game tickets for postseason games in which charter travel is used
• Seats for family at road games and one additional hotel room for in-season road trips
• 45 hours of noncommercial (charter) jet use for recruting and other business activities
Salary pools
• $1.05 million for three assistant coaches
• $285,000 for other staffers (operations, on-campus recruiting and analytics). Does not include administrative assistants, managers and graduate assistants.
Contact sports reporter Bruce Pascoe at 573-4146 or bpascoe@tucson.com. On Twitter @brucepascoe