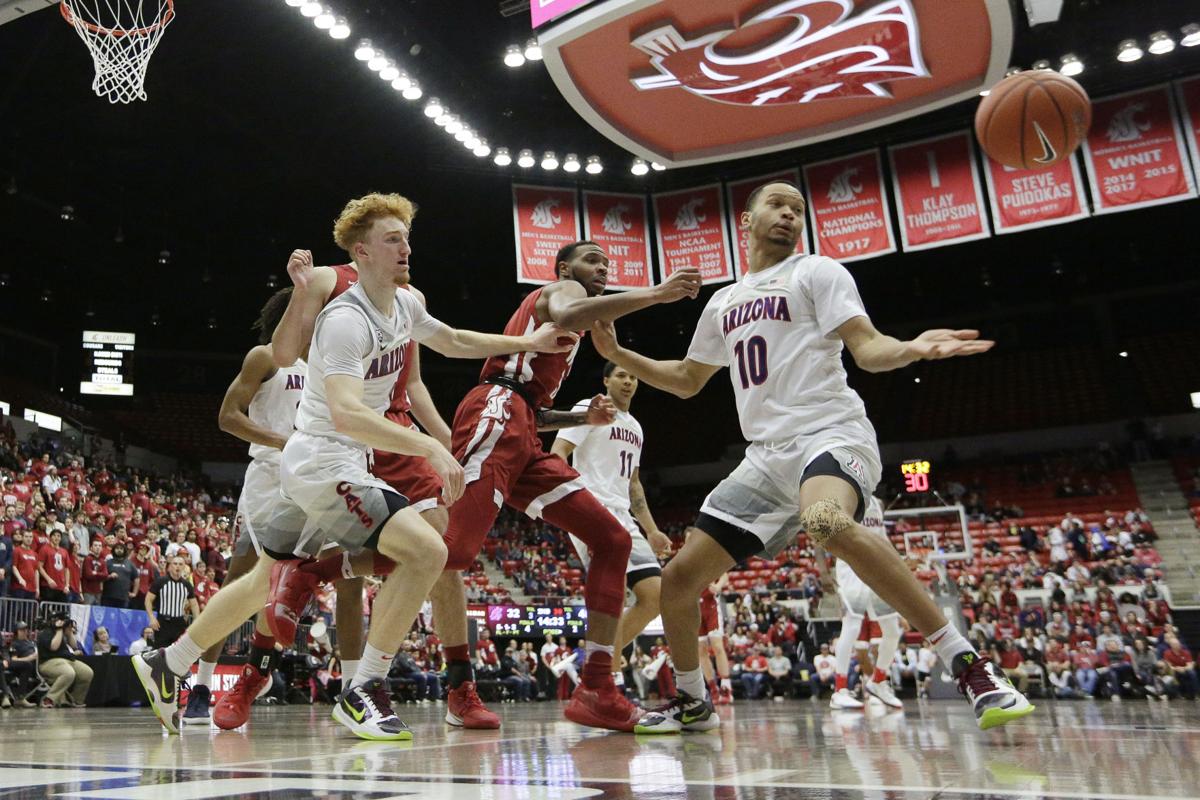 PULLMAN, Wash. – Picking up their first road win in front of a near-capacity crowd at Washington and then playing in front of 4,032 fans at remote Washington State was a recipe for Arizona to fall into a trap Saturday.
After all, Nico Mannion said the Wildcats did exactly that a few weeks ago, and they didn't even win the first game – losing by 17 at Oregon State on Jan. 12 after their overtime loss at Oregon three days earlier.
"Although we didn't beat Oregon, we played a really good game and I think we kind of had a let up in our second game," Mannion said.
That memory, and some prodding from UA coaches, may have helped Saturday. Forward Stone Gettings said the Wildcats cherished the UW win but knew they had to compartmentalize their approach, and lock in on a WSU team that plays an entirely different defensive style (man-to-man vs. Washington's 2-3 zone).
So they moved on, quickly.
"Us freshmen, we've only had a couple real road trips, and we're starting to figure out how hard it is to win on the road in college basketball," Mannion said. "We figured that out our past couple trips. We got a good one in Washington against a really good team, and Washington State's really good team as well.
"We knew we couldn't have a trap game or a let-up game because we got a good win last game so we came in with the mindset of getting the sweep."
---
The Wildcats shot poorly at WSU – just 39.7% overall and 4 for 18 from 3-point range – but they had just six turnovers and outrebounded WSU 49-36, keeping the Cougars to just five offensive rebounds (though WSU's Jeff Pollard said the Cougars were focused on slowing UA's transition offense, which took bodies off the offensive glass).
UA also held Washington State to just 37.0% shooting, and just 3 of 18 from 3-point range.
"Tonight is a reflection of some things that I've been talking a lot about over the last several months and that is: Can you win when your shot doesn't go in?" Miller said. "Tonight we got some really good looks. It's just that, over a 30-plus game season, there's going to be moments where you get good opportunities and they don't go in, but can you still win when that happens?
"Our defense really carried us here tonight … if you outrebound the other team by 13, you take care of the ball, and you play solid really tough-minded defense, you don't give that other team a chance even though maybe you've had better offensive nights.
---
Cougar standout CJ Elleby was just 2 of 12 from the field, missing 1 of 4 3s he took and struggled to play overly effective defense. Miller said Josh Green and Dylan Smith both guarded him well, though they had their own shooting struggles (Green was 4 for 11 overall from the field and Smith missed all four 3s he took).
Elleby might have also been slightly compromised. He rolled an ankle during Saturday's game and, according to WSU coach Kyle Smith, he continued to suffer from the same bug that bothered him on Wednesday against ASU (even though he torched the Sun Devils for 27 points and hit a game-winning 3 that night.)
"Normally, I think CJ is usually a disrupter," Smith said. "I really think he was under the weather and wasn't his normal self. You could see it on him -- he was fatiguing. He never says it but he says 'coach, I'm pretty gassed.'
"We've had some success against Oregon and some other people where he and Noah (Williams) really are the ones that really kind of disrupt things. Probably not having 100% CJ, and Noah in foul trouble (with four), definitely hurt us in that capacity."
---
Even though it was the Wildcats' 21st game of the season, they still learned some new things.
For one, that Gettings is growing into his starter's role, combining for 32 points and 15 rebounds in the two games (he will be UA's nomination for the weekly Pac-12 Player of the Week award, and the two road wins will help his case considerably).
"Stone is playing terrific basketball," Miller said. "He played a great game against Washington and followed that up with an even better game here tonight against Washington State and the thing I'm most pleased and proud about is he's doing it on both ends. He's not doing it just as an offensive player but he's solid on defense. He's in the right places and he's helping us equally on that side as well."
The win also confirmed something else Miller said he already knew about Gettings, too. That is, 12 rebounds and some crafty inside scoring don't just come from nowhere.
"The one thing we've learned about Stone is that he's a little bit better around the basket that he's given credit for," Miller said. "When you see a skilled player like him, you think about 3- point shooting, being able to space the court, which he does, but he's always been able to score close to the basket better than he's given credit for and most of his plays tonight that's what happened."
---
One other thing that the Wildcats learned, or had reinforced in them Saturday: That a lineup with three smaller guards – Jemarl Baker, Max Hazzard and Mannion – along with Gettings and Nnaji inside – can work well in some situations.
That was the lineup they had after WSU took a 15-8 lead with 12:07 left in the first half. Miller took out Josh Green and Ira Lee while putting Nnaji and Mannion back in to join Baker, Gettings and Hazzard.
By the time Miller substituted next, putting in Christian Koloko for Nnaji five minutes later, the Wildcats had rattled off 11 straight points. Gettings then hit a short jumper in the paint before Koloko stole the ball from WSU's Isaac Bonton and went downcourt for a dunk. It was 22-15 then, and Arizona never really gave up the momentum after that.
"That's a lineup we played the other night and I think it's something that we're learning it's good for parts of the game," Miller said. "Stone was in there with Zeke, and (using them with) those three guards is something that we haven't done as much. But we trust those guys on defense a little bit more now, and I think they're more accustomed to playing our style. It gives us more flexibility in depth when you can play that lineup."
---
In case anyone was wondering, it was the Wildcats' first road sweep in Pac-12 play since they beat Stanford and Cal during the second week of conference play last season.
"Feels good," Miller said. "We were a terrible team last year. You're not getting any road sweeps if you're not good. Hopefully we have at least one more or so left in us."
---
Our full coverage from Pullman is attached, along with the box score and updated UA stats. Deadlines prevented postgame quotes from getting in the game story, so many of them are posted here.