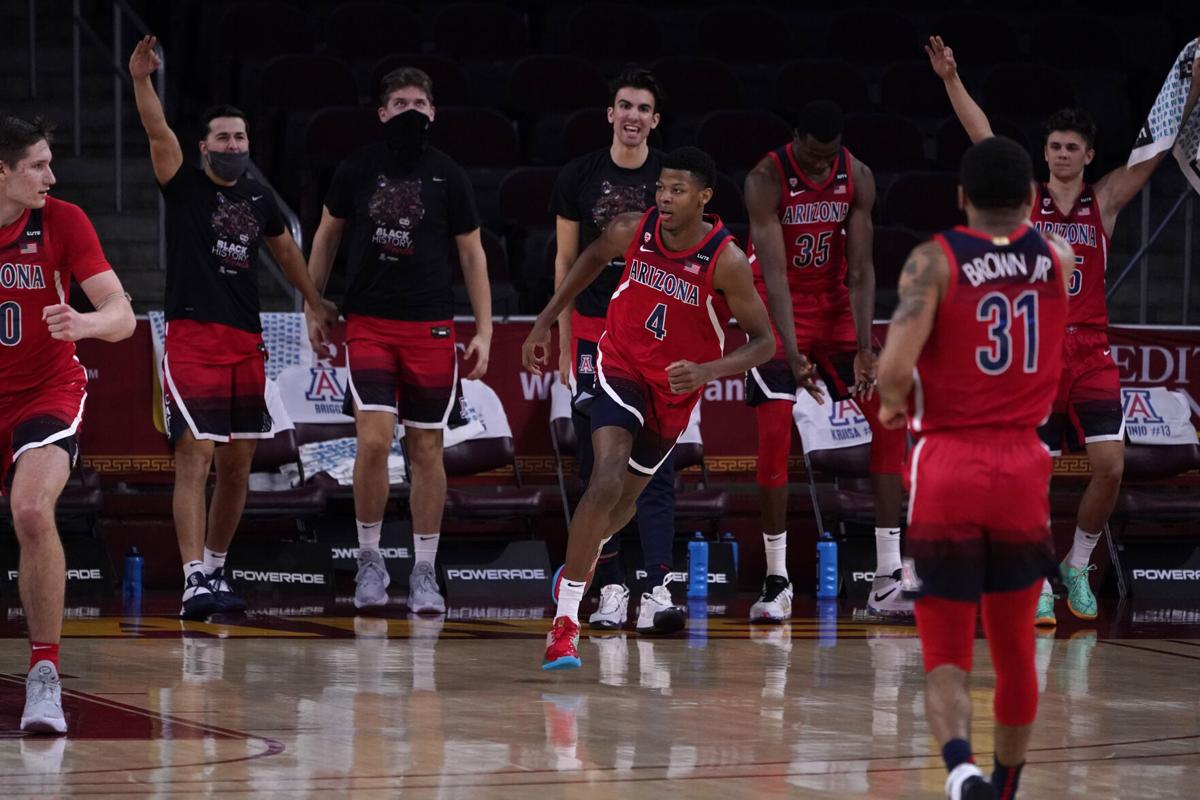 LOS ANGELES -- Up by eight at the final media timeout Saturday en route to  their 81-72 win, Arizona players still weren't comfortable.
Not at this point of the season. Not after their one-point halftime lead at UCLA turned into a 14-point loss Thursday.
"Being able to actually break through and win, it's a way to give everybody a lot of confidence," UA coach Sean Miller said. "I could feel it at the four-minute mark, that everyone was still just very unsure, because we've been in a situation, a number of times this year and it hasn't always worked out for us, but it was good to see us finish the game.
Miller said if the Wildcats can collect a few wins down the stretch it "gives us something to feel good about," but it might be a stretch to suggest that it will all roll over into next season.
That is, this is high-major basketball, where everything is fluid.
'We're not really worried about next season," guard James Akinjo said. "We're worried about right now. This showed we have a good team right now."
---
For Miller, Akinjo's production Saturday strengthened his case to make the Pac-12's 10-player all-conference team. Akinjo had 20 points on 6-for-13 shooting, seven assists and made eight trips to the line.
In 17 Pac-12 games, Akinjo is now averaging 14.9 points and 5.8 assists while shooting 38.2% overall, 41.8% from 3-point range and 78.8% from the free-throw line.
"I think James has had an all-conference season, if you look at his numbers, if you look at his meaning towards our team," Miller said. "He's slowly getting better, and I don't think he always recognizes this himself. He's controlling the game better than he once did. You can be a really good player and maybe not have the impact of winning that some other really good players do.
"Tonight, he just controlled everything. He already can score. Obviously he's unbelievably talented with the ball in his hands, but it's just kind of like that extra 10% the know-how, the experience, the knowledge, of how to make plays that are gonna allow your team to win and I really feel like he's made a lot of progress over the last month, the last six weeks."
---
On the very next possession after Dalen Terry hit a 3 from the right corner, Akinjo didn't hesitate when he saw the freshman wing standing this time on the left corner. He zipped it to Terry, who threw it cleanly in for another 3 that gave the Wildcats a 57-49 lead with 12:06 left.
"They bounced back," Akinjo said of Terry and Benn Mathurin, whose similar shooting struggles continued Saturday. "We see it in them."
Miller said Terry's shots were at the "top of my list" for things that jumped out Saturday because of what he's been through and how he's responded.
"He's a young freshman, but he's had some really good moments, he's important to our team," Miller said. "He's really important to our future and our program, and we believe in him. I believe in him. But the thing that I love about him more than anything else is that he just keeps showing up. He just keeps working.
"It's been a while since he's felt the shot go in a game like that. But that doesn't mean that he's quit working early in the mornings, before and after practice -- and if you're talented and you just keep working like that, you eventually break through.
"At Arizona State, he was a big reason that we won that game because he nailed two threes and today was the same. It's great to see a young guy who has a great attitude get some well-deserved recognition and make the plays that he made tonight."
---
After UA lost 73-58 at Utah on Feb. 2, Azuolas Tubelis said the Wildcats weren't mentally prepared for the game. Miller made it clear that he didn't think that was the case this time, even with the short turnaround after a discouraging loss on Thursday at UCLA.
"You can only do so much in practice right now; we had a very quick turnaround," Miller said. "It's more about the discipline of being focused, being ready to go, being prepared and our team was mentally ready to go tonight. We were prepared, even if we would not have won the game. That's how I felt watching the game."
---
With 9:14 left, Christian Koloko picked up a technical for a shove in the second half on a play in which Ira Lee also committed a shooting foul. That gave USC a chance to cut UA's eight-point lead to a single possession, but the Trojans hit only 3 of 6 resulting free throws, with Noah Baumann missing both technical free throws.
Miller said that was the kind of play that can often change a game's momentum, something Koloko undoubtedly has been told, but Miller also supported Koloko overall. At that point, Koloko already had four fouls and he wound up fouling out after 11 minutes.
"I love Christian and he's one of our hardest workers, he's improved and he's really important to our team but we've addressed that with him," Miller said. "He's a great kid. He gets frustrated with fouls, like a lot of big guys do. It doesn't feel like he's getting the call or the calls not made right and he reacts. We talked to him a lot about that, last year, especially down the stretch, and we've addressed that this year.
"And he's got to learn from it. That's not a good play and I don't mean this in any other way but, like, I got the officials. I'm the coach. It's up to our players to play. So we'll address it."
---
While facing USC's Evan and Isaiah Mobley might seem intimidating for a freshman, that's apparently not the case with Tubelis -- who has averaged 23.5 points and 11.5 rebounds in two games against USC and the Mobley brothers.
Miller said matchups – and talent – can explain why.
"He's just more at ease playing against frontcourt players, even if they're great players, because he's very good himself," Miller said. "Where we've struggled with matchups is forcing and really asking him to guard wings, smaller fours, skilled players. That's difficult for a 19 year old freshman.
"But I think one of the things that's really developing him as a player is that defensively we're asking him to do so many different things. And on offense, sometimes he's being guarded by smaller, quick players, sometimes he's being guarded by bigger guys. And every time that he plays, I think he gets more and more comfortable. He had a really good game today."
---
With 19 points and 13 rebounds, Jordan Brown had his most productive game overall since he had 19 points and 15 rebounds against Grambling in the Wildcats' season opener or, considering the competition, his most productive game overall, period.
"This was one of his overall best games as well," Miller said of Brown, saying he believes the sophomore transfer from Nevada still is relatively inexperienced despite it being Brown's third year of college.
The Wildcats' only McDonald's All-American, Brown spent his freshman season of 2018-19 playing mostly behind veterans at Nevada before redshirting at Arizona last season.
"And then COVID affected him as much as anybody -- not only does he not play an entire year but we didn't see him until August," Miller said. "We didn't have that opportunity to keep working so this is his real first year of playing in college, and he's had some great moments.
"He'll keep getting smarter on the court. He'll keep getting better. As you know, he can really score with his back to the basket. And now rebounding, being a better defender, just learning, being a better passer.
"J.B. is a really unselfish guy but sometimes he's into his move and he doesn't recognize the pass-out. He's starting to do that a little bit so I just think that with experience, a great offseason, more games, you'll continue to see a more polished, more improved, better overall player."
---
The Wildcats may have made their last road trip of the season and Miller was asked if he reflects back on where they have been and what they have done.
"For sure," Miller said. "It's challenging for every team right now. I mean, we started our COVID protocol in August, we've dealt with the unknown. I remember our first trip to Santa Cruz when we played Stanford and everybody was scared on a plane -- we had double masks, gloves, we got to the hotel, nothing felt right.
"And I really admire the guys on our team. The one thing that I've learned through all of this is when you challenge young people, and you're fair with them, but you really, really challenge them, it's amazing what they can do, and I feel that that way about our group."
---
It's long been the case that European players in the NBA and NCAA are often unavailable to play wintertime FIBA qualifiers -- even though Utah's Mikael Jantunen left the Utes to go play for Finland -- and Miller was glad that Kriisa stuck with the Wildcats instead of playing for Estonia this weekend, as he did in November.
"It made sense for Kerr have a chance to play for his national team when he wasn't eligible to play for us," Miller said. "But Kerr's really helping us. He's meant a lot to us. When you look at the total charges that we've taken this season, and total charges that Kerr has taken in six games that alone has really helped us.
"As you can see his shooting, his ability to move the ball and some of our best offensive plays, he's in the game, and he just has an energy about him that's contagious. He's a fun guy to have on your team. But he's focused right now on finishing the season, going to school and doing all those things."
---
The Wildcats have only two games left on their schedule, against Washington State at home on Thursday and against Washington on Saturday, with the Pac-12 not having decided at least publicly if it will reschedule Arizona's postponed Jan. 16 game at Oregon.
"We really don't know," Miller said. "We're approaching it that we only have two games left on our schedule. Maybe something will change this week, but that's how we're approaching it right now."