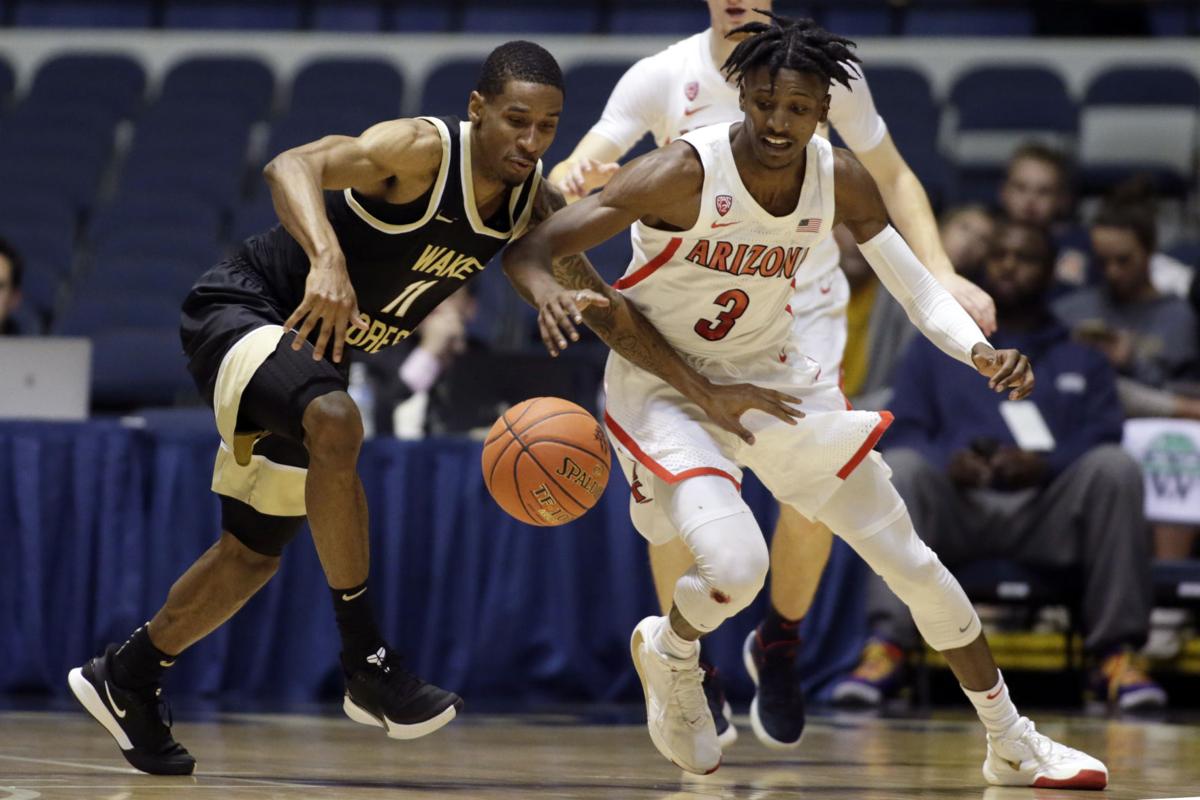 ANAHEIM, Calif. – UA forward Stone Gettings appears doubtful for Arizona's Dec. 7 showdown at Baylor, after sitting out Sunday with what UA coach Sean Miller described a puffed up eye and concussion.
Nobody could see Gettings, however, because he didn't even make it to the arena, staying at the team's nearby convention hotel.
"Yeah, his eye is shut," Miller said after UA beat Wake Forest 73-66 to win the Wooden Legacy title on Sunday. "I was kind of kidding the other night when I said we may have to cut him like a boxer -- his eye, you couldn't see his eye.
"He took a big shot. And so he has a concussion. The symptoms came overnight, which sometimes happens. Sometimes they come right away, sometimes they're delayed. But, you know, we have a week here. I'm sure most of this week he's going to be recovering and I don't have a prognosis, other than he'll eventually return. "
Miller had said after Friday's game that Gettings didn't have any initial concussion symptoms, and it was difficult to determine from the outside what was going on Saturday. No UA players or coaches were available for comment Saturday and UA spokesman said then that nothing had changed.
---
Gettings was hardly the Wildcats' only limitation Sunday. The Wildcats had Zeke Nnaji and Ira Lee in foul trouble, with both fouling out, while Nico Mannion and Jemarl Baker both lost their shooting touch.
But then this happened: Chase Jeter had 17 points on 7-for-10 shooting against Wake Forest's all-tournament center Olivier Sarr, while Dylan Smith scored a season-high 20 points and Josh Green had a career-high 12 rebounds.
Max Hazzard also hit 2 of 3 3-pointers in the first half while Christian Koloko saw the floor briefly in the late first half, making his first appearance of the tournament with the foul trouble hitting and Gettings gone.
"We have enough that we can overcome not only Stone not playing, but Zeke really being in foul trouble the entire night and not being able to give us a whole lot of minutes in the second half," Miller said. " So you think about Stone not being there, Zeke being in foul trouble, then Ira Lee fouled out… being able to play through foul trouble and injuries, I think that's something that we're going to call on all season long and we did here in this tournament. Depth helped us.
"Max Hazzard had a couple big shots in the first half tonight. Jemarl Baker played very well in the first two games in this tournament and those two guys don't start. So we can beat you with our starters, we can beat you off the bench. And then from a scoring perspective, a number of guys can contribute. That helps us."
---
Mannion was also limited slightly because of tightness in his back. He said he spent Saturday's off day working on it, but said he didn't feel as quick when moving laterally during Sunday's game.
"I was just kind of rehabbing and trying to get it feel a little better," Mannion said. "It's just the right side is a little tight. But I'll be good for the next one, I'm going to get home and recover. We're all a little beat up here playing three games in four days but we're going to get home and recover for the next one." 
---
While it was hardly a surprise that Mannion was named the tournament MVP after his game-winner Thursday against Pepperdine and his masterful 11-for-14 shooting performance on Friday, Smith joined him on the all-conference team with considerably better production than he had over while averaging 15.3 points and shooting 61.9 percent from the field.
Smith entered the tournament shooting 44.0% from 3-point range but averaged only 7.9 points a game while Mannion and Green shot almost twice as much.
"I just take the shots that come to me," Smith said. "I'm not trying to force nothing out there. Nico does a good job getting everybody the ball, finding everybody, so does Jemarl. It's is easy to play with these guys. I'm just out there playing basketball."
Sitting next to Mannion on the postgame interview podium, Smith was asked how he felt about watching a freshman come in and start running the show as well as Mannion has.
"The first time I played with him, I kind of knew he was going to be good," Smith said. "His IQ is off the charts. He was very advanced. He just sees the game different than everybody. So it wasn't a surprise for me, just playing with hi from the summer through practices, and he's only going to get better so the sky's the limit for him."
Mannion became the first UA freshman to win an in-season MVP title since Stanley Johnson won the Maui Invitational honors in 2014-15.
"It's big," Mannion said. "Throughout the tournament I wasn't really thinking about that route, I was more thinking about just playing as hard as I could. We ended up doing that. So it's sort of a team thing at this point. We've got a big trophy and we're gonna go home and celebrate."
---
Miller said he didn't know if the Wildcats would have won that trophy without the way Smith and Jeter played on Sunday.
Jeter didn't score in double figures in any of UA's first six home games but averaged 15.3 points while shooting a 76.9% over the three days in Anaheim. His 17 points Sunday came opposite Sarr, who had 21 points and 13 rebounds.
"Their big guy Sarr is a very talented player, and he can affect shots," Miller said. "But Chase was 7 for 10 from the field and a lot of times he just scored back to the basket one-on-one over him. And we're not gonna play against a guy bigger than that. That's why I thought Chase was a big reason we were able to win."