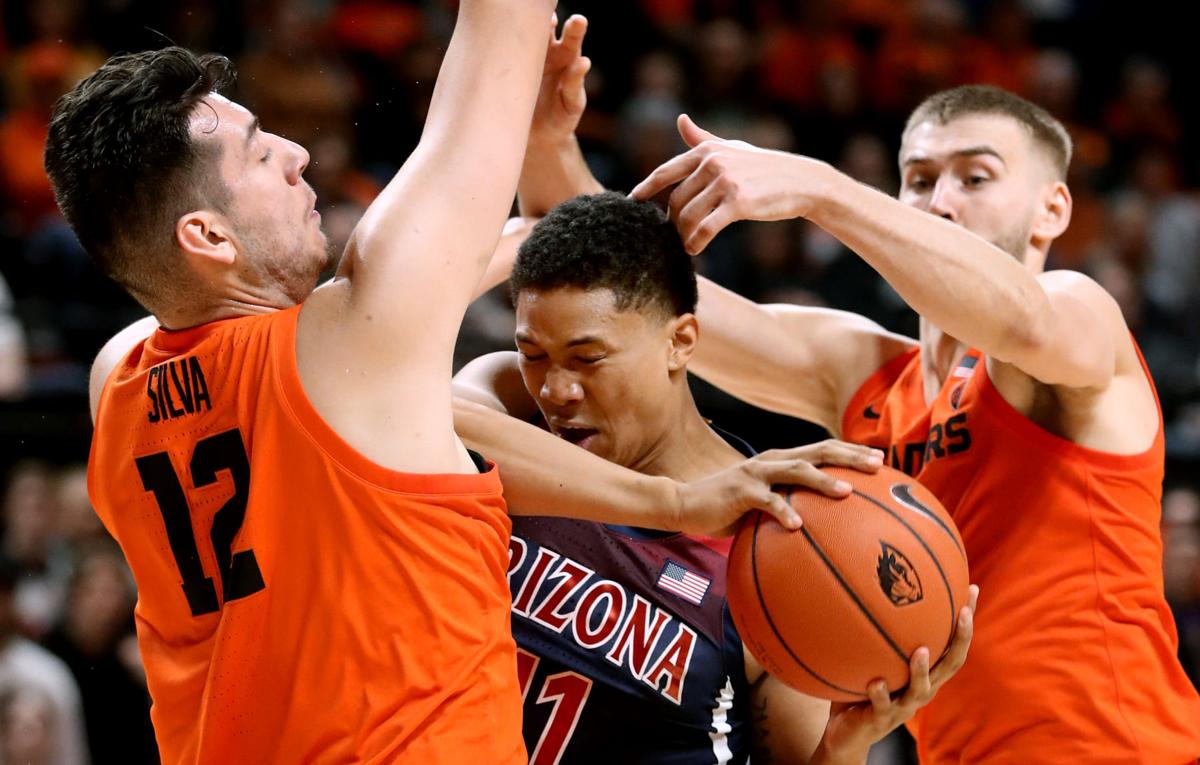 CORVALLIS, Ore. – Furiously upset that Zeke Nnaji didn't draw a foul on a late shot attempt against Oregon on Thursday, UA coach Sean Miller was similarly displeased four minutes into the second half Sunday at Oregon State.
OSU guard Ethan Thompson blocked Nico Mannion's layup (Kelly Presnell has a good shot of it in the attached slideshow and in this GIF), prompting Miller to complain so much this time that he drew a technical.
And arguably, with UA leading by four points at the time of the block, the technical was a momentum-changer.
"Could have been," Miller said. "Yeah, could have been."
OSU tied the game up at 41-41 on the play, getting a dunk off a rebound after Thompson's block and two technical free throws from Tres Tinkle. Three minutes later, UA never led again.
---
But, regardless of the technical, UA's defense was showing cracks beforehand, allowing Zach Reichle to dash down the baseline at the end of the first half for a layup at the end of the first half and letting the Beavers hit 4 of 8 3-pointers in the first half.
Things were so bad defensively for the Wildcats that Miller even brought up the "Z" word without prompting.
"Mixing in zone is something we can do but you get into a deficit on the road and you start doing things that you don't normally do, that doesn't oftentimes solve it," Miller said. "But we had no answers for their ability on offense and they kept it really simple.
"I think in the first 10-15 seconds of the possession they just ran kind of like false motion to be deliberate, and then they did an excellent job of just taking that matchup and scoring on us, and we had breakdowns. We were a team that doesn't really deny in the passing lanes. I think they got three back doors. We fouled the jump shooter two times, and that's been a big emphasis. Like I said, we got outclassed."
---
Miller tried to shake up his rotation again by sitting Ira Lee for the first 16 minutes of Sunday's game, though he indicated part of that had to do with trying to match up with Tres Tinkle when he played inside.
"We're trying to find ourselves," Miller said of moving Lee down the rotation. "But one thing about Oregon State, they play Tinkle at the four when they're small, and have three guards. So you have to either be able to take advantage of that inside and in rebounding -- and if you can't, then you try to match up with them. I think in many ways tonight we were caught in between. I don't know if we were clearly matched up. And at the same time, we certainly didn't take advantage of them inside."
---
Our full coverage from Corvallis is attached to this post.