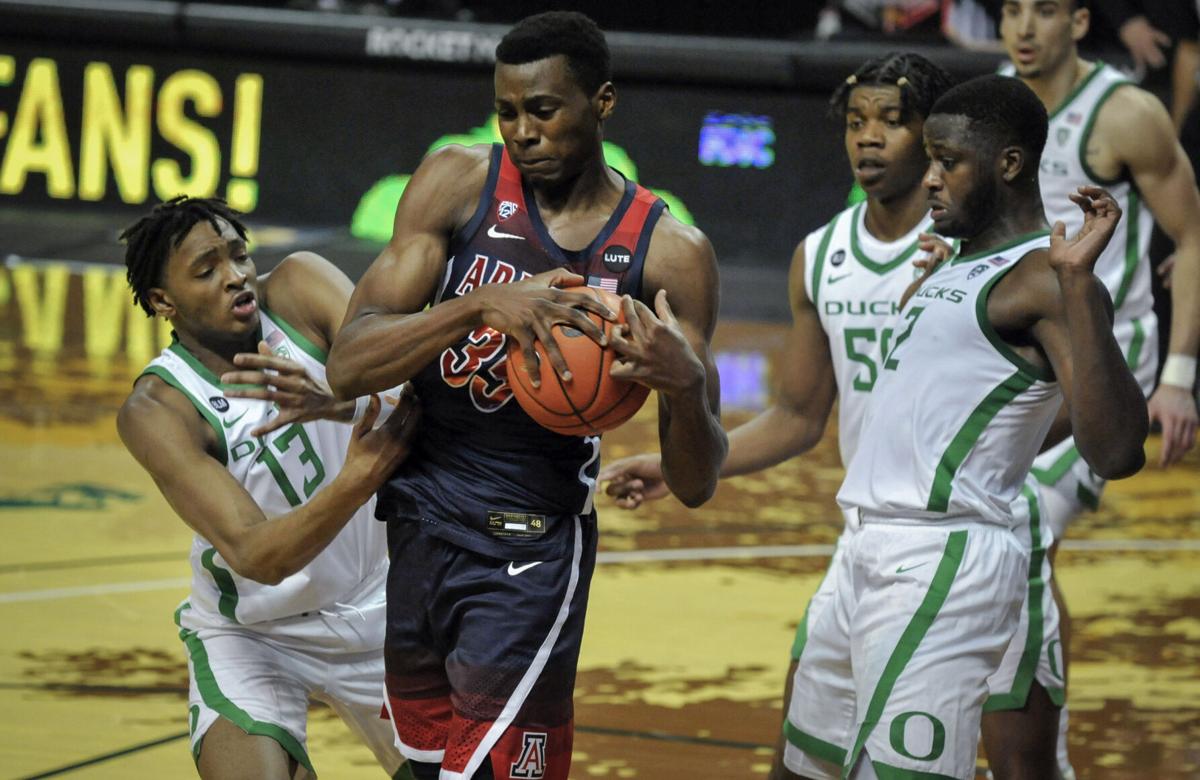 EUGENE, Ore. – Despite the hints of future success Arizona showed at times this season after losing all five starters a year ago, the Wildcats finished up in an all-too–familiar place that hasn't been kind to them.
The Ducks ended the Wildcats' season by beating them for the seventh straight time, 80-69 on Monday at Matthew Knight Arena, thanks to some of the powerful combo forwards and switching defenses Oregon has trotted out for years.
Arizona shot 45.3% overall but hit just 2 of 10 3-pointers in the second half while allowing Oregon to make 12 of 22 3-pointers throughout the game. Arizona was also outrebounded for only the second time all season, 37-29, making it unnecessary for the Ducks to lean on a late-game winner as they did in a 63-61 win over UA on Feb. 13 at McKale Center.
"They manhandled us on the rebounding part of things and that's a real credit to them," UA coach Sean Miller said. "They are a bigger team than you think. They don't necessarily have a 6-10 (player) or 7-footer in the game at all times but their wings and guards are big. And those guys are men. They're older and they're experienced."
After he hit the winning shot in Oregon's 63-61 win over UA last month at McKale Center, Chris Duarte led the Ducks with 22 points and seven rebounds while Eugene Omoruyi had 21 points and five rebounds.
James Akinjo led UA with 18 points and eight assists while Azuolas Tubelis scored all 12 of his points in the second half.
The loss likely ended Arizona's season at 17-9 overall and 11-9 in the Pac-12, since Miller said the Wildcats will not play a final nonconference game and Arizona self-imposed a postseason ban on Dec. 29 because of the school's pending NCAA infractions case.
The season's end left Miller and the Wildcats many questions, starting with the contract status of Miller, whose contract has not been altered since before the FBI's 2017 investigation and now has just a year remaining on it.
Miller said after the game he was looking forward to talking with UA athletic director Dave Heeke and president Robert Robbins and would "certainly know a lot more" after that.
"I'm looking forward to hopefully getting an opportunity to get us back on top of the mountain," Miller said.
Arizona also faces questions about the future of several players: While forward Ira Lee announced on Twitter he will not return for another season even though the NCAA is not counting this season toward players' eligibility, Miller said he wasn't sure if grad transfer Terrell Brown would come back and standout guard James Akinjo said it was too early to say if he would.
Meanwhile, the Ducks may have a lot of basketball left in them this season after pausing twice for COVID issues, the first pause turned a Jan. 16 matchup into Monday's makeup game. Oregon improved to 17-5 and 12-4, giving the Ducks a chance to win the Pac-12 title with wins over UCLA and Oregon State later this week.
"Oregon is a very, very good team," Miller said. "You have to realize with the two COVID shutdowns they had that they just had to survive for a period of time. But the team we just played can make a big run in the NCAA Tournament."
Down by four at halftime, Arizona fell behind Oregon 51-40 less than four minutes into the second half while missing four of its first five shots in the second half. Bennedict Mathurin hit a 3-pointer and Azuolas Tubelis converted a three-point play to cut it to 51-46 with 14:48 and later scored on the break to cut it to 57-52 but the Wildcats came no closer.
Oregon went on a 9-2 run to take a 66-54 lead after 3-pointer from Will Richardson bounced off the rim and fell in. By the time Arizona called a timeout with Oregon leading 70-58 with 6:10 left, the Wildcats had shot just 31.6% overall and made 1 of 7 3s in the second half.
Oregon complemented its 45.5% overall shooting and 54.5% mark from 3-point range by hitting 18 of 22 free throws.
"Give them credit," Akinjo said. "They gotta lot of good players over there and they made a lot of shots. It's really tough to beat a team when you go 12 for 22 from 3, and they outrebounded us. They were a really good team.
In a first half that zig-zagged throughout, Oregon took a 40-36 halftime lead after Omoruyi hit a 3-pointer with 36 seconds left.
Arizona held Oregon to just 38.2% shooting in the half but the Ducks hit 8 of 12 3-pointers, scored 12 points off eight UA turnovers and outrebounded the Wildcats 18-16.
Duarte led the Ducks in the first half with 13 points while Akinjo had eight for Arizona, which shot 52.0% from the field and hit 6 of 13 3-pointers. Tubelis, who won the Pac-12 Freshman of the Week award earlier on Monday, was held scoreless on 0 for 5 shooting and didn't score until 14:48 was left in the game.
Kerr Kriisa hit two 3-pointers to give the Wildcats a 6-5 lead early in the game. The Ducks took a 16-8 lead while Duarte and LJ Figueroa hit 3-pointers but Arizona later came back to score 10 straight points to tie the game at 21 on a 3-pointer from Akinjo with 8:40 left in the half.
Mathurin added another 3 with 7:09 left to give UA its first lead, 24-23, and after picking up a shooting foul from Eric Williams beyond the arc, hit all three free throws to give Arizona a 27-23 lead.
The Ducks were in a shooting funk at the time, missing 15 of 17 shots over the middle of the first half, allowing Arizona to take a 33-27 lead by the time Jordan Brown scored inside with 4:06.
The Wildcats' intensity was high at that point, with their bench alive and slapping the floor, but things gradually fizzed out in the second half. By the time Oregon wrapped up another win over Arizona, the Wildcats just walked off the court calmly and called it a season.
In the end, maybe it wasn't about who wanted it more but who simply had more.
"I think both teams played real hard," Akinjo said. "Obviously they are playing for something real big. We felt we were playing for something, too. We were playing for this thing that's on the front of our jersey."