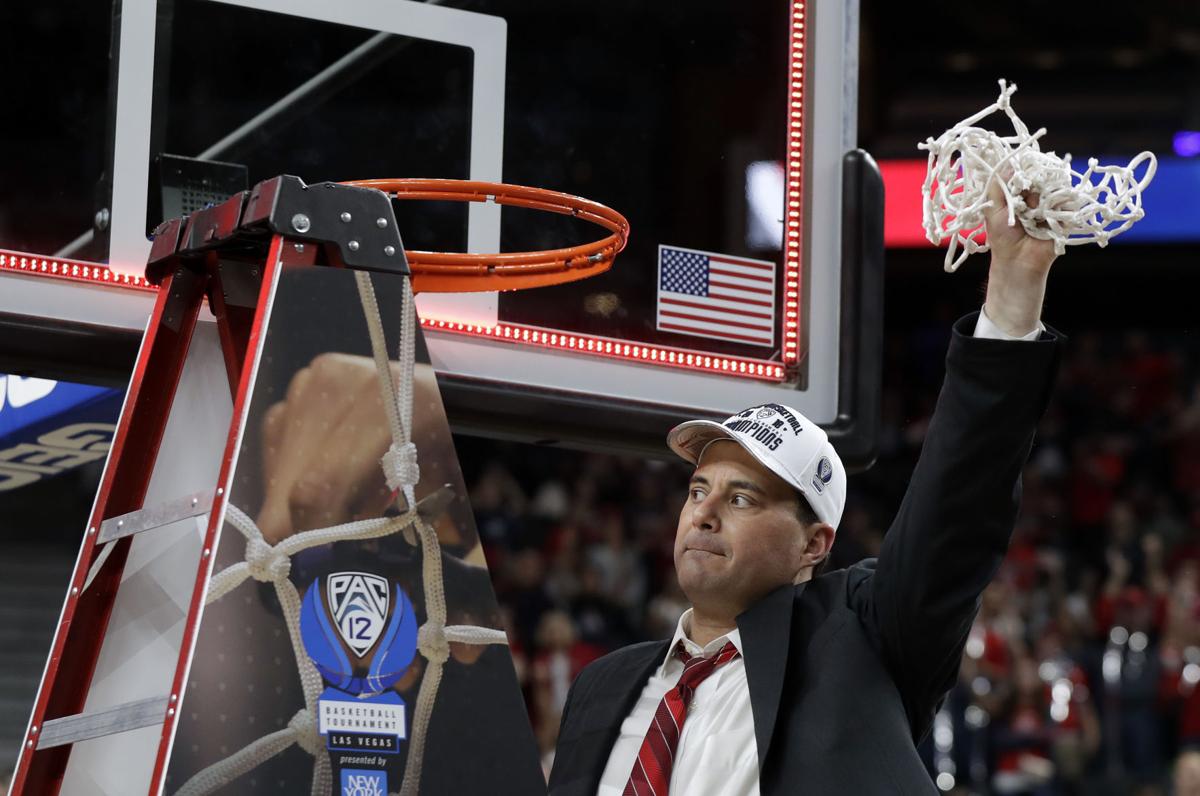 SAN FRANCISCO -- The Pac-12 extended agreements to keep its men's and women's basketball tournaments in Las Vegas through 2021-22.
The tournaments had been contracted for Las Vegas only through this season but commissioner Larry Scott cited good feedback for keeping them there. The men's tournament has been played in Las Vegas since 2013 and the women's event moved there last season.
"I think everyone left really, really pleased with how the teams were treated, the environment, the crowd reaction that we had," Scott said of the women's tournament.
While the women's tournament made its debut in the MGM Grand Garden last season, it will move this season to the Mandalay Bay's Events Center, home of the WNBA's Las Vegas Aces.
The men's tournament began in the Grand Garden and moved to T-Mobile Arena in 2016-17.
The women's event will continue to be held a week before the men's tournament, playing this season from March 5-8 while the men's tournament is scheduled for March 11-14.
---
During his opening remarks at Monday's women's basketball media day, Scott also continued to voice opposition to California's new law allowing college athletes to profit off their likeness.
Scott said he didn't think a state-by-state approach to managing college basketball was a good idea and that those in college sports saw that the California law has "a lot of flaws."
He said there would be no way to "put the guardrails" on recruiting with the law, which would also allow outside payments from sponsorts to be funneled to athletes instead of schools.
"I signaled a concern that we've got for women's sports and Olympic sports that are the beneficiaries of athletics departments having resources," Scott said. "Most of our schools have 18 or 19 sports or more, some as high as high 20s and 30s. And if money gets drained, money that's supporting the athletics department currently starts going directly to student-athletes to try to get them to go to school at X or Y. Our concern is there would be less resources and sports might get cut as part of that."
Scott said it was fair to have an opportunity for athletes to earn compensation for their likenesses but "that's called pro sports. This is college sports. It's different. You go to get an education. ... We'd like to see those lines not get blurred and the interest in those be diminished."
---
UCLA coach Cori Close said the Bruins' triple-overtime win at Arizona last season was a turning point for them but also left impressed with the Wildcats, who went on to win the NIT and are now predicted to finish sixth in the conference's preseason poll.
"I just give Adia (Barnes, UA coach) so much credit," Close said. "Not only did she get her team playing their best basketball in March, but she rallied an entire community to get behind that team in a really special way. We all need to celebrate that because that's growing our game and growing enthusiasm for the journey of women's basketball. ...
"I'll tell you, they earned our respect by the way that Arizona played (in the three OT game), by the way they competed. Neither team could stop each other in crucial moments. And we're excited for where that program is going. I think that's really the key to our conference. There's a lot of attention given to the top of the conference, but the way that our entire depth of our conference has been risen up, and Arizona is a big part of that, I think that's a major story line in why our conference is the best in the country."
Contact sports reporter Bruce Pascoe at 573-4146 or bpascoe@tucson.com. On Twitter @brucepascoe