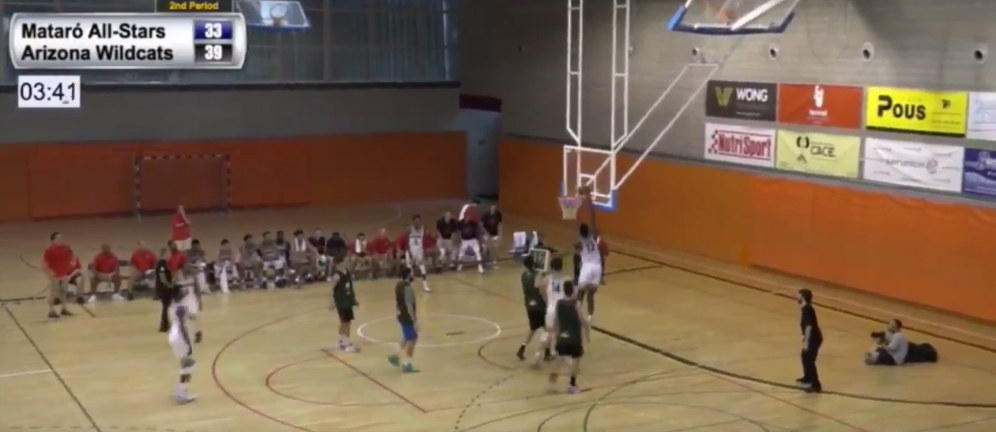 Just in case the Arizona Wildcats didn't realize enough over the previous two seasons that depth can be swept away in a hurry, they received another reminder Wednesday in a 99-74 exhibition win over the Mataro All-Stars.
Sophomore forward Rawle Alkins did not play because of a strained left shoulder, while freshman Emmanuel Akot sat out the second half with what UA later said was a minor knee strain.
Then, just after walk-on guard Kory Jones was inserted late in the game, he was caught in a collision and suffered an apparent left knee or leg injury. Jones had to be helped off the court and a UA spokesman said after the game that he was still under evaluation. No other information was available.
But overall, the Wildcats' talent and depth was enough for them to get by a better opponent in their second game, after they beat "Combinado Valenciano" 113-44 on Sunday, even though they did struggle at times.
Arizona started off sluggishly on defense, leading just 23-20 at the end of the first quarter against a team that tested the Wildcats' defense with good ball movement. 
Then, after UA outscored Mataro by 16 points in the third quarter and went ahead 84-52, the Wildcats were actually outscored by seven in the fourth quarter.
• Allonzo Trier and DeAndre Ayton started looking more like the 1-2 punch they have been expected to be. Trier had 21 points, eight assists, four rebounds and four steals. Ayton had 18 points and nine rebounds.
• Trier impacted the game all over the court. Arguably one of his more important moves came at the end of the first half, when he was caught in traffic under the basket but instead of going up with a risky shot, dished it out to Dylan Smith on the perimeter, and Smith sank an open 3-pointer.
• Smith finished with 10 points and three rebounds.
• Ayton was predictably dominant inside with his size and athleticism, with a reverse layup and some spin moves that nobody could guard, while also hitting a midrange jumper and recording a steal near the midcourt line.
• Dusan Ristic was typically solid inside with 14 points and seven rebounds, feeding Ayton for a first-half dunk with a well-placed assist.
• UA's defense wasn't as consistently aggressive as it was on Sunday. It broke down early on several occasions, with Mataro's big guy hitting some lightly contested threes that were almost reminiscent of Boise State's Nick Duncan (third paragraph of this 2015-16 game story). The Wildcats appeared to let up again in the final quarter against an opponent that did not give up or wear out, as the Valencia team did.
A PDF of the box score is attached to this post.
---
Arizona will face Mataro Parc Boet on Friday at 10:10 a.m. in its final exhibition game, to be played in the same rec center, about 30 miles up the coast from Barcelona.
The Wildcats are scheduled to visit FC Barcelona on Thursday.