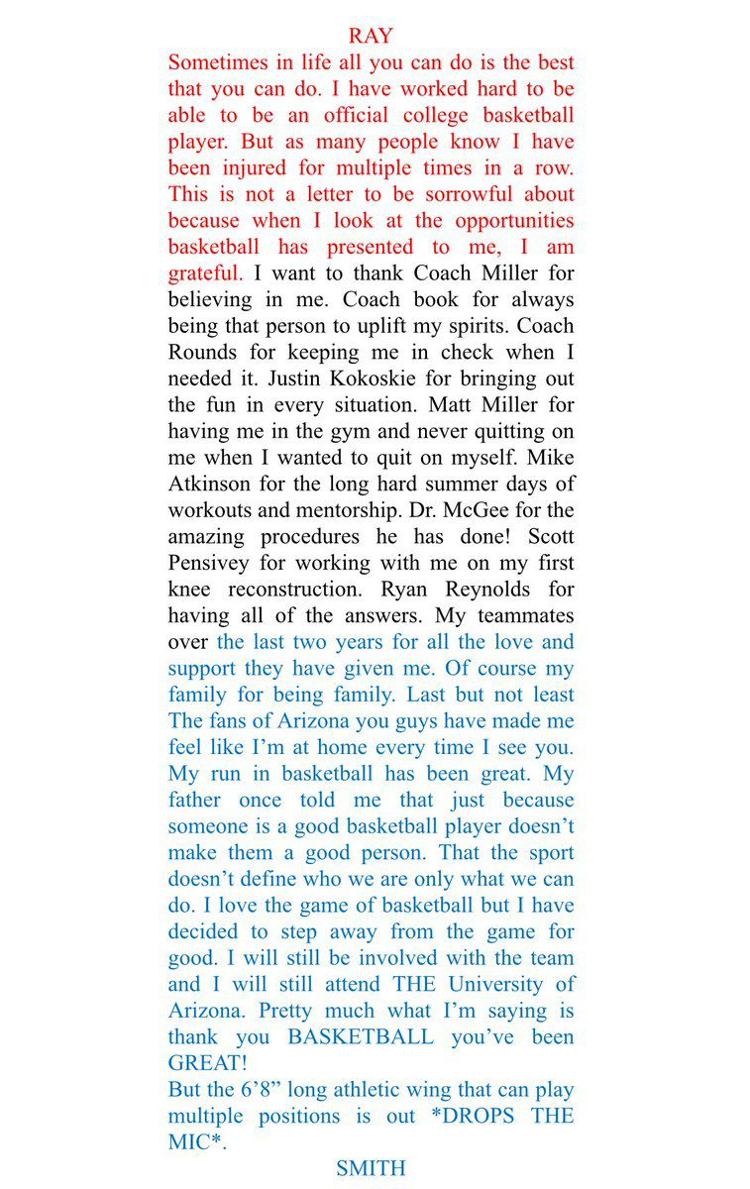 UA said Smith injured the ACL in his right knee in an exhibition game Tuesday against the College of Idaho, as well as suffering other ligament and meniscal damage, and that he will have surgery in the upcoming month and begin rehabilitation.
Smith said in his tweet that "sometimes in life all you can do is the best that you can do," and that the "6-8 long athletic wing who can play multiple positions is out."
Smith has now torn his right ACL twice and his left ACL once, all since 2014.
He first tore his left ACL while playing travel ball in July 2014, committing to UA just a few days after the injury, then rehabilitated throughout his senior year at Las Vegas High School.
Smith was cleared to play in October 2015 and appeared in the Red-Blue Game, but tore his right ACL in practice five days later and missed all of his freshman season in 2015-16.
Smith was then cleared again to play in late September and practiced for over a month, playing in the Red-Blue Game before he was hurt in Tuesday's exhibition game. Smith went up awkwardly during a layup attempt and had to be helped off the court with his legs off the ground.
UA coach Sean Miller, who has often spoken highly of Smith's work ethic and personality, issued a long and emotional statement.
"In the 25 years I have been a college basketball coach, I have never felt as helpless as I did when I saw him go down on Tuesday night," Miller said in his statement. "No 19-year-old kid should have to experience three season-ending injuries in a 30-month period of time. I have watched Ray work with our strength and conditioning coach tirelessly for two years. I have seen him in our training room around the clock, doing everything he can to play the game he loves. To witness his extraordinary efforts and see this happen to him once again is beyond disheartening.
"Ray is surrounded by a community that loves Arizona Basketball, current and former teammates that look at him as a brother, and a coaching staff and family that is beyond supportive and forever with him. Although the mountain that Ray is climbing continues to change, my belief in him to be a resounding success in life has never been stronger. His intelligence, charisma and sheer will position him to be special in all that he does. I certainly look forward to helping him, as part of our basketball family, reach all of the goals that he sets out to achieve."
"I have worked hard to be an official college basketball player," Smith said. "But as many people know, I have been injured multiple times in a row. This is not a letter to be sorrowful about because when I look at the opportunities basketball has presented to me, I am grateful."
Smith's departure leaves the Wildcats with nine healthy scholarship players, though only seven are currently active because of Allonzo Trier's pending eligibility issue and Chance Comanche's indefinite academic suspension. Arizona is scheduled to host Chico State on Sunday and open the regular season on Nov. 11 against Michigan State in Honolulu.