Three days after he blasted his team following Arizona's loss at Alabama, Sean Miller didn't appear to feel much better about the game.
"What I would say is credit Alabama — they had a home game against us and were coming off a tough game themselves — they were ready and they did a great job," Miller said Wednesday at his weekly news conference. "But by far out of the 10 games we've played, that was our worst performance, if we just grade ourselves. We didn't have the wherewithal, the will, the energy, the discipline sometimes to be good enough on defense."
Miller expressed particular disappointment with transition defense and defensive rebounding. The Wildcats allowed Alabama five offensive rebounds over the final 5:11 of Sunday's game that led to 10 points — a dunk, 3-pointer and 5 of 6 free throws.
"Our transition defense has been, for early in the year, constant for us, but it really left us for most of the game and playing against a team like Alabama that has multiple guys in transition, you kind of feed into what they're good at and that's what they did.
"The big burst in the first half when they opened the game up by as many as 19 points, that stemmed from a lot of baskets they got before the defense was set up. At the end of the game our defensive rebounding left us, when we really needed to get a stop or one or two key defensive rebounds. When you don't foul and get them to miss a shot but don't rebound that's really what breaks your back. And that's really what happened.
"We had five of last seven possessions where they missed a shot against our defense and they got a second shot, that led to fouls, that led to and-ones, that led to a 3 point basket. That also happened to our team in Maui, that game broke open against Gonzaga and the reason the game got into double digits was they did the same thing. We've watched it, we've talked about it., sometimes the best reminder is a loss. There's a lot to be learned about the Alabama game. Unfortunately, we took a loss in which either team could have won."
---
The Wildcats took Monday off and then resumed practice while finishing up finals this week.
"It's a very difficult week with time management," Miller said. "You want guys to take care of themselves because they have the stress of the final exam and the final grade looming. Fifteen weeks are behind them and that's it. We have to make sure each of our guys are sure of themselves and are taking care of things and have the time needed to be successful away from the court."
Freshman Brandon Williams, the player UA chose to appear at Wednesday's news conference, said not having to travel or play a second game this week helps. The Wildcats went to Hawaii, Connecticut and Alabama all within the past month.
"It helps us a lot," Williams said. "We can reset, recover and we're back at home Saturday and that's going to be fun, knowing we don't have to travel all the way to UConn or Alabama."
---
---
Jon Wilner says some history will explain why former Pac-12 ADs, including Greg Byrne, are critical of Larry Scott.
The Oregonian's John Canzano says financially troubled OSU should be more upset at the Pac-12 than anyone.
---
Damon Stoudamire's UOP Tigers are 8-4 and on a three-game winning streak after a difficult start to his head coaching career in Stockton.
Third year for Damon Stoudamire at Pacific, and they keep getting better! If @PacificMensBB wins just 12 of their next 20 games, the Tigers will accomplish a 20-win season. Not bad for working with only 10 scholarships (or less) since he arrived.

— Richie Schueler (@RichieSchueler) December 11, 2018
---
---
Arizona Wildcats face tough task against Baylor's zone defense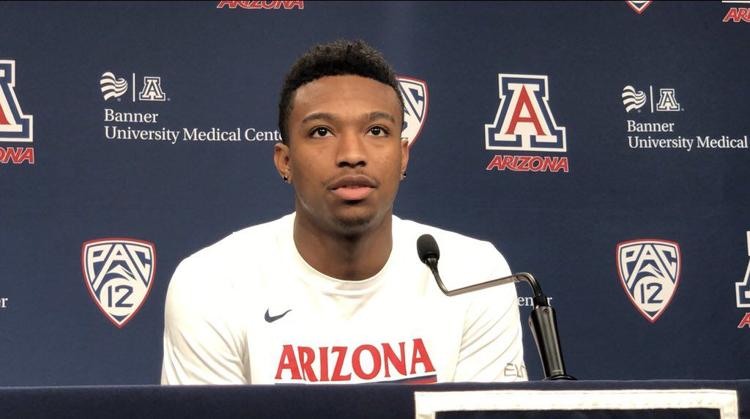 As finals week hits full stride and UA students are wrapping up their fall semester, the Wildcats will take a few extra days off and prepare for the Baylor Bears.
Arizona is coming off a 76-73 loss at Alabama and now holds a 7-3 record on the season with three nonconference games remaining: Baylor on Saturday, Montana on Dec. 19 and UC Davis on Dec. 22. 
Against Alabama, the Wildcats trailed by as many as 19 points in the first half, but clawed their way back and led by one point late in the second half. After scoring 47 bench points combined in the previous two wins, Arizona only scored six to Alabama's 29.
Brandon Williams scored 16 points on 4 of 7 shooting from 3-point range and dropped 10 points in the second half. Now the Wildcats turn to a 5-3 Baylor team that head coach Sean Miller said plays a blend of man-to-man and zone defense, which will be different for the Wildcats. 
Miller and Williams held a press conference on Wednesday to recap the loss against Alabama and preview the challenge ahead with Baylor. 
Sloppy play, transition defense vs. Alabama
Sean Miller says Arizona had its worst performance of the season against Alabama on Sunday. Miller emphasized that UA's transition defense "left us." pic.twitter.com/KziQbSCMri

— The Wildcaster (@TheWildcaster) December 12, 2018
Settling for jumpers
Sean Miller says Arizona relied on jump shots against Alabama which played a huge role in not getting to the free throw line. pic.twitter.com/gVY9I3JNra

— The Wildcaster (@TheWildcaster) December 12, 2018
Importance of Ira Lee
Sean Miller on Ira Lee: "We need him. This team needs him."Miller also adds that Lee is a part of Arizona's plan for the future. pic.twitter.com/sy7z5MSzkg

— The Wildcaster (@TheWildcaster) December 12, 2018
Williams finishing first semester at UA
Brandon Williams on finishing finals and his first semester at UA. Williams said his first semester at Arizona was shocked by the number of people in classes. pic.twitter.com/YosegqY9RK

— The Wildcaster (@TheWildcaster) December 12, 2018
Team chemistry with Emmanuel Akot starting, Ryan Luther as a reserve
Sean Miller on Emmanuel Akot in the starting lineup and Ryan Luther coming off the bench: pic.twitter.com/7NuO8Hx0mc

— The Wildcaster (@TheWildcaster) December 12, 2018