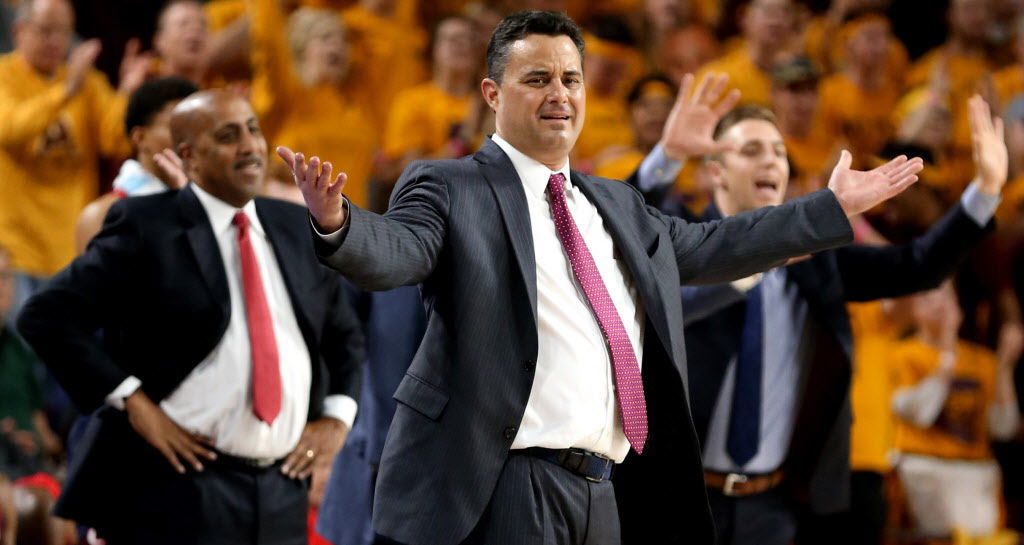 The Arizona Board of Regents has called a special meeting Thursday to discuss Arizona's basketball program and the contract of Sean Miller, indicating a resolution could be near for the embattled UA basketball coach.
Arizona AD Dave Heeke did not show for a scheduled appearance in Wednesday's Cologuard pro-am golf tournament Wednesday, while UA president Robert Robbins said at the event that the university was "still working on things."
UA officials are expected to make the decision regarding Miller, while Robbins said he had "no idea" the regents announced the meeting.
"It's a lot of moving parts," he said. "We'll have more to say later." 
Miller has not coached the Wildcats since ESPN reported last Friday night that he allegedly discussed paying a recruit $100,000 to play for the Wildcats.
Associate head coach Lorenzo Romar has coached the team in Miller's place, in UA's loss at Oregon on Saturday and in practices this week, and is likely to do so Thursday when the 19th-ranked Wildcats host Stanford.
Miller, 49, is 242-72 over eight-plus years of coaching the Wildcats, while winning or tying for four Pac-10/12 titles and reaching the NCAA Tournament's Elite Eight three times. He was also named the conference's coach of the year three times, including last season when the Wildcats 16-2 in conference play and 32-5 overall.
Arizona has made Miller one of college basketball's most well-paid coaches. Miller is earning guaranteed compensation of $2.6 million this season plus performance and academic bonuses. This season, Arizona is paying Miller a base salary of $1.5 million plus $700,000 for "peripheral duties" such as his radio show, while Nike and IMG also pay him about $200,000 each. 
Miller also earned a $2.1 longevity bonus from Arizona in 2016 and, if he remains until 2022, will receive 175,000 shares of Western Refining Logistics stock that are currently worth $4.17 million. However, Miller will not receive the stock if fired for cause. If he is fired without cause this year, he would receive three-eighths of the shares.
Miller's contract runs through the 2021-22 season, meaning he is on the books for another $5.4 million in base salary plus another $2.1 million in peripheral duties pay after 2017-18.
His contract says only that UA would be obligated to pay his base salary if fired for cause (breaking NCAA rules), but does not specify whether that means base salary through the end of the contract or not.
University of Arizona spokesman Chris Sigurdson said if Miller were dismissed for cause, he would not receive any base compensation for work beyond the date of his termination.
"We recognize there may be some ambiguity in the language of the contract," Sigurdson said via email, "but Arizona courts look to the intent of the parties, and the intent of the parties in this case is clear. Base salary and any additional compensation are payable only to the date of termination."
Miller's program was rocked on Sept. 26, 2017, when UA assistant coach Book Richardson was arrested on federal bribery and fraud charges as a result of the FBI's sweeping investigation into college basketball. 
UA officials offered public support for Miller in the days after the announcement and allowed him to coach the team through last Thursday at Oregon State.
On Oct. 3, a week after Richardson's arrest, Miller issued a statement saying he supported Arizona's efforts to fully investigate the allegations and that he recognized his responsibilities included reinforcing a culture of compliance.
"To the best of my ability, I have worked to demonstrate this over the past eight years and will continue to do so as we move forward," Miller said.
On the same day, Robbins issued a statement saying he supported Miller "based on the facts that we know at this time."
"Head coach Sean Miller has not been charged with — nor accused of — any misconduct and he has been fully cooperative and supportive of our efforts to determine the facts in pursuit of the truth," Robbins' statement said then.
The federal complaint detailed how Richardson and then-UA associate head coach Joe Pasternack had conversations about recruits with an agent. While there were no indications Pasternack broke any NCAA rules, Richardson was alleged to have been given $20,000 to pass on to UA recruit Jahvon Quinerly.
Quinerly, who committed to UA in August shortly after Richardson allegedly took the money, decommitted from the Wildcats on Oct. 19 and announced on Feb. 14 that he would attend Villanova.
The federal complaint also quoted an Adidas representative as saying Arizona had offered a five-star recruit, believed to be Orlando forward Nassir Little, $150,000 to commit.
After the federal complaint was announced, Arizona hired a law firm to hold an independent review into the UA basketball program. UA suspended assistant coach Mark Phelps for two games in November for breaking an unspecified NCAA rule, while also suspending forward Keanu Pinder for one game for an NCAA rule.
In response to a public records request from the Star, UA produced a letter from Miller saying that Phelps admitted to him that he broke a rule, but did not specify the rule. UA declined to release information about Pinder, citing student privacy rules.
On Wednesday, Robbins honored his previously scheduled obligation to play in the Cologuard Classic pro-am at Omni Tucson National Resort on Wednesday morning.
His playing partners were Champions Tour pro Scott Verplank, UA football coach Kevin Sumlin, Hall of Fame-bound former MLB star Trevor Hoffman and UA senior associate athletic director Mike Ketcham, who took Heeke's place in the pro-am.
When asked about the future of UA basketball on Wednesday, Robbins did not mention Miller by name but spoke about the players. 
"This basketball program has been a great program for a long time. We intend for it to be," he said. "We want our student-athletes to get a great education and plan for their futures. What I want is to help them realize their hopes and dreams for their future."