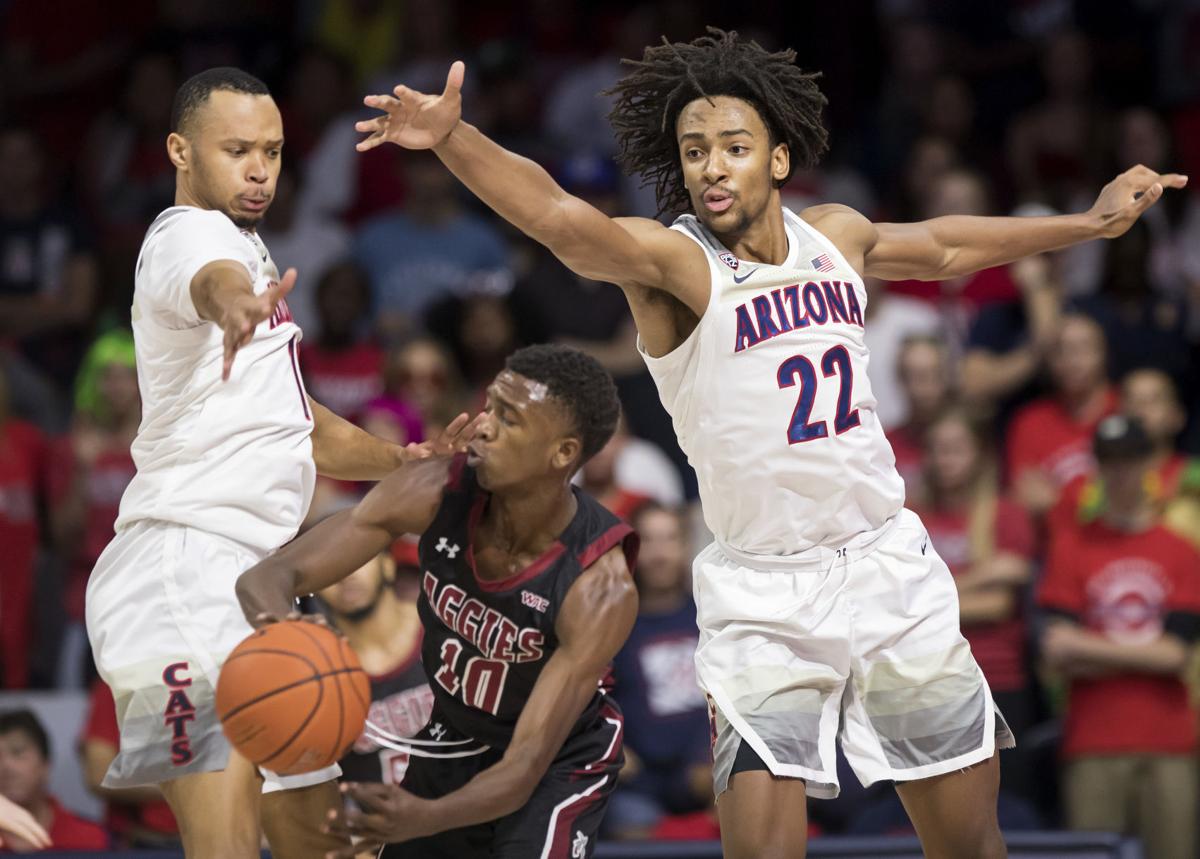 Even though Arizona has only played home games so far, the Wildcats so far are allowing opponents to hit two-point shots at only a 36.9% rate, the ninth best defensive two-point percentage in Division I according to Kenpom.
A large part of that is Nnaji's efforts, especially in dealing with ball screens, while the Wildcats also have veteran defensive efforts from Chase Jeter and Ira Lee inside and enough overall depth that they can sustain a strong defensive effort for 40 minutes.
"It's almost, well, shouldn't your team always play with great effort? But there's a difference," Miller said. "There's a difference between playing hard and concentrating and playing with just incredible effort. So you know with our depth, we're able to sub, we're able to get our guys breaks. They're able to play for stretches of the game with great intensity.
"That showed up in the New Mexico State game, maybe more so than some of the other games, because we continue to practice and with each game, I would think we get more comfortable in doing the things that we want to do well."
While clearly Nnaji is gifted and driven on both sides of the ball, Miller said Nnaji also benefited from playing on a strong program at Hopkins High School. Miller said Nnaji successfully hedged out while defending ball screens in the first half against New Mexico State, and even forced two turnovers.
"He's one of our team's best defensive players, and he had a number of really good plays defensively in the last game," Miller said. "A lot of times that's the hardest thing to transfer from high school to your first year in college, just the speed of the game, the size, everything that comes at you. It takes some time to adjust on defense but Zeke is very well coached from his high school coach and that's very advantageous for him.
"So I'm just as pleased with his defense. He's only going to get better because he works extremely hard every day, and he's coachable. He wants to get better. He's very unselfish."
---
Miller said fifth-year senior Chase Jeter has also contributed defensively but could be more consistent.
"He's mobile, he's intelligent," Miller said. "I don't know if I've ever coached a big guy that draws charges and sacrifices himself like he does on the defensive end."
With a little help, Jeter could also be more impactful on the other end. He's averaging just three shots taken per game so far.
"Offensively, we as a team have to do a better job of getting him the ball in scoring position," Miller said. "Sometimes he has a tendency when he posts up to be further away from the basket. I don't think that's the answer. But there are also times when a guy like him runs the court well and rolls on a pick and roll – and you have to be able to throw him the ball because he's proven that he can score.
"I wouldn't judge us just on these four games. We're going to get better and smoother at being able to have balance and be able to get the ball to him a few more times. That would be a good thing for us."
---
Miller has referred several times to Nnaji being somewhat underrated in high school, and the truth is that he didn't really shoot up until the summer before his senior season – scroll down to see his "ranking history" here and here -- and he didn't make the McDonalds All-American Game nor USA Basketball's U19 team.
But maybe all that was a good thing for Nnaji and the Wildcats in the long run.
"Sometimes though not getting all of those accolades, or getting invited to some of the all star games, can be a motivating force," Miller said. "It's not always a negative and all Zeke has done is work really hard.
"As a senior in high school and through the summer months, his body really changed, and part of what helped his body change isn't just the regimen he was on and how hard he worked but he's young. He's one of the youngest players on our team so his maturity has really helped him just be different maybe now than he was two years ago."