Freshman Cate Reese was surprised when she won the UA's prized pink T-shirt for the first time.
Even now, after winning eight or nine times — most recently this week — it never gets old.
"I was excited; I thought it was cool," she said.
Every Monday during the season, coach Adia Barnes gives the pink tee to the player who hustles the most in practice and games. Barnes counts "passion plays," puts the resulting points on a big board in the locker room, and awards the winner accordingly.
"We chart it every day — statistical categories like shots, rebounds, and turnovers," said Barnes, whose Wildcats host No. 6 Stanford at noon Sunday on Pac-12 Arizona. "But it's also the person who gets the most high-fives that day or the person who makes the hard, hustle play. All the things we want to be good at. So, you make a hard play on a ball, you dive for the ball, you get a point. Bad body language is minus a couple points. That kind of stuff."
Reese scored 10 points, grabbed nine rebounds and blocked two shots during Friday night's 60-55 win over No. 24 Cal at McKale Center. The Wildcats will need her again when they face a Cardinal team that handled No. 19 ASU on Friday.
The award isn't about who scores the most points, of course. It's about all the little things that are important to winning, which the Wildcats have done a lot of lately. Barnes said reserve guard Lindsey Malecha, who averages just three minutes per game, takes home the pink tee often.
"She cheers a lot, she dives and she makes smart plays," Barnes said. "You want to reward all the intangible things, too. When I see bright spots and moments, I have to talk about them."
Sometimes, something small can make a big difference.
"Those are super important in the Pac-12 with super players," Malecha said. "Add them up, and it can decide if you win the close games."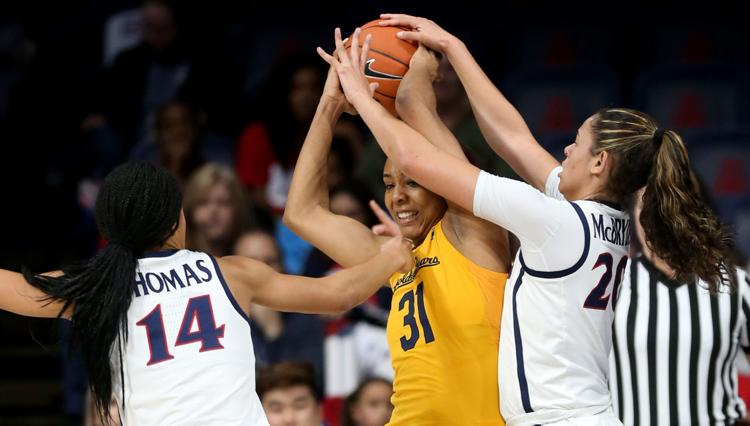 Take Friday's game. Down the stretch, Reese bodied up on the defensive end and forced a jump ball that, thanks to the alternating possession rule, went UA's way. Arizona forced 18 turnovers, converting them into 10 points, and won by five.
Seeing the results in games and on the "big board" in the UA locker room is an extra incentive for an already competitive squad.
"You might say, 'I'm tired; I won't go for the steal,' but then you remember you can get the pink T-shirt," Malecha said. "You never know who is going to get it, so you might fight for a few extra steals. Ultimately, at the end of the day, the harder you compete at practice, the harder you compete in games. All my extra hard work makes a difference and it's another incentive to keep working harder every day.
"For me, it's cool. My mentality is to work as hard as I can in everything, not just basketball. I can control my attitude and my effort. This is proof to me that hard work pays off and people recognize it."
This system isn't unique to Barnes' team. She estimates that nearly 80 percent of programs award players for different things during the week. Sean Miller, the Wildcats men's coach, has long awarded a gold jersey to the best player in practice each week.
Barnes' team is more than motivated by the pink tee and the "big board." Reese looks at the board every time she passes it, and notices when points are added next to her name.
"It's in your face, and every kid wants to be on the board," Barnes said. "That's how I was. You may say you don't or act like you don't, but you do."
Rim shots
The court isn't the only place the Wildcats are winning. The team averaged a 3.19 GPA in the fall semester, the highest in program history. Five Wildcats posted a 4.0 GPA. The numbers were based on 14 players, counting two transfers and Ali Reese and Eugenie Simonet-Keller, both of whom medically retired. Arizona's fall-semester GPA has improved each year since Barnes took over in 2016. Additionally, three Wildcats have been named the CATS Academics Student of the Month in the last six months: Malecha won the award in June, Lucia Alonso in October and Dominique McBryde in December.
Friday's win was Arizona's second this season against a ranked team. The last time Arizona defeated two ranked teams in the same season was 2002-03, when Joan Bonvicini's Wildcats finished 22-9. Before this season, Arizona last started 2-0 in league play in 2010-11, and the Wildcats finished that year 21-12. The last time they started the Pac-12 season 3-1 was in 2004-05, when they finished 20-12. All three times, the Wildcats made the NCAA Tournament.