From the moment Sam Thomas stepped onto the UA campus four years ago, she's been a leader.
She has always done whatever is needed — and with a smile on her face.
Play any position on the court? No problem.
Play tenacious defense? You got it.
Always bring a consistent level of competitiveness? For sure.
This year, however, the fifth-year senior is being asked to do something a little different: Be the face of a Wildcats team looking to return to the Final Four.
For years, Thomas watched closely as Aari McDonald held that title. Now, it's Thomas' time.
"I think Coach Adia (Barnes) has prepared me pretty well — I mean we've had a lot of time to prepare. I've been here going on five years," Thomas said with a laugh.
Thomas says Barnes taught her "the little things" early in her career before "passing me the torch" following McDonald's departure for the WNBA.
Barnes credits Thomas for putting in the work.
"Sam prepared herself," she said. "She's been slowly getting better at different things. And I think she has more of a voice now — a lot of that comes from confidence, comes from experience —and I think she's just raised her own standards of herself and her teammates. … She's grown into her own self. She's becoming the best version of herself, and I love to see it because she's completely different than when she came."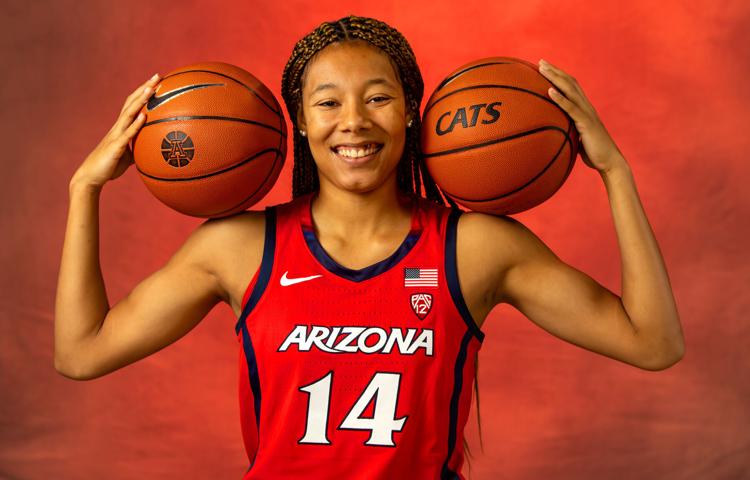 Thomas played for a Las Vegas Centennial High School program that rarely lost. Arizona was an adjustment, to say the least.
The rebuilding Wildcats lost 24 games her freshman year, finishing 11th in the Pac-12. Thomas, a captain as a freshman, consistently — and confidently — answered questions after every setback.
Even then, she was a leader. Four years later, there may not be a more recognizable student on campus.
"Every mother, father — everybody — wants Sam to be their daughter … because of who she is and how she plays basketball and everything she does outside of basketball," senior guard Bendu Yeaney said. "She's the perfect leader, on and off the court. She's a perfect example of our program. Little girls want to be like Sam, and I think that's a great thing."
Each year, Thomas has done things outside of basketball to build that confidence. She has been co-president of the student-athlete advisory committee, a member of the UA's peer athletic leadership group and member of the mental health support group. She spent a summer interning for Nike's Global Running Brand Marketing Team.
And last month, Thomas was the lone student-athlete to take part on a UA panel about name, image and likeness in Washington D.C.
"I don't think there is a better representative of our athletic department than Sam Thomas," Barnes said. "In my opinion, Sam should be Woman of the Year, which I think she will be. When I see her in different areas like that, there's always a confidence that I know she's going to represent us really well.
"I am very proud that she's part of our team. She's every coach's dream. You want someone who will represent off the court and on the court in a great manner. She does everything we ask, but what I love is that she's able to do that now — the confidence and that great voice. As a freshman, that would have been a lot harder. It's good to see the growth every single year and it's been fun to be a part of that."
And Barnes' support matters.
"When your head coach has a great deal of confidence and belief in you, it really helps you as a player achieve things that maybe you weren't sure you could do," said Joan Bonvicini, a former UA coach who is now a Pac-12 Networks analyst. "But I think now, Sam does."
Now that it's Thomas' team, she's taken her leadership skills up a notch. Often, that means having difficult conversations with teammates to make sure they're working hard — and working together.
Little by little she's learning who responds to vocal criticism — and who doesn't.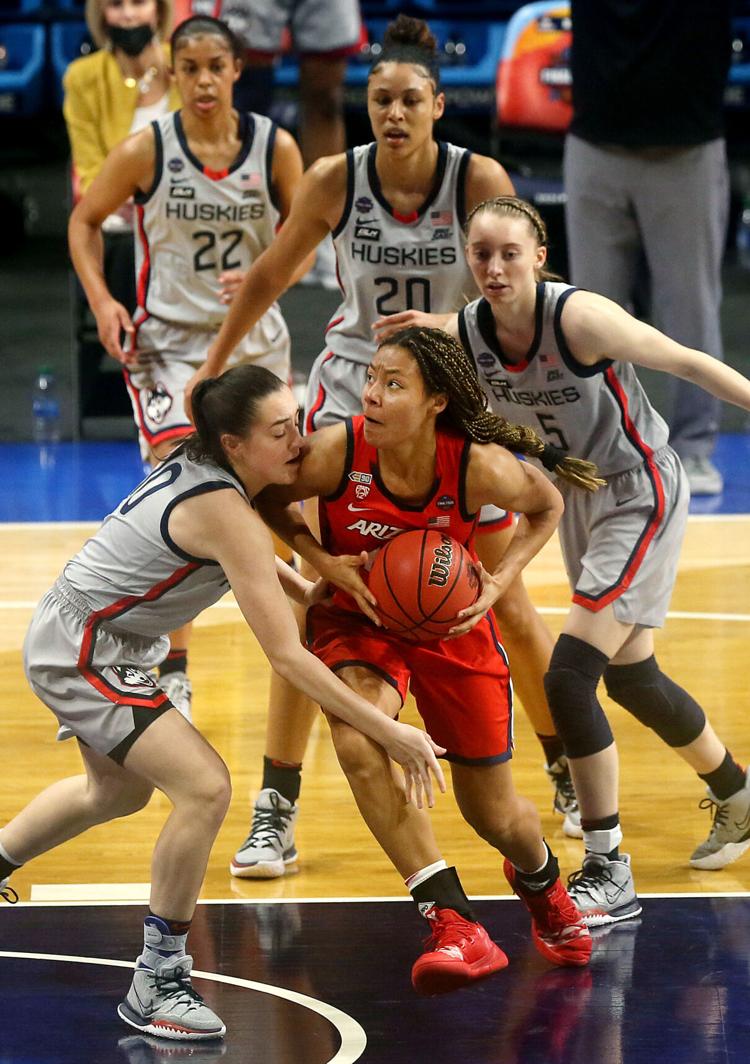 Spanish freshman Gisela Sanchez is in the latter category. Sanchez is still perfecting her English, and there are times in practice where she can feel overwhelmed. Thomas pulls her to the side and calms her down.
Then, "it's like a whole new person and she's 10 times better," Thomas said.
It's part of what makes Thomas the right person to lead the Wildcats in their first season without McDonald. The UA has been picked to finish fifth in the Pac-12 and is ranked No. 22 in Associated Press' first poll of the season. Internally, the Wildcats expect to surpass both projections.
"She's consistent, she's reliable, she's coachable, she's humble, hungry — and she is a connector, and everybody likes her," Barnes said. "When you respect someone, you like someone, you know they care, you listen to them. I think she could say hard stuff because people know she's coming from a good place and that's easy from relationships."
Other coaches have noticed, too. Stanford legend Tara VanDerveer calls Thomas "a really special player."
"She's talented, but she obviously didn't need to be the center of attention last year with Aari and would do whatever she needed for her team to win. She scores, she plays defense," VanDerveer said. "The fact that she wanted to be back … We have super seniors, too, with Anna Wilson and Alyssa Jerome. They want to be in your program. They get it. They can help other people. They know the sacrifices you have to make. I think that Adia is really fortunate that Sam came back, and Sam is really fortunate that she got the opportunity.
"I think it's a win-win."