NORTH AUGUSTA, S.C. — Unlike many of the elite basketball prospects playing in the Peach Jam club tournament this week, Arizona recruiting target Donovan "Puff" Johnson isn't just deciding where he wants to attend college.
He's also deciding when he wants to attend college.
If he has a choice, that is.
Johnson's father, Gilbert, said Thursday that the family is still waiting to see if the four-star combo forward will be allowed to graduate from Moon Area (Pennsylvania) High School this summer. Johnson already qualifies to meet NCAA eligibility standards.
Moon Area requires "a couple of things that will be tough to do in the summer," Gilbert Johnson said. "Right now they're talking to the superintendent to see if we can accomplish it. We'll know something (soon)."
As of now, Johnson is a rising senior in the class of 2020. He began considering reclassification to 2019 last month, after the Western Pennsylvania Interscholastic Athletic League declared he could not play for Moon Area next season. Johnson repeated eighth grade and thus already had four years since his first eighth grade season.
Johnson plans to play for a prep school next season if he stays in the class of 2020. He said he'd consider Hillcrest Prep, Brewster Academy, Spire, and the First Love Christian Academy in Pennsylvania.
Hillcrest could be particularly convenient for Johnson and, of course, the Wildcats. It's in Phoenix, where Puff's older brother, Cameron, just happens to have landed as a rookie first-round pick for the Suns.
Gilbert Johnson already plans to go back and forth between Pittsburgh and Phoenix, regardless of where "Puff" lands. Hillcrest would give the Wildcats a distinct recruiting advantage in proximity. The UA has already landed two former Hillcrest players, Deandre Ayton and Josh Green, and signed Terry Armstrong out of Scottsdale Bella Vista Prep before he opted to turn professional instead.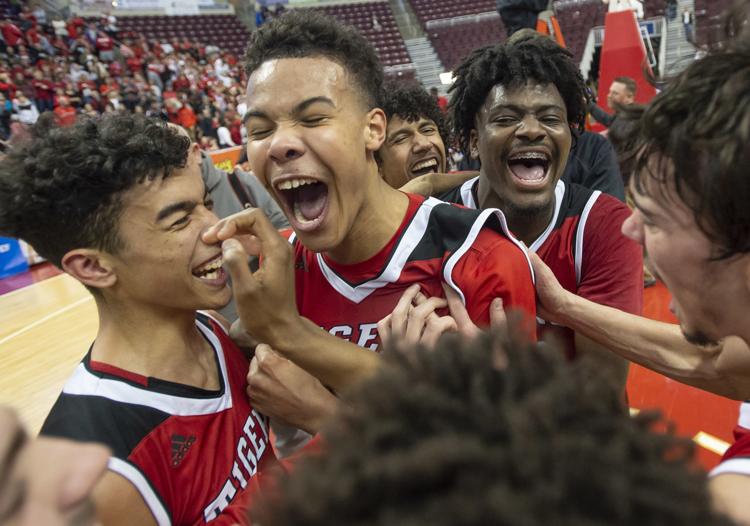 But that wouldn't be the UA's only selling point with the Johnsons. Gil Johnson played with UA coach Sean Miller at Pitt and says he still stays in touch with him — and, even more, with Miller's father, John, a legendary high school coach in the Pittsburgh area.
That Sean Miller might one day coach his son is something Gil Johnson apparently knew back in their playing days together.
"Sean was a coach on the floor," Gil said. "We all knew he was on the fast track to being a head coach. He was a very good teammate. He was devoted to performing selflessly."
Not surprisingly then, when Puff's older brother, Cameron, decided to grad transfer from Pitt in 2017, he took an official visit to Arizona and appeared serious. But after Rawle Alkins opted to return to Arizona for his sophomore season, Cameron Johnson picked North Carolina over the UA.
If not for Alkins' return, "Puff" Johnson said his older brother might have been a Wildcat.
"I wouldn't have been too surprised," he said.
For himself, "Puff" Johnson says he also sees plenty to like about the Wildcats.
"There's a lot of positives with Arizona," Johnson said. "It's a great atmosphere. Great facility. Great legacy. Great coach. I just can't speak highly enough about them."
Johnson said he hasn't visited Arizona yet but plans to soon. Maybe as a stopover from Peach Jam en route to some prep school somewhere this fall — or maybe as a place to unpack his bags and stay a while.
After all, Moon Area's loss might just become Arizona's gain — and as early as next season.
"I know there's always options to go to prep school or go to classify in 2020 or 2019," Johnson said.
"So I'm not really disappointed in them denying me (a senior season). I know that I have different opportunities waiting for me."