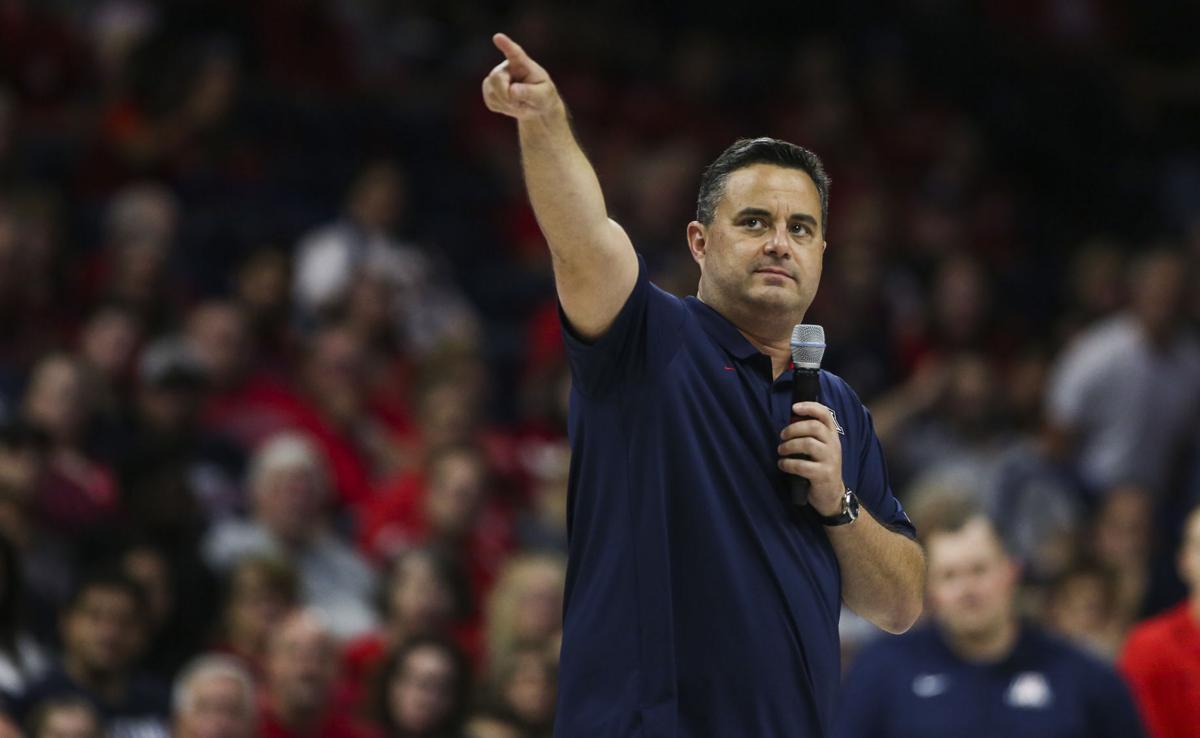 Many early-season college basketball tournaments, including the NIT Season Tip-Off that Arizona is supposed to play in, may converge together in Orlando. Other events may be shipped to Connecticut or even South Dakota. Regional nonconference game pods might pop up all over the country, too.
And nobody knows yet for sure if the Pac-12 will back off its nothing-until-January pronouncement in order to let its teams join the nonconference party.
But one thing could become certain Wednesday, when the NCAA's Division I Council is expected to meet for a vote: A starting line will be set for a college basketball season that will be like no other.
UA coach Sean Miller said last week he expected the NCAA to settle on a Nov. 25 opening date — and since then, speculation has grown that Nov. 21 could be more likely, allowing games to be played over the full week around Thanksgiving. Full-length practices typically are allowed to begin 42 days before a team's first game, but Miller said he expected an interim practice period that allows 12 hours' worth of workouts per week. That number would fit between the offseason standard of eight hours and the in-season max of 20.
"I think we'll learn all that for sure on Sept. 16," Miller said. "I don't think any of that's a fact, but that's kind of what we've been hearing."
Dan Gavitt, the NCAA's senior vice president of basketball, said last month he would be able to outline a potential starting date in mid-September; The Athletic reported that he told a group of administrators and coaches via a webinar last week that the minimum number of games might be cut in half, to about 12 or 14, with a possible maximum in the 26-28 range.
Typically, teams play 30 or 31 games before conference tournaments begin. This season, Arizona was scheduled to play nine nonconference games, plus two games at New York in the NIT Season Tip-Off and 20 against Pac-12 Conference opponents.
There's no telling how many games the Wildcats might play now. Ryan Reynolds, who handles schedules as Arizona's director of basketball operations, said he still doesn't know what might become of the seven one-time "guarantee" games the Wildcats contracted against teams such as NAU, Wyoming, Cal Baptist and Montana.
Can those teams still demand the $90,000-$95,000 that Arizona promised to pay them? Would they be rescheduled for a future year? Or would an NCAA announcement that the season starts in late November be enough to void out the contracts of any games scheduled for before then?
Reynolds said he's spoken to each of the teams on UA's schedule and that "everyone's just kind of waiting to see what happens."
Just about everything, at this point, is hypothetical. Especially because the Pac-12 announced on Aug. 10 that all sports competition would be postponed through the end of the calendar year.
"At this moment, we're gonna start on Jan. 1," Miller said last week. "I hope, and in talking with the Pac-12, I think there's certainly going to be some discussions about us being able to move that timeline back and join everybody else. But, you know, I can't control that."
The Pac-12 has declined comment so far on whether it will reconsider its timeline, but advances in testing and the NCAA's potential start date around Thanksgiving are expected to put the issue under consideration again by Pac-12 school CEOs at some point soon.
In its Aug. 10 announcement, the Pac-12 outlined four major parameters for a decision on whether to restart sports: The level of community COVID-19 spread, the availability of rapid testing, concerns over related health issues such as myocarditis and local health guidelines.
The level of community spread within the Pac-12 footprint remains high enough that daily testing is required, but the Pac-12's Sept. 3 announcement that it has secured rapid antigen testing from Quidel should take care of that issue.
Local health guidelines, however, are still a hurdle in California and Oregon, with basketball programs in both states still restricted from having their athletes train inside. UCLA coach Mick Cronin said Monday he has kept his players away from campus until this week, reasoning that they're better off working out privately instead of lifting weights under a tent or playing on an outdoor court on campus.
"You can do maybe a little shooting stuff, but I'm more worried about their careers," Cronin said. "I would never put those guys in position to where they were training hard on asphalt."
USC football players, meanwhile, asked California Gov. Gavin Newsome to loosen restrictions in a letter made public Tuesday. But while government issues remain beyond largely its control, the NCAA can at least take some of the hypotheticals of the equation by settling on a start date and setting some parameters about the season ahead.
Finally, guidance will start replacing guesses.
"I'm kind of mentally prepared for the next week and a half being a complete sprint," Reynolds said. "Everyone's making sure their phones are charged."
Rim shots
Five-star center Nate Bittle of Central Point, Oregon, announced he will stay in-state to play for Oregon in 2021-22. Bittle had also listed Arizona, Gonzaga and UCLA as finalists but had been widely expected to choose Ducks, and the Wildcats appeared to have stopped recruiting him.
Bittle transferred from Crater High School to Prolific Prep in Napa, California, for this season, where he will play for former UA associate head coach Mark Phelps.
Be the first to know
Get local news delivered to your inbox!