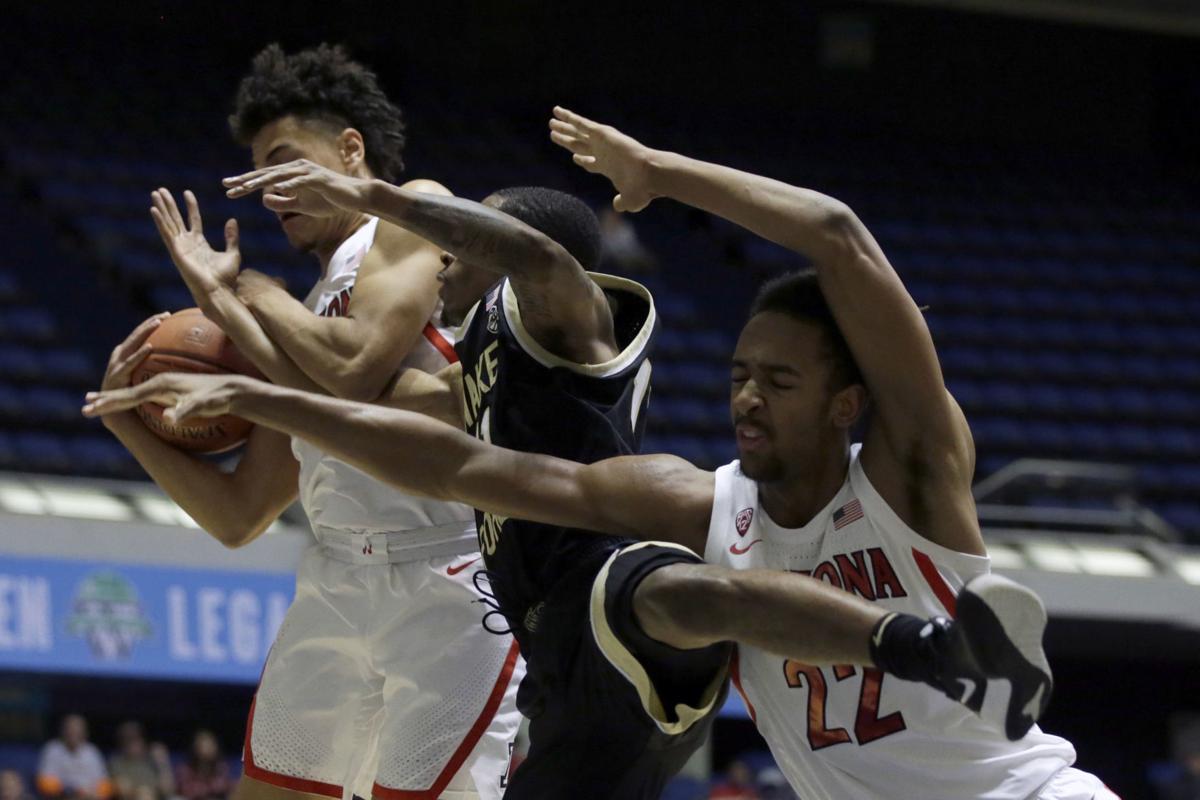 Puffy-eyed and concussed, Stone Gettings was quarantined at the Wildcats' team hotel during their game last Sunday, his coach comparing the senior forward to a bloodied boxer.
On the floor, Nico Mannion said he felt slower because of tightness in his back, while he, Zeke Nnaji and Jemarl Baker all lost their shooting touches. Nnaji and Ira Lee slipped into foul trouble, too, with Nnaji playing only 23 minutes in his roughest outing of the year.
Yet still Arizona beat Wake Forest 73-66 to win the Wooden Legacy title. UA coach Sean Miller spoke afterward of the Wildcats' depth but, considering that he leaned more heavily on his starters, the word "resiliency" may be more fitting.
Either way, it's a skill set that could help the Wildcats down the road, on Saturday at Baylor, on Dec. 14 against Gonzaga and during the Pac-12 season into the new year.
"We have enough that we can overcome not only Stone not playing, but Zeke really being in foul trouble the entire night," Miller said. "You think about Stone not being there, Zeke being in foul trouble, then Ira Lee fouled out … being able to play through foul trouble and injuries, I think that's something that we're going to call on all season long and we did here in this tournament. Depth helped us."
Without Gettings for the entire game and with Nnaji playing just 24 minutes because of foul trouble, Miller leaned on his other starters. Chase Jeter played 11 minutes more than his previous minutes-per-game average, and Dylan Smith played eight over his average. Josh Green played three minutes over his previous average, and Mannion played two.
Miller actually gave fewer minutes than average to reserve guards Max Hazzard (2) and Baker (1) while playing Lee four more minutes than his normal average despite the foul trouble.
Again, toughness mattered.
With that distribution of minutes, Lee grabbed five rebounds, Jeter nine and Green a season-high 12. The Wildcats outrebounded Wake Forest 43-38 and matched the Demon Deacons' 11 offensive rebounds despite the fact that Wake Forest missed seven more shots than the UA did.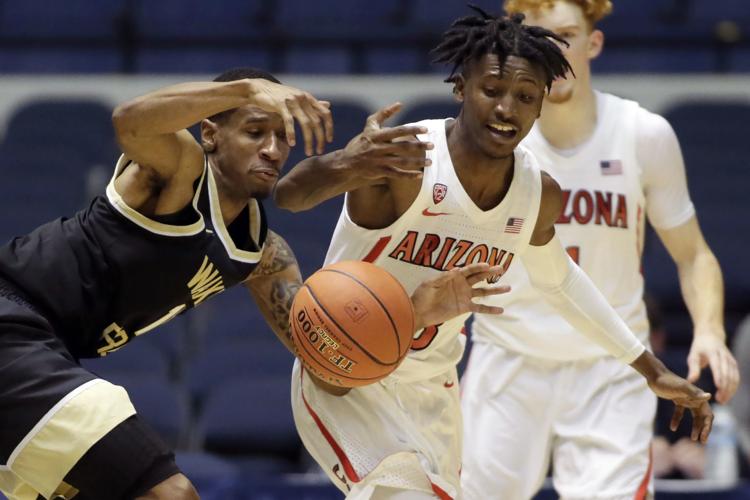 Wake Forest entered Sunday's game outrebounding opponents by an average of 10.7 per game. It still limits its opponents to the third-lowest offensive rebounding percentage in Division I, 19.3%.
"I'd say we're really resilient," Mannion said. "The first two days, coach really hit hard on the rebound battle, and (Wake Forest) might be one of the best offensive rebounding teams we played and we managed to (outrebound them) … that was really big for us. We just got some tough guys that work hard and we all really just want to win.
"So when everyone kind of just buys into that team game and works hard on it, then good things can happen."
Disneyland behavior leads Wake to bench 2
Wake Forest, meanwhile, went without rotation guard Jahcobi Neath and lightly used guard Mike Wynn after a Disneyland employee posted a letter to coach Danny Manning on Twitter documenting their behavior at the park.
"It was brought to my attention that a few of our student-athletes may have behaved in a manner that does not reflect the standards and values of Wake Forest basketball and our university," Manning said in a prepared statement, according to the Winston-Salem Journal. "Wake Forest takes these very seriously and is reviewing the situation. I'm sad that we're in this situation, but the players in question will not participate in (Sunday's) game."
Baylor giving away tickets to UA game
Arizona fans able to make it to Waco, Texas, for Saturday's showdown at Baylor will have one less expense to worry about: Tickets are free.
That's because Baylor's football team will be facing Oklahoma in the Big 12 football championship in Dallas, roughly 90 minutes away, at the exact same time as the basketball game.
Free tickets can be picked up starting at 9 a.m. local time in what Baylor is calling "Christmas at the Ferrell Center."
The UA-Baylor basketball game is starting early because of NCAA volleyball playoffs. The Bears are hosting an NCAA second-round match at 8 p.m. local time.
Be the first to know
Get local news delivered to your inbox!