Four top high school players have decommitted from schools implicated in the FBI's sweeping investigation into college basketball, and UA commit Jahvon Quinerly's future with the Wildcats appears shaky at best.
But Arizona's two other 2018 commits, forward Shareef O'Neal and guard Brandon Williams, appear on board for now.
Williams remains "100 percent" committed to Arizona, his father, Chris Wright, told the Star on Friday — provided there are no major issues resulting from the federal charges filed against assistant coach Book Richardson.
"Nothing's changed," Wright said.
O'Neal didn't respond to a message from the Star and hasn't posted anything publicly this week, except for a tweet that said "LOYALTY, LOYALTY, LOYALTY" on Tuesday after the FBI probe resulted in Richardson's arrest.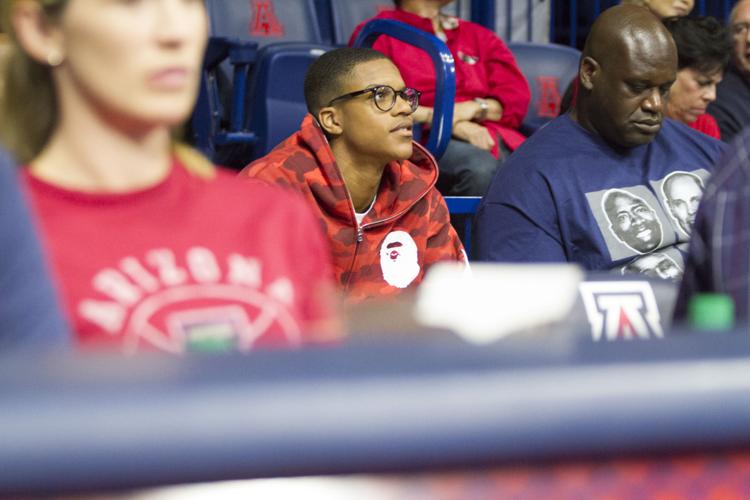 A federal complaint that was released Tuesday said Richardson accepted $20,000 in bribes from a sports agent for the purpose of securing a recruit, who was identifiable as Quinerly.
The complaint did not say whether Quinerly received the money, or how much of it he took, though a sports agent is quoted referring to him as "the guy with the 15 grand we gave him." If it is proven Quinerly took such an amount, his eligibility in 2018-19 would be in danger.
Stuart Brown, an Atlanta-based attorney who has worked with schools facing NCAA issues, said the governing body considers many factors when determining a penalty for accepting extra benefits. Among them: whether a player (instead of a family member or handler) knew about the benefits and where they came from.
But, in general, Brown said if it was proven a recruit took an amount ranging from $10,000 to $20,000, "there would be a substantial (period of ineligibility), which would probably be a whole season."
That could mean Quinerly never wears an Arizona uniform — or plays for any other school, either.
"Without having any inside information, I can't imagine that if there was any wrongdoing, that Arizona's involvement continues," Scout.com analyst Josh Gershon said. "We're going to have to see what is proven there. But the two other guys (appear committed). Brandon says he's coming as long as there are no serious implications, and you've seen a lot of other kids decommit."
Already this week, guards Anfernee Simons and Courtney Ramey decommitted from Louisville, while five-star forward E.J. Montgomery dumped Auburn and wing Antwann Jones gave up his pledge to Oklahoma State.
Wright, Williams' father, said he's been keeping up on all the news about the FBI's investigation and its effects throughout college basketball. He said he's not concerned with whatever might have happened between Richardson and Quinerly.
"It has nothing to do with me," Wright said. "It has no affect on our family or my son."
Still, Wright hopes the situation plays out quickly — "sooner rather than later," he said.
Players from the class of 2018 can't sign binding letter-of-intents until November, though Wright said Williams could always sign a letter and seek a release if sanctions were later handed down to Arizona.
Williams has the option of waiting until the spring signing period begins, a choice that could become popular among the class of 2018 players. Even those committed to a school not implicated in the FBI investigation might hold off, Gershon said, just in case their schools become entangled in it later.
"I think we're gonna see a lot of the elite prospects take a step back and see how this shakes out before signing anything," Gershon said. "They're more likely now to sign in April instead. It could slow down a lot of programs' recruiting."