Arizona's Red-Blue Game is about splashy introductions, dunking, laughing and scrimmaging but, in many ways, more than anything, it's about love.
The kind of love, that is, that McKale Center fans shower on players in such a flattering manner that UA coach Sean Miller has turned the annual preseason showcase into his top recruiting event, inviting in key targets every year in the hope that they'll notice it, too.
Devonaire Doutrive said he felt that love as a freshman guard last season, becoming something of a fan favorite for his athletic, aggressive and confident style. He capped his freshman-year heroics with a buzzer-beating rebound and basket to give UA a win at Oregon State, too.
But despite all that, Doutrive didn't play at all in six of 32 games and averaged just 11 minutes per game when he did get off the bench. Miller continues to say Doutrive wasn't physically ready yet last season, with less than 170 pounds on his 6-foot-5-inch frame, but some fans wanted him to get on the floor more often.
"I felt that" from fans, Doutrive said. "But coach Sean Miller is the coach, so whatever he needed, it was going to be done. That was what was going to happen."
Following the season, Miller suddenly wasn't Doutrive's coach anymore.
UA was over the scholarship limit of 13 players in late May and Doutrive's guardian, Laurian Watkins, announced on May 27 that Doutrive would transfer, telling the Star that Doutrive was "looking for a spot that's more suitable for him going forward."
Turned out, that spot was determined to be … Arizona, after all.
During the month after Doutrive signaled a transfer, UA signee Terry Armstrong decided to play pro ball in Australia and backup guard Alex Barcello transferred to BYU.
Just hours after Barcello made his move on June 24, Doutrive announced he was coming back.
"Sorry for the confusion everyone but I'm staying at the University of Arizona," Doutrive tweeted.
Doutrive said Tuesday that he never took an official visit or seriously considered other schools, though he did return home like many other UA players do in June before attending the second summer session in early July.
"It was just me and Coach Miller had great conversations — just talked and had a good understanding for each other," Doutrive said during Tuesday's on-campus media day.
"So I felt like this was the best place, the best spot for me."
Doutrive said he mostly spoke with Miller and Watkins about his future during his time at home. Miller said it came down to Doutrive really having "a long talk with himself" before deciding to return.
"It was no really manipulating on our end," Miller said. "I think he had an opportunity to just think about the future away from here. And this is a place where it's not like a lot of others — by no means does it fit every player.
"In our best attempt, just like in our university's best attempt, there are always going to be those students or student-athletes that maybe would be best served to go to another university and get a fresh start. I mean, that's the way of the world."
In other words, it's not easy.
Doutrive says he gets that.
"You know, U of A is highly competitive," he said. "You've gotta earn a spot for everything."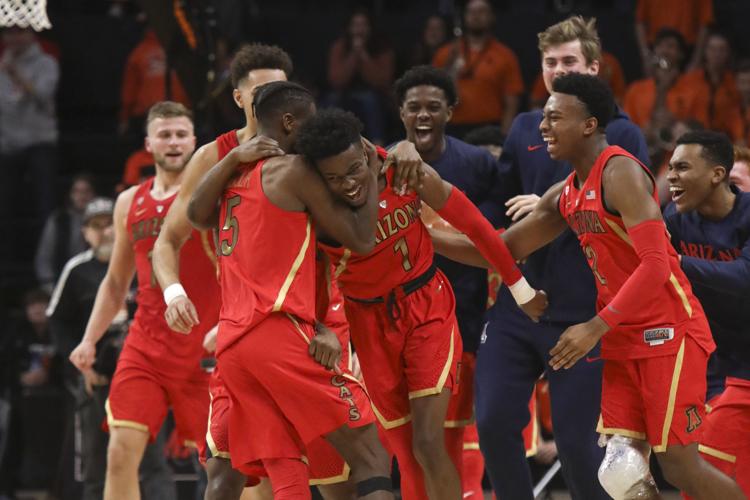 Doutrive still faces a battle for playing time again this season. Highly rated freshman Nico Mannion and Josh Green appear likely to start on the perimeter, while graduate transfer Max Hazzard is an experienced, much-needed shooter. Redshirt senior Dylan Smith has been the team's best perimeter defender.
But Miller said this week that Doutrive might be UA's most improved player at this point, "which makes perfect sense."
"He's a late bloomer," Miller said. "He needed time, he needed a year's worth of practices, he needed to get a sense of what it felt like on and off the court here, needed more time in our weight room.
"And you'll see just physically, he's more mature. He's bigger, stronger."
Miller has even been testing Doutrive as an emergency reserve point guard behind Mannion and Hazzard. He could see time there, unless Jemarl Baker's waiver request to play immediately is successful.
That hasn't been easy, either.
"We getting there," Doutrive said, smiling. "I'm getting a more feel for (point guard), trying to play something new. … It's more than just playing. You've gotta really know everything. You gotta know where everybody's at on the floor."
But whether he plays point guard or one of the wing spots, Doutrive will likely crash the offensive glass.
Maybe he's still undersized inside at 180 pounds, but Doutrive's nose for the ball already won the Wildcats the game at OSU last season — and could win maybe some more this season.
"Even a year ago, as slight as he was, he had a knack as an offensive rebounder; he could keep the ball alive," Miller said. "That's a big skill. And he's somebody that we're counting on to really improve from year one to year two. So far, he's really shown that."
Rim shots
UA is expected to host 14 four- and five-star recruiting targets from the high school classes of 2020, 2021 and 2022 at the Red-Blue Game — four of whom will be making official visits: UA commit
of Pennsylvania, five-star 2021 center
of Oregon and four-star guard
Kerwin Walton of Minnesota.
Five-star guard Devin Askew of California's Mater Dei High School is scheduled to be among the 10 unofficial visitors.
"It's a big recruiting weekend," Miller said on Tuesday.
was named GM of the Northern Arizona Suns, Phoenix's G League affiliate in Prescott Valley. Feld graduated from the UA and worked for the Wildcats between 2006-12 as a video coordinator and later assistant director of basketball operations under four different coaches:
Kevin O'Neill and Miller.
The Northern Arizona Suns earlier this week traded for the G League rights to former UA forward Brandon Ashley, though it is not known yet if Ashley will play in the G League or overseas this season.
Miller is scheduled to bring Mannion and Green along with him to Pac-12 Media Day on Oct. 8 in San Francisco.