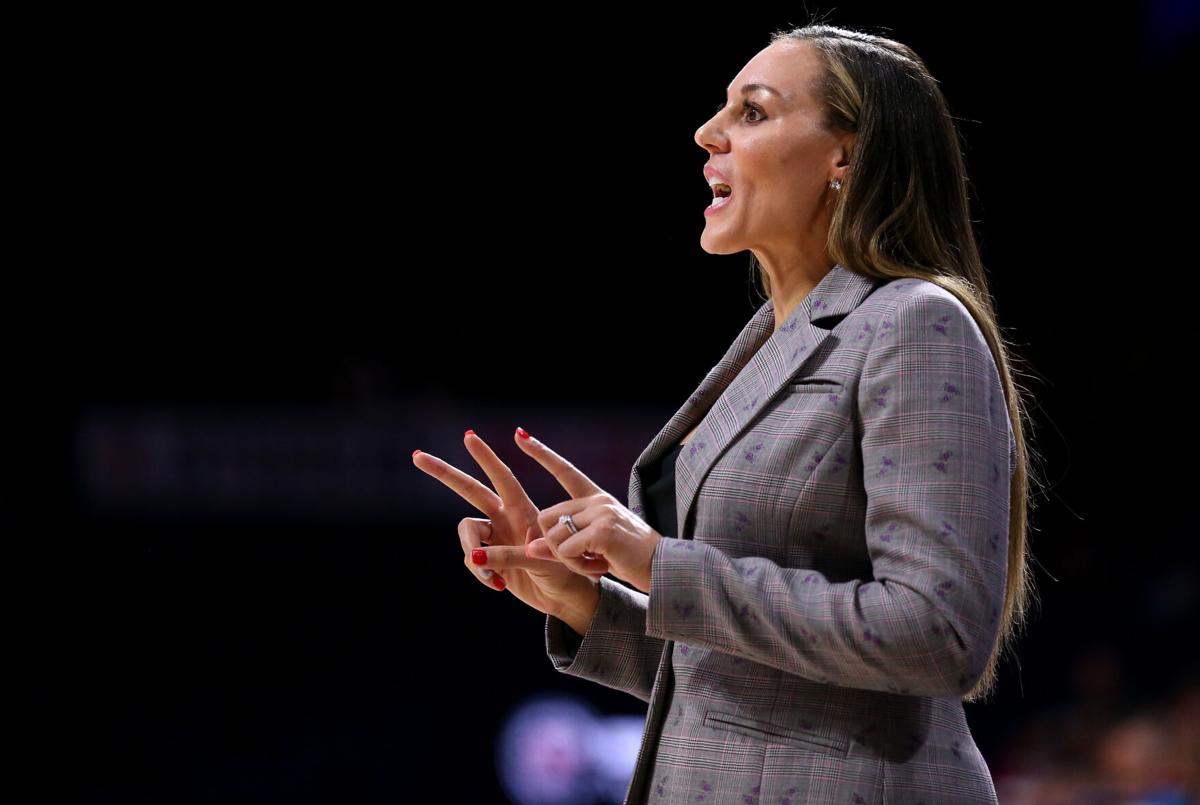 The Arizona Board of Regents voted unanimously Thursday to approve the new contracts of Arizona basketball coaches Adia Barnes and Tommy Lloyd on during the public portion of their meeting in Flagstaff.
Barnes received a twice-reworked contract that will pay her $1 million next season and a total of $5.85 million over five seasons, putting her among the top 15 highest-paid women's basketball coaches nationally. Lloyd will receive a guaranteed deal worth $2.9 million next season, including $2.5 million from UA and another $200,000 each from Nike and IMG.
Lloyd's five-year package, which includes $100,000 annual escalators, will pay him the same that former Arizona coach Sean Miller was scheduled to receive in 2021-22. Miller was fired in April.
Appearing virtually at the hybrid meeting to address the contract proposals, UA athletic director Dave Heeke said Barnes has "really turned (UA women's basketball) into an elite-level program," while detailing Lloyd's "impressive" background over 20 years as an assistant coach for perennial basketball power Gonzaga.
"He's someone who we're very proud to take over a world-class gold-star program, which is Arizona basketball, and continue the tradition of excellence within the program, emphasizing the positive culture for our student-athletes, our fans and our staff," Heeke said. Lloyd has "great knowledge and is an incredible coach and is the right person to take over this position moving forward."
The contracts for both coaches are for five years, the maximum allowed under Regents guidelines — though Lloyd's contract has language allowing for two additional years if certain NCAA sanctions are handed down.
A term sheet for Lloyd's contract released on April 15 stated UA would request the Regents extend his contract by a year if the NCAA and/or IARP issues a postseason ban, the loss or two or more scholarships or "any other material restriction on recruiting visits or recruiting days" for one year. UA also said Lloyd would receive two years extra if any of the three scenarios were handed down for two or more years.
However, in the proposal sent to the Regents last week, UA said Lloyd would receive a one-year extension only if all the three restrictions were handed down. But the school also said he would receive a second year if any of them were imposed for two or more years.
In response to the Star's requests for clarification, UA issued a statement saying it would "request a one-year extension of coach Lloyd's existing contract if the NCAA issues sanctions identified in the term sheet and those sanctions are in effect for one year or less. The University will request a two-year extension ... (if the specified) sanctions are in effect for more than one year."
While it appears a postseason ban refers to an additional one on top of the school's self-imposed ban last season, that is not specified in the contract language. The NCAA and/or IARP could "accept" the school's 2020-21 ban and make it part of formal sanctions.
The Regents were scheduled to privately hold "legal advice and discussion" about both contracts during their executive sessions this week. During the public portion, there was no discussion among the Regents other than a compliment from finance committee chair Karrin Taylor Robson to Heeke and UA president Robert C. Robbins for moving to keep Barnes.
In terms agreed to before UA's run to the 2021 NCAA championship game, the Regents in April approved a five-year deal worth $3.35 million for Barnes. With Barnes' market value suddenly much higher after the tournament — she reportedly drew interest from high-paying Baylor and LSU — Arizona announced on May 5 another 75% raise.
"What she has done for this program in such a short period of time is really remarkable," Taylor Robson said to Heeke and Robbins, "and so your efforts to keep her happily employed at the University of Arizona is pretty important to all of us, so thank you."
In exchange for the extra $2.5 million total over the next five years, Barnes is now more firmly tethered to the school. Barnes will now have to pay $3 million if she leaves UA before the end of the 2022-23 contract year. Those new terms were what UA called a "correlated modification" of her buyout, which had been $1 million if she left in 2021-22 and $700,000 if she left in 2022-23.
During their schedule private executive sessions, the Regents were also scheduled to hold "legal advice and discussion regarding UA athletics and the NCAA investigation."