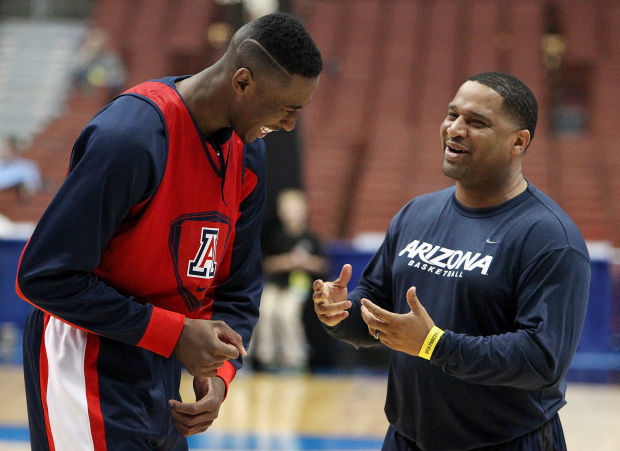 Book Richardson's Arizona coaching career is all but over, no matter how the school is wording it.
University of Arizona President Robert Robbins issued a statement Wednesday night saying the school is moving to fire Richardson, some 31 hours after the school issued a milder statement saying only that he was "suspended and relieved of all duties."
In the sports world, "relieved of duties" is typically a euphemism for being fired.
So … has he been effectively fired already, or just suspended?
The unusual wording correlates with Arizona's employee guidelines, and the requirements it must follow with what are state employees.
Those guidelines, in essence, say Richardson can't be fired until he receives due process, unlike a non-government employee.
"Private employers in Arizona can fire anybody for anything, though there's a few things federal law prohibits," said Tucson attorney Jeff Rogers, who has represented city employees' employment cases. "But government employment at all levels is different: You must be afforded a due process notice and an opportunity to be heard. … They have to serve you notice for the reasons of your termination and give you time to respond."
Richardson, who was paid $235,000 in 2016-17, is technically a "service professional" at Arizona, and the school's dismissal policy for service professionals confirms that they will be offered a chance to respond before being fired.
"Just cause is required to dismiss a service professional employee," states section 4c.4.02 of UA's Handbook for Appointed Personnel. "Dismissal will not occur until such employee has been given an opportunity for a pre-dismissal meeting and a just cause hearing."
UA's handbook also says a service employee "may be suspended with pay for reasons that are in the best interests of the University, the Board, or the employee, as determined by the President."
Correspondingly, UA has put other employees on paid suspension when charged with a criminal offense.
In April 2015, former professor John A. Marchello was suspended with pay from his $106,000 job after he was charged with embezzling more than $220,000 from a student-run meat store he oversaw. Marchello retired from the UA the following month and was sentenced to probation earlier this year.
Jesse Lyle Bootman, a former longtime dean of the UA pharmacy school, has been on paid leave for almost two years at an annual salary of more than $250,000 since he was charged with sexual assault. Bootman has pleaded not guilty to assaulting a woman at his foothills home and his case is still pending.
Richardson's suspension may not last nearly that long. In fact, Rogers said he would be shocked if Richardson doesn't resign by the end of this week because of how the FBI's case was built.
"It would be different if it weren't so tightly done with video recordings and wiretaps," Rogers said. "It's a pretty strong case."
Regardless of Richardson's job, however, the potentially bigger issue he's facing is possible jail time. Richardson faces a maximum of 60 years in prison and/or $1.5 million in fines if convicted of all charges.
The defense attorney at Richardson's initial appearance in federal court Tuesday, Brick Storts, said it would be "foolish" to speculate on what might happen to Richardson by only reading a complaint.
Storts said Richardson would likely hire a New York-based attorney to represent him going forward. Richardson is scheduled for a court appearance Oct. 10 in New York.
A UA employee since joining head coach Sean Miller with the Wildcats in 2009, Richardson was arrested Tuesday morning on suspicion of federal bribery and fraud charges, then released on a $50,000 signature bond.
Richardson is accused of taking $20,000 in bribes from a sports agency and funneling at least some of the money to a UA recruit that appears to be five-star New Jersey point guard Jahvon Quinerly. The federal complaint contains statements that Richardson paid a "top point guard" who committed "around three days" before Aug. 11 — and Quinerly announced on Aug. 8 that he would play for Arizona.