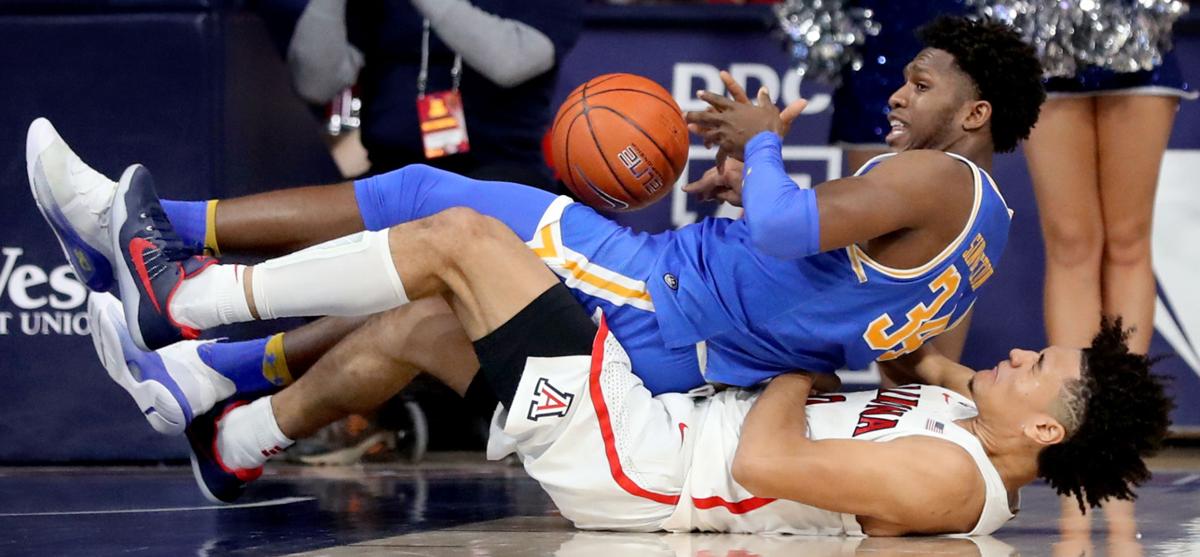 Trip down memory lane
When UCLA played Arizona in McKale Center 15 years ago, star guard Salim Stoudamire sunk one of the most memorable shots in UA basketball history.
Former Bruins guard Aaron Afflalo tied the game at 73 with a baseline jump shot, but left one more possession for the Wildcats to win.
With 12 seconds left, Stoudamire held the ball and stood on the navy blue "Lute and Bobbi Olson Court" circle at midcourt. Former UA power forward Ivan Radenovic flashed that he was going to set a screen for Stoudamire, but he waved him off and others to clear the way. With Afflalo guarding him at the top of the key, Stoudamire took six dribbles — one between his legs — and knocked down a 3-pointer. Game over. 
The Bruins inbounded the ball with 2.5 seconds left, but UA guard Hassan Adams stole the pass to secure the game.
Then there was the game between the rivals 31 year ago, when UA legend and Tucson native Sean Elliott broke Lew Alcindor's Pac-10 scoring record as the Wildcats won in a rout, 102-62.
---
Scary scene in Boulder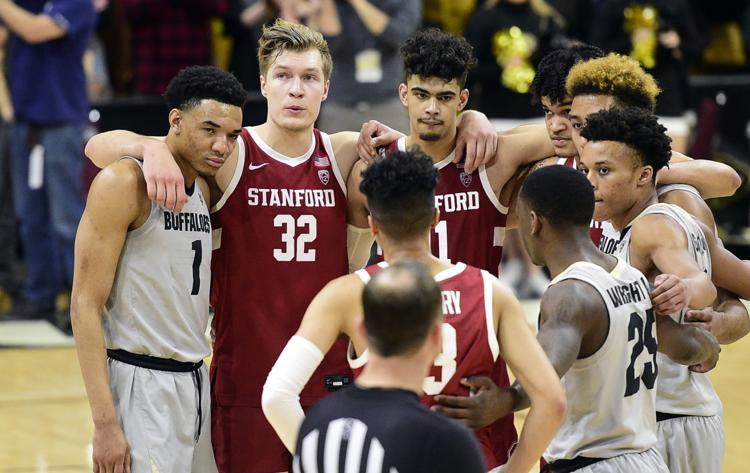 Stanford could be without one of its key players when Arizona visits next week. Oscar da Silva attempted to draw a charge in Saturday's game against Colorado.
When da Silva was in the process of landing, Evan Battey's elbow rammed his head into the hardwood, forcing da Silva to lose consciousness and bleed from his head. The medical staff brought out a stretcher, but da Silva was able to walk to the locker room on his own power.
Battey, shaken from the collision and the sight of da Silva lying on the court, cried on the shoulders of coaches and teammates. Battey walked to the locker room to gather himself, but finished the game. Stanford and Colorado players met midcourt, interlocked arms and consoled each other.
Da Silva's injury required stitches, and he is questionable entering this week. A Stanford spokesperson told ESPN that da Silva "is going to be OK," but is in concussion protocol. Da Silva, a native of Munich, Germany, is averaging 16.4 points and 6.5 rebounds per game this season.
---
McKale goes half-white, half-red
You've seen McKale do red-outs, white-outs and stripe-outs. But Saturday's showdown featured a mixture of all three. Half the arena wore red, the other half red and the Cats wore their white jerseys with red lettering.
The result looked something like a giant candy cane.
---
Black History Month warmups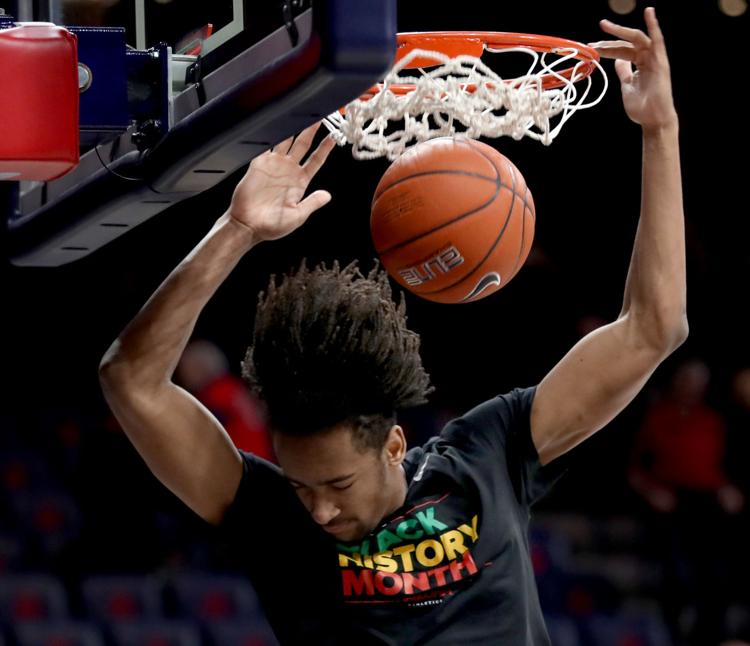 Since February is Black History Month, Arizona took the floor for pregame warmups donning black T-shirts with a "Black History Month" caption in green, yellow and red font across the chest. The Wildcats also wore the Nike-branded shirts before the USC game; several reserve players sported them on the bench during the game.
---
Walton wears a wig
ESPN analyst Bill Walton wore a red wig during the broadcast to honor redheads everywhere. His "Walton's World" segment featured talk of Nico Mannion's curly ginger hair; Walton then basically forced play-by-play man Dave Pasch to put on a wig while broadcasting the game.
---
UA target gets reality show
Mikey Williams is only a freshman at San Diego's San Ysidro High School, but his rise to social media stardom continues to grow at a rapid pace. With over 10,000 followers on Instagram, the 6-foot-1-inch, 175-pound point guard holds offers from Arizona, Arizona State, USC, New Mexico, San Diego, Arkansas and San Diego State.
Three hours before Arizona-UCLA, Williams' first episode of his reality show, "Fear Nothing," aired on Overtime's Facebook and YouTube platforms. Overtime is a media outlet that showcases high school athletes across the country and produces behind-the-scene videos and highlights of top basketball players.
The first episode of Williams' reality show introduces himself, the rise of preps basketball in San Diego, attending a high school that neighbors the Mexico border, his birthday and other miscellaneous topics.
The UA target scored 77 points in a high school game back in December.
---
The big number
20.7
The Wildcats made just 6 of their 29 (20.7%) second half shots as they were outscored by the Bruins 36-24 in the final 20 minutes.
---
Journey to see Mannion
One Arizona fan, Yuri, traveled over 2,300 miles from New Jersey to Tucson to watch his favorite Wildcat, Nico Mannion. Yuri visited his grandparents, who reside in The Old Pueblo, but the reasoning to visit Tucson was to specifically watch the freshman point guard.
During pregame warmups, Yuri, held up a "From New Jersey to watch Nico" sign and even took a picture with Mannion.
---
The little number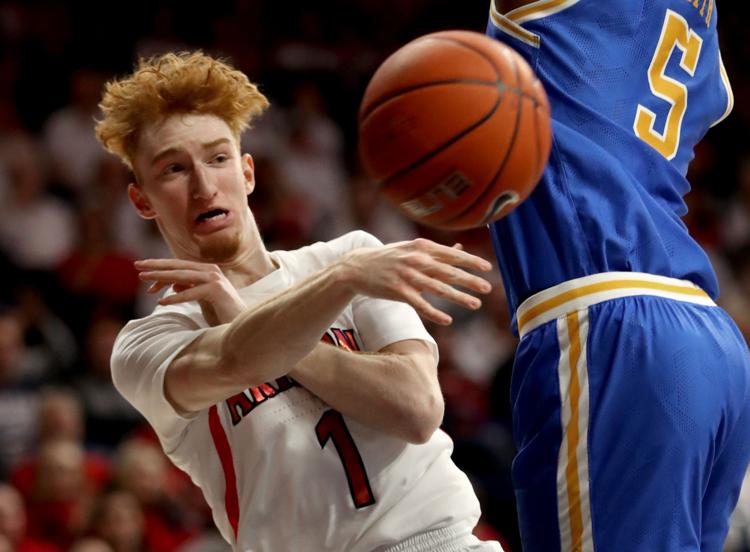 0
Nico Mannion had zero assists for the second time this season. The other came in Arizona's 66-65 loss at ASU two weeks ago.
---
He said it
Sean Miller is no stranger coaching against Mick Cronin as the two had some intense battles when Miller was at Xavier and Cronin at Cincinnati. While the Bruins haven't had as successful of a season as expected, Miller didn't take the matchup lightly.
"And playing against Cincinnati the eight times that I did, I've never been in games like that. Ever," Miller said. "They're the hardest, nastiest games and a lot of that is just a credit to the coach. I feel like UCLA is really going down that path and I mean that in a complimentary way."
— Justin Spears and Alec White