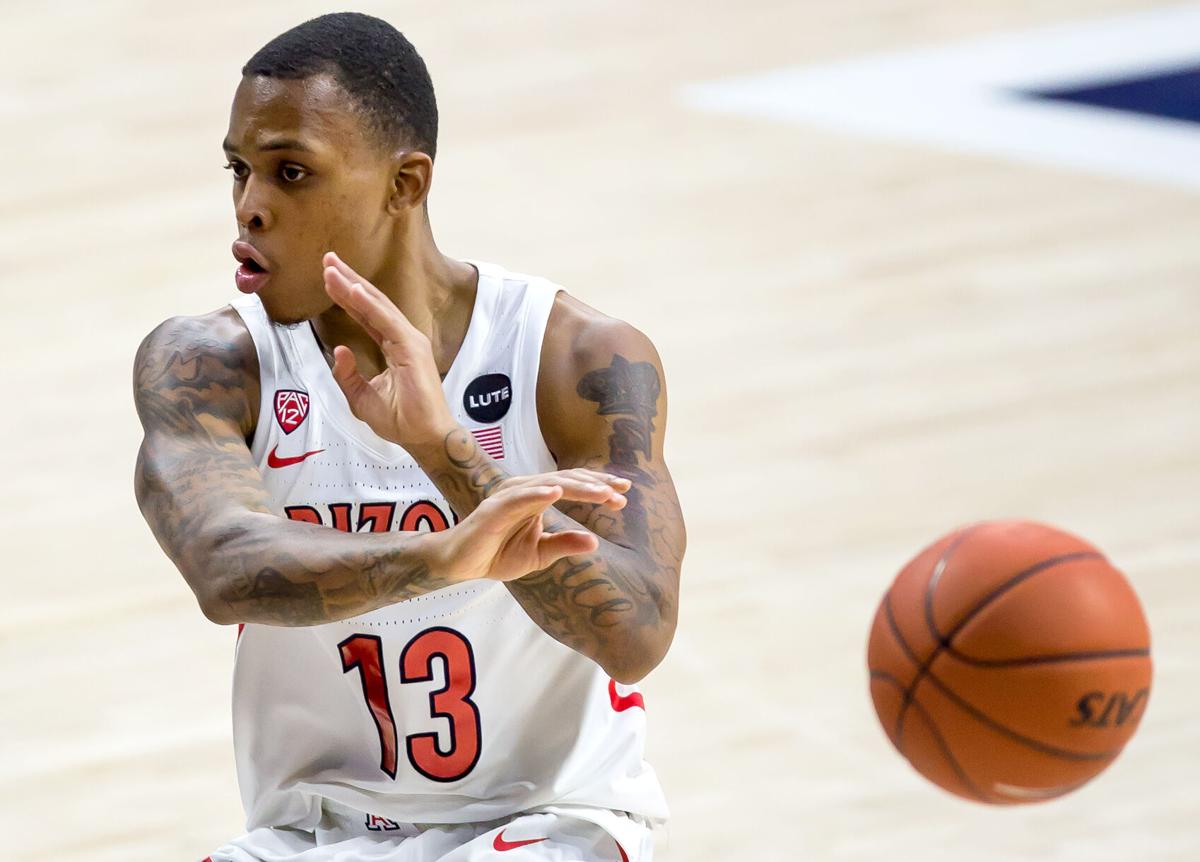 Although they can conceivably return, the Tommy Lloyd era could begin without Arizona's starting backcourt from last season after guards James Akinjo and Kerr Kriisa reportedly entered the NCAA transfer portal on Friday. 
Akinjo and Kriisa's decisions to look for potential opportunities elsewhere were first reported by Verbal Commits. 
Akinjo, a junior from Oakland, Calif. and former Big East Freshman of the Year, played one season for the Wildcats since transferring from Georgetown halfway through the 2020 season, and molded into an All-Pac-12 point guard in '21 averaging 15.6 points and 5.4 assists per game; Akinjo led the conference in assists.
In the final five games of Arizona's abbreviated season, due to the pandemic and self-imposed postseason ban, Akinjo averaged 21 points and 5.8 assists per outing, including a 26-points, seven-assist performance against Washington in the home finale. 
Prior to Arizona firing head coach Sean Miller, Akinjo initially declared for the NBA draft without hiring an agent in order to maintain NCAA eligibility. Lloyd and Akinjo have crossed paths on the recruiting trail. When Akinjo graduated high school in 2018, Gonzaga was one of his offers before he ultimately chose the Hoyas. 
Unlike Akinjo, it's not known if Gonzaga offered Kriisa, but Lloyd told the Star on Thursday that convincing the Estonian freshman to stay at the UA was "at the top of my list, as the other guys are."
Kriisa, who is named after Wildcats legend Steve Kerr, missed the first half of his freshman season in '21 because of NCAA clearinghouse issues that prevented him from playing until Feb. 4. Often compared by Miller to former Arizona standout T.J. MConnell, the high-energy Kriisa started five of the eight games he played at the UA, and shot 36.8% from 3-point range and averaged 5.5 points and 2.4 assists per game. 
If both Kriisa and Akinjo pursue other chances at other programs, Arizona will lose six scholarship players from this past season: Jemarl Baker, who transferred to Fresno State; Ira Lee, who left for George Washington; Seattle native Terrell Brown Jr., who returned home to Washington; Kriisa, Akinjo and French center Daniel Batcho. 
As of now, the only guards on Arizona's roster are Dalen Terry and Bennedict Mathurin, but the Wildcats are in contention to sign four-star '21 point guard Ty Ty Washington out of Compass Area in Phoenix. Washington is rated as one of the top guards for the '21 recruiting cycle and also holds offers from Kansas, Oklahoma State, Oregon and UCLA. 
Contact sports content producer Justin Spears at 573-4312 or jspears@tucson.com. On Twitter @justinesports