Before coaching in the Lute Olson Fantasy Basketball Camp this weekend, Salim Stoudamire recruited Houston Rockets assistant and fellow former Wildcat player Matt Brase to put him through a little workout.
Stoudamire shot from the right wing in the Sporting Chance facility. Left wing. Top of the key. Baseline. Dribbled, drove, then pulled up, from a variety of ranges.
Wherever, however. And Stoudamire almost never missed.
Just like he rarely did during his four-year career at Arizona, where Stoudamire remains the Wildcats' No. 2 all-time 3-point percentage shooter (45.8) and No. 2 free-throw percentage (87.0) shooter.
As former teammate Channing Frye once said, "His range is, basically, forever."
Stoudamire is 36 years old now, and hasn't played in the NBA since 2008, when his three-year stint with the Atlanta Hawks ended. But after spending the past decade dealing with injuries, bouncing between G League and overseas clubs, Stoudamire played in Ice Cube's "Big 3" 3-on-3 league last year and he says he's still interested in playing again on some level.
For his own reasons, that is.
"I'm open to it," Stoudamire says. "I will say this, and I hope nobody takes this the wrong way, with me it's not about entertainment. I'm not out there to entertain people. I'm out there to actually play basketball.
"I'm more into the culture and the arts instead of entertaining somebody and making money. I don't want to bash anybody. I go play against pros and do well against pros. It's just a matter of people wanting to sign me. I can't control that."
What Stoudamire can control is where to spend his time, and his passion.
That's why he's in Tucson this weekend, along with a dozen other former Wildcats who came to coach in the fantasy camp.
Their primary goal isn't so much about basketball as it is seeing former UA coach Lute Olson, especially after Olson suffered a stroke earlier this year that he continues to recover from.
Suspended twice by Olson as a supremely talented but somewhat mercurial standout for the Wildcats in the early 2000s, Stoudamire now stays in regular touch with his former coach. Stoudamire says the principles Olson stood for were always positive.
"It's been tough lately, with a lot going on in my life and a lot in his life," Stoudamire said. "But I'm always there for him. Obviously, I came to see him. I pray that his future is bright. All I can do is add positive energy."
Stoudamire and other former UA players met for dinner at Olson's house on Friday, a reunion captured in a photo posted to Instagram by Reggie Geary, a mid-1990s standout who now works in UA athletics as a director of development.
Olson sat in the bottom row, flanked by Matt Muehlebach, Bennett Davison and Geary, while the back row featured Joe Turner, Kyle Fogg, Craig McMillan, Ben Davis, A.J. Bramlett, Brase, Corey Williams, Donnell Harris, Pete Williams and, on the end, a beaming Stoudamire.
Arms wrapped around shoulders throughout.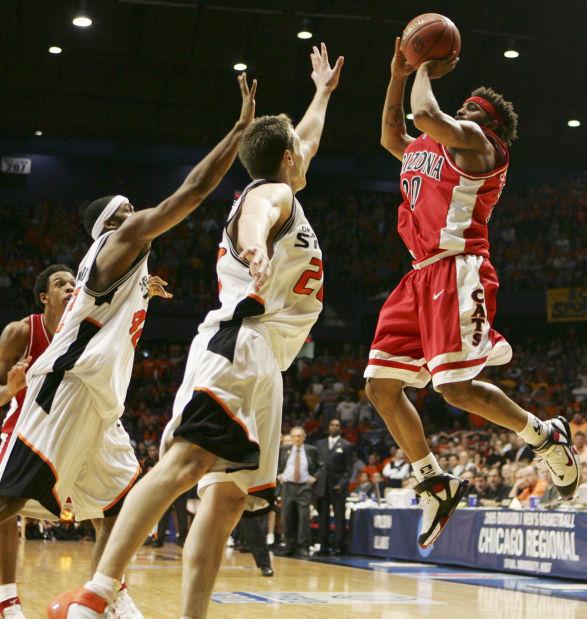 "Any reason to come to Tucson is great," said Williams, a standout on Olson's first UA teams in the mid-1980s who now is a probation officer in Southern California. "But this is really about a chance to see Coach O."
It just took Stoudamire a little while to join the fun. Camp directors had tried to recruit him for the previous two Olson camps. He finally jumped in this time, concerned about Olson's health and after receiving a nudge from his wife, Guelila.
"She usually puts the finishing touches on" decisions, Stoudamire said. "I'll be pondering and going back and forth and she'll finally come in and be like, 'You're doing this.'
"But it's a good opportunity for me to meet new people and hang out with the guys, and obviously, I definitely wanted to see Coach O considering what has transpired."
Guelila has been connecting immediately with Stoudamire since his second year in the NBA, when he and former UA star Mike Bibby went out together one night while playing together with the Hawks.
"I did not want to go out that night but he was like, 'C'mon, Salim, let's go,'" Stoudamire said. "So he dragged me out and I ended up meeting her."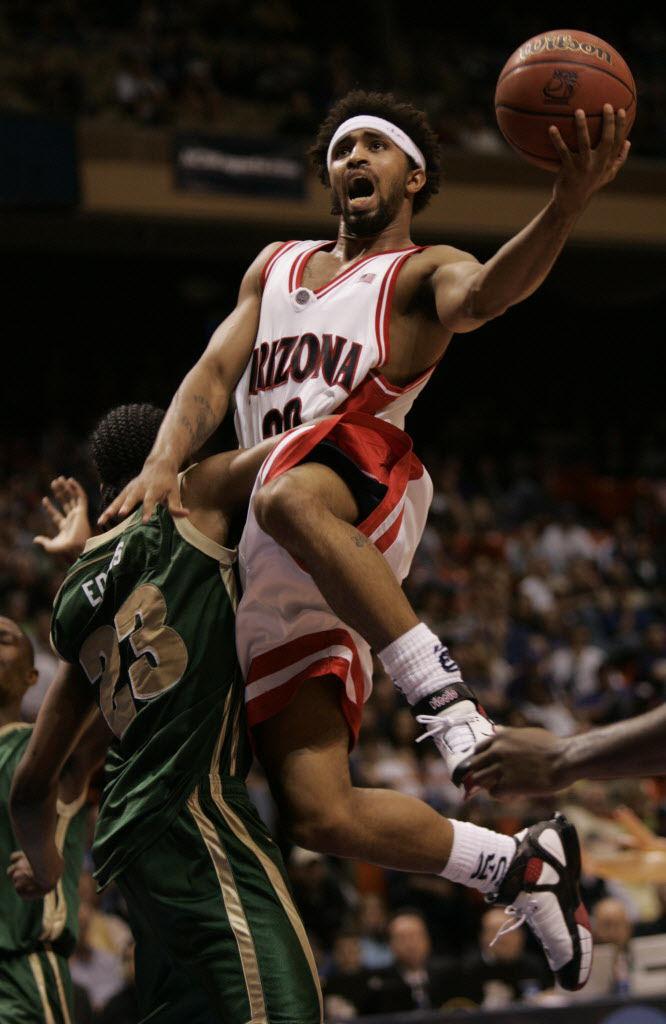 As it turned out, Guelila was an ideal match for Stoudamire's new vegan lifestyle. She now serves as a personal vegan chef and operates a vegan food truck in Atlanta called Vegan Chef Gueli that serves mushroom-based barbecue, cauliflower wings and other plant-based adaptations of Southern favorites.
That means there's no hassle in finding good vegan food anymore. That was pretty much the opposite of Stoudamire's early experiences with the diet, which he switched to while attending a celebrity golf event in the Virgin Islands after his rookie year in the NBA.
"Didn't even participate in the tournament. I just hung out with the locals," Stoudamire said. "And every single person that I hung out with was vegan. That right there just put things in perspective for me, like, 'Why am I listening to people in my surroundings and not being who I am, not being comfortable enough to be who I am?'
"I just went cold turkey from that point."
To hear Stoudamire tell the story, the Hawks were less than thrilled.
"Everybody in the NBA thought I was crazy, that I couldn't do it," Stoudamire said. "It was hell. I had to come in, weigh myself every day, because nobody had gone vegan before. I'm telling you, people had no idea what I went through. I guess they were doing the experiment on me, and I passed.
"Now you have a whole bunch of the vegans in the NBA. But I had to take the heat for it."
Combine the backlash with what he described as back-biting among players, Stoudamire's time with the Hawks was less than satisfying. His shooting, scoring and minutes decreased over his final two years in the NBA.
He reemerged in 2013 to play with the Guaros de Lara in Venezuela, only to find that eating vegan was a challenge again.
"It was horrible. Just horrible," Stoudamire says. "I'm eating at Papa John's, saying 'no cheese on the pizza.' It was bad, but I had to make it work."
Since then, Stoudamire has been based in Atlanta, where he cooks with Guelila, works as part-time trainer and watches his 8-year-old son, Gabriel, start to become obsessed with the game.
Stoudamire says he waited until Gabriel came to ask him about basketball, not wanting to push him into it, but that it's now happening.
"He's on YouTube and all kinds of stuff," Stoudamire says. "He's like, 'Daddy, I saw you do this move,' and he'll go try to do it. It's amazing. I see a lot of myself in him and I'm looking forward to his future.
"And I'll definitely teach him the things that I've learned from my experiences so that he can never go through what I went through."