Almost 18 months after the federal college basketball probe began shooting evidence and allegations into the public eye, it still isn't known if the Arizona Wildcats will get hit with any resulting NCAA sanctions.
If so, they might consider the 2018-19 season a down payment of sorts.
A historically bad Arizona season ended Wednesday in a first-round Pac-12 Tournament loss to USC. Things didn't just start turning sideways in October preseason practices, during a lethargic home loss to Baylor or even over a historic seven-game losing streak during Pac-12 play.
Rather, it can be traced back to the early morning of Sept. 26, 2017. That's when the FBI arrested then-UA assistant coach Book Richardson. And what was on track to become a top-5 recruiting class in 2018 — a class that was sorely needed to replace the expected exodus of all five UA starters after last season — started to unravel.
UA's three commits at the time — Jahvon Quinerly, Shareef O'Neal and Brandon Williams — declined to sign binding letters-of-intent during the November 2017 signing period. All three of them eventually decommitted, though Williams re-committed in May, while a number of other four- and five-star prospects simply dropped UA from their lists of finalists.
As recently as last April, the Wildcats had just six players lined up on their 2018-19 roster.
"If you go back as far as March or April of last year, I think we all kind of looked at it and said 'We'll see who we have,'" UA coach Sean Miller said. "Thank goodness all the guys returned and someone like Brandon joined us late."
In other words, it could have been even worse.
But Miller managed to assemble a team by scrambling on the spring recruiting trail, armed with one enticing carrot: plenty of available playing time in front of five-figure crowds.
Late-blooming high school standout Devonaire Doutrive was the first to sign up in early April. Then came Pitt transfer Ryan Luther and unknown Belgian forward Omar Thielemans.
Samford's Justin Coleman opted in late April to grad-transfer to Arizona, seeking a high-major home for his final year of college ball. And then Williams, perhaps sensing he might now actually have a team to play for, re-committed.
Suddenly, the Wildcats had a roster.
Thielemans, who hadn't been seen in Europe by the UA coaching staff before he committed, was off the team before the Wildcats played an exhibition game. But there still appeared to be enough for the Wildcats to be competitive in the Pac-12.
The Wildcats just needed a number of role players from 2017-18 to emerge into fixtures, while infusing their two grad transfers and Williams, with the springy Doutrive playing an increasing role off the bench toward the end of the season.
"For all of us, it was definitely a lot more responsibility, coming off the year we had," sophomore forward Ira Lee said. "We had guys like Deandre (Ayton) and Dusan (Ristic), big-time names, a lot of shoes to fill."
As more allegations against Arizona and other schools surfaced again last October during the first college basketball trial, nobody was quite sure what to make of the Wildcats. The UA was picked to finish fourth in the Pac-12 during the team's annual media day.
"I was surprised we were picked that high," Miller said then. "I don't look at us as being the fourth-best team in the Pac-12. I don't mean that in a negative light at all towards our group, but we've lost eight players from a year ago."
He was right. The Wildcats finished in a three-way tie for eighth, even though they started conference play 4-0 by beating Colorado and Utah at home, then sweeping through the Bay Area.
But starting forward Emmanuel Akot did not play for the final 7:44 of a close win over Stanford and upon the Wildcats' return home, and soon after, he told coaches he was quitting the team.
Injuries to center Chase Jeter (back) and Brandon Williams (knee) further sapped Arizona's depth. While Akot averaged only 3.8 points and 2.8 rebounds a game, his 19 average minutes took pressure off the Wildcats' rotation, something that became more of an issue when injuries to Jeter and Williams hit later in January.
"Emman leaving us hurt us, because he was a big part of our team," guard Dylan Smith said. "We all still wish him the best with whatever he does is. It was just a tough season, just going through all the adversity we went through."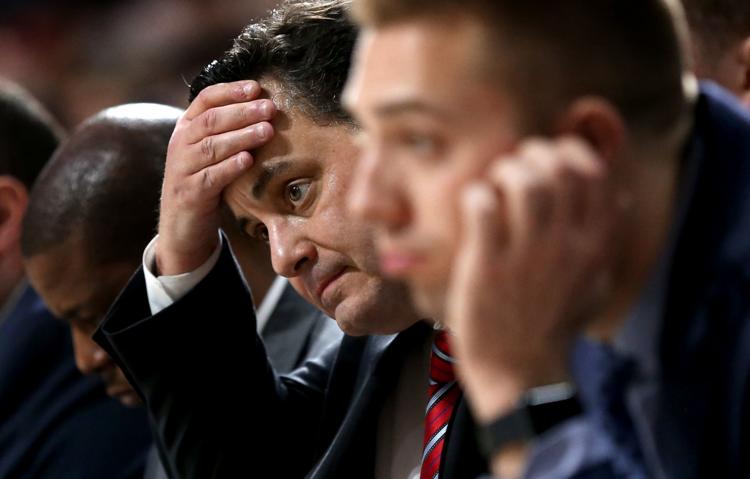 The Wildcats were clobbered at USC and UCLA without Jeter, and things became worse when the Wildcats returned home: After the UCLA game, Williams experienced pain and swelling in his right knee that appeared related to the congenital issue that forced him to miss 10 months of basketball in high school.
Then, another offcourt issue struck. UA administrators decided to remove assistant coach Mark Phelps over an NCAA issue, marking the second time in two seasons that the university moved to fire one of Miller's assistants.
ESPN reported that Phelps had been accused of an NCAA violation involving the academic transcripts of O'Neal, who committed to UCLA just three days after a February 2018 report, also by ESPN, that Miller discussed a pay-for-play scheme with aspiring agent Christian Dawkins.
Phelps' attorney, Donald Maurice Jackson, declined comment to the Star but told ESPN that Phelps had not violated NCAA rules and was a victim of entrapment.
In a manner consistent with his behavior regarding off-court questions since September 2017, Miller swatted away several inquires about Phelps' removal and its effect on the Wildcats. Still, there was no denying it: The UA's move left another empty seat on Miller's bench, much like last season, when Richardson was suspended and ultimately fired.
"We love Coach Phelps. He's still part of us as a team," Coleman said after UA's next game, a 67-60 loss to Washington.
While Phelps was being removed, Williams was still nursing his knee injury, not returning until Feb. 24 against Stanford. The constant lack of depth hurt the Wildcats throughout the second half of the season.
They ended their losing streak against last-place Cal on Feb. 21, managing to sweep the Bay area schools again at home, then had one final season highlight when Doutrive put back a missed shot from Coleman just before the buzzer to beat Oregon State 74-72 in Corvallis on Feb. 28.
From there, UA's highlights turned into frustration: A 31-31 tie with Oregon at halftime turned into a 73-47 blowout loss. A 33-33 halftime tie with ASU in the Wildcats' home finale turned into a 72-64 loss. Then, finally, a 40-40 halftime tie with USC in the first round of the Pac-12 Tournament led to a 78-65 season-ending defeat.
"There were times that we could have won games, like we were three or four plays away from winning," Smith said. "But that's the way basketball is. You gotta make the plays and we just couldn't, so our season came up short."
Arizona finished the season losing 10 of its last 13 games.
When it was all over, Miller said he was "incredibly proud" of how his players tried to plow through adversity, and the players spoke thankfully for the bond they formed in doing so, even when things got away from them on the court.
"It actually brought us closer together," Smith said. "Just a lot of adversity hurt us and we battled through it the best we could. I can say we didn't give up. I'm grateful for every, every person in the locker room."