Scouting report: Arizona Wildcats at UNLV Rebels
The Arizona Wildcats don't carry the fondest of memories of Thomas & Mack Center or the UNLV Rebels. In 2014, the last time Arizona visited UNLV in Las Vegas, the Rebels stunned the then-No. 3 Wildcats. Sean Miller's squad on Saturday will look to keep improving ahead of Pac-12 play and start a new Vegas trend.
By Bruce Pascoe / Arizona Daily Star
Game info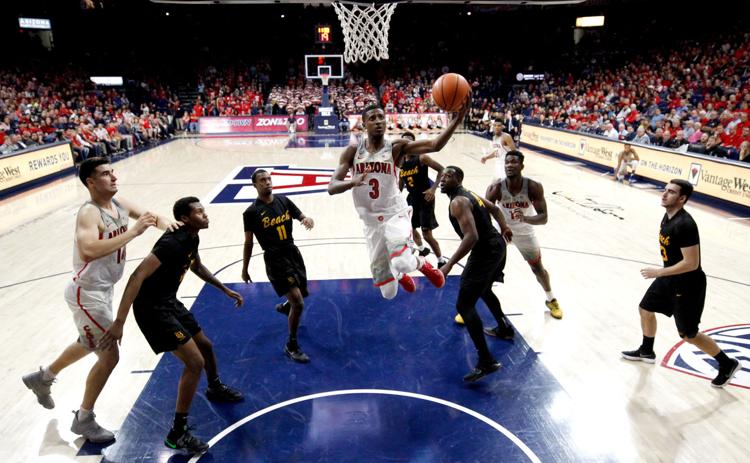 Matchup: Arizona (4-3) at UNLV (6-1)
Where: Thomas & Mack Center, Las Vegas
When: 8 p.m. Saturday
Watch: CBS Sports Network
Listen: 1290-AM, 107.5-FM
Probable starters: Arizona

Probable starters: UNLV

How they match up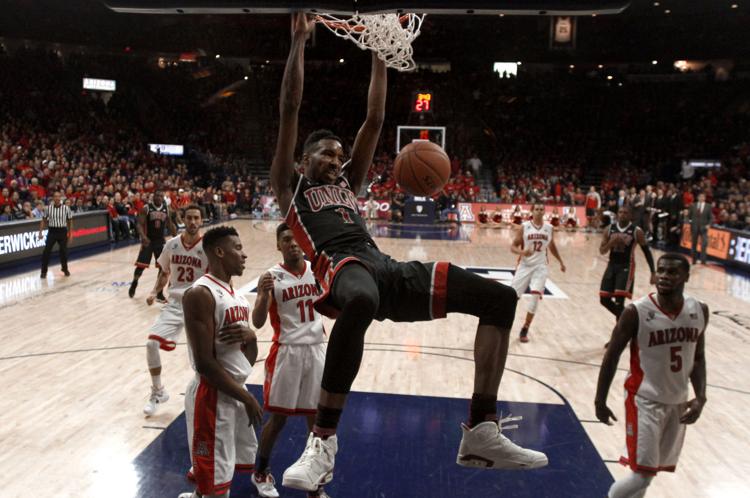 The series
Arizona is only 8-12 against UNLV all time and has lost three of the last five in the series. Since the two longtime regional rivals re-upped with a four-year series that began in 2013-14, each team has held serve on its home court, with UA winning 63-58 on Dec. 7, 2013, and 82-70 on Dec. 19, 2015, at McKale Center and UNLV upsetting the Wildcats 71-67 on Dec. 23, 2014, in Las Vegas. Arizona allowed the Rebels to shoot 44 percent and collect 14 offensive rebounds in the 2014 loss.
UNLV overview
The Rebels are quickly putting one of their worst seasons ever behind them. UNLV tied for last place in the Mountain West last season and won just 11 games overall in coach Marvin Menzies' first season but Menzies brought in a top-20 recruiting class for this season.
The strength of the new class is inside, with five-star freshman Brandon McCoy and JUCO transfer Shakur Juiston, who led Hutchinson (Kan.) – the former school of Keanu Pinder and Kadeem Allen – to a junior college national championship last season. Juiston leads the country in rebounds per game at 13.0 while McCoy is fifth at 12.1. (UA's Deandre Ayton is eighth at 11.6.)
The Rebels also upgraded the backcourt by getting Milwaukee transfer Jordan Johnson to take over at point guard, freeing up Jovan Mooring to play off the ball. Mooring earned third-team All-Mountain West honors last season.
UNLV hasn't played an overly strong schedule, with five of its six wins against low- or mid-major teams, but the Rebels beat Utah by 27 points just west of campus at T-Mobile Arena. The Rebels have succeeded by holding opponents to an effective field-goal percentage (factoring in the value and accuracy of 3-point shots) of just 40.1, the lowest mark in Division I.
They are also strong on the glass, outrebounding their opponents by 11.1 and posting the 10th-best offensive rebounding percentage nationally (39.1).
He said it
"I know Utah is impressive and obviously UNLV had a great game against them so it seems like they're really a talented group. Last time we went to the Thomas & Mack, we went in there and lost. I think what we know what we're up against." — UA coach Sean Miller
Key player: Brandon McCoy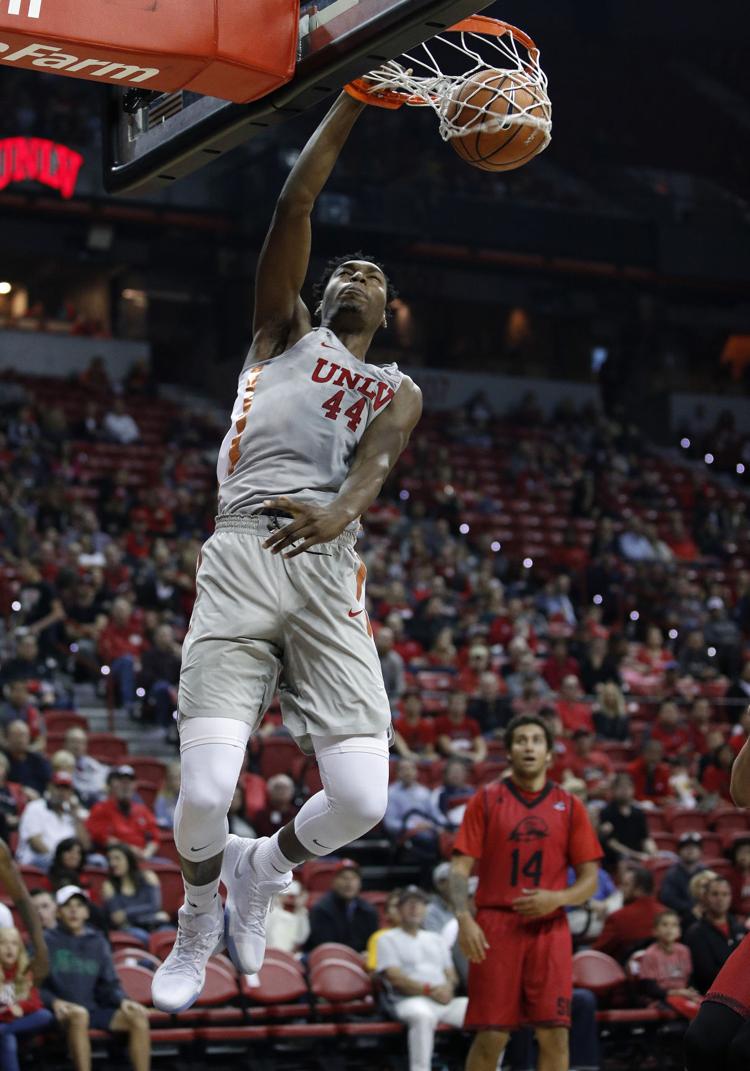 Much like fellow five-star 7-footer Deandre Ayton, McCoy has lived fully up to expectations so far for the Rebels. The personable big man has been a force on both sides of the court, though he had only nine points, seven rebounds and two turnovers on Wednesday in UNLV's loss at Northern Iowa.
Key player: Deandre Ayton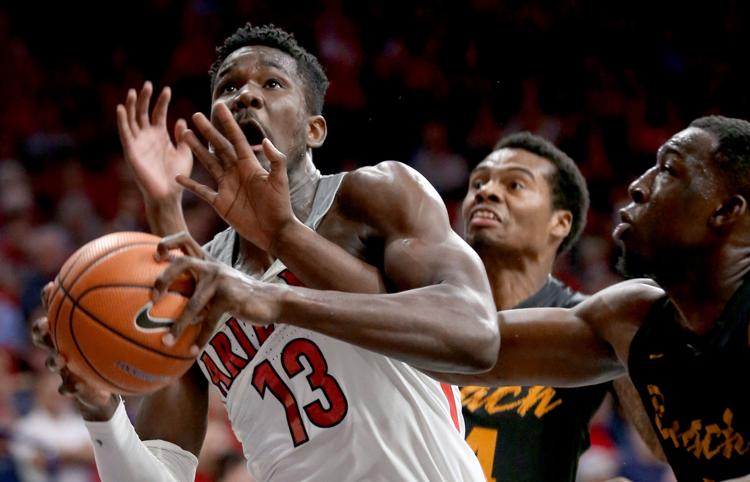 As effective as Ayton has been offensively and on the defensive glass, it hasn't always been easy guarding smaller power forwards on the perimeter. Against UNLV, the playing field could get more level: He'll see either McCoy or rugged double-double machine 6-7 Shakur Juiston much of the time.
Beach boys
One of the reasons McCoy spoke about considering Arizona last spring was the commitment of Ayton, a friend on and off from their days in San Diego.
A native of the Bahamas, Ayton moved in seventh grade to San Diego and attended Balboa City School until he transferred to Phoenix Hillcrest Prep as a high school junior. McCoy played for Cathedral Catholic High School in San Diego, and both played at times for the California Supreme travel ball club. At the end of their high school careers, Ayton and McCoy also became McDonald's All-Americans, where they both played for the West team, but often against each other in practices before the game.
"I'm interested in playing with my boy," McCoy said of Ayton before the McDonald's game last March. "We played AAU so it would be good to play with him in college. So far we've just been playing against each other. We pushed each other to the max."
A month after the McDonald's game, McCoy chose UNLV over UA, Michigan State and Oregon.
Rebel rebuild
Marvin Menzies' first 12 months in Las Vegas weren't easy. He was hired at UNLV in March 2016 after a bizarre coaching search in which Cincinnati's Mick Cronin turned down the job and Arkansas-Little Rock's Chris Beard accepted it, and then three weeks later, took the Texas Tech job. Menzies then proceeded to go 11-21 last season.
But Menzies went out and collected a Top 20 recruiting class that includes McCoy, and the effort is paying off so far. Even as tough as it may have appeared, Menzies said it wasn't too difficult to upgrade the program's recruiting.
"I've been coaching for 36 years so we have a lot of longstanding relationships," Menzies said. "The UNLV brand is still strong in a lot of people's minds and Las Vegas has a very strong connection to college basketball. It's a mecca of basketball when it comes to the summer (recruiting) stuff."
Party planners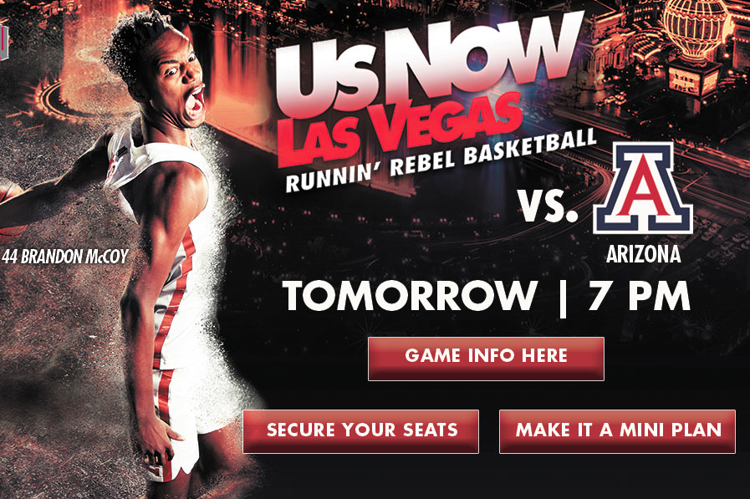 UNLV enters Saturday's game at 6-1 and Arizona was ranked No. 2 nationally until Monday, yet UNLV is going all-out to market the game.
UNLV's website first greets visitors to a page with McCoy in action, promoting season-ticket sales and inviting UNLV students to download a free ticket. A subsequent navigation attempt to reach its men's basketball page is interrupted by an advertisement featuring a photo of Juiston.
The game is listed as a "premium price game" – as are UNLV's upcoming dates with San Diego State and Nevada – but prices still start at $22. Prices for what Arizona calls its premium games (Alabama, Connecticut, ASU and UCLA) start at $40.
The first 3,000 fans who show up will be given a free "Rebel Red Koozie" while the first 750 students will get a free T-shirt. A student tailgate with free food, drinks and music is also being planned at the statue of Jerry Tarkanian outside the arena.
Numbers game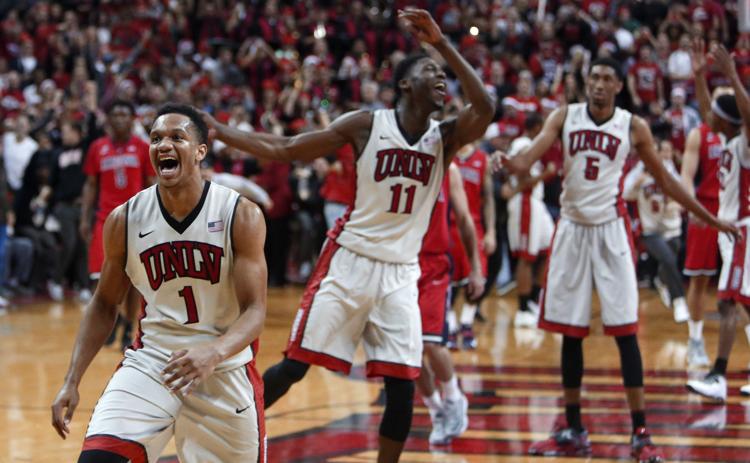 2
freshmen playing in tonight's game, Ayton and McCoy, are averaging double-doubles — a rare feat in Division I college basketball.
4
UNLV wins in five games against Arizona at Thomas & Mack Center.
5
Arizona wins in six nonconference road games since 2013-14, with the lone loss at UNLV in 2014-15.
13
Arizona wins in 19 games played in Las Vegas during Sean Miller's tenure, including an 11-3 record in the Pac-12 Tournament, 2-2 in the Las Vegas Invitational and 0-1 at UNLV.