The Star's Bruce Pascoe previews game day essentials, from projected starting lineups to storylines and series history, ahead of the Arizona Wildcats' game against Arizona State on Monday.
Game info
Who: Arizona State (4-7, 1-4) at Arizona (11-3, 5-3)
Probable starters: Arizona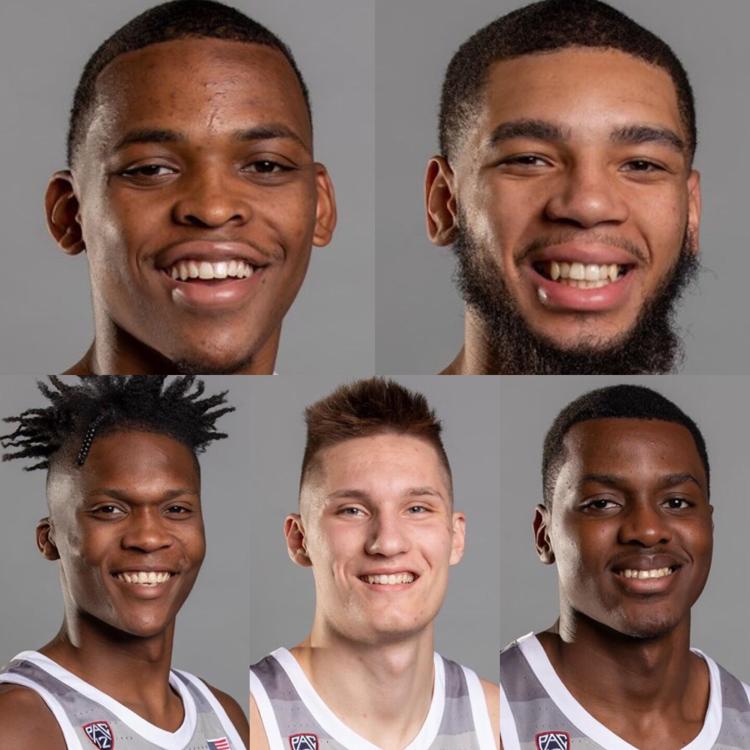 G James Akinjo (6-0 junior)
G Terrell Brown (6-1 senior)
F Bennedict Mathurin (6-6 freshman)
F Azuolas Tubelis (6-10 freshman)
C Christian Koloko (7-0 sophomore)
Probable starters: Arizona State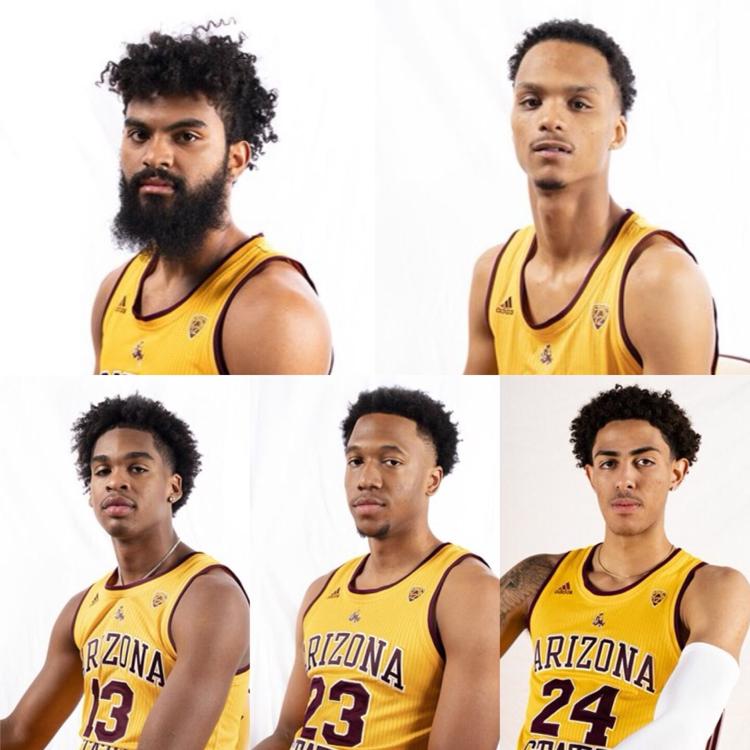 G Remy Martin (6-0 senior)
G Alonzo Verge (6-2 senior)
F Josh Christopher (6-5 freshman)
F Marcus Bagley (6-8 freshman)
C Jalen Graham (6-9 sophomore)
The last time: Azuolas Tubelis blocked Remy Martin's layup attempt with eight seconds left and then tipped in an errant 3-pointer from James Akinjo to give the Wildcats an 84-82 win on Thursday at Desert Financial Arena. Akinjo led the Wildcats with 24 points while Terrell Brown had 14 points and six assists. Arizona shot 58.6% in the second half to pull out a game it led by up to 11 in the first half but only outrebounded ASU 35-33 despite a significant size advantage inside.
The last time at McKale: Zeke Nnaji had 17 points on 7-for-11 shooting and 11 rebounds to lead Arizona to a 75-47 win on Jan. 4, 2020. Arizona shot 47.6% overall, held ASU to just 30.5% shooting and outrebounded the Sun Devils 49-35.
Series history: Arizona leads the alltime series 154-85 and is 16-7 in the Sean Miller era though ASU has won three of the past five games.
What's new with the Sun Devils: Thanks to the Pac-12's efforts to move the second round of all rivalry games up from March 6, ASU and UA weren't given much time to work with since meeting on Thursday in Tempe. But the Sun Devils have now gone nearly a week with their usual starting five back, including center Jalen Graham, who was out with mononucleosis until Thursday's game. They've also had two games back now from guard Remy Martin, who missed two earlier Pac-12 games while he attended his grandfather's funeral and dealt with COVID protocols.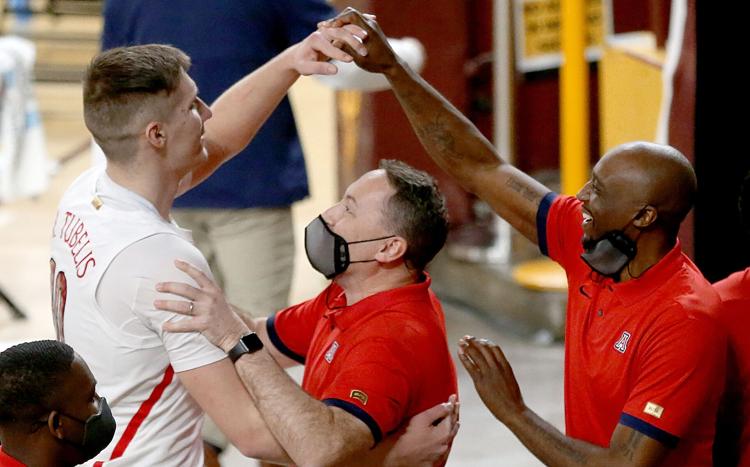 "We have to do a better job on the glass. We have to box them out, we have to rebound better. If you look at last year's games, it was very similar — at home we were plus-14 on the glass, and up there we were plus-2, and we won the game down here handily and we barely lost the game up there. So they are a much better rebounding team against us than they are any other team. They go and get it. They're aggressive on the glass. They really look to get second-chance points.
"They're a little undersized, but their stats are skewed a little bit. They're not as bad of a rebounding team as they have shown because they were playing without Jalen Graham. As you saw (Thursday) night, Jalen Graham makes a big difference. We knew going into the game that he was a good player and he could be a big factor, and he certainly was. If you look at the plus-minus chart, he was plus 14.
"I can't speculate what Remy thinks (after Thursday's game). He's just a great player and it's another big game on Monday. I'm sure he'll be ready to play.
"(Thursday) was their first game with everybody in over a month. How can you judge them on that? They lost an overtime to UCLA when they didn't have Remy Martin or Jalen Graham. They lost a close one to USC with the same deal. They lost at Oregon State when they don't have Jalen Graham. You can't take away anything from those teams who beat them, but it's hard. I think they're really good." — UA associate head coach Jack Murphy
Key player (ASU): Remy Martin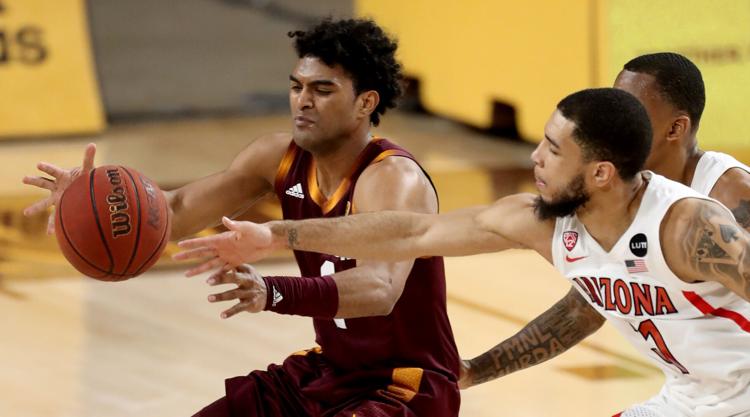 Already known for an irrepressible energy that drives the Sun Devils, Martin now has the chance to seek almost immediate revenge after his layup attempt failed in the final seconds Thursday on a play when he thought he drew a foul from Azuolas Tubelis. He also has a lot of work to do if he's going to get the Sun Devils back on track for an NCAA bid before it's too late.
Key player (Arizona): Azuolas Tubelis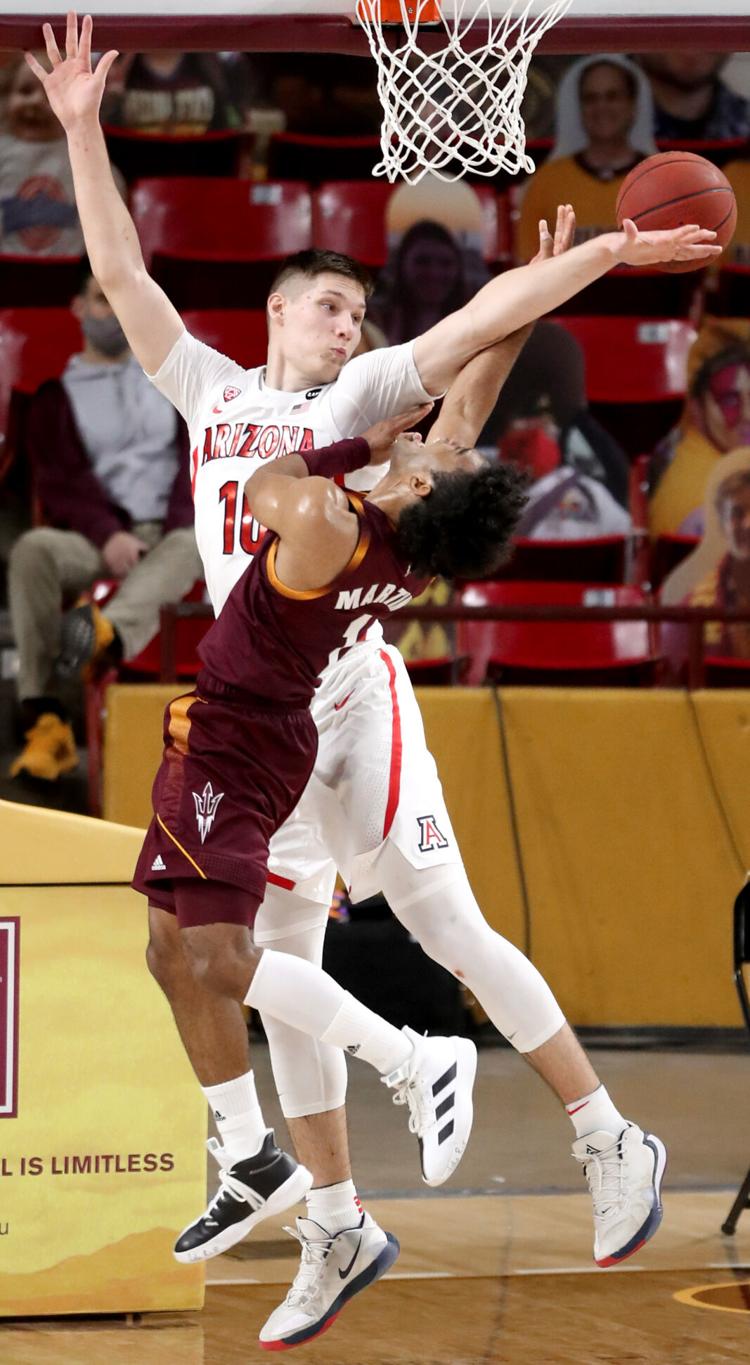 The Sun Devils provided a tough learning experience for UA's Lithuanian freshman, throwing a number of athletic, perimeter-oriented big men around him. He adjusted well enough to make several key plays at the end, but he may need to at least duplicate his seven rebounds Thursday to keep UA ahead on the glass.
Pac-12 reprimands Hurley for criticizing refs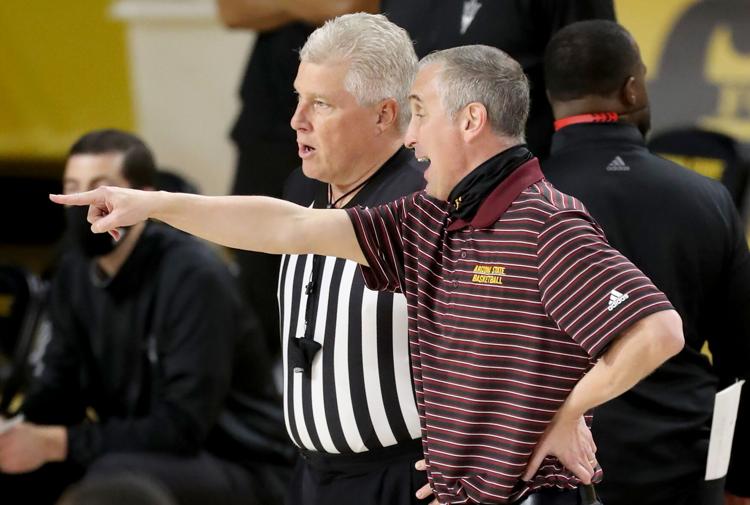 After ASU coach Bobby Hurley went long and hard after officials in his postgame media address Thursday, upset mostly that Martin didn't draw a foul call when he drove inside on ASU's final possession, the only question was whether he'd be fined or not.
But the Pac-12 issued Hurley only a reprimand on Friday evening, with commissioner Larry Scott saying in a statement that the Pac-12's code of conduct prohibits coaches from making "public derogatory comments regarding officiating."
"It is the Conference's responsibility to ensure compliance of these standards on behalf of its members," Scott said, "and there is a protocol which allows for coaches to provide feedback directly to the coordinator of officiating."
Hurley said Martin was "crushed"" when he did not get sent to the free throw line after Tubelis was credited for a block on his layup attempt. He brought up the play almost immediately after beginning his postgame address.
"After watching it live and again on film, clearly (Martin) was fouled by a player in the restricted area," Hurley said. Tubelis "did not leave his feet, his arms did not go straight up, and the guy should have been whistled for a foul and (Martin) should have been put on the free throw line. … They swallowed the whistles and that kid gets knocked on his (butt)."
Not only is Monday's game a quick rematch of Thursday's UA-ASU game, but it also brings back the ESPN team of Dave Pasch and Bill Walton after they worked UA's 84-82 win.
Normally, two games in Arizona might give Walton time in between games to research new things to rave about with the Sonoran Desert or the schools involved but both he and Pasch have been broadcasting from their homes.
Walton says they are holding pregame Zoom calls with the coaches to get a feel for what is going on but that he misses being at shootarounds and chatting up players while they warm up before games.
"It's harder now but I love hard work and we're not making excuses," Walton said last week. "I love going to the schools. I love going to practice. I love getting to know all the players and see them grow up, mature, develop and go on to great careers. I also love watching them practice and watching the coaches conduct the practice. We have great coaches. Not only are they great basketball coaches but they're great people."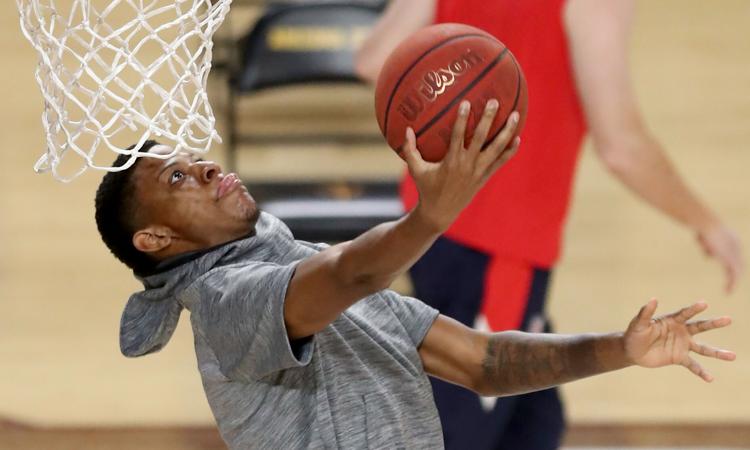 Moving Bennedict Mathurin in front of Dalen Terry in the starting lineup on Oct. 13 at Oregon State might have been a delicate move for UA coach Sean Miller but it turned out well for the Wildcats at ASU, when Terry responded with 13 points four rebounds, one assist and a block while hitting all three 3-pointers he took.
Terry's last 3 came was a critical one with 4:22 left, cutting ASU's lead from seven points to just 76-72 and the Wildcats kept it at from there.
"Dalen was an unsung hero," Miller said. "Dalen really works at it. He gives as much effort working on his game as any player, especially freshmen, that we've had. He's up early, he's in the gym early, practices hard every day. A big part of his work ethic is to improve his shooting. I thought he shot good 3s … it was the shot we want him to take. But a big reason we won the game is just his overall play."
Percent of ASU opponent possessions that result in an ASU steal in Pac-12 games, the highest rate in the conference.
James Akinjo's average assists in Pac-12 games, the most in the conference.
Average seconds for ASU possessions in Pac-12 games, the least in the conference.
Terrell Brown's free-throw percentage in Pac-12 games, second-most in the conference.
Contact sports reporter Bruce Pascoe at 573-4146 or bpascoe@tucson.com. On Twitter @brucepascoe