Scouting report: Arizona Wildcats vs. Gonzaga Bulldogs
The Star's Bruce Pascoe previews all of the game day essentials, from projected starting lineups to storylines, ahead of the Arizona Wildcats' matchup against Gonzaga in the semifinals of the Maui Invitational.
Game info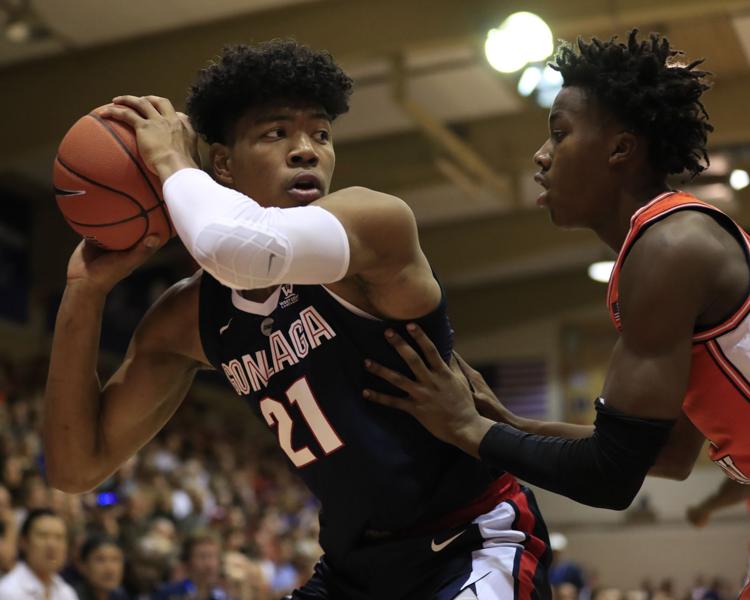 Who: Gonzaga Bulldogs (4-0) vs. Arizona Wildcats (4-0)
Where: Lahaina Civic Center, Maui, Hawaii
What: Maui Invitational second round
When: 8:30 p.m. Tuesday
Watch: ESPN
Listen: 1290-AM, 107.5-FM
Follow: @TheWildcaster on Twitter / TheWildcaster on Facebook
Probable Starters: Arizona

G Justin Coleman (5-10 senior)
G Brandon Williams (6-2 freshman)
F Brandon Randolph (6-6 sophomore)
F Ryan Luther (6-9 senior)
C Chase Jeter (6-10 junior)
Probable starters: Gonzaga

G Zach Norvell Jr. (6-5 sophomore)
G Josh Perkins (6-3 senior)
F Corey Kispert (6-6 sophomore)
F Brandon Clarke (6-8 junior)
C Rui Hachimura (6-8 junior)
How they match up
Series history
Arizona is 6-2 in what has become one of the West's premier nonconference rivalries, though two of the Wildcats' wins came in overtime (an epic double-overtime game in the 2003 NCAA tournament and at McKale Center in 2014-15). Arizona won both games in their most recent two-year series in 2014-15 and 2015-16 in Spokane, Wash., but Gonzaga beat UA 69-62 in Los Angeles during the 2016-17 season.
How they got here
Gonzaga beat Illinois 84-78 in a Maui Invitational first-round game Monday behind 23 points from Rui Hachimura while four other players scored in double figures to offset the Zags' 22 turnovers. Arizona beat Iowa State 71-66, led by Justin Coleman (18 points) and Chase Jeter (10 points, 12 rebounds).
Gonzaga overview
The top of the Zags' rotation might be as solid as the one that carried them to the 2017 Final Four, but they aren't as deep, making the loss of center Killian Tillie particularly troublesome. Gonzaga coach Mark Few says he's been relying other players such as Serbian freshman Filip Petrusev and junior Brandon Clarke to help more. Clarke is a product of Phoenix Desert Vista High School who became an all-Mountain West pick at San Jose State before transferring after the 2016-17 season. Few has no major worries with a backcourt led by Josh Perkins and Zach Norvell, Jr., though Illinois made them sweat Monday. Perkins had nine assists against Illinois but struggled against the Illini's pressure and turned it over seven times. Reserve guard Geno Crandall also had five turnovers. Overall, even factoring in the Illinois game, the Zags still have the fifth-most efficient offense in the country so far. The Zags hit 33.7 percent of their 3-pointers, 63.7 percent of their two-pointers and get to the free-throw line often.
Who's out
Gonzaga center Killian Tillie is sidelined until December after having surgery to repair a stress fracture in his ankle. Tillie was named to the Kareem Abdul-Jabbar watch list as one of college basketball's top centers.
He said it
"We've had some great battles during my 10 years here at Arizona and before I showed up, Arizona and Gonzaga had some real epic games. They're one of the premier programs in the country. Mark Few and his staff are the best of the best and what you see is what you get with them. From one year to the next it doesn't deviate a whole lot. We know that they love to push it in transition."
 — UA coach Sean Miller (his full postgame podium quotes can be found here).
Key player: Rui Hachimura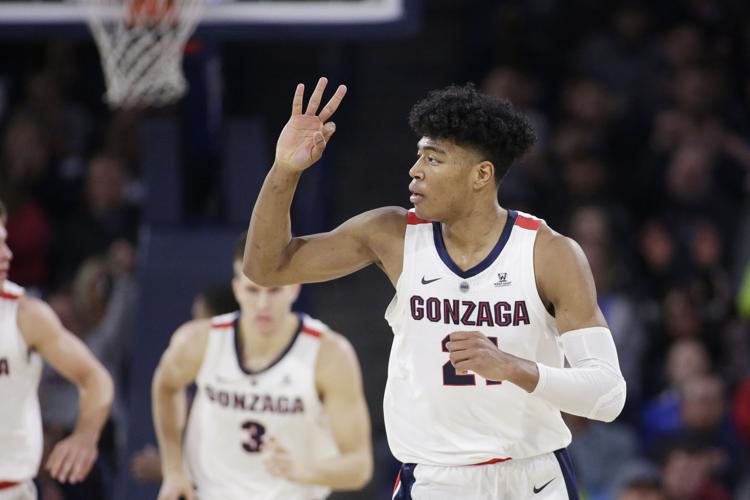 Especially without Tillie around, the Zags' Japanese import is being relied on for just about everything. He has the skills to do it, with athleticism and perimeter shooting that are surprising for his 6-foot-8 and 230-pound frame. Hachimura scored 23 points in 34 minutes against Illinois.
Key player: Ryan Luther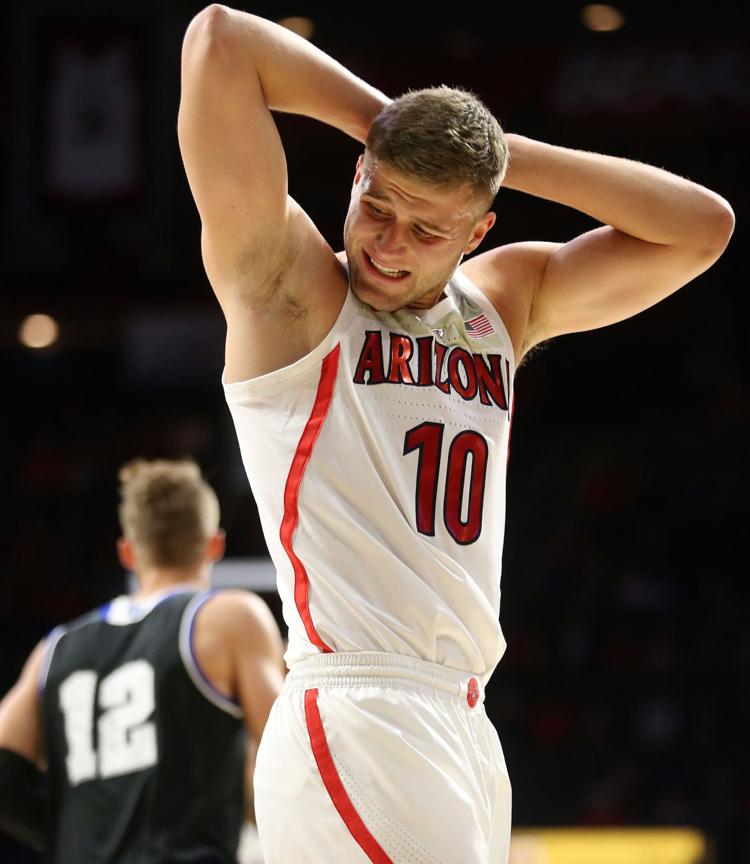 Sean Miller vowed to get the Wildcats' power forward more involved offensively Monday after he shot just twice against UTEP, and it paid off. Luther had 12 points and eight rebounds against Illinois, and he'll have a challenging matchup Tuesday against Hachimura or Brandon Clarke.
He nearly zagged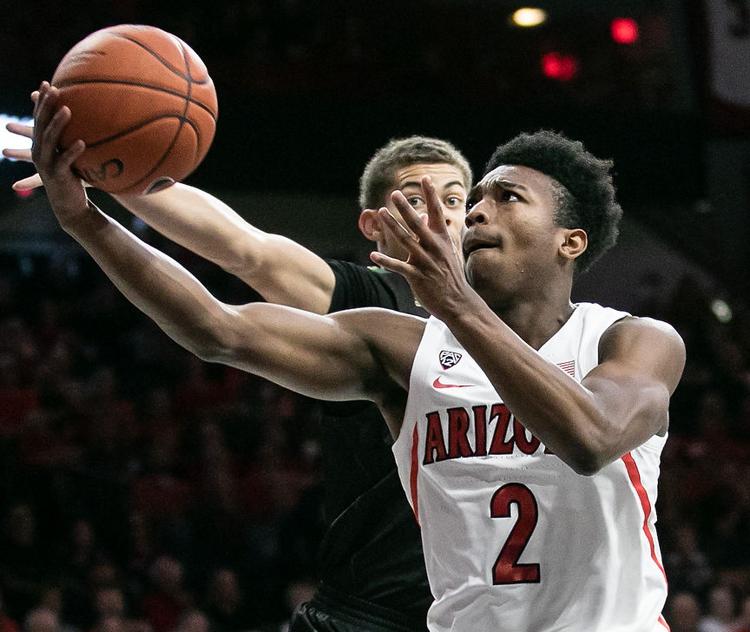 After Brandon Williams decommitted from Arizona last March in the wake of the federal investigation into college basketball and an ESPN report alleging UA coach Sean Miller discussed a pay-for-play scheme, Williams took visits to Oregon and Gonzaga.
It was the second round for Few, who had already recruited Williams before he committed to Arizona.
"Love him, love him," Few said, but added that "it was a long haul with Brandon."
According to Williams' stepdad, Chris Wright, Gonzaga tried to sell Williams on the idea of playing alongside Gonzaga point guard Josh Perkins in the way that Nigel Williams-Goss used to play with other point guards.
But Williams chose instead to play for the Wildcats, where he is being relied on heavily while sharing the backcourt with Justin Coleman.
"I don't know if any of us ever felt that we knew what was going on with that recruitment, but he's a neat kid," Few said of Williams. "Neat family and he's a heck of a player. That's why all of us were trying like crazy to get him and I think now it's showing why. You can see not only the talent but the confidence, kind of all that."
Tight rotation
Winning their first-round game gave Arizona an extra bonus for Tuesday: They'll get to play an evening game, meaning they will receive almost a full 24 hours' rest after beating Iowa State.
The extra time could be particularly important because Miller tightened up his rotation considerably on Monday: He played all five starters more than 29 minutes, gave 13 to Ira Lee, 12 to Dylan Smith but just nine to Emmanuel Akot and five to Alex Barcello.
Akot grabbed four rebounds but missed the two shots he took, both 3-point attempts, while Barcello was 0-for-1 and had two fouls in five minutes.
"We didn't play our bench as much tonight because a couple of the guys, they didn't seem to be as confident as they had been," Miller said. "I'm hoping that now that we have one under our belt they can return to form.
"Part of what we like about our team this year is guys nine, ten, six, seven, and eight have really contributed. They have a role and we can play through long stretches because we're going to sub. So I hope that helps us. That's what we're going to do" on Tuesday."
He's not fooled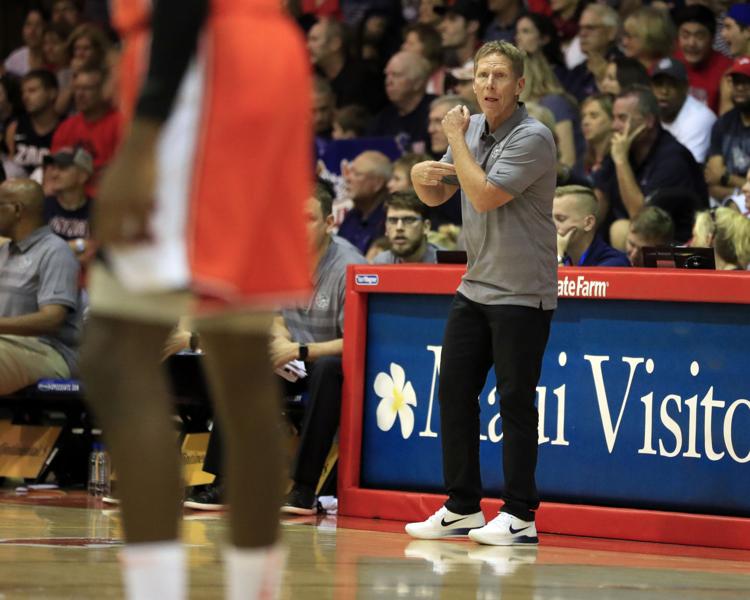 Because Gonzaga coach Mark Few is a friend of Miller's and has played his UA teams five times already – with the last three games being decided by an average of five points — he wasn't buying all that stuff about how rough it would be for the Wildcats because they lost five starters from last season.
"Anytime you play Sean's teams, they're tough," Few said after Gonzaga beat Illinois on Monday. "They're going to get right in your grill and they'll guard you. They're physical, and it looks to me like they seem to be really playing together well and have some nice flow on the offensive end.
"I remember this summer when people were starting to write them off and I kept telling the staff, they have like six or seven five-star guys. Just because they played behind upperclassmen last year doesn't mean they lost all their ability."
Actually, only Chase Jeter was a five-star player but several others rated four stars.
Numbers game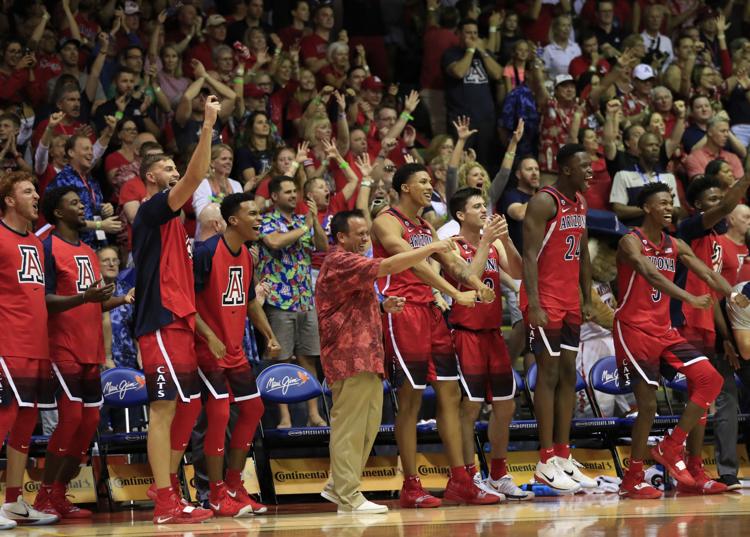 0 
Points from the bench that Iowa State scored against Arizona on Monday, the first time an opponent didn't score a bench point since the Wildcats beat UCLA 57-47 in 2014-15.
8 
Straight Arizona wins in Hawaii, counting a 3-0 Diamond Head Classic run in 2012-13, a 3-0 Maui Invitational run in 2014-15, and a 65-63 win over Michigan State in the 2016-17 Armed Forces Classic.
20 
Assists without a turnover before Brandon Williams committed two in the second half Monday against Iowa State. He now has 22 assists to two turnovers on the season.
22
Turnovers for Gonzaga in an 84-78 win over Illinois, which was picked to finish 13th in the Big Ten.