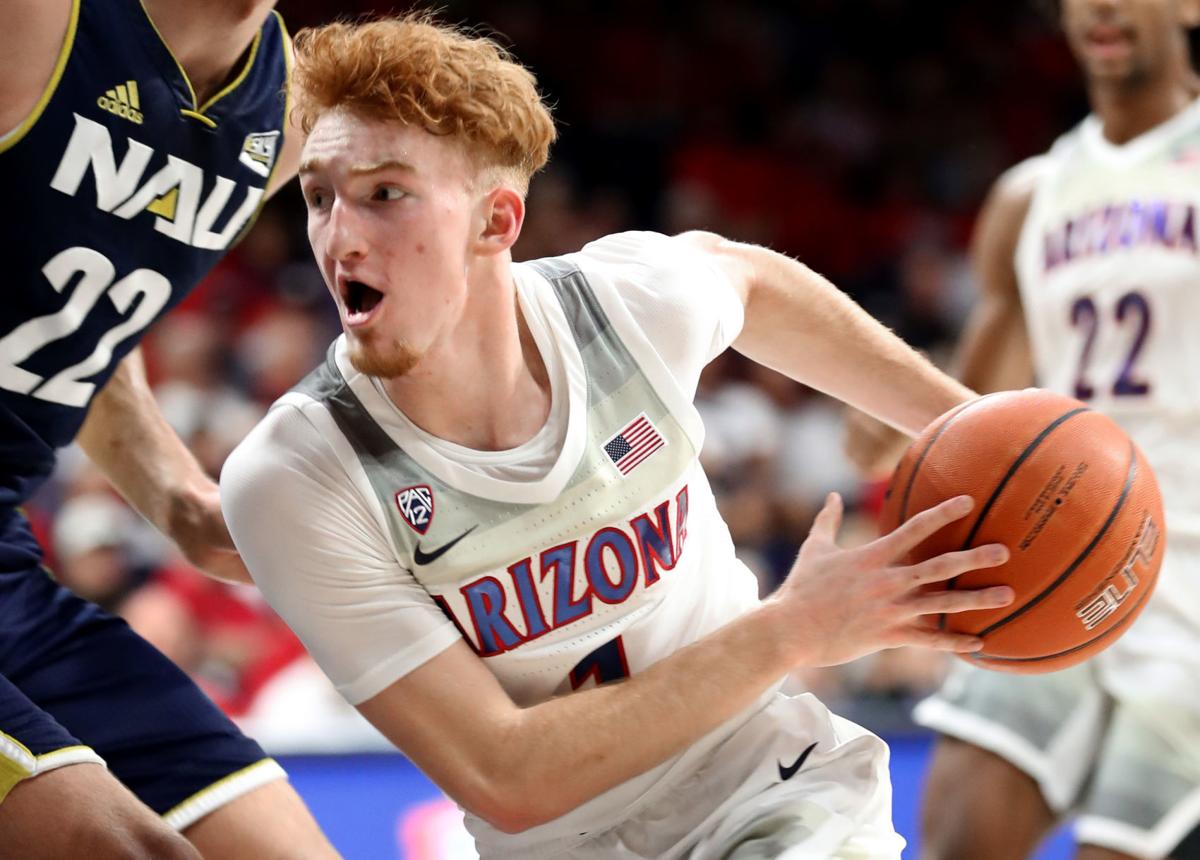 The Star's Bruce Pascoe previews all of the game day essentials, from projected starting lineups to storylines and series history, ahead of the Arizona Wildcats' game against the Illinois Fighting Illini.
Game info
Who: Illinois (2-0) at No. 21 Arizona (1-0)
---
Probable starters: Arizona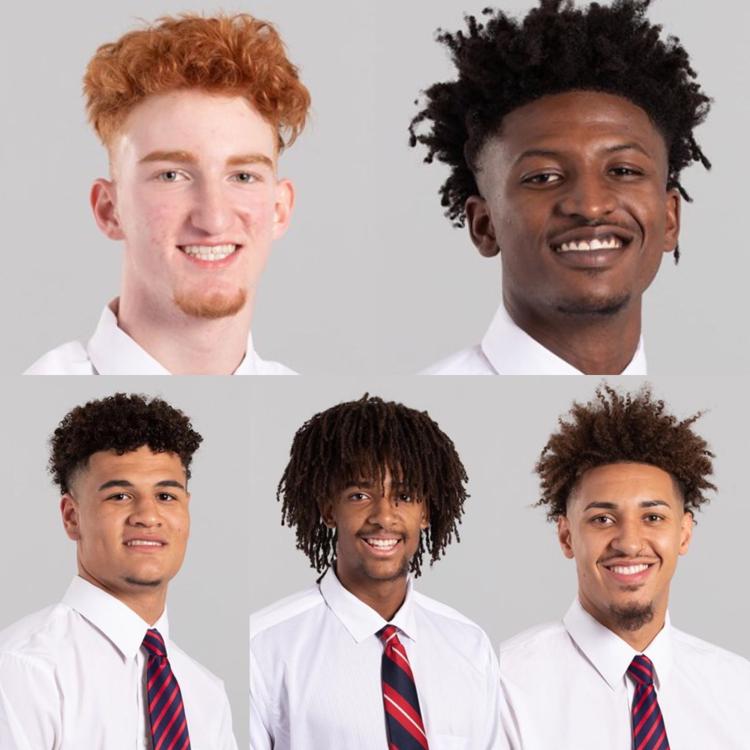 G Nico Mannion (6-3 freshman)
G Dylan Smith (6-5 senior)
F Josh Green (6-6 freshman)
F Zeke Nnaji (6-11 freshman)
C Chase Jeter (6-10 senior)
---
 Probable starters: Illinois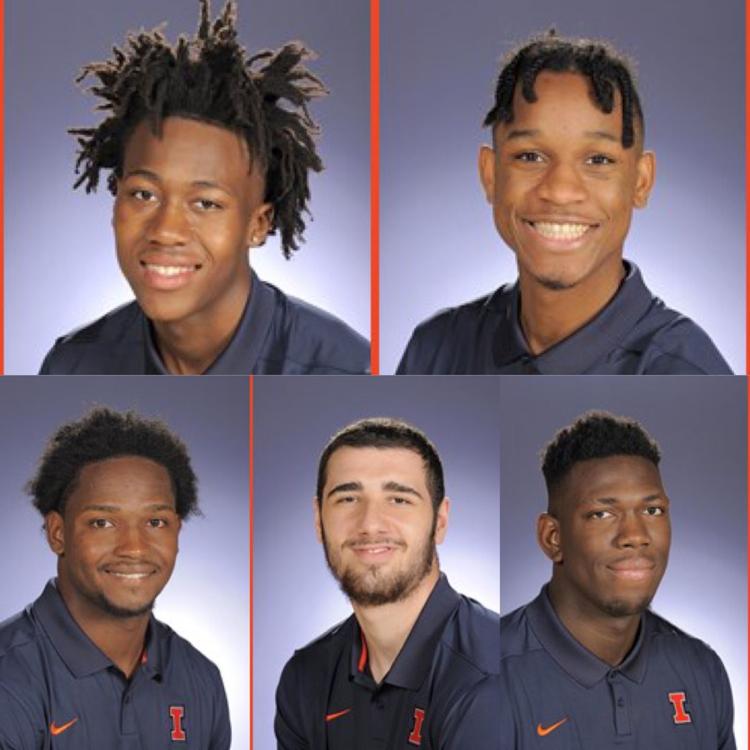 G Ayo Dosunmo (6-5 sophomore)
G Trent Frazier (6-2 senior)
F Andres Feliz (6-2 senior)
F Giorgi Bezhanishvili (6-9 sophomore)
C Kofi Cockburn (7-0 freshman)
---
 How they matchup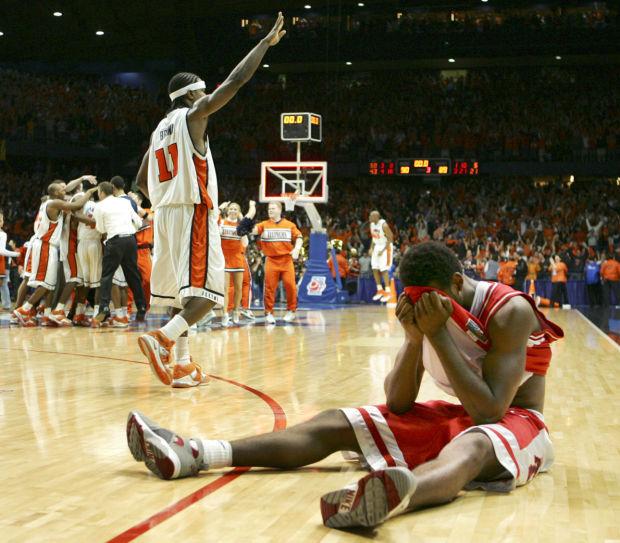 The series: Arizona hasn't played Illinois for a dozen years, but the teams had a compelling rivalry toward the end of the Lute Olson era. UA beat Bill Self-coached Illinois 87-81 to win the 2001 Midwest Region and earn its last trip to the Final Four, then beat the Illini the next season in Phoenix. But the Illini kept UA out of the 2005 Final Four in heartbreaking style, coming back from a 15-point deficit with four minutes left to beat the Wildcats 90-89 in overtime of the Chicago Regional final. Since that game, UA won a pair of semi-neutral site games in Phoenix (2006-07) and Chicago (2007-08). The Wildcats lead the series 8-6 overall.
Illinois overview: The Illini are on the rise in coach Brad Underwood's third season, and Sunday's game will instantly test whether they are worthy of Top 25 consideration. While Illinois doesn't go particularly deep, its top six players cover all the bases: Veterans Trent Frazier and Andres Feliz team with NBA prospect Ayo Dosunmo to form one of the Big Ten's better backcourts, while physically imposing Kofi Cockburn and Georgia forward Giorgi Bezhanishvili are changing the way they play: Last season the Illini mostly went with Bezhanishvili inside and four others outside, but now they have two posts, with the 7-foot Cockburn being massive and mobile. He went after GCU center Alessandro Lever and quickly had him in foul trouble on Friday.
While Dosunmo is listed as Illinois' point guard, Frazier and Feliz also initiate the Illini's fast-paced offense. Dosunmo is long, smooth and aggressive, Feliz is a strong and fearless driver to the basket, while Frazier was a 40.6% 3-point shooter last season. Arizona will need to limit Illinois' opportunities to get out in transition, in part by avoiding bad shots, after Illinois outscored GCU in fast break points 15-4. Rebounding is also a key for the Wildcats, especially in limiting second shots. The Illini clobbered Grand Canyon on the boards, 52-26 and turned 20 offensive rebounds into 15 points. Cockburn alone has 25 rebounds over two games so far.
---
 He said it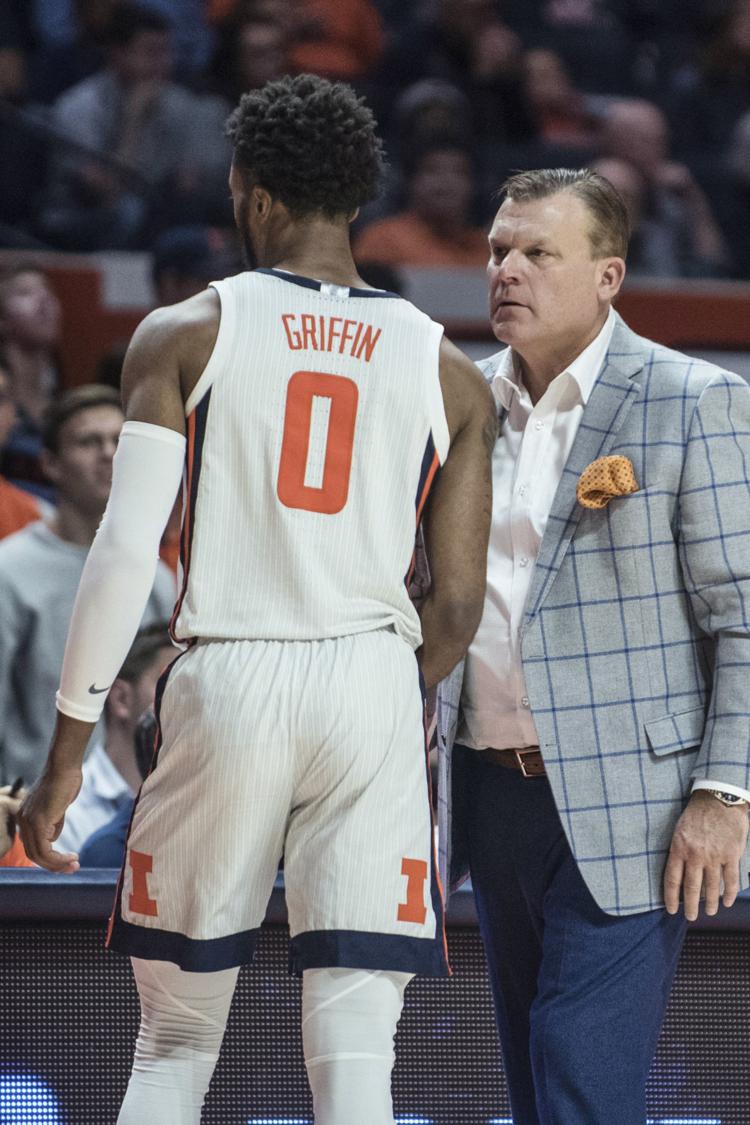 Cockburn "puts a lot of fouls on people, which then allows our guards to drive the ball, makes them much more difficult to guard. Then we can get to the bonus and get to the foul line. You have to know where Kofi's at all the time."
— Illinois coach Brad Underwood
---
 Key player (Illinois): Kofi Cockburn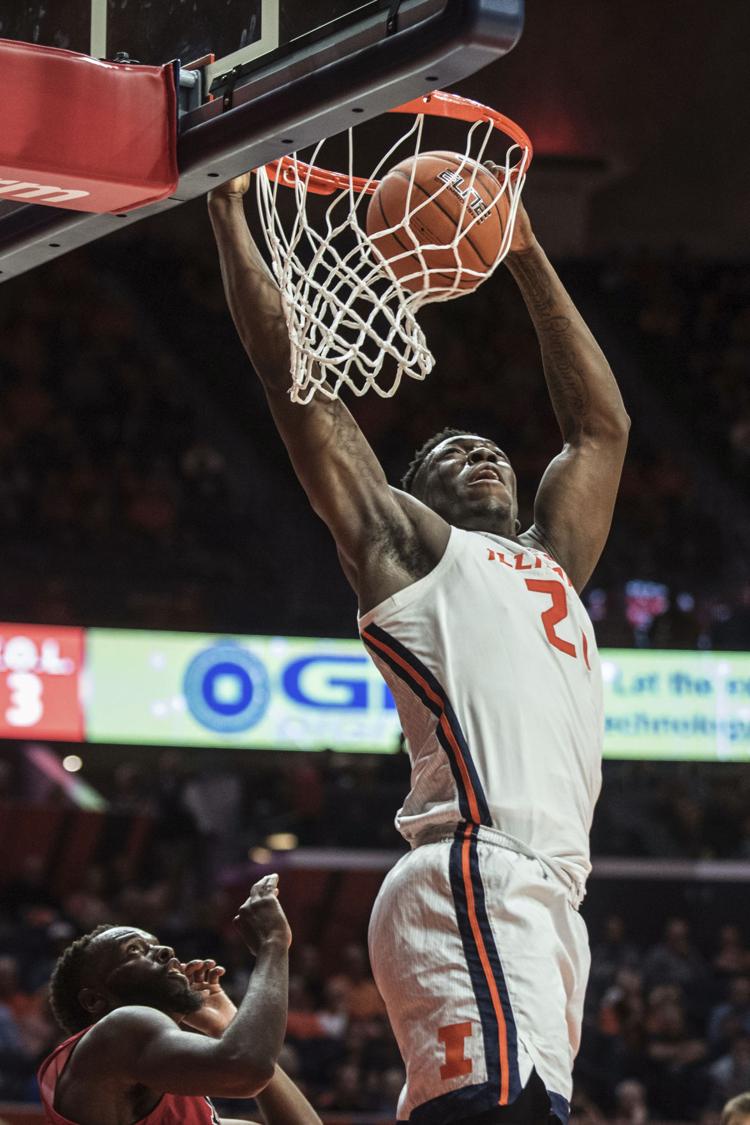 The highest-rated player to sign with Illinois in nearly a decade, Cockburn has an unusual combination of athleticism and bruising size at 6-11 and 290 pounds. The Jamaican is not only difficult to stop offensively but is a rugged rebounder and a rim-protecting presence inside, with skills developed through years of playing soccer and track.
---
 Key player (Arizona): Zeke Nnaji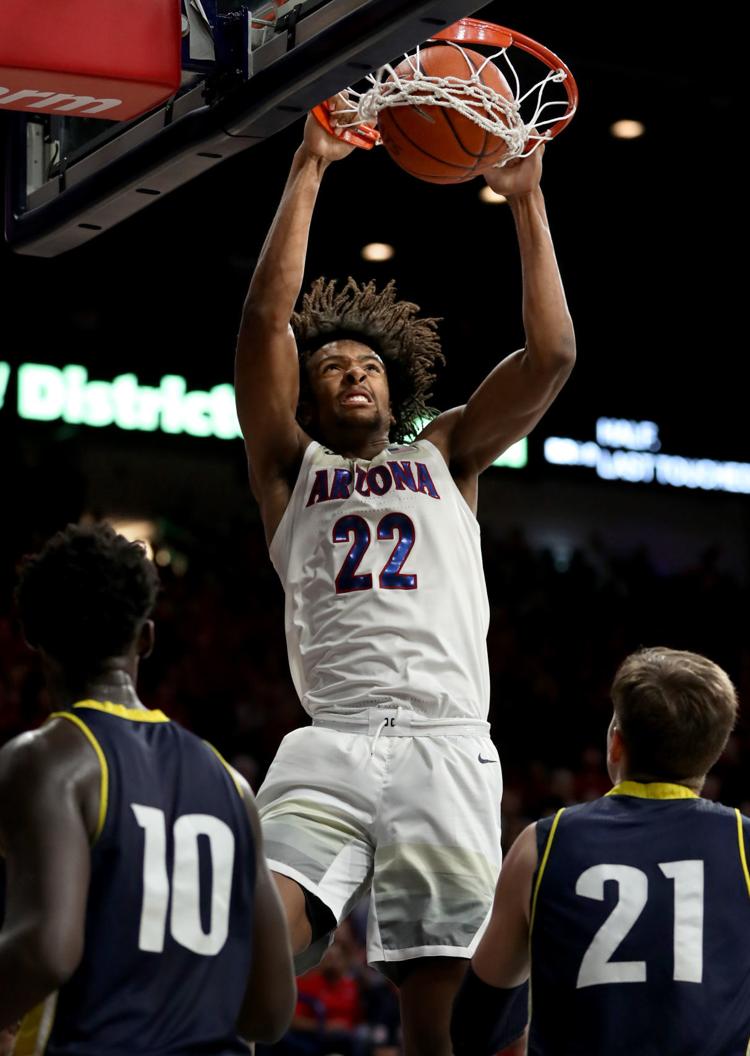 Good thing Nnaji has had a chance to practice against bigs such as Jordan Brown and Christian Koloko. That experience might have helped him more so than anything he faced against NAU in preparation for the challenge of dealing with Cockburn and the sure-footed Bezhanishvili.
---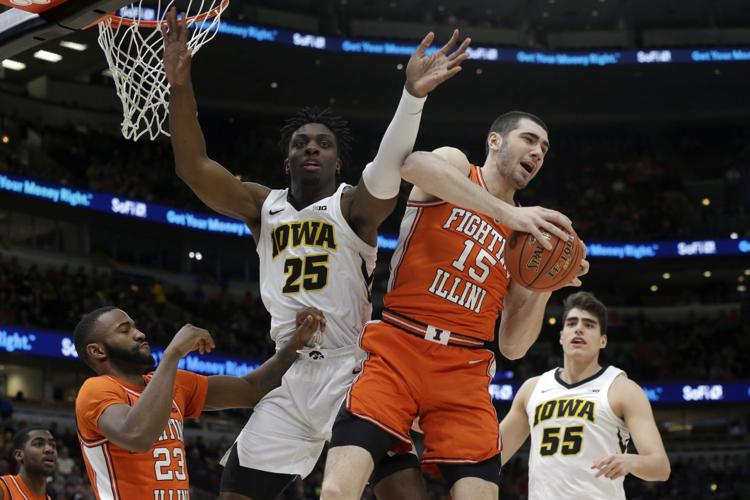 Bezhanishvili didn't become one of the Big Ten's biggest freshman surprises last season just because of stretch-shooting or his offseason work ethic.
You also have to look at where his size 16 1/2 feet are going.
The 6-9, 235-pound forward spent six years of his childhood in a dance club, and even finished second in a national competition as a 10-year old, learning waltz, tango, foxtrot, salsa and other dances.
He gave up dance club as a 12-year-old when he began shooting up as a basketball prospect, but found the moves stayed with him.
"When you learn different dances, you learn different footwork," Bezhanishvili said. "With those lessons, you can also contribute to the court. It definitely helps."
His dancing and affable personality have also made Bezhanishvili a locker room and fan favorite. He also finished second in a Maui Invitational luau dance-off (after which Illinois-focused website The Champaign Room insisted he "definitely deserved to win.")
"I'll still dance, have fun when the music comes on," Bezhanishvili said Friday, after Illinois beat GCU. "I just have fun and dance before the game. I dance to get them going, have fun and, well, I just like to dance."
---
Patience pays off
Because he spent seven seasons as a junior college head coach and another 18 as an assistant, Underwood didn't become a Division I head coach until age 49.
He's made up for the late start with speed.
In three years at Stephen F. Austin, Underwood went 53-1 in Southland Conference play and reached three NCAA Tournaments. Then Oklahoma State hired him away in 2016, and Illinois did the same a year later, giving him a six-year deal worth $18 million.
Having played under Jack Hartman at Kansas State and then working under head coaches such as Bob Huggins and Frank Martin, Underwood credited many of his coaching influences for his rise.
"I didn't come up in this business with a silver spoon. I came up and had to grind. It took me 26 years to get my opportunity and yet I wouldn't trade a second of it," Underwood said. "Because of the people that I was able to work with and work for, that helped nurture me and prepared me for when I got the job Stephen F. to be able to be successful."
---
Arizona product sidelined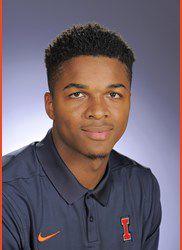 Having played three seasons for Chandler High School – and attracting a scholarship offer from the Wildcats — Illinois guard Tevian Jones had an ideal homecoming set up this weekend with games at GCU and Arizona.
But he remains indefinitely suspended, having missed eight games last season and two already this season, and Underwood said he did not make the trip this weekend.
In between suspensions, Jones showed tantalizing flashes, most notably when he had 18 points, four rebounds and two steals in an upset win over Maryland. He also professed a positive attitude during the preseason, according to the Rivals' Orange and Blue website.
"I've grown more confident in myself; being able to see things on and off the court has raised my basketball IQ," Jones said. "I come to work every day with the mindset I have to be better today than I was yesterday."
---
Numbers game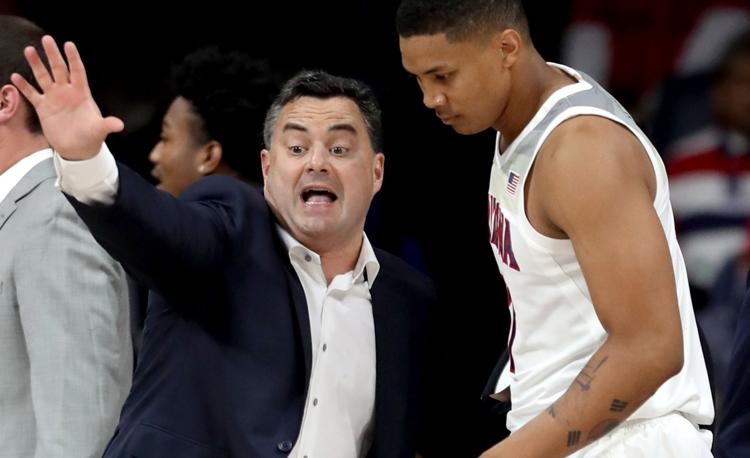 17
 – Years since Hassan Adams scored 22 points off the bench against Western Kentucky in his Wildcats debut. It marked the last time a UA freshman debuted with 20 points or more as Nnaji did Wednesday against NAU.
85
  Percent of scoring Illinois returns from last season, the third-highest percentage of teams in the six major conferences (Colorado is first at 95 percent).
901
  Career points scored by UA forward Stone Gettings, who totaled 888 over three seasons at Cornell.
Contact sports reporter Bruce Pascoe at 573-4146 or bpascoe@tucson.com. On Twitter @brucepascoe