Scouting report: Arizona Wildcats vs. Oregon Ducks
The Star's Bruce Pascoe previews all of the game day essentials, from projected starting lineups to storylines and series history, before the Arizona Wildcats welcome the Oregon Ducks to McKale Center.
Game info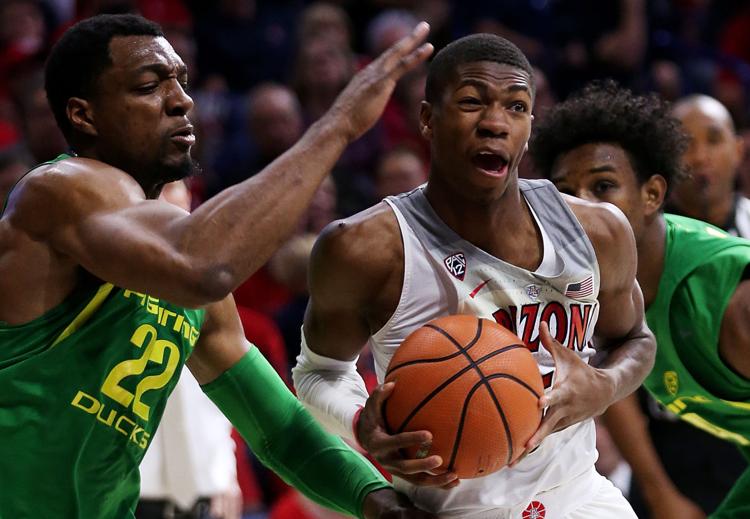 Who: Oregon Ducks (10-6, 1-2) at Arizona Wildcats (13-4, 4-0)
Where: McKale Center, Tucson
When: 7 p.m. Thursday
Watch: ESPN
Listen: 1290-AM, 107.5-FM
Follow: @TheWildcaster on Twitter / TheWildcaster on Facebook
Probable starters: Arizona

G Justin Coleman (5-10 senior)
G Brandon Williams (6-2 freshman)
F Brandon Randolph (6-6 sophomore)
F Ryan Luther (6-9 senior)
C Chase Jeter (6-10 junior)
Probable starters: Oregon

G Payton Pritchard (6-2 junior)
G Victor Bailey Jr. (6-4 sophomore)
F Louis King (6-9 freshman)
F Paul White (6-9 senior)
C Francis Okoro (6-9 freshman)
How they match up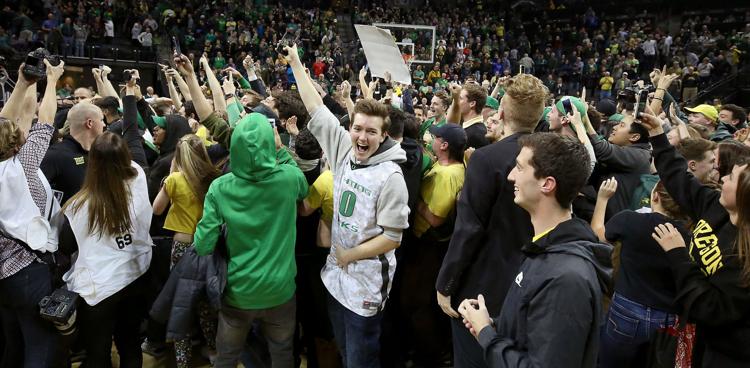 Series history
Oregon has won four of the past six games with Arizona, including an 83-75 game at McKale Center during the 2015-16 season that broke the Wildcats' 49-game homecourt winning streak. The Wildcats won last season's game in Tucson, 90-83, when they shot 53 percent from the field and hit 34 of 37 free throws. UA then lost 98-93 in overtime at Eugene on Feb. 24, when the Wildcats received 28 points and 18 rebounds from Deandre Ayton but Miller sat out in the wake of an ESPN report that he discussed a pay-for-play scheme.
This season
Arizona will also face the Ducks on March 2 in Eugene.
Oregon overview
Picked to win the Pac-12 in the conference's official preseason media poll, the Ducks have been hobbled by key injuries all season. First, five-star freshman forward Louis King missed the first seven games of the season while still recovering from a knee injury suffered during his senior season of high school.
Then five-star center Bol Bol was lost after nine games with a foot injury, eventually deciding he would sit out the rest of the season while rehabbing and preparing for the NBA Draft.
Finally, starting forward Kenny Wooten broke his jaw against Baylor on Dec. 21 and just returned to practice this week with a mask but is questionable to play Thursday. Combined with the transfer of reserve forward Abu Kigab, the Ducks have had just eight scholarship players available recently.
But after kicking away a nine-point lead with less than a minute to go against UCLA, the Ducks rebounded with a convincing win over USC last Sunday and showed signs they may still compete for the Pac-12 title when they get Wooten back.
Oregon is the nation's 32nd most efficient defensive team, mixing man-to-man and zone defense with frequent traps and presses. They are second in the Pac-12 in steals per game (7.4) and have the second-highest steal percentage (13.1) in conference games so far. Oregon has been an average rebounding team, though the Ducks have the fourth-highest offensive rebounding percentage (30.3) in conference games so far and King's surge has helped on the glass.
Veteran point guard Payton Pritchard is joined in the backcourt by athletic shooting guard Victor Bailey Jr., who shoots 3-pointers at a 39.7 percent rate and makes twos at a 54.7 percent rate. King has begun to play at the high level expected of him, opening the Pac-12 season with back-to-back double-doubles and scoring 19 points with eight rebounds against USC. Ehab Amin, a grad transfer who led Division I in steals last season at Texas A&M Corpus Christi, comes off the bench to steal the ball 5.0 percent of the possession he's on the floor, the 13th highest rate this season.
Inside, without Wooten, the Ducks have been starting versatile veteran Paul White at power forward and physical freshman Francis Okoro at center, with freshman Miles Norris off the bench. Oregon coach Dana Altman will slide White between power forward and center, and King between both forward spots in an effort to find mismatches.
He said it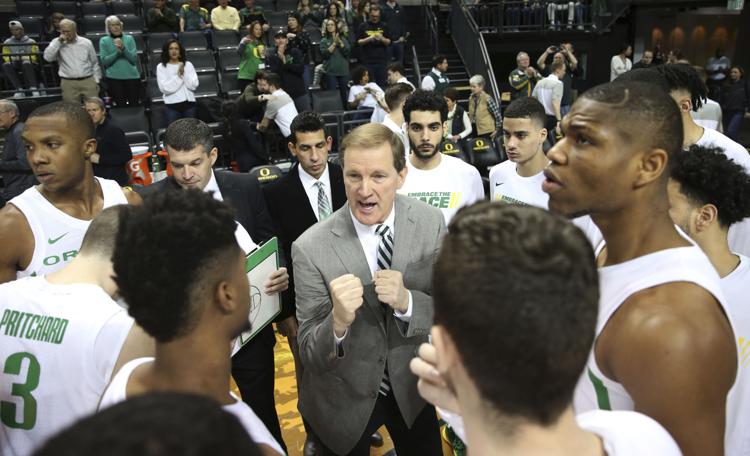 Altman is "really using his depth and his youth and his quickness to pressure. They are trapping, they're full-court pressing and creating a ton of turnovers. ... On the offensive end, they do an outstanding job of getting second shots. They don't do it with players at 6-10, 250. They do it with wings and guards and a couple of bigs who just relentlessly crash the offensive glass. … The two keys for us are to make them miss and when they do, do as good of a job as we can of blocking out and getting those rebounds that have sometimes haunted us this season." — UA coach Sean Miller
Key player: Louis King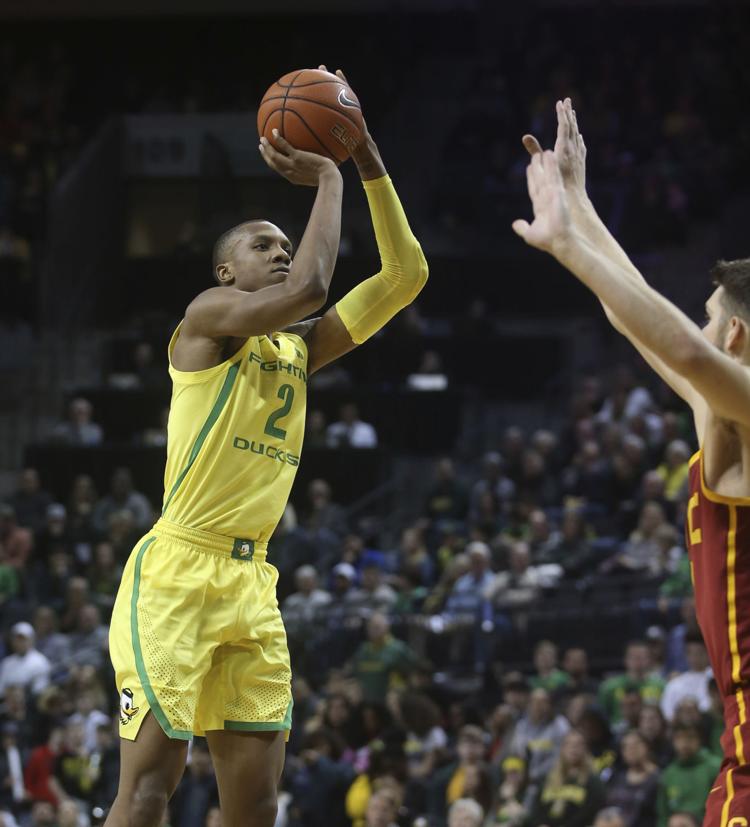 Oregon
Because he missed the first seven games of the season and worked his way back after that, it's probably best to judge Louis King on his Pac-12 play so far. Which is to say, he's an all-conference player so far. King is the fifth-leading scorer (19.3) and second-leading rebounder (9.3) in Pac-12 games, and he can hurt defenses in many different ways. At 6-9, King is tied for second in 3-pointers made (3.0) and is increasingly finding his way inside.
Key player: Dylan Smith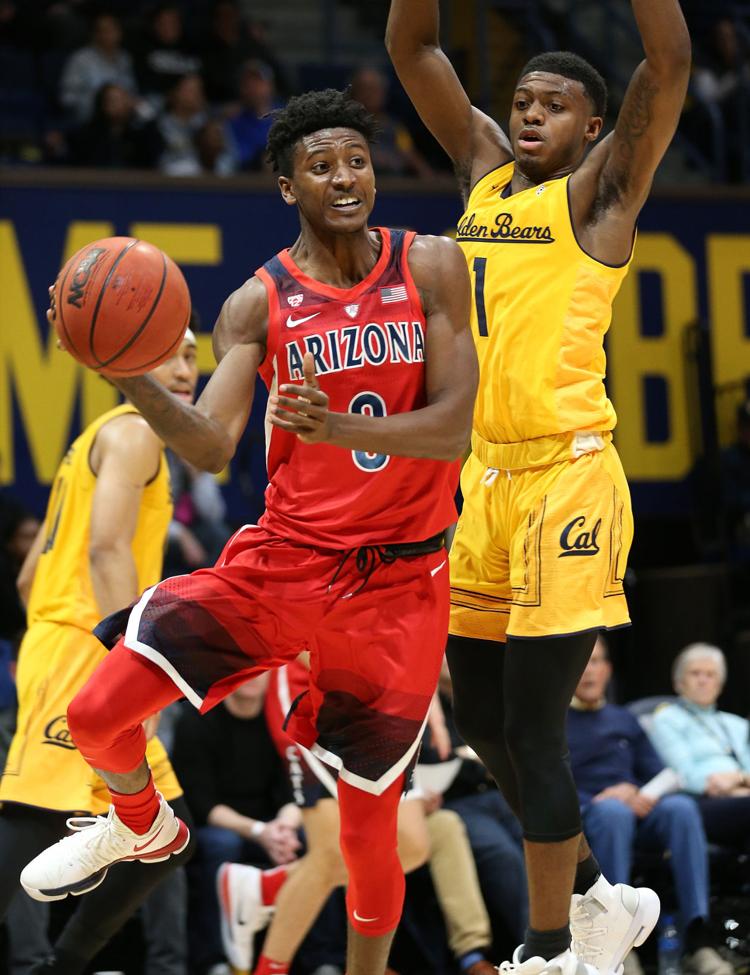 Arizona
Especially now that Emmanuel Akot is gone, Miller says he's going to use Smith some at power forward in a smaller, quicker lineup to match up with the smaller lineups Oregon and some other Pac-12 teams use. Smith's length, athleticism and effort can help him bother players taller than his 6-foot-5 height, too.
Helping hands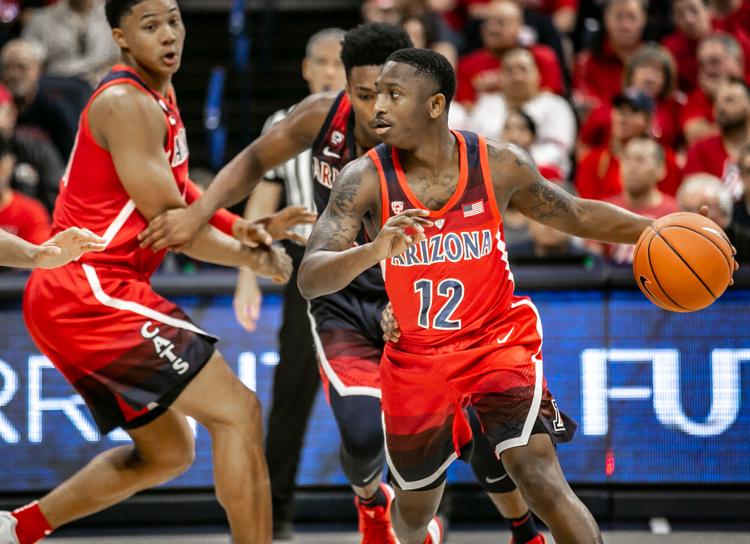 The way Justin Coleman describes it, Ira Lee's improvement in recent weeks isn't just because of confidence or extra work he's putting in on the court.
It's also because of what he's been doing off it.
"I look at Ira as my little brother," Coleman said. "We've been through a lot since I've been here and I've been there for him the whole way. He's getting a lot better, man, just mentally, spiritually. We read the Bible twice a week and he's starting to put God first in his life and you can tell in his play and his actions. So the process with Ira has been really good."
Meanwhile, Coleman went out of his way to thank UA trainer Justin Kokoskie, UA student tech Diego Bernal and even UA equipment manager Brian Brigger for his quick recovery from a dislocated shoulder.
Brigger didn't offer Coleman gear so much as his personality.
"Brigger had great encouragement," Coleman said. "It's tough times to go through an injury like that and with Brigger he's excited guy. He brings a lot of energy, a lot of happiness to the team so he helped me out as well."
Ambidextrous scorer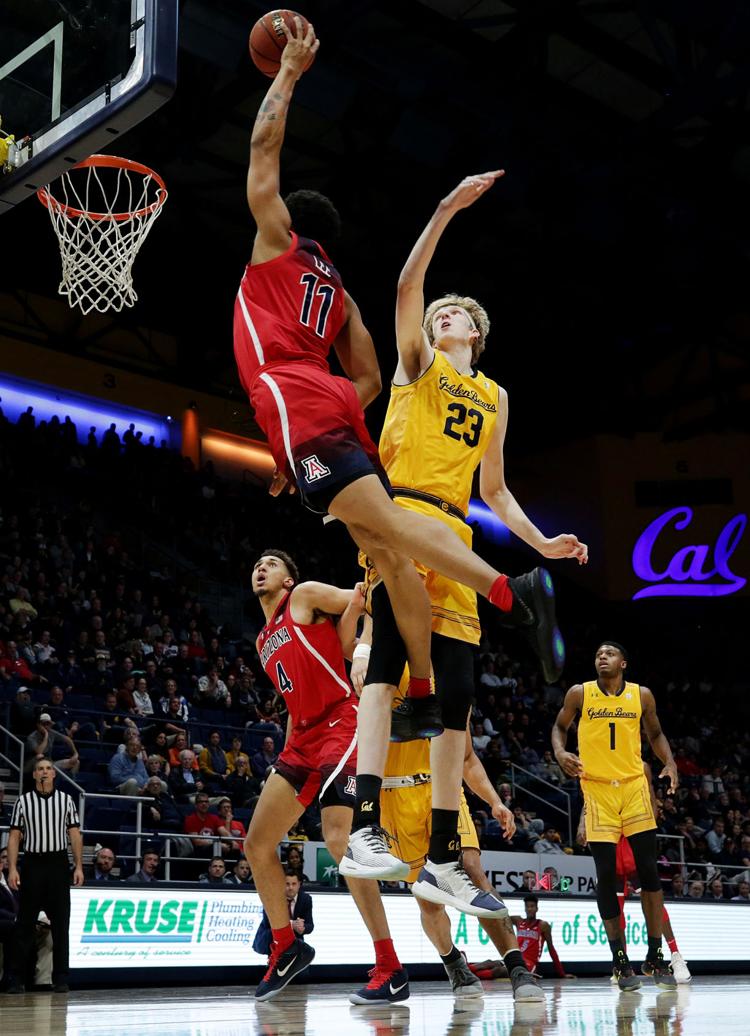 When Miller met Lee for a UA-produced "film room" session this week, the conversation naturally turned toward Lee's penchant for playing hard and his increasing ability to do so without fouling.
"You approach the game in a way not a lot of players do," said Miller, who then asked Lee where that trait came from.
Lee said it came a lot from his dad, a ninth-round pick in the 1986 NFL Draft out of USC who played in the NFL, CFL and Arena league for nearly a decade.
"He wasn't supposed to make the team and ended up being there for five years," Lee said.
After he finished playing, Zeph Lee become the father of a boy who says he is naturally left-handed — but shoots with his right.
"That could be your advantage — we've talked a lot about that," Miller told Lee. "When you're rolling or get the ball close to the rim, you can go right shoulder and left hand just as easy."
Still a Duck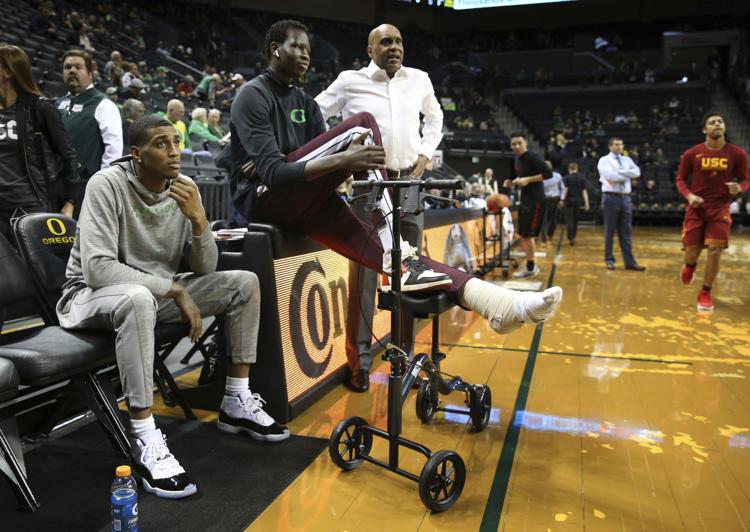 Once he declared he would focus on rehabbing and preparing for the NBA Draft earlier this month, Oregon freshman Bol could have skipped town and started to prepare at some distant training facility.
But he enrolled in spring semester classes at Oregon and showed up Tuesday to watch the Ducks practice.
"He wants to be here," Oregon coach Dana Altman said. "As long as he takes care of his academic responsibilities; It's just gonna be a little tough getting around with that scooter. He just wants to be here with the guys and, heck, I want him. He's always bouncing around, he's always positive with the guys. I like having him around."
Having recruited Bol heavily for Arizona — the Wildcats were believed to have an excellent shot of landing Bol when the federal investigation went public in September 2017 — Miller said Bol was a "terrific young man" whose talent and unique skills made it a tough loss.
"It would be no different than Lauri Markkanen or Deandre (Ayton) having a season-ending injury for us," Miller said. "I mean, we don't want that for Oregon, we don't want that for the Pac-12 and certainly we don't want that for Bol."
Eyes always open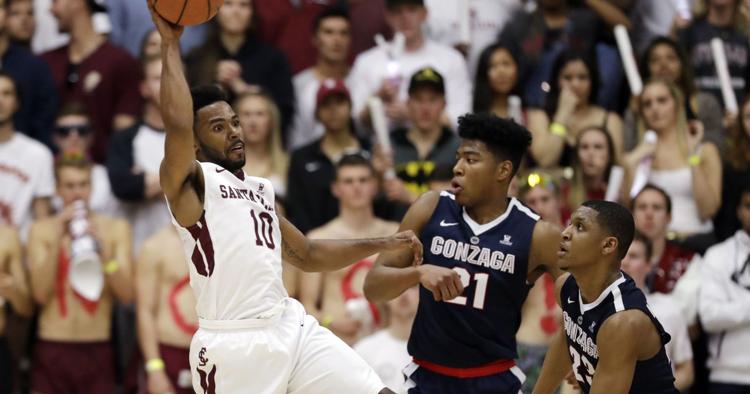 Although the departure of Akot trimmed down UA's expected 2019-20 roster to the maximum of 13 players, Miller said Tuesday that he would keep pursuing "quality players and people" in event more openings arise in the spring.
Sure enough, a day later, 247's Evan Daniels tweeted that UA is one of 19 schools that has contacted Santa Clara grad transfer KJ Feagin.
A 6-foot-1 guard, Feagin had six points and four rebounds while Santa Clara took UA to overtime before Arizona won 75-73 during a neutral-site game in the 2015-16 season, while averaging 14.2 points over his 83-game career with the Broncos. He broke his thumb after playing two games this season and will be eligible to spend next season elsewhere as a grad transfer.
Numbers game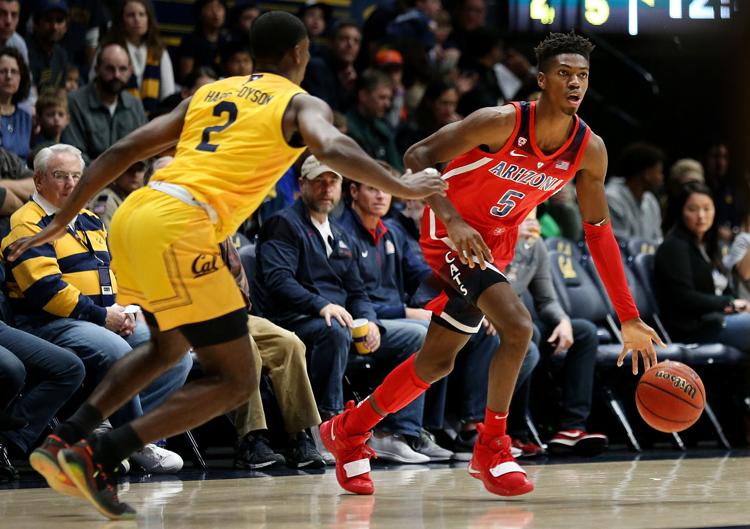 5
Points Coleman needs to score to reach 1,000 for his college career, having scored 406 over two seasons at Alabama, 432 at Samford last season, and 157 so far this season.
24
Points Coleman scored against Oregon while playing for Alabama during the Ducks' 72-68 win at Birmingham in 2015-16, then a career-high.
82
Percentage of free throws Arizona has made over its four conference games.