The Star's Bruce Pascoe previews all of the game day essentials, from projected starting lineups to storylines and series history, ahead of the Arizona Wildcats' game against the South Dakota State Jackrabbits.
---
Game info
Who: South Dakota State (4-2) at No. 14 Arizona (4-0)
---
Probable starters: Arizona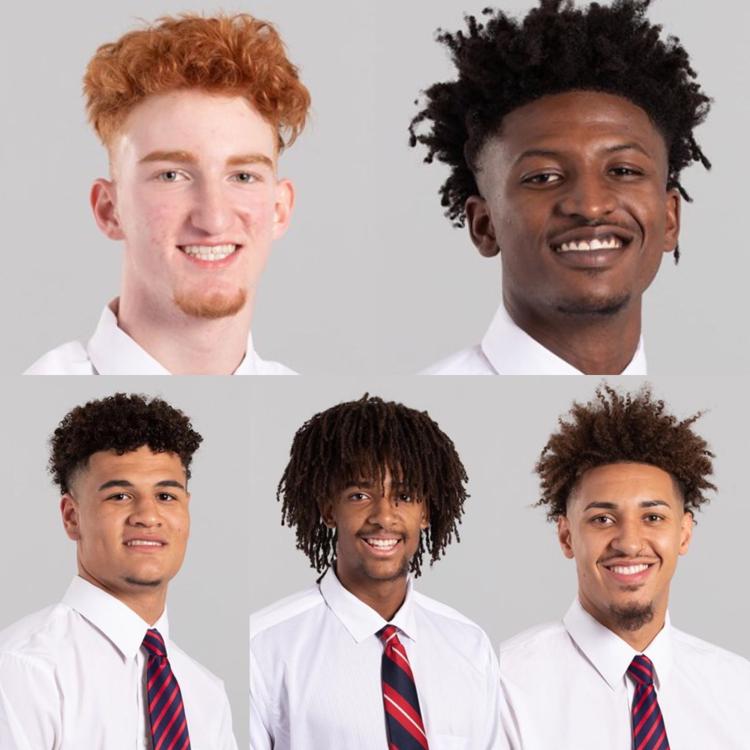 G Nico Mannion (6-3, freshman)
G Dylan Smith (6-5, senior)
F Josh Green (6-6, freshman)
F Zeke Nnaji (6-11, freshman)
C Chase Jeter (6-10, senior)
---
Probable starters: South Dakota State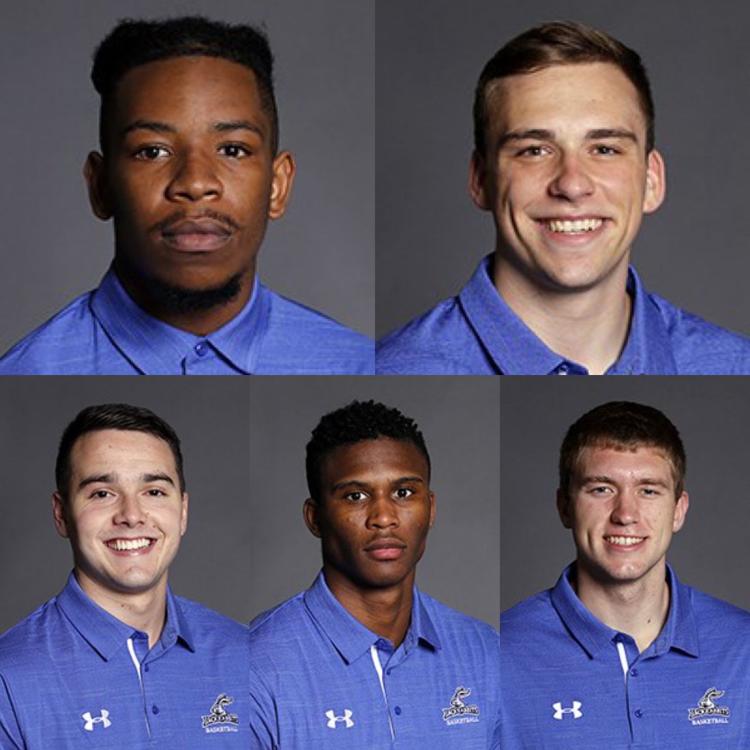 G Brandon Key (5-10, senior)
G Noah Freidel (6-4, freshman)
G Alex Arians (6-4, sophomore)
F Douglas Wilson (6-7, junior)
C Matt Denlinger (6-8, sophomore)
---
How they match up
The series: Arizona and South Dakota State have never played each other.
Game contract: Arizona is paying SDSU a one-time appearance guarantee of $95,000.
SDSU overview: After making five trips to the NCAA Tournament over the past eight seasons, and winning 24 games with an NIT finish last season, the Jackrabbits are in transition this season. Not only did three-time Summit League player of the year Mike Daum take off but coach T.J. Otzelberger left for UNLV — and took well-regarded wing David Jenkins with him. But new head coach Eric Henderson, an assistant under Otzelberger last season, is structuring things around last season's national juco player of the year, forward Doug Wilson, and returns guard Brandon Key, who redshirted last season.
Meanwhile, sophomore forward Matt Denlinger is taking a big step up after playing a small role last season, collecting 17 points and 11 rebounds against North Alabama on Tuesday. Sophomore Alex Arians is also playing a more significant role, adding versatility to the wing, while big, strong freshman Noah Friedel is taking the other starting wing spot. The Jackrabbits shoot only 25.9% from 3-point range but are relatively efficient (53.5%) from two-point range. They don't run a particularly fast pace but tend to get shots off quickly.
Defensively, they have kept opponents to 30.3% percent from long range with a pack-line defense that stays back and does not emphasize steals, similar to Arizona's. They kept USC to just 39.7% shooting overall and 32.1% from 3-point range in an 84-66 loss at the Galen Center on Nov. 12. Wilson had 15 points on 6-for-13 shooting in that game.
---
He said it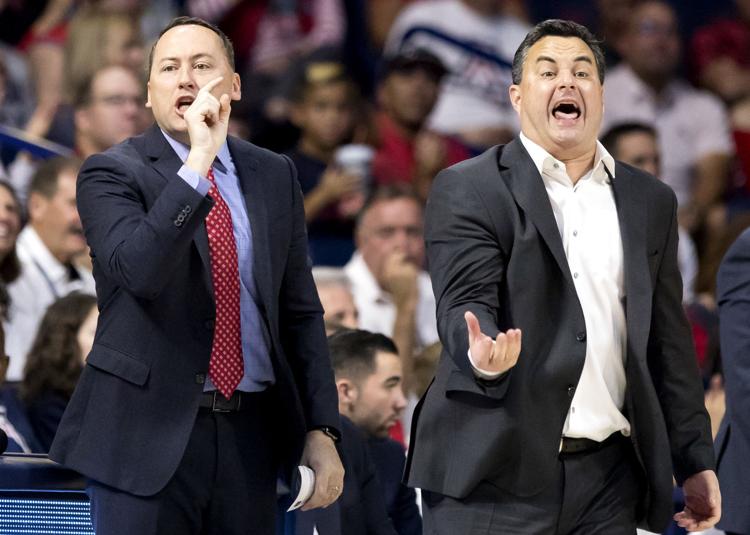 "They're a winning program, a lot like New Mexico State. The league that they're a part of (Summit), they're the heavyweight, they win home games. I think all of us know how talented USC is, and they played them really tough."
— Arizona coach Sean Miller
---
Key player (South Dakota State): Douglas Wilson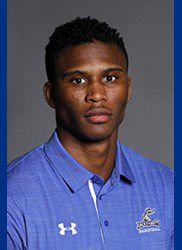 The two-time juco all-American is a strong slasher and scorer around the basket, and also an effective offensive rebounder. He'll test a UA defense that so far has been particularly effective inside.
---
Key player (Arizona): Stone Gettings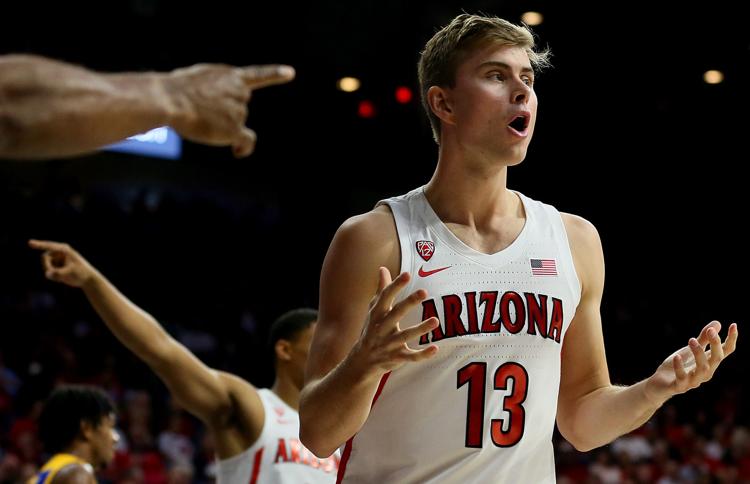 UA coach Sean Miller says he's looking at ways to play Zeke Nnaji at center and Gettings could make for an interesting pairing considering Nnaji's dominance inside and Gettings' ability to stretch defenses, having hit 4 of 5 3-pointers and 50% overall so far.
---
Sidelines
They're not NAU's 'Jacks, either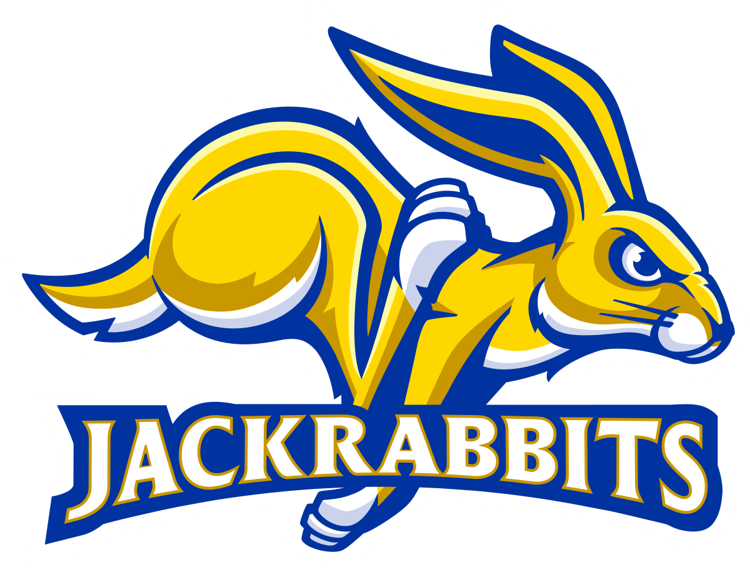 There may be few things that irritate Arizona fans more than out-of-town media mixing up references to the Arizona Wildcats and ASU Sun Devils.
Seems South Dakota State has a similar issue.
In its official pregame notes, the school asks to be called only South Dakota State or SDSU. And not that SDSU, either.
"Please do not call us San Diego State, SDST or SDS, and please, never call us South Dakota," the notes say. "What's the difference? Great Question. Calling us 'South Dakota' is like calling Arizona State 'Arizona,' or Ohio State, 'Ohio.' Again, calling South Dakota State 'San Diego State' is just not cool, so please don't do it."
There also may be issues if you mess up the mascot name.
"Jackrabbits is one word, not Jack Rabbits or JackRabbits," SDSU says. "Our jackrabbit mascot is modeled after a real species of rabbit, not a rabbit named Jack. Technically speaking, a jackrabbit is a hare, but let's not get technical. Calling us the Jacks is an acceptable second reference."
So, if we've got this right, the "other" SDSU will be the second "Jacks" to visit McKale Center this season, after the Lumberjacks of Flagstaff did for the Nov. 6 opener.
---
That felt better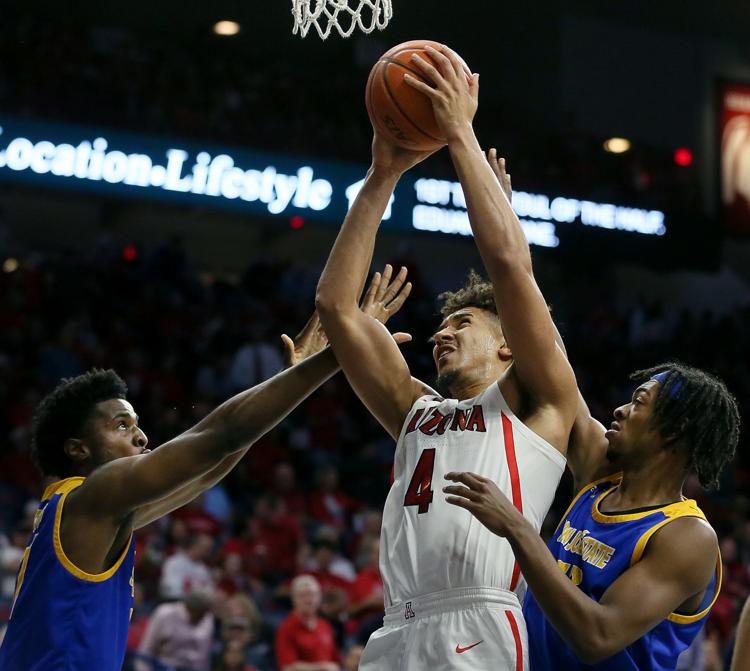 SDSU shot just 25.9% from 3-point range through its first five games before hitting 7 of 17 on Tuesday in a 78-73 win over North Alabama. Wing Noah Friedel had two of his three 3-pointers in the final minutes to help the Jackrabbits hold on. Friedel was 3 of 7 overall after making just 4 of 14 shots entering the game.
"That's one of those deals: He loves the moment," SDSU coach Eric Henderson said of Friedel in his postgame radio interview. "I'm so proud of him because he hasn't shot it great. But he's been hanging with it. He's always in the gym getting extra shots. We're gonna need him. It's nice to see the ball go in."
Jeter's offense could come
Between Zeke Nnaji's scoring efficiency inside and Arizona's balance around the rest of the floor, senior center Chase Jeter is actually the Wildcats' ninth-leading scorer so far.
Jeter has taken only an average of three shots a game, hitting 5 of 12 overall while averaging 4.3 points.
"Offensively, we as a team have to do a better job of getting him the ball in scoring position," UA coach Sean Miller said. "Sometimes he has a tendency when he posts up to be further away from the basket. I don't think that's the answer. But there are also times when a guy like him runs the court well and rolls on a pick and roll – and you have to be able to throw him the ball because he's proven that he can score.
"I wouldn't judge us just on these four games. We're going to get better and smoother at being able to have balance and be able to get the ball to him a few more times. That would be a good thing for us."
Defensively, Miller may have less to worry about with Jeter.
"He's mobile, he's intelligent," Miller said. "I don't know if I've ever coached a big guy that draws charges and sacrifices himself like he does on the defensive end."
---
Numbers game
1 
Nnaji's rank in scoring among UA freshmen in their first four games over the past 20 years, with 84 points. Deandre Ayton is second with 83 in 2017-18 while Chase Budinger had 78 in 2006-07.
12 
Arizona's national ranking in combined assist-turnover ratio (75-43). Jemarl Baker is 13-1 and Max Hazzard is 12-1.
106 
Of 112 home games South Dakota State has won since 2011-12.
Contact sports reporter Bruce Pascoe at 573-4146 or bpascoe@tucson.com. On Twitter @brucepascoe