Scouting report: Arizona Wildcats vs. UTEP Miners
The Star's Bruce Pascoe previews all of the game day essentials, from projected starting lineups to storylines, ahead of the Arizona Wildcats' game Wednesday night against UTEP.
Game info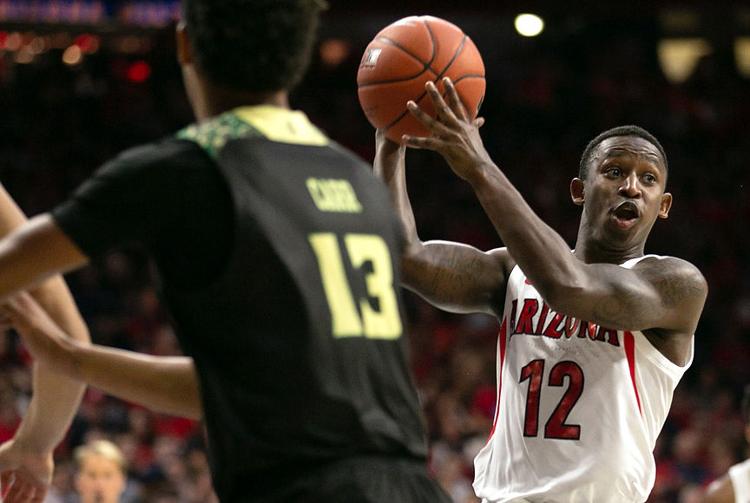 Who: UTEP Miners (1-1) at Arizona Wildcats (2-0)
Where: McKale Center
When: 6 p.m. Wednesday
Watch: Pac-12 Networks
Listen: 1290-AM, 107.5-FM
Follow: @TheWildcaster on Twitter / TheWildcaster on Facebook
Probable starters: Arizona

Justin Coleman, guard, 5-10, senior
Brandon Williams, guard, 6-2, freshman
Brandon Randolph, forward, 6-6, sophomore
Ryan Luther, forward, 6-9, senior
Chase Jeter, center, 6-10, junior
Probable starters: UTEP

Evan Gilyard, guard, 5-10, sophomore
Kobe Magee, guard, 6-1, sophomore
Jordan Lathon, forward, 6-4, freshman
Paul Thomas, forward, 6-8, senior
Efe Odigie, center, 6-9, freshman
How they match up
Arizona leads the all-time series with its former Border Conference and WAC rival 61-30, but the two have played each other only six times over three home-and-home series since Arizona left for the Pac-10 in 1978. Arizona is 4-2 in those games and swept the most recent home-and-home series, winning 72-51 in 2012-13 at McKale Center and 60-55 at El Paso in 2014-15. Stanley Johnson led the Wildcats with 17 points and six rebounds in the latter game.
Game contract: UTEP is making a one-time appearance for which Arizona will pay the Miners a $90,000 fee.
UTEP overview
The Tim Floyd Experience ended abruptly at UTEP last season, with the former USC coach and UA coaching candidate resigning after a 1-5 start. The Miners went on to win only 11 games, then managed to lure Rodney Terry away from his Fresno State head coaching job in March. Terry will need some patience for the transition.
Only three players return from last season's team and Terry has four Division I transfers sitting out this season, forcing him to rely on a mostly inexperienced players around versatile senior forward Paul Thomas. He did, however, manage to snag four-star guard Jordan Lathon in August, after Northwestern revoked his admission in May.
One of UTEP's returnees, sophomore combo guard Evan Gilyard, led the Miners in scoring over their first two games with a total of 49 points while also dishing eight rebounds. He hit 6 of 9 3-pointers against Texas-Permian Basin in the Miners' season opener. On the wing, Lathon is averaging 8.5 rebounds, while Kobe Magee shot 53.1 percent from 3-point range in Conference USA games last season.
Inside, big freshman Efe Odigie is averaging 18 points and seven rebounds so far. Ideally, Terry says he's trying to play up-tempo with what was one of Division I's most inefficient offenses last season, but the Miners' numbers may make that tough. Their adjusted tempo so far ranks in the middle of Division I programs, according to Kenpom.com.
He said it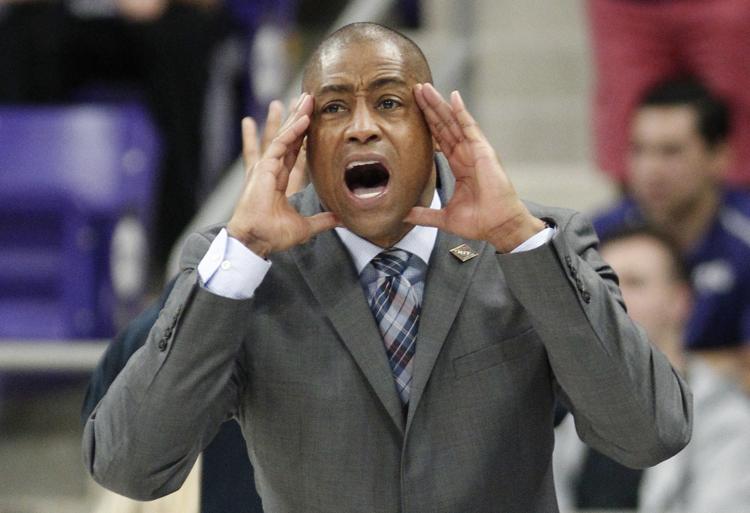 "With the short bench and short rotation, we're still holding guys accountable to the level we want to play at on both ends of the floor. We want to try to play a certain way … but there will be a time when we have to slow it down and execute." — UTEP coach Rodney Terry
Key player: Paul Thomas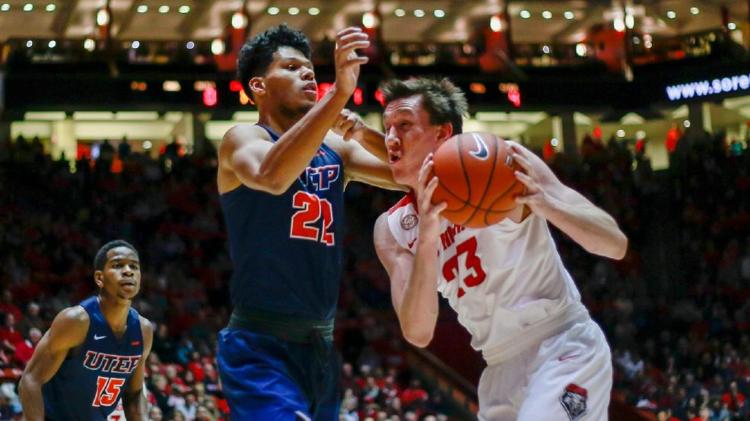 The Miners' lone senior is being counted on for leadership and versatility in their transition season under Terry. He's able to play all three frontcourt positions but, wherever he is, UTEP needs him to increase the 8.1 points and 5.4 rebounds he averaged last season.
Key player: Alex Barcello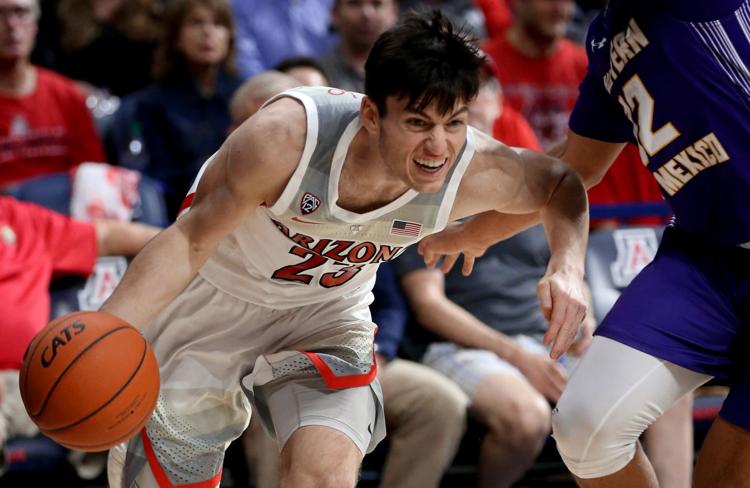 UA coach Sean Miller called him the Wildcats' best shooter after offseason workouts, but it hasn't translated so far in games, and Barcello has missed 5 of 6 3-pointers. The UTEP game is Barcello's last chance to bid for a rotation spot before the Wildcats enter the intensely competitive Maui Invitational next week.
Big class could roll in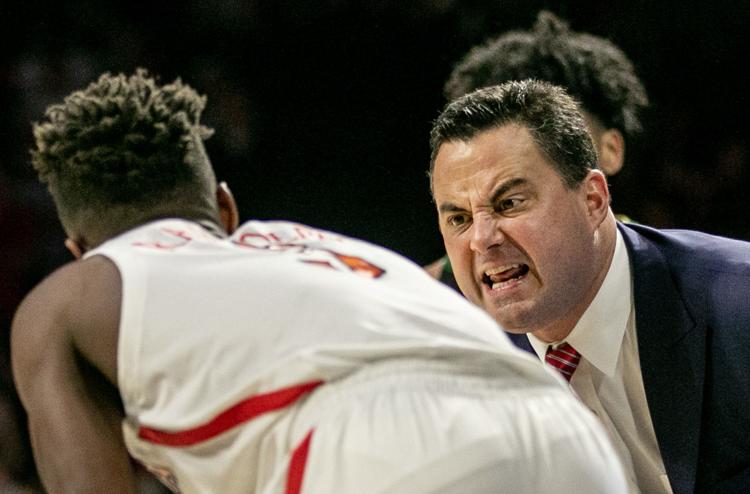 Arizona could start officially reeling in its 2019 recruiting class starting Wednesday, the first day of the week-long signing period, but there's no telling exactly when.
Messages left for UA signees Nico Mannion, Josh Green and Terry Armstrong, or the people around them, were not returned Tuesday. Stephanie Koloko, the sister of three-star center Christian Koloko, has been advising him and said she was still reading over the papers Tuesday.
Mannion told the Star in September that he probably wouldn't sign a binding letter of intent until the spring, even though he and his father said they were satisfied with UA's answers to questions about the ongoing federal investigation.
Players can sign either a letter of intent, which binds the player and obligates the school to save his spot; or scholarship papers that aren't binding for either the school or the player.
Last fall, after the investigation became public, UA commits Brandon Williams and Shareef O'Neal signed scholarship papers and later decommitted. Williams re-committed in May, however, and is now a freshman guard with the Wildcats.
Timme to announce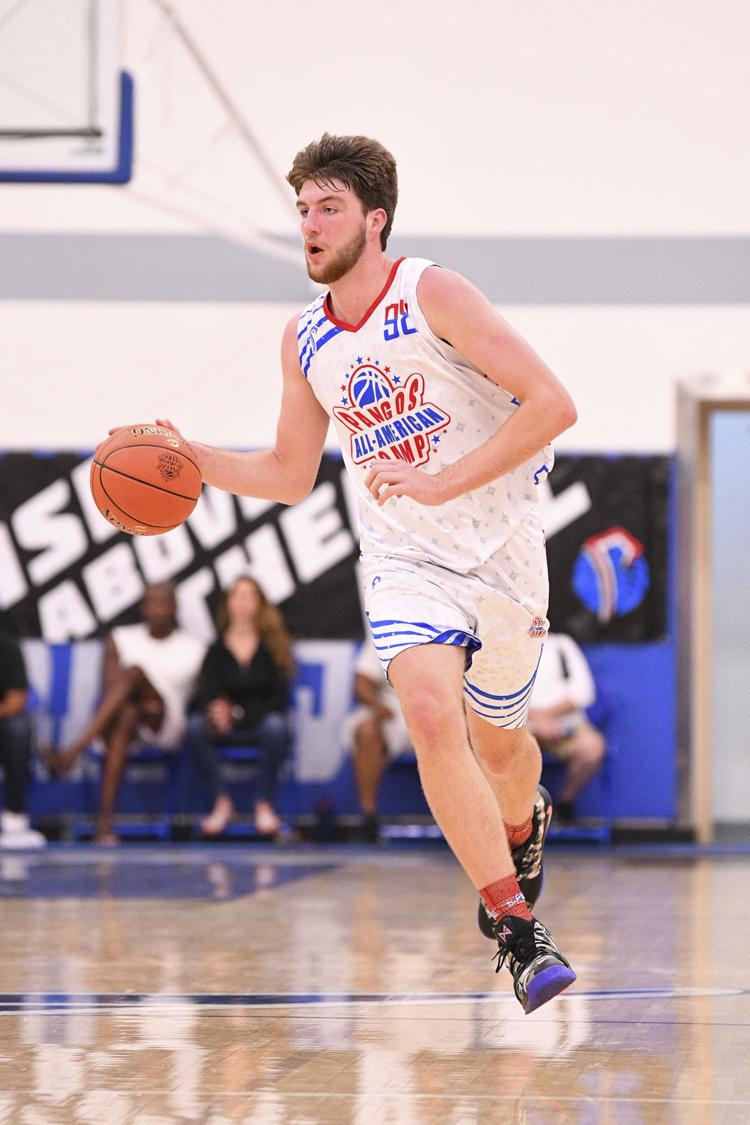 One of Arizona's 2019 targets, four-star Texas forward Drew Timme, is scheduled to begin the fall signing period by announcing his college choice Wednesday morning. Since he did not take an official visit to Arizona but did visits his four other finalists, the Wildcats' chances "are looking grim," according to a Rivals report last week.
Timme visited Gonzaga, Alabama, Illinois and Texas A&M. On 247's Crystal Ball, 60 percent of the predictions have him choosing Gonzaga and 27 percent have him going to Texas A&M.
Simpler look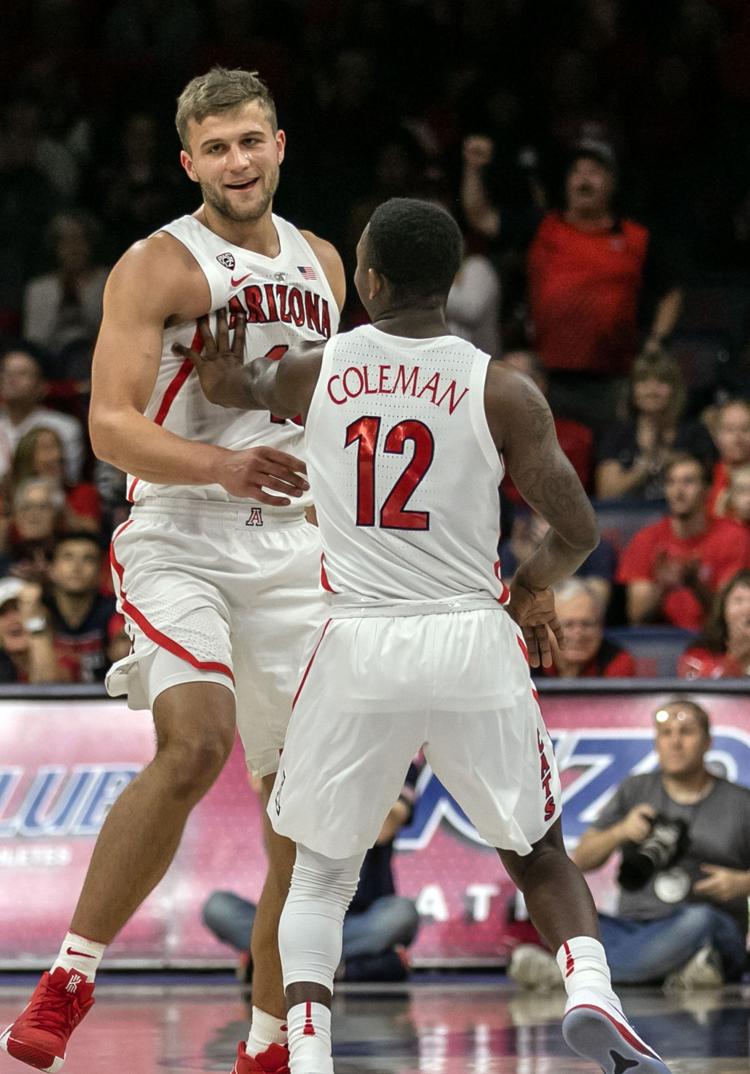 With Nike, something happens to Arizona's uniforms in the fall of every even-numbered year, between an overhaul every four years and an update every two. Gradients were introduced to four of the Wildcats' seven new uniform sets during their 2016 overhaul, and those remain for this season in an updated form that features thicker collars.
But so far, the Wildcats have chosen to wear pure white uniforms with a red stripe down the side for their two home games. UA equipment manager Brian Brigger said those replace the "Desert Ops" home jerseys that had gold lettering and stripes on solid white during the past two seasons.
At home, the Wildcats can also choose from white jerseys featuring blue or red lettering with gradients of gray on the shoulders and shorts. Those are the same jerseys they had last season, except with the new, thicker collars.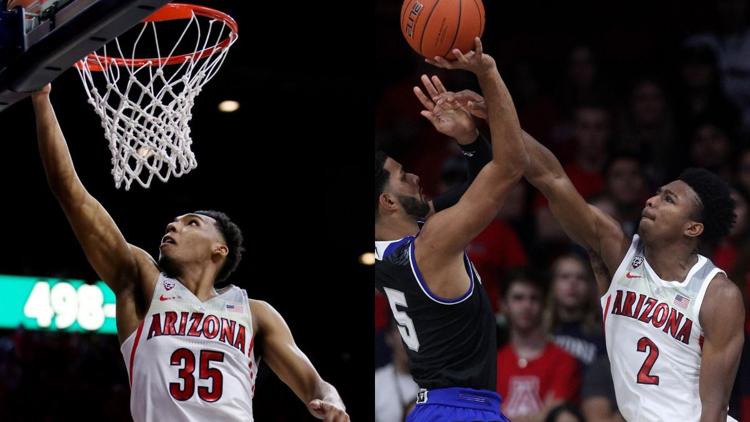 Arizona's road choices remain the same, except they also have the new collars: Red with blue lettering and blue gradients, blue with red lettering and gradients, and the sets Nike calls "State Pride" — copper on solid red.
The Wildcats were scheduled to have a blue uniform with pink lettering in honor of former N.C. State coach Kay Yow and her battle with and foundation to fight cancer, but UA says they never received them.
Numbers game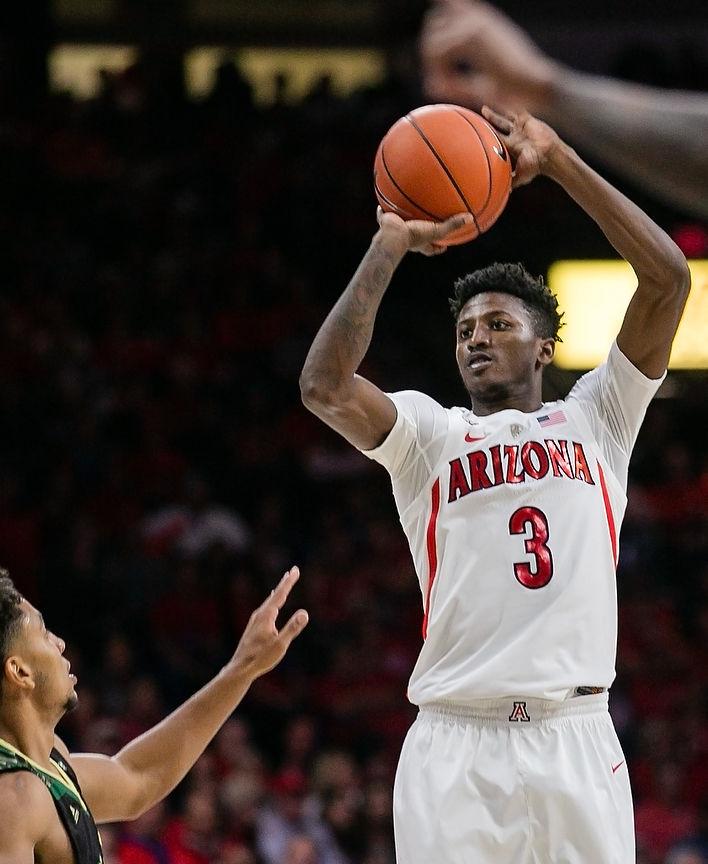 3
The composite ranking of Arizona's 2019 recruiting class, heading into the fall signing period that begins Wednesday. UA's class is ranked No. 2 by 247 and No. 5 by Rivals.com.
310
Arizona's nonconference strength of schedule out of 353 Division I teams, according to Kenpom.com. (UA's second and third Maui Invitational games likely will increase that number once they are added to the schedule).
318
UTEP's rank in average experience played (0.95), which factors in minutes played and experience of those playing at least 10 percent of games.