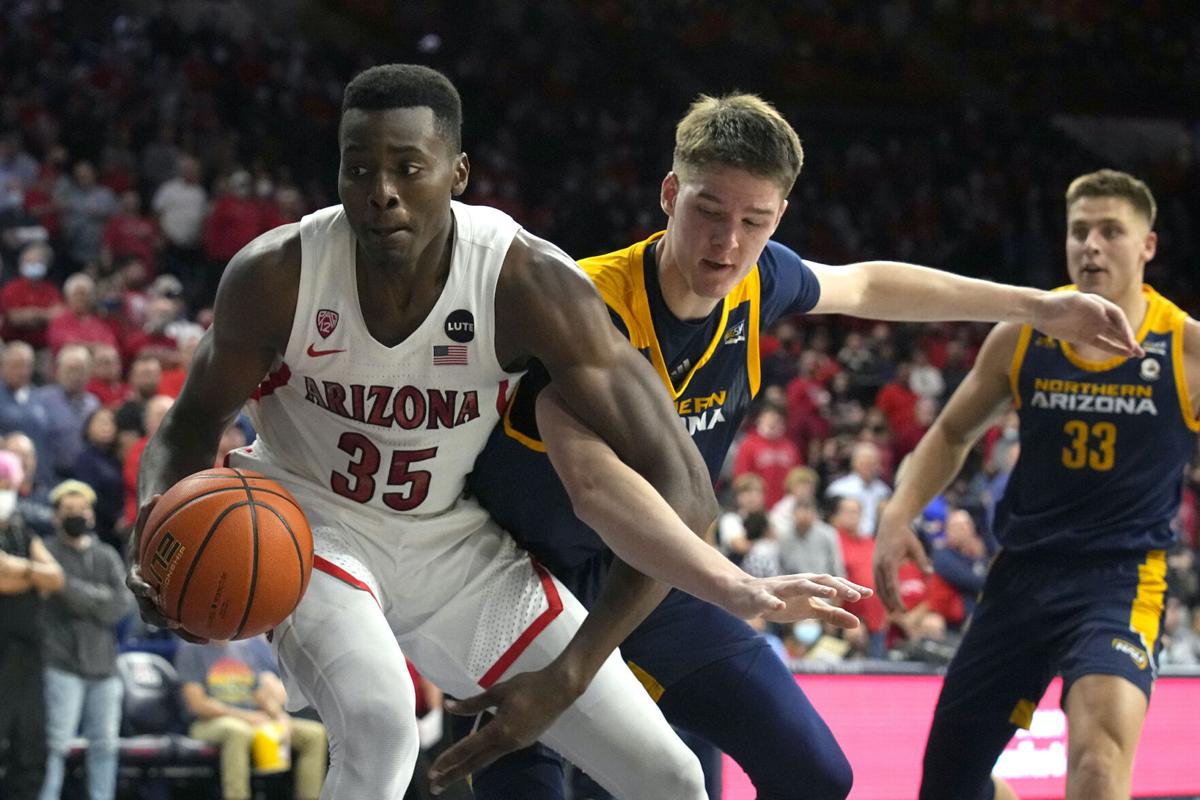 No. 4 Michigan (3-1) vs Arizona (4-0)
• T-Mobile Arena, Las Vegas • 7:30 p.m.
• ESPN • 1290-AM, 107.5-FM
---
PROBABLE STARTERS
G — Kerr Kriisa (6-3 sophomore)
G — Dalen Terry (6-6 sophomore)
F — Bennedict Mathurin (6-6 sophomore)
F — Azuolas Tubelis (6-11 sophomore)
C — Christian Koloko (7-0 junior)
G — DeVante' Jones (6-1 senior)
G — Eli Brooks (6-1 senior)
F — Caleb Houstan (6-8 freshman)
F — Brandon Johns Jr. (6-8 senior)
C — Hunter Dickinson (7-1 sophomore)
---
HOW THEY MATCH UP
The series: Arizona is 8-2 against Michigan, having last faced the Wolverines in a home-and-home series over the 2013-14 and 2014-15 seasons. Going on to reach the Elite Eight in both seasons, the Wildcats swept both games, winning 72-70 in Ann Arbor, Michigan, on Dec. 14, 2013 when Brandon Ashley had 18 points, and 80-53 at McKale Center on Dec. 13, 2014, when Stanley Johnson had 17 points and seven rebounds.
How they got here: Arizona beat Wichita State 82-78 in overtime in the Main Event and Michigan beat UNLV 71-61 later Friday to reach the championship of the multi-team event that includes three games for every team. Arizona beat North Dakota State 97-45 in an unbracketed Main Event add-on game on Nov. 16, while Michigan will host Tarleton State for its add-on game Wednesday in Ann Arbor.
Michigan overview: By winning the Big Ten title in just his second season in 2020-21 and reaching the Elite Eight before losing 51-49 to UCLA, Michigan coach Juwan Howard became the model for schools who want to hire their own blood. Howard also appeared to engineer a near-seamless transition from John Beilein, who stepped down after the 2018-19 season, and brought in the No. 2-rated recruiting class in 2021, according to 247's composite rankings.
Loaded with size, athleticism and experience this season, the Wolverines may be Howard's best team yes. Although they lost a homecourt shocker to Seton Hall on Tuesday, Michigan shot 51.0% against UNLV on Friday and outrebounded the Rebels 33-24 despite the game tipping off after midnight Eastern Time and playing in a semi-neutral environment.
The Wolverines are anchored by center Hunter Dickinson, a preseason all-American inside who hits two-thirds of his field goals and averages 8.0 rebounds a game. The Wolverines complement him off the bench with French freshman Moussa Diabate, who broke out with 14 points on 6-for-7 shooting against UNLV. Freshman wing Caleb Houstan was a teammate of UA's Bennedict Mathurin on Canada's bronze-medal-winning U19 team last summer, leading Canada in scoring at 17.0 points while Mathurin was second at 16.1. Normally a good shooter, Houstan hit just 1 of 5 3s against UNLV.
The Wolverines also have a pair of experienced, versatile guards. The addition of Coastal Carolina grad transfer DeVante' Jones means Eli Brooks plays mostly off the ball, where he's a force on both ends of the floor. Jones was the Sun Belt Conference's player of the year last season, raking first in steals (2.8) and second in scoring (19.3) in the conference.
The Wolverines run a slower tempo than Arizona and, while both teams are heavy on ball screens, Michigan favors more set plays than Arizona. Defensively they are similar to the Wildcats with rim protection from Dickinson and Diabate, plus several tough wing defenders who can extend on the perimeter.
He said it: "Seton Hall "took the fight to them. They're a very physical team, they're very big and (Michigan) probably wasn't expecting them to come out and be that aggressive.
"Dickinson is as one of the best bigs in the country. I think that's pretty well known. He's a load and has very good hands, very unselfish. Diabata played a great game (Friday). He's playing with a high level of aggressiveness and high energy and gives them a two-head dragon that comes at you. He's doing everything their team needs.
"Then they also have Brooks. He's a very steady guy. He's a winner. He's won a lot of games and if you watch how he plays, he's a huge key for them. He does all the winning plays, he's solid, a great shooter. He probably doesn't get much attention nationally but he's one of the guys who makes them so good.
"Houstan is very talented. He's a great shooter and has NBA size. We've got to pay attention to him because he's very capable and his release is so high. Johns is probably not getting as many shots (as at Coastal Carolina) but he's trying to run the team and do the right things. He can play on the ball, off the ball. He can shoot it. He can drive it.
They've been elite defensive team with Juwan Howard. They are aggressive in the gaps and betting that people are not going to make extra passes and play fundamental basketball. So it's gonna be a big challenge for us of getting better and finishing. They have two elite rim protectors. Johnson is another really good defender. They have a lot of solid guards. They don't beat themselves, so you gotta move them and you gotta make them chase you. — UA assistant coach Riccardo Fois, who scouted the Wolverines.
---
KEY PLAYERS
MICHIGAN — Hunter Dickinson
The Big Ten's freshman of the year last season is now on everyone's preseason All-American team. There's good reason: Dickinson is a dominant inside presence on both ends of the floor, a throwback sort of big man who is known particularly to score with his dominant left hand.
ARIZONA — Christian Koloko
Easily the Wildcats' most improved player so far, the Wildcats' rangy 7-footer will face his toughest test of the season against the 7-1 Dickinson and the 6-11 Moussa after facing mostly smaller lineups in the Wildcats' first three games and a Wichita State interior that was impacted by foul trouble on Friday.
---
SIDELINES
Good timing, mom
Just when her son is playing the best basketball of his career, Henriette Koloko made the long journey from Cameroon to Las Vegas to see Christian play in person for the first time ever.
"How cool is that?" UA coach Tommy Lloyd said after the Wildcats beat Wichita State on Friday. "That's some special stuff right there. That's probably a way more interesting story than anything I'm gonna say."
Koloko said his mother made the trip to to the U.S. earlier this week and traveled to the Main Event games with a cousin and his sister, Stephanie, who shared a home with Christian while he played his final two years of high school basketball in Southern California.
COVID-19, not surprisingly, had everything to do with Henriette's delay to see her son. Christian said his mother first planned to watch him in the 2019-20 postseason, which was scrapped before the NCAA Tournament because of COVID shutdowns, and also wasn't able to travel last season for the same reason when UA fans and family members were not allowed to attend games.
On the ropes
The way he performed Friday, UA sophomore guard Pelle Larsson wouldn't have looked too out of place on the undercard of the Terence Crawford-Shawn Porter fight Saturday down the street at Mandalay Bay, or maybe in a UFC matchup of some sort.
Playing more minutes Friday because of foul trouble to starting guard Dalen Terry, Larsson fell to the floor in the first half under the basket only to have the 7-foot, 260-pound Oumar Ballo fall on his right leg. Larsson grabbed the knee in pain and briefly stayed on the ground but continued to play.
Later in the first half, Larsson's head ran into Kerr Kriisa's shoulder under the basket and again Larsson stayed on the floor, this time with blood having to be cleaned off the floor when he finally walked away.
Then, in the second half, Larsson took what officials ruled to be an inadvertent elbow to his face during a Wichita State possession.
"Happy with the win," Kriisa tweeted afterward. "Even more happier that Pelle is alive!"
Asked about Larsson after the game, Lloyd smiled and didn't appear to be worried.
"Pelle's OK," he said. "He's just got to play better."
Red-eyed Wolverines
By the time Michigan's Moussa Diabate and Eli Brooks sat down at a T-Mobile interview podium after beating UNLV in Friday's late game, it was 3:01 a.m. in Ann Arbor, Michigan.
"I feel it," Diabate said.
The Wolverines arrived Thursday from Ann Arbor and tried to adjust by saying up late to help adjust. Many of them were seen hanging out late Thursday evening at the Aria hotel north of T-Mobile Arena.
"We tried to stay up as late as possible to get used to it," Brooks said. "But it's a little different when you're playing basketball games."
It shouldn't be nearly as hard for the Wolverines on Sunday. Not only have they had an additional two days to adjust to the time zone but beating UNLV on Friday meant they get to play Arizona in the "early" game on Sunday — just 9:30 p.m. Eastern Time.
---
NUMBERS GAME
3
Michigan's rank in defensive efficiency so far this season, allowing opponents only 86.7 points per 100 possessions.
8
Michigan's rank in offensive efficiency so far this season, scoring 113.4 points per 100 possessions.
29.0
Percent chance Arizona will beat Michigan, according to Kenpom's computerized prediction.