Scouting report: No. 17 Arizona Wildcats (10-3, 0-0) vs. No. 3 Arizona State Sun Devils (12-0, 0-0)
Bobby Hurley and the Arizona State Sun Devils ride into Tucson and McKale Center this season boasting a perfect 12-0 record. But the Arizona Wildcats and their newfound confidence led by Deandre Ayton, Allonzo Trier and Rawle Alkins, are out to prove they're still a title contender with a win over the No. 3 team in the country.
By Bruce Pascoe / Arizona Daily Star
Game info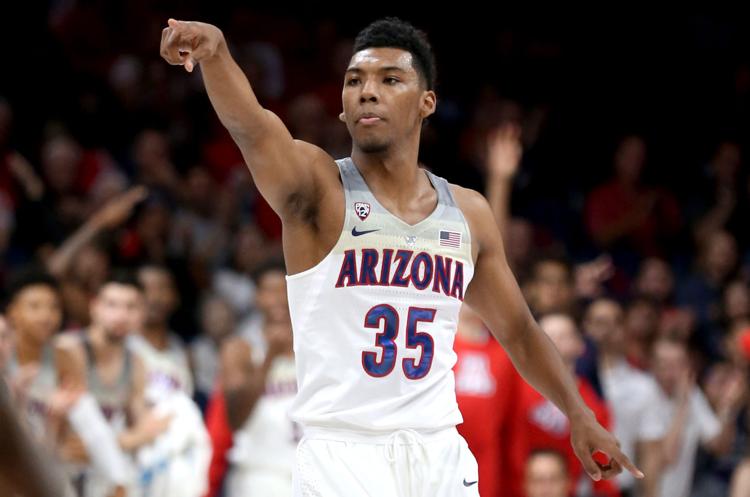 Who: No. 3 ASU (12-0) at No. 17 Arizona (10-3)
Where: McKale Center
When: 7 p.m. Saturday
Watch: Pac-12 Networks
Listen: 1290-AM, 107.5-FM
Updates: @TheWildcaster / The Wildcaster
Probable starters: Arizona

Probable starters: Arizona State

How they match up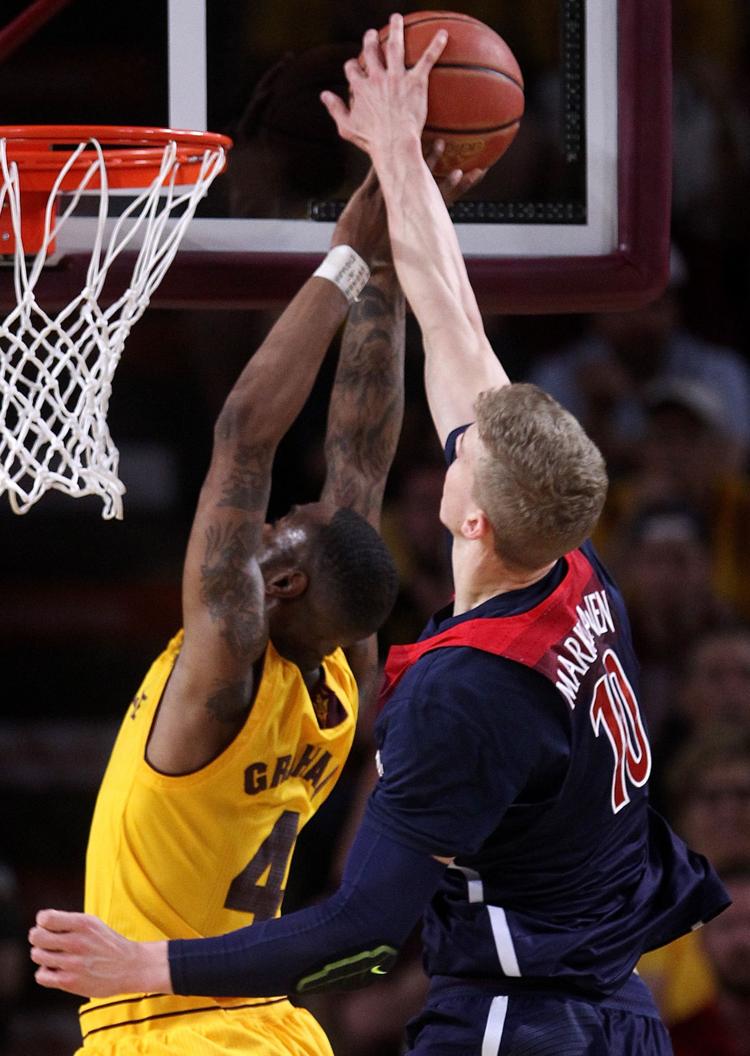 The series
Arizona is 150-82 all-time against its instate rival and has won the past four games in the series since ASU beat Arizona in Tempe during the 2013-14 and 2014-15 seasons. Arizona has won 17 of the last 20 games played at McKale Center, including a 7-1 mark under coach Sean Miller. Lauri Markkanen had 30 points on 12 for 18 shooting when the teams last met at McKale, a 91-75 Arizona win. Arizona also won 73-60 in Tempe last season.
ASU overview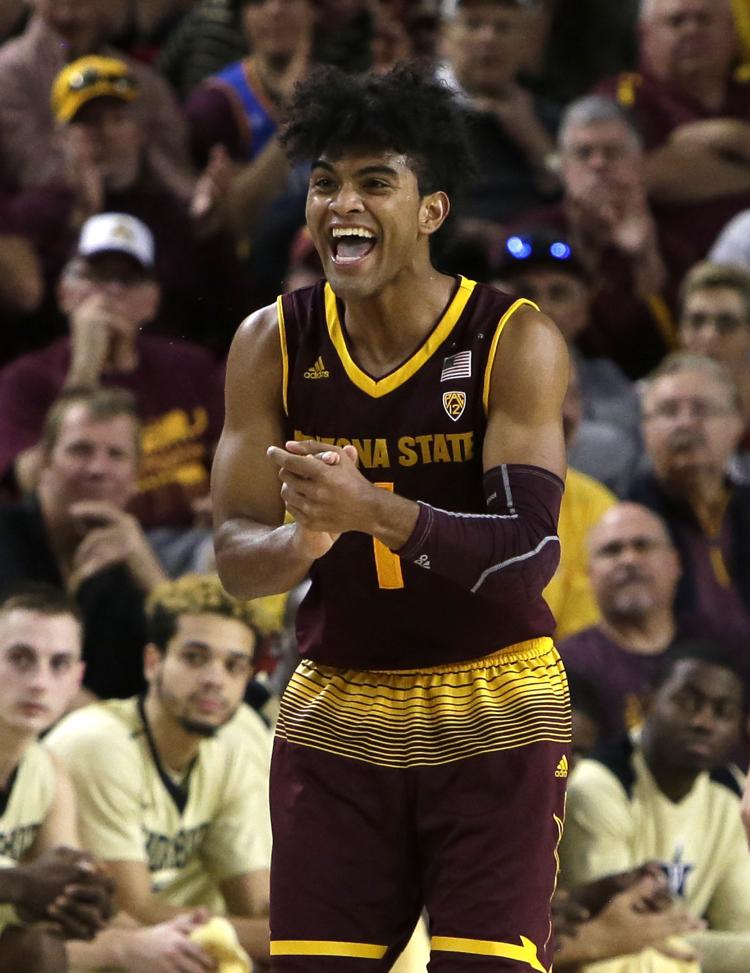 The Sun Devils are the talk of the Pac-12 after sweeping through their nonconference schedule at 12-0, with wins over San Diego State, Kansas State, Xavier, St. John's and Kansas.
The Sun Devils do it with a guard-driven offense that is the fourth-most efficient in the country, scoring 120.4 points per 100 possessions, shooting 39.9 percent from 3-point range and 58.7 percent from inside the arc. A full 23.7 percent of their scoring comes from free-throw shooting, too: ASU gets to the line an average of 29.9 times per game and hits free throws at a 72.7 percent rate.
Returning veterans Tra Holder and Shannon Evans are the core of the backcourt, but freshman Remy Martin is a lightning-quick, aggressive defender and senior Kodi Justice is a prolific 3-point shooter. Forward Romello White forces defenses to pay some attention inside, getting to the free throw line 6.8 times a game, though he hits free throws at just 58.5 percent rate.
Ohio State transfer forward Mickey Mitchell has added passing and rebounding help since becoming eligible on Dec. 10 at Kansas while Da'Quon Lake blocks opponents' two-point shots 9.3 percent of the time, the 51st highest rate in the country, according to kenpom.com.
The Sun Devils could also have forward Kimani Lawrence back from a foot stress fracture Saturday.
He said it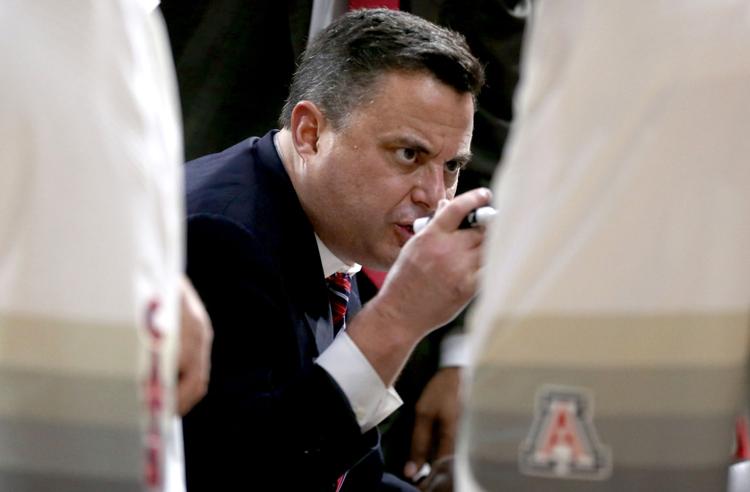 "I don't care who you have defensively: No one's been able to keep them off the free throw line. We're the next team in line to give them a test. Our starting guards have to do a good job. Our bench guys who come in have to be able to defend and be responsible. In a game like this you can't be that player who gives up four baskets and says 'Coach, why'd you take me out.' You really have to understand this is a very difficult challenge to keep them from having that big night." – UA coach Sean Miller
Key player: Tra Holder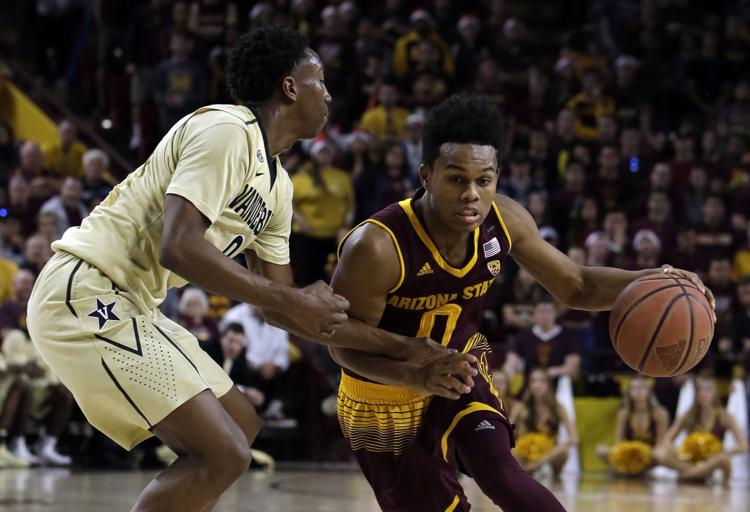 The Sun Devils were in a much tougher place when Holder last visited McKale Center, and it didn't bother him then: The explosive guard had 20 points on 6-for-10 shooting while getting to the line eight times (and making seven free throws).
Key player: Deandre Ayton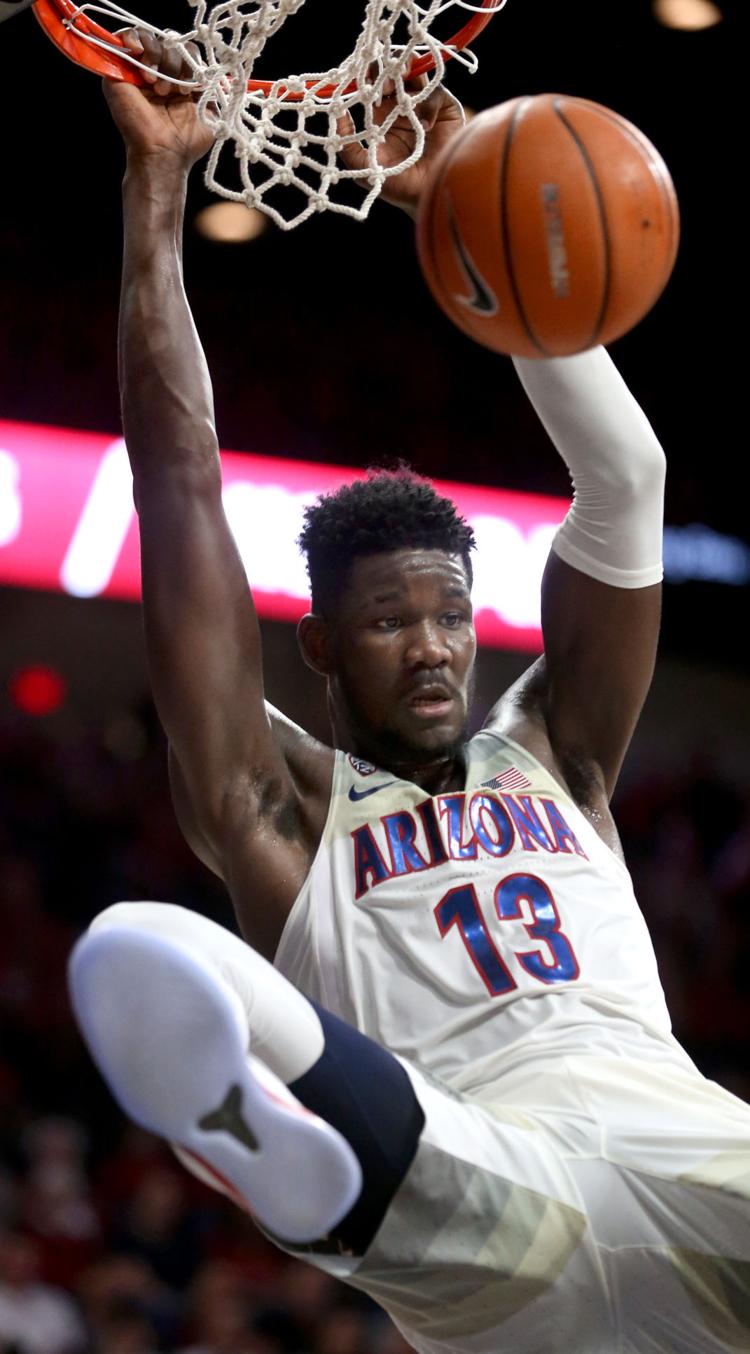 So how does Guard U defend Arizona's skilled 7-footer? How does anyone? Crowding him helps but Ayton has shown the ability to dominate smaller inside players and can deftly pass out of the post when the traffic is too thick.
Moving pictures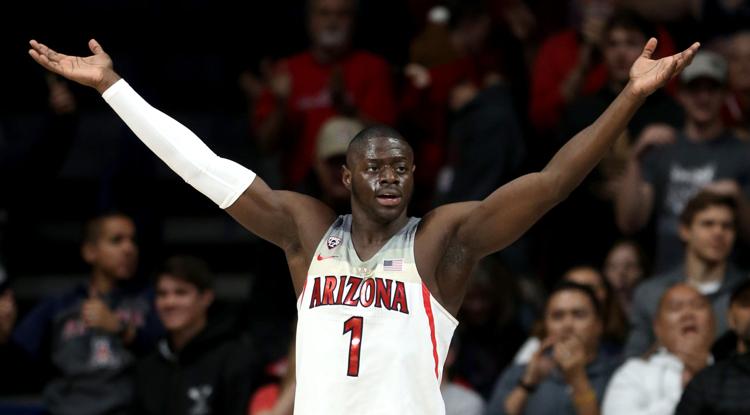 Rawle Alkins appeared at full speed in just his second game back, scoring 26 points on 9-for-11 shooting on Dec. 16 at New Mexico, but is still finding subtle improvements as he continues to play.
"I'm getting more comfortable and more of a feel every day," Alkins said. "I've only been (practicing) five-on-five for three weeks. Stepping in the game feels too fast at the beginning. Felt like a movie. It's starting to slow down a bit."
While Alkins is continuing to see improvements, his teammates are benefiting. Alkins said the Wildcats had their most competitive practice of the season Wednesday, and UA coach Sean Miller said he's had a lot to do with that spirit.
"Rawle practicing is a big deal," Miller said. "We really haven't had more than seven or eight practices with him. And when you're getting ready right away for the next game there's only so much you can do. Believe me, just having him back every day in practices has made that part of our program better."
It happened in Vegas
After Tra Holder scored 40 points to lead ASU over Xavier in the final of the Las Vegas Invitational last month, coach Bobby Hurley was enjoying a celebratory dinner with fellow coaches and staffers when he unknowingly gave birth to the Sun Devils' new slogan.
"Tra was 14 for 22, Shannon (Evans) had a bunch of big plays, Remy Martin kept stealing the ball from everyone and laying it in, and Kodi (Justice) had some big 3s, and the coaches and I were obviously very happy winning a championship," Hurley said. "We were just talking at dinner and I said 'Hey, man, this is going to be like Guard U. We're just gonna have a lot of guards out there and we're gonna attack.' "
Among those at that dinner was Dave Cohen, a marketing-focused ASU senior associate AD who was also aware that Hurley was a pretty good guard himself, still owning the college career assist record (1,076) from his Duke playing days.
Before long, Cohen had a bunch of "Guard U" T-shirts printed up and the Sun Devils wore them for warmups at Kansas, another big game they won.
S, big, in fact that Hurley had to wear one afterward.
"Everyone thought Bobby put the shirt on purposely after Kansas," ASU basketball publicist Doug Tammaro said. "He really put it on because the team dumped water on him and he had no other shirt to wear… I don't know if he would have put it on or not. But he had no choice because he was drenched and freezing."
Rubbing off
While there's no doubt Guard U has been led by, in fact, guards, that doesn't mean forward Romello White isn't part of the story.
Not only did Miller go out of his way twice this week to praise White for bringing out the best in ASU's guards "because you have to worry about him," but Hurley watched White "audition" for inclusion in the club.
"There was a practice shortly after the Xavier game when Melo got it a the 3-point line, took a dribble, made a front-change crossover and got into the lane," Hurley said. "Then the defense rotated, and he dropped a bounce pass off for a layup.
"He ran back saying 'I'm Guard U too.'"
Better in person?
When the Sun Devils destroyed Pacific 104-65 on Dec. 22, former UA star and current Pacific coach Damon Stoudamire found them even more lethal than expected.
"TV doesn't do justice how good their guards are," Stoudamire said. "They put so much pressure on you. Whether they make or miss shots, they're putting a lot of pressure on you."
But when Miller was asked about Stoudamire's remark this week, he disagreed somewhat.
"I'm watching TV. They look good to me," Miller said. "I think they're a great team … a terrific team. Offensively they're prolific."
Numbers game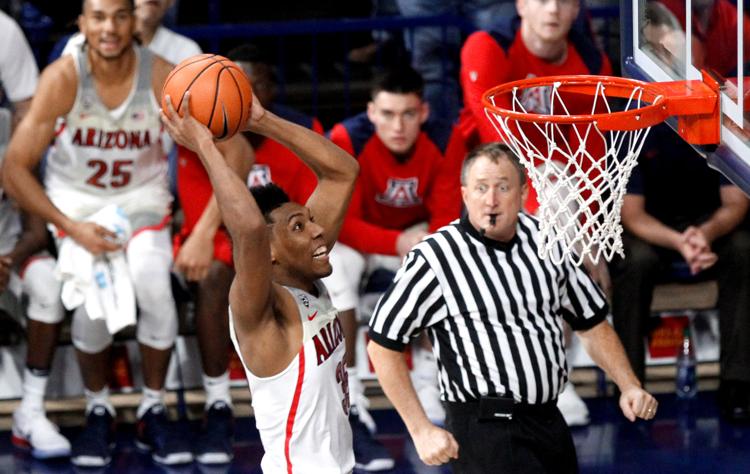 5 
Times this season that ASU has come back to win after trailing by at least nine points.
6 
Predicted finish for ASU in the preseason Pac-12 media poll, which had Arizona at No. 1
16 
Points Allonzo Trier needs to become the 51st Arizona player to score 1,000 points. If he reaches the mark Saturday, he'll do so in the seventh-shortest number of games (60) in school history. Coniel Norman (44) was the fastest.