Scouting report: No. 15 Arizona Wildcats (24-7) vs. Colorado Buffaloes (17-14)
The eighth-seeded Buffaloes advanced to Thursday's quarterfinal matchup with the Wildcats by upending Arizona State in the first round. Colorado enters a third game with Arizona this season full of confidence after shooting 53.2 percent from the field (61.9 3FG) Wednesday, in large thanks to McKinley Wright's near triple-double. Here's the scouting report for the UA-CU rubber match.
By Bruce Pascoe / Arizona Daily Star
Game info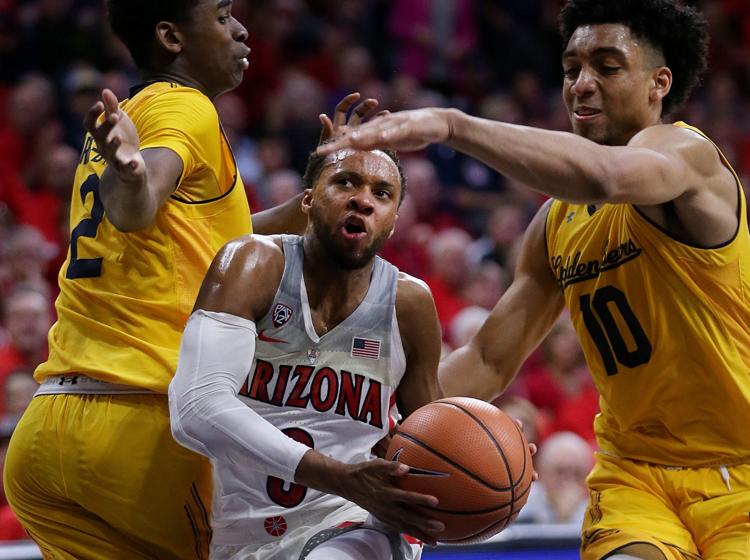 Who: No. 8 seed Colorado (17-14) vs. No. 1 seed Arizona (24-7)
What: Pac-12 Tournament quarterfinals
Where: T-Mobile Arena, Las Vegas
When: 1 p.m. Thursday
Watch: Pac-12 Networks
Listen: 1290-AM, 107.5-FM
Follow:  @TheWildcaster on Twitter / TheWildcaster on Facebook
Probable starters: Arizona

Probable starters: Colorado

How they match up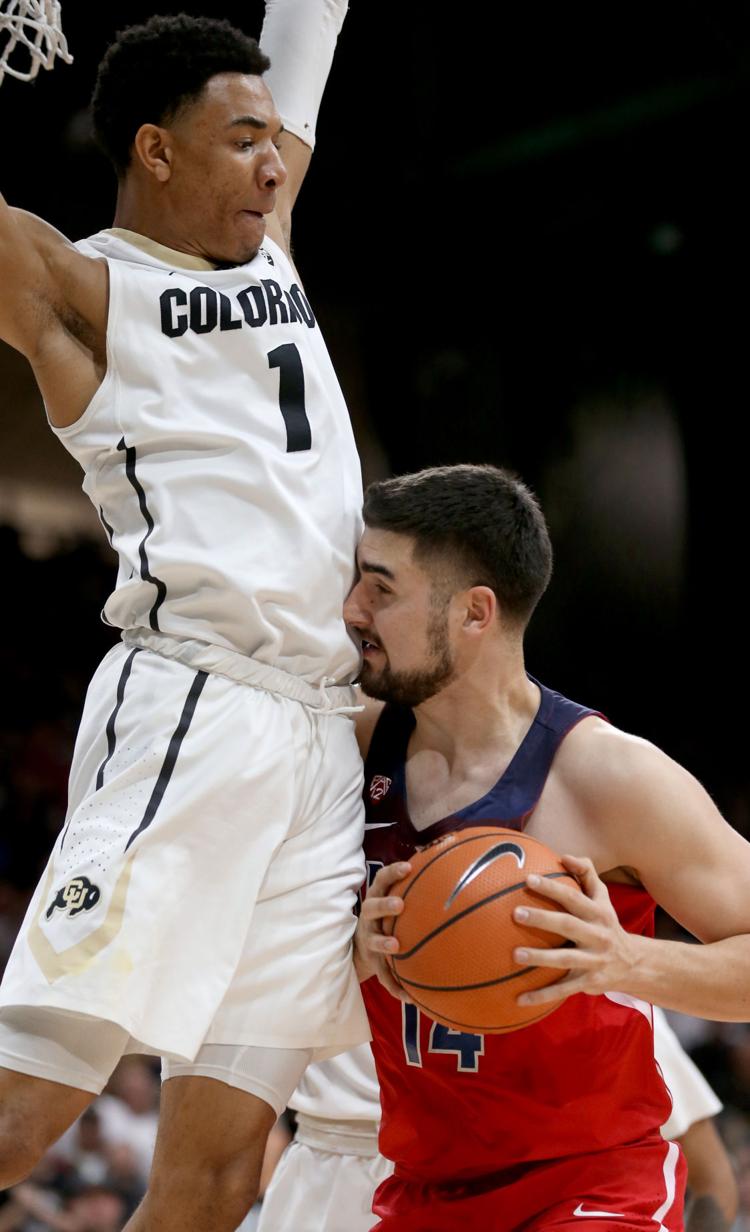 How they got here
Colorado went 8-10 in Pac-12 play to finish in an eighth-place tie with ASU and earned the Pac-12 Tournament's No. 8 seed in a tiebreaker based on its win over UA at Boulder on Jan. 6. The Buffs then beat ASU 97-85 in a first-round game on Wednesday, after both point guard McKinley Wright (20 points, 11 assists, eight rebounds) and Tyler Bey (14 points, 10 rebounds) had double-doubles. The Buffs shot 53.2 percent overall and hit 13 of 21 (61.9 percent) of their 3-point shots.
The season series
Arizona and Colorado each held serve on their home courts in a close two-game series.
On Jan. 6 in Boulder, the Wildcats allowed the Buffaloes to shoot 54.7 percent from the field and fell behind by 20 points in the first half and 10 points with 4:35 left. After the game, Arizona coach Sean Miller said he "couldn't reach" the Wildcats. "It's really hard to get our guys to run as fast as they can and that's not them, that's me," Miller said. "I have a hard time reaching our guys." Meanwhile, Colorado coach Tad Boyle responded with "hell, yes" when asked if beating teams under federal investigation meant more.
On Jan. 25 at McKale Center, Arizona also couldn't defend Colorado well, with the Buffs hitting 55.8 percent from the field and making half of their 16 3-pointers. Arizona led by only four points heading into the final two minutes before Parker Jackson-Cartwright hit a 3-pointer with a minute left and Allonzo Trier made a pair of free throws with 26 seconds left. Rawle Alkins missed the game with continued soreness in his previously broken right foot and Deandre Ayton had to fight off strep throat from earlier in the week.
What's new with the Buffs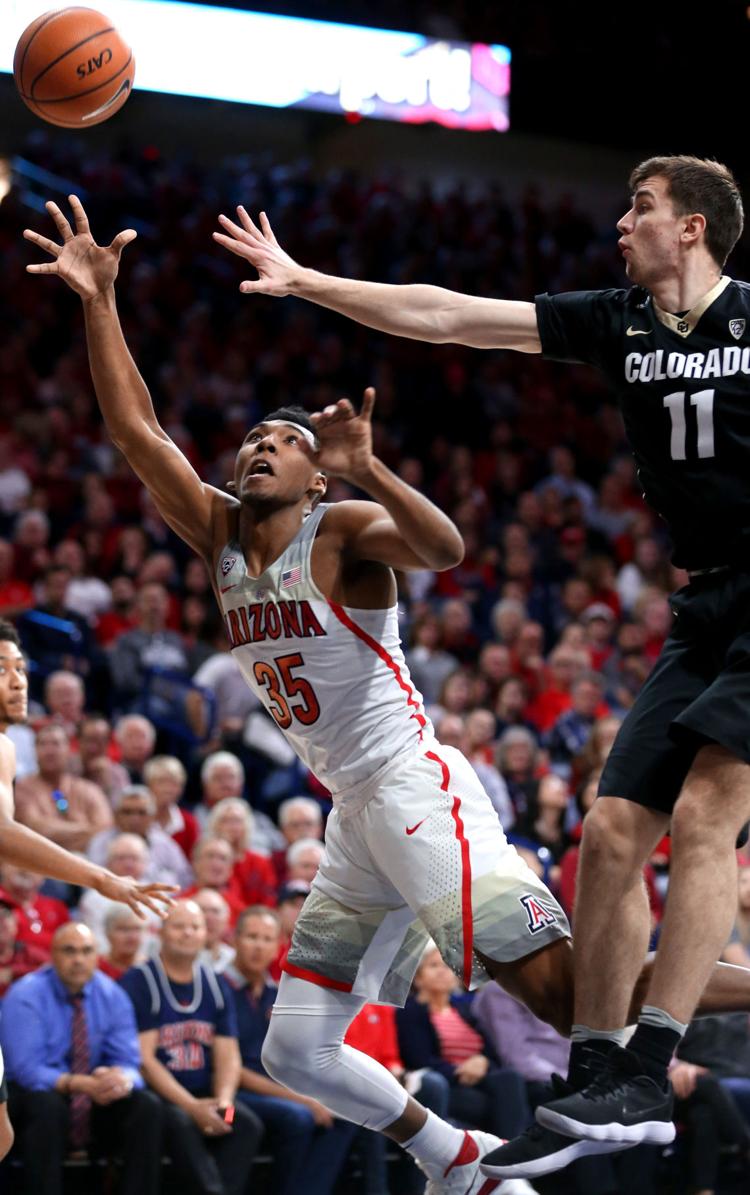 Colorado lost four of its final five regular-season games, including an 82-59 blowout loss at Washington on Feb. 17, but beat UCLA at home on Feb. 25 and shot better against ASU on Wednesday (53.2 percent) than it has against every Pac-12 opponent except Arizona. Colorado has rotated its starters at shooting guard, going with Lazar Nikolic to give a bigger look on Wednesday against ASU, but also playing veterans Dom Collier and Namon Wright there. Namon Wright started both games against Arizona during the regular season.
Key player: McKinley Wright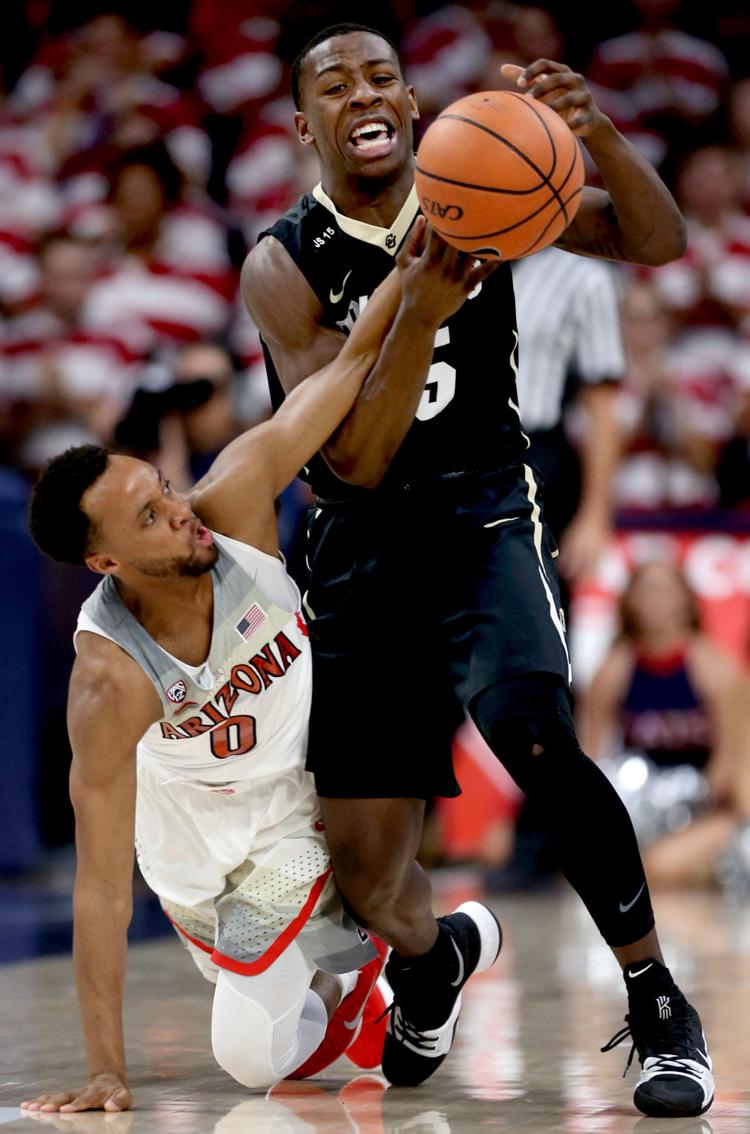 Fittingly, the baby Buffs are led by a freshman point guard from Minnesota who appears to have little fear. Wright nearly posted a triple-double (20 points, 11 assists, eight rebounds) against ASU on Wednesday, and he's averaged 15.5 points and 8.5 rebounds while shooting 55 percent in two games against Arizona this season.
Key player: Deandre Ayton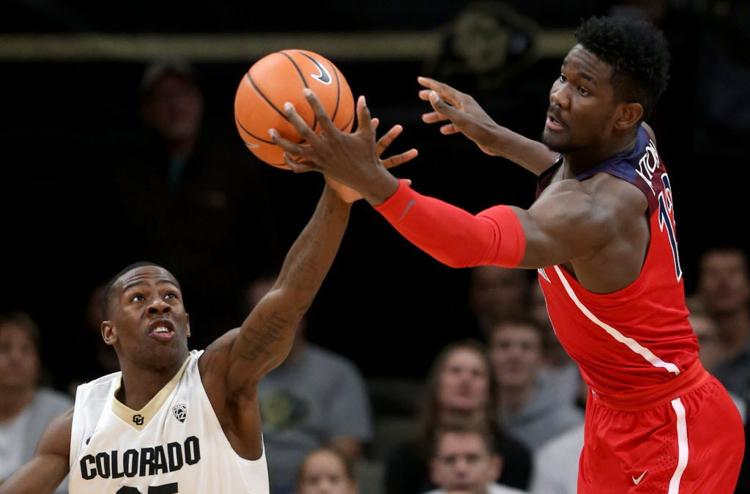 Of course, the Pac-12's Player of the Year is a huge factor in every game. But a major reason why Arizona fell behind Colorado by 20 points in the first half and ultimately lost on Jan. 6, was that Ayton had only five points and two rebounds while taking only four shots in the first half against Colorado's seldom-used zone defense.
Lute Olson statue unveiling set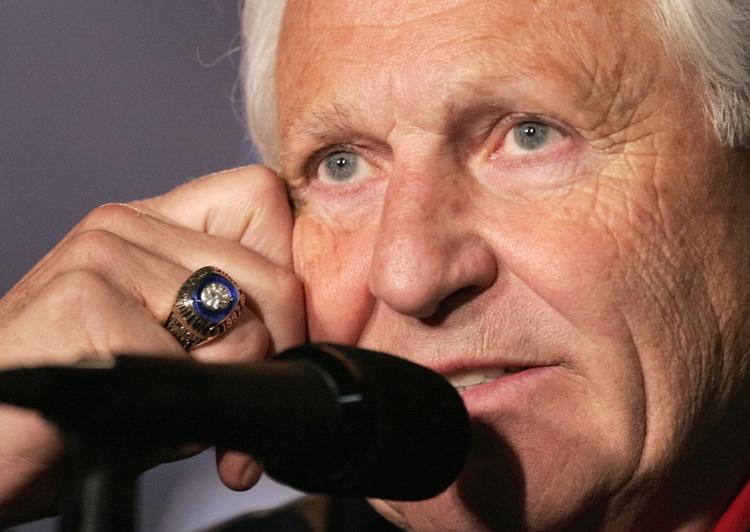 With more than two-thirds of the $300,000 goal toward the Lute Olson statue having already been pledged, Arizona announced Wednesday it will unveil the statue on April 12 at Eddie Lynch Pavilion outside the north end of McKale Center.
Olson and many of his former players will be on hand to see the statue's unveiling.
Olson went 589-187 in 24 seasons at Arizona before retiring in 2008, leading the Wildcats to the 1997 national championship and other Final Four appearances in 1988, 1999 and 2001. He was enshrined into the Naismith Memorial Basketball Hall of Fame in 2002.
Popular guy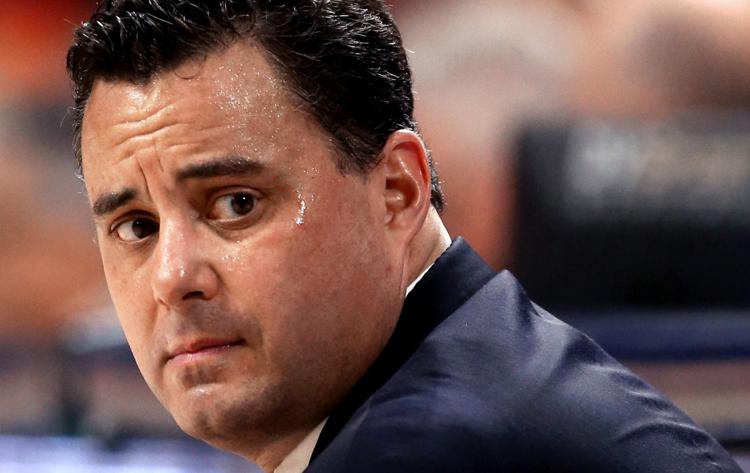 Not surprisingly, Brandon Williams' phone has been ringing a bit lately after he decommitted from Arizona on March 2, a day after UA coach Sean Miller denied an ESPN report that he discussed paying Deandre Ayton.
Williams already tweeted that Oregon offered him a scholarship, while he told 24/7 Sports he's also heard from Kansas, Oklahoma State, ASU, UCLA, Ohio State, Connecticut, Gonzaga and Georgetown. He said he's also expecting to hear from Kentucky.
Williams says he will still consider the Wildcats and told 24/7 that Miller and his staff visited his high school (Crespi of Encino, California) on Tuesday to check on him.
"Arizona is still in the picture," Williams told 24/7 Sports. "I may end up committing back there but will time will tell. Coach Miller and his staff have really opened my eyes about things that I didn't know before I decommitted. They went into all kinds of detail and our talks have been really reassuring."
More honors for UA's 'Post Beast'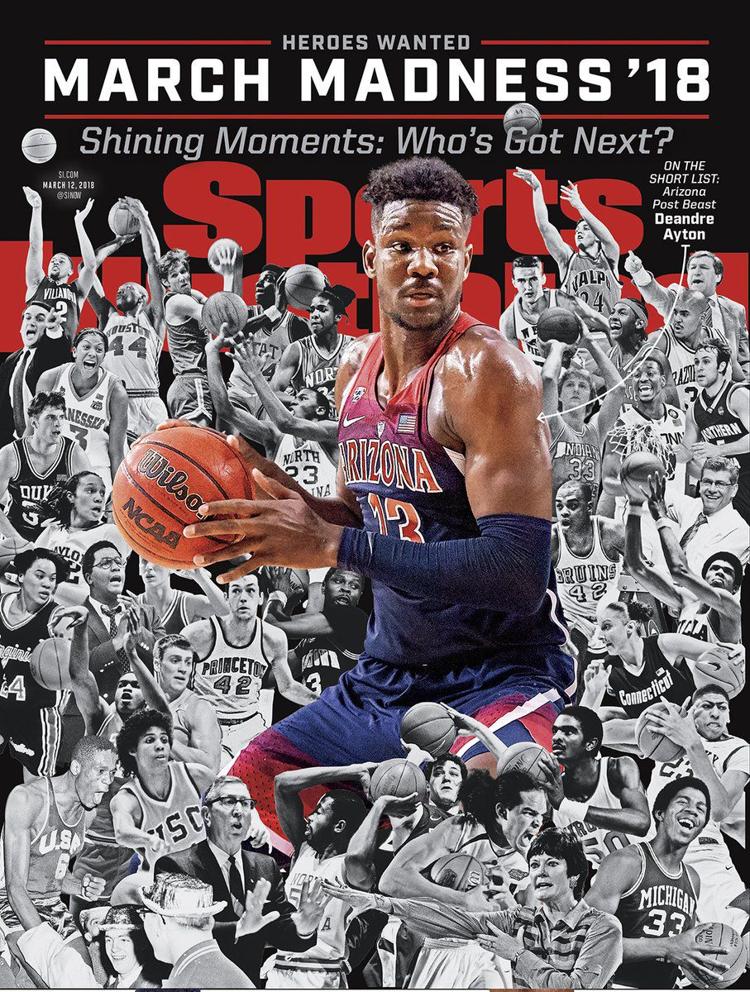 A day after Deandre Ayton became the Pac-12's Player of the Year on Monday, Sporting News named him a first-team All-American and the Associated Press also named him the Pac-12's player and newcomer of the year.
Then, on Wednesday, Sports Illustrated put what it called the "Arizona Post Beast" in the middle of one of its four regional March Madness covers. The three other SI covers feature Devonte' Graham of Kansas, Isaiah Wilkins of Virginia, and Jaren Jackson Jr. of Michigan State.
The background of the cover features cutout photos of legendary former players and coaches in men's and women's basketball including, along the top, UCLA's Bill Walton — who has heaped praise on Ayton this season as a commentator for Pac-12 Networks and ESPN.
Ayton and teammate Allonzo Trier were named to the AP's All-Pac-12 team, along with UCLA's Aaron Holiday, Stanford's Reid Travis and USC's Jordan McLaughlin.
Numbers game
11
Colorado wins in 16 Pac-12 Tournament games (68.8 percent), all under coach Tad Boyle.
14
Arizona wins in 20 Pac-12 Tournament games (70.0 percent) under Sean Miller.
170
Assists by Colorado's McKinley Wright (5.5 per game), the most ever for a freshman in CU school history.
616
Points by Arizona's Deandre Ayton (19.9 per game), the most ever for a freshman in UA school history.