Immediately after the Arizona Wildcats lost at Alabama on Dec. 9, giving up five costly offensive rebounds in the final six minutes, coach Sean Miller spent about 20 minutes lighting into his team inside its locker room.
The Wildcats absorbed that lecture, put in five days of practice — and then fared even worse.
In their 58-49 loss to Baylor, Arizona players appeared less motivated than they had looked all season, got lost inside the Bears' zone defense and allowed their troubling trend on the glass to morph into sheer embarrassment.
When it was over, the following additions could be made to the UA record books:
Arizona's minus-32 rebounding margin (51-19) against Baylor was by far the worst of the Miller era. The next worst was minus-16 to Colorado in the 2016 Pac-12 Tournament, a game the Wildcats still managed to win 82-78.
There were also three minus-14 games: Against Gonzaga at Seattle in 2011-12 (a 71-60 loss), at North Carolina State in 2010-11 (a 72-62 win) and at UCLA later in 2010-11 (a 71-49 loss).
The Wildcats' 49 points tied their second-lowest output of the Miller era and was their lowest ever at McKale Center under Miller. The UA also scored 49 in that 2010-11 loss to UCLA game and just 46 in a 63-46 loss at San Diego State early in Miller's first season.
Arizona's 35.8-percent shooting Saturday was by far their worst performance of the season and its worst overall since the Cats made just one-third of their 51 shots against Utah in 2014-15. However, the Utes were even worse in that game, shooting just 30.9 percent from the field, and the Wildcats won 60-58.
The poor shooting spoke to the Wildcats' problems against Baylor's zone defense. Arizona turned the ball over only 10 times but had problems effectively moving and penetrating with the ball against Baylor to get decent shots.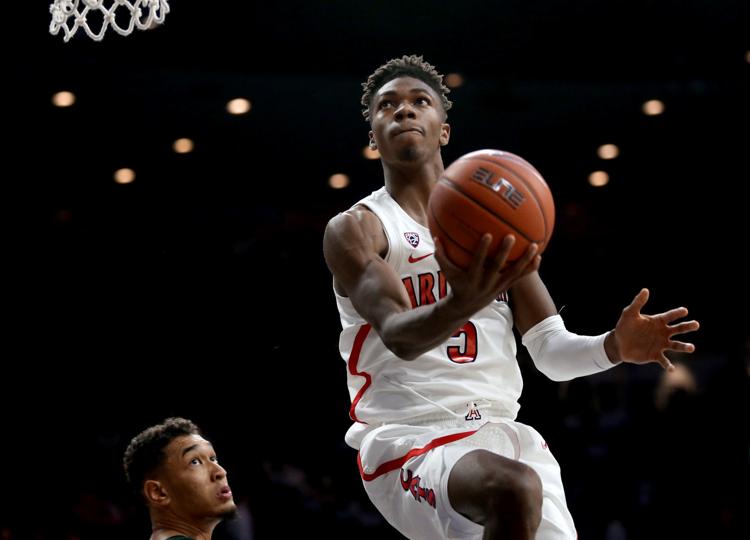 While Arizona managed to solve Cal Poly's zone in its second game of the season, shooting 45.7 percent and winning 82-61, the Mustangs (3-6) are a 300-plus rated team.
Baylor (6-3) was a different deal.
When asked what he thought of UA's struggles against the zone, Miller said: "We didn't do anything well, though. It's the first time that this group was playing against the zone and obviously we kind of had that deer-in-headlights look and guys have to make people better.
"The way they choose to play zone it's not about carving it up with plays. It's about putting players in the right position and drive to pass and move the ball quickly and getting it in the middle, and allowing those guys to be able to turn and face.
"You learn more and more about your team as the season goes, but we didn't make good plays when we got it in the middle. Sometimes we had some turnovers. But 50-19, 18 offensive rebounds? That was the story."
Not that it mattered any, but about an hour after the game, the UA corrected its box score to read that Baylor had collected 51 rebounds instead of 50.
By then, Arizona's postgame press conferences were long over.
Guard Justin Coleman and center Chase Jeter appeared quickly after the game and spoke together for a few minutes.
Both of them talked about lacking toughness and what they had to do next.
"We have an off day (Sunday), have to come back Monday, watch film and learn from our mistakes, grow as a team and get better," Coleman said.
Miller spent less than four minutes discussing the loss with the media and, based on his near-instant appearance on his postgame radio show before that, didn't spend long at all with his players in the locker room after the game, either.
This time, Miller said, there wasn't much to say.