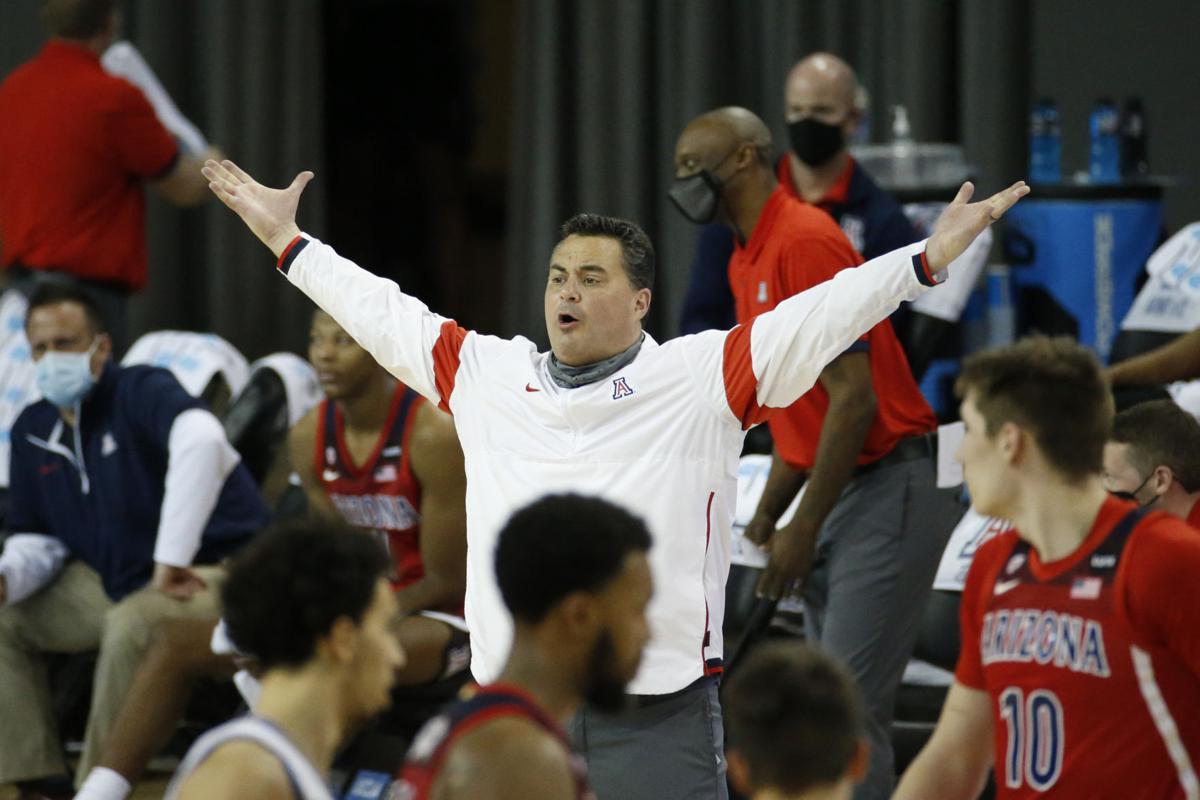 Still finishing a season in which games have been canceled two days or even two hours beforehand — and added back a few days or a week ahead of time — Sean Miller was in no mood to talk about the future Tuesday.
During what might be his final weekly pregame Zoom conference of the season, Miller would not say whether there have been discussions about extending his contract, which expires after next season, nor whether any of his three seniors would return thanks to temporarily relaxed eligibility rules.
And, after Arizona was ordered Monday to fly back to Oregon for a March 1 makeup game with the Ducks, Miller also had no answer on when the season might actually end.
"I just don't know," Miller said. "I mean, I didn't even know we were playing at Oregon until late afternoon (Monday) … and the three games we're currently scheduled to play could change."
So as of Tuesday afternoon, this is what we knew: The Wildcats are scheduled to play Washington State on Thursday at McKale Center, hold Senior Day ceremonies on Saturday before hosting Washington, and then make up on Monday their Jan. 16 game at Oregon that was postponed because of the Ducks' first of two COVID-19 pauses.
After Senior Day, the Wildcats' seniors might have a chance to play another home game since Arizona also has one remaining nonconference spot to use. In fact, the seniors could play a whole extra season of home games if they want. The NCAA has ruled that all participants in winter sports this season will not lose a year of eligibility, meaning Ira Lee, Terrell Brown and walk-on Matt Weyand can come back if they want to.
When asked if he's at least had any preliminary conversations with Lee and Brown, Miller responded this way:
"Those conversations are just not fair at this point simply because we have not completed what we've set out to do. We have more practices. We have more games. Now we've added a game. So those are all things we'll address when our season ends."
While returning everybody would make for an unusually easy offseason of roster management, especially after the UA lost its entire starting lineup in 2018 and 2020, it would create a logjam. Most of Arizona's other 11 scholarship players are expected to return, and the UA has signed three recruits — Shane Dezonie, Shane Nowell and K.J. Simpson — who are scheduled to arrive over the summer.
Then again, there's no telling at this point what Miller's future status is, either. His contract has not been extended since the FBI announced its investigation into college basketball in 2017, and the expiration date of June 2022 could make it all but impossible to recruit class of 2022 players or younger if it is not extended this spring.
With its NCAA infractions case still pending within the Independent Accountability Resolution Process, Arizona has a decision to make … while Miller says he's focusing on the games right in front of him.
"You know, I'm just not there right now," Miller said, when asked if he has discussed an extension and what he tells recruits who ask about it. "Right now, for me and our team and everything that we're doing, it's more about ... how are you gonna finish this season, how are you going to be the most ready you can be, what are your goals, what are you talking to your guys about?
"That's the box that we're in."
Miller proceeded to discuss the challenges of facing WSU, which the Wildcats needed double overtime to beat on Jan. 2 in Pullman, and the confidence that Washington plays with when it arrives at McKale (the last-place Huskies upset the Wildcats at McKale during the final day of the last regular season).
"So that's the task at hand and when all of that ends, then I think your question is a fair question," Miller said. "Right now, I'm just going about my day thinking about those things."
'Fans' allowed
Arizona's senior players and managers will each be allowed to bring four guests to Saturday's game with Washington, the first time since the UA's Nov. 27 opener against Grambling State that anybody other than players, staff and media has been allowed inside McKale Center.
Miller said the families won't be allowed on the court, since COVID-19 protocols prohibit everyone not in the "Tier 1" player/coach/official group on the floor to stay at least 25 feet away. But at least they won't have to watch on TV.
"Everybody has sacrificed," Miller said. "Our families of our players haven't been allowed to see their sons play live for a long time, and I believe that's a small part of what's helped us get through this season COVID-free to this point. But I believe they're also itching to see their sons play. It's nice that they can see them here in the last game."
One more game?
The Wildcats have the extra nonconference option available because they never made up their canceled Dec. 21 game with San Diego, but Miller said it might be difficult to find an opponent willing to visit McKale later next week. Many teams will be playing in or preparing for conference tournament games by then.
"We're certainly looking for an additional game, but it's just not easy to find," Miller said. "We have to be smart as well. We're playing Thursday-Saturday-Monday so that takes out the early part of the week for us. ... We don't have a lot of options."
Bonton could return
Washington State was without leading scorer Isaac Bonton for its last three games, but coach Kyle Smith said Tuesday that he's now day-to-day and will make the trip to Arizona.
"I feel good about him playing at some point," Smith said on his weekly Zoom media conference Tuesday. "Hopefully, Thursday would be great."
Sophomore guard Noah Williams has made up a lot of the difference, earning the Pac-12 Player of the Week award after dropping a total of 72 points on the Bay Area schools last weekend.
"Can't say I saw that coming," Smith said, chuckling. "Not that I didn't think he's a good player. But he's just got a great will to succeed and compete. He's not afraid to fail."
Michigan joining Arizona in Las Vegas
Michigan, UNLV and Wichita State will join Arizona in the four-team MGM Main Event on Nov. 19 and 21 next season, according to the Wichita Eagle and the tournament's website.
Arizona had previously confirmed its participation in the multi-team event at T-Mobile Arena, which is not to be confused with the Las Vegas Invitational that the UA played in during the 2010-11 and 2016-17 seasons at the Orleans Arena. Since the MGM Main Event is to be held the Friday and Sunday before Thanksgiving, the Wildcats are likely to host a home game over the holiday weekend.
Tickets are scheduled to go on sale March 15.
Fleming relatives, McCray on joint call
Arizona held a Zoom conference Tuesday with Ernie McCray and several of former Wildcat Al Fleming's family members. McCray and Fleming will be inducted to the UA Ring of Honor at halftime Saturday.
Fleming died of cancer in 2003 at age 49, but both his family members and McCray expressed deep appreciation for the honor.
"We're kind of taken aback," said Evelyn Brown, Fleming's sister. "We were just really humbled by you guys doing this and I know if my brother were here, he'd love to take part in this. … He would be saying 'thank you' for all that you've done for him, how you fit into his life, lifelong friends like Bob Elliott, the memories and how he furthered his career. I know he's not here, but he's looking down on us."
The UA was able to determine McCray (1957-60) and Fleming (1972-76) met its Ring of Honor criteria after going back decades to track free-throw attempts and double-doubles. Free-throw attempts were not regularly compiled in McCray's playing days, but McCray took a then-record 537 at Arizona, and the school added double-doubles as a category, finding Fleming's 53 were the most in UA history.
The Ring of Honor includes those who finished as UA career leaders in three or more categories, provided those career records last for a minimum of five years.
Fleming qualified based on leading in rebounds (he's still first at 1,190), field-goal percentage (he's now fifth at 58.3) and double-doubles. McCray qualified based on leading at the time in points (1,349), rebounds (824, now eighth) and free-throw attempts.
Other ways to qualify for the Ring of Honor include being a first-team all-American, a national "player of distinction," a Pac-10/12 player/freshman/defender of the year or playing 10 or more years in a major American professional league.