BOULDER, Colo. — After losing a sixth straight game Thursday for the first time in 15 years as a head coach, Sean Miller was given nearly three days to spend in a Rocky Mountain foothills city known to be among the country's happiest and healthiest.
Of course, it's not like Miller and his struggling Arizona Wildcats are out seeking vortexes, scaling the nearby Flatirons or checking into a yoga retreat.
"We've gone out to eat," Miller said. "That was about it."
But as it was, Miller hopped off the Wildcats' team bus after a Saturday afternoon practice in the same sort of more relaxed mood you might have noticed in his recent sideline demeanor.
Normally approachable but businesslike during interviews on the road between Pac-12 games, Miller took a seat in the Wildcats' hotel lobby, then elaborated at length when asked about what's gone wrong.
And not just about what he called his team's "terrible" defense (allowing 51 percent shooting during the streak), the impact of Brandon Williams' knee injury on his shorthanded rotation, Ira Lee's improved play or Devonaire Doutrive's defensive learning curve.
Miller also spoke at length of the big picture that the Wildcats are dealing with as they try to break their losing streak in precisely the wrong place to do it. Arizona has lost four of six games in Boulder since the Buffaloes joined the Pac-12, beating them during that span only with the Elite Eight teams of 2013-14 and 2014-15.
Here's how that part of the conversation went: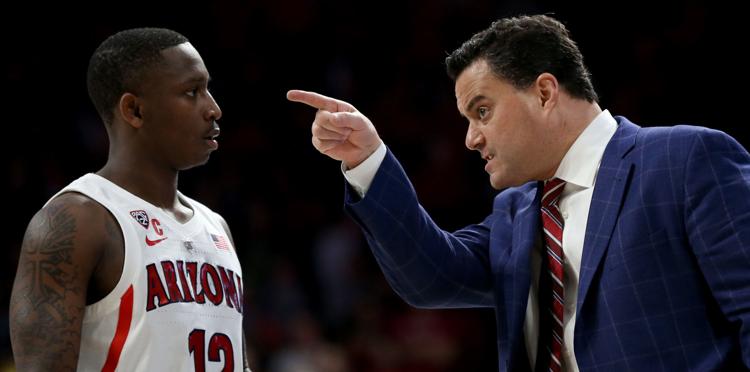 Maybe it's simplistic, but when you have a losing streak like this do you worry guys lose the mojo or confidence, and what do you do about it?
A: "That's not an easy question to answer. I think everybody loses confidence. When you lose six in a row, the coach loses confidence. Players lose confidence. Fans, they lose confidence. That's the thing about sports, it's kind of black and white: 'Did you win or did you lose?' And right now we're in a tough rut. We're working hard to climb out of it and as crazy as it sounds, man, it just takes that one game, that one moment and some of the confidence can be rekindled and you can get back to playing your best."
There's been talk you seem a little mellower on the sidelines, and sitting down more. Is that a wrong assumption?
A: "(Chuckles). You know, there's a fine line when things aren't going well, how you react as a coach. Talk about confidence: I think sometimes you try different things to get the most of your team. To continue to be hard on players, especially in a game, I don't know if that always works. If a guy has great confidence, you're playing for championships, you're playing for a seed, your bar is very high.
"Right now, we haven't really lowered our bar but we're trying to break through. I think that a demeanor of a coach, how he interacts with a player, especially in front of an audience, I'm doing the best I can of trying to get our guys to the finish line."
So if you have a good team, you can be harder on them?
A: "Yeah, and not just harder on them. Just more about that every play matters. And not that every play doesn't matter but I think for us the margin for error is a lot less. There are times when we're not the favorite and I think how you interact with your players, talking about a guy who doesn't have a lot of confidence, being really hard on him isn't always the answer.
"I use Rondae (Hollis-Jefferson) as an example. Filled with confidence, right? Always winning, playing on two teams that are trying to get to a Final Four (in 2013-14 and 2014-15), you want to hold the bar really high for him because you can bring out the best in him that way.
"But somebody who's in search of their own confidence maybe wonders if they're good enough or maybe they're struggling just to survive — and giving him a different look, a different demeanor, that's what I'm trying to do.
This group of guys gets along. They're nice. So maybe they're not the type you can light into 24 hours a day?
A: "That's right. Yep. Yep. But I would say this, what I said at the beginning of the year and around Christmas, I'll say again: We have a great group of guys. They really are. Good people. Great teammates. They like each other. And for us, it's about can we establish being the best we can be. And I believe the best we can be has more wins in our future. It's just up to us to get there."